Travel
| Long Weekends
Motor City Getaways
These five Detroit attractions promise a mix of arts, culture, history and fun.
June 2017 Issue
BY Alexis De Leaver | All photo courtesy of organizations listed
June 2017 Issue
BY Alexis De Leaver | All photo courtesy of organizations listed
Ford Piquette Avenue Plant

The Milwaukee Junction section of Detroit has long been tied to the city's automobile industry. It's also home to a 67,000-square-foot museum covering three floors in a building that played a pivotal role in automotive history.

"The Ford Piquette Avenue Plant is the oldest car factory in America," says Nancy Darga, the museum's executive director. "[It's] where the original Model T was created in 1908."

Visitors enter through the second floor, where they can see a variety of early Detroit automobiles including some of the forerunners to Ford's Model T. "They're not your typical cars," says Darga. "Each car has a story that tells of some transformational thing that changed cars."

Although visitors are free to explore the place on their own, Darga recommends taking a guided tour of the plant. "You're more than welcome to walk around," she adds, "but you really miss out on the story behind us."

After checking out the 50 cars on display and having your photo taken behind the wheel of a Model T, you can step inside Henry Ford's original office. After that, venture up to the third floor, which holds the secret Experimental Room where Ford developed his iconic Model T.

"I can't think of anywhere in America that you can stand on the same floor where Henry Ford and his auto pioneers stood," says Darga. "[They] totally changed the way the world works … and [they] worked in this very building." Visit website for admission and hours; 461 Piquette St., Detroit, Michigan 48202, 313/872-8759, fordpiquetteavenueplant.org
***

Detroit Institute of Arts
Spanning 100 galleries, 658,000 square feet and three floors, the Detroit Institute of Arts has a long history stretching back more than a century. The current Woodward Avenue location dates back to 1927, when the Beaux Arts building designed by architect Paul Cret opened its doors.

The museum's first level houses the 380-seat Detroit Film Theatre auditorium and is home to the museum's collection of Native American, Middle Eastern and African art, as well as photography of Detroit culture and city landscapes.

The second floor brings visitors face to face with works by Pablo Picasso and Vincent van Gogh, while the third level of the museum houses the "Era of Revolution" and "Fashionable Living" — exhibit spaces that depict the day-to-day activities of those living in Europe during the 18th century. This portion of the museum features a digital dining table that shows what a typical meal and place setting would look like during the era.

The heart of the museum is the Rivera Court, where Mexican artist Diego Rivera's life-size mural "Detroit Industry" stretches across 27 panels.

"Rivera focused on the industry workers in this mural and the struggles they endured," explains Valerie Mercer, the museum's curator of African American art.

Coming this summer is an exhibition titled "Art of Rebellion: Black Art of the Civil Rights Movement" featuring 34 works from five artist collectives. Visit website for hours and admission; 5200 Woodward Ave., Detroit, Michigan 48202, 313/833-7900, dia.org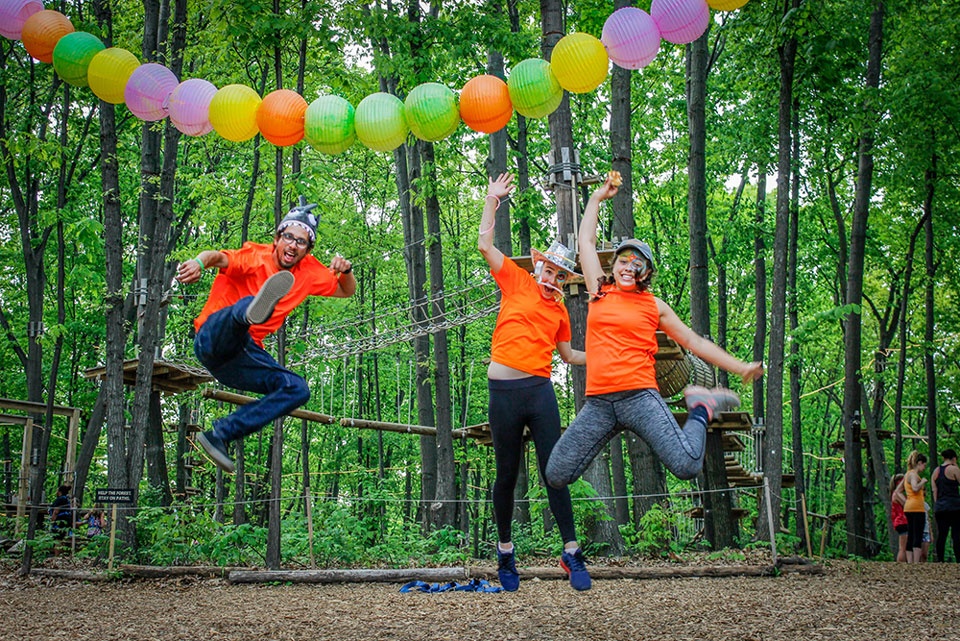 The Adventure Park at West Bloomfield

A six-point harness is all that holds guests back as they climb and glide their way across this 5-acre aerial challenge park that spans 130 obstacles, 10 aerial trails and 13 zip lines. Each route is suspended in the air, with wood bridges, cables and ropes guiding participants through the forest.
"This is an interactive experience," says Adventure Park at West Bloomfield manager Thomas Knuth. "You are climbing from tree to tree through the forest and then treated with a zip line in between each trail."
Staff members walk participants through a ground-level safety course and teach them how to maneuver the aerial trails before setting them loose. With 10 different trails, the routes cater to a range of ability levels.
"We've had people climb in their 90s," says Knuth. "We had a totally unsighted climber come with spotters, and hearing-impaired climbers are also common."
All aerial trails are color-coded by difficulty level and feature different challenges. The Sunflower trail, which is designed for children, has barrels for little ones to scramble over. More advanced climbers are drawn to the Riptide and Waterfall trails, where they can navigate tightropes and Tarzan swings to move from tree to tree.
"When our guests leave our park it's all high-fives, it's a contagious energy," says Knuth. "People have that 'I did it' look written all over their face." Visit website for admission and hours; 6600 W. Maple Rd., West Bloomfield Twp., Michigan 48322, 248/419-1550, westbloomfieldadventurepark.org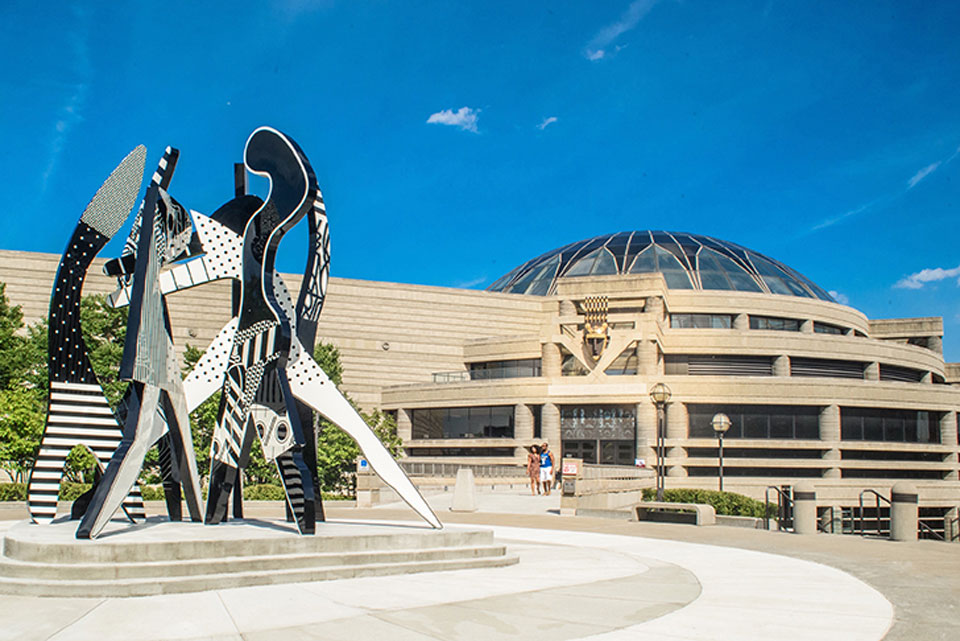 Charles H. Wright Museum of African American History

A 65-foot-high glass dome lined with the flags of 92 African nations greets guests at the Charles H. Wright Museum of African American History. The flags hang above Ring of Genealogy, a 37-foot terrazzo tile work created by artist Hubert Massey that depicts the struggles African-Americans have faced in the United States. Surrounding the artwork are bronze nameplates of prominent African-Americans, with new names added each year.

"This building is so unique," says LaNesha DeBardelaben, senior vice president of education and exhibitions for the museum. "Individuals immediately begin to learn about African-American history even before entering a gallery."

The museum has up to nine special exhibitions at any one time, taking guests from ancient Africa to modern American society. The permanent exhibition, "And Still We Rise: Our Journey Through African Culture," covers 22,000 square feet and takes museum visitors through 20 galleries.
"This is the exhibition that compels people from all over the world," says DeBardelaben. "People who don't speak a bit of English connect with the stories in that exhibition and come out in tears. … Our vision is that individuals will be inspired by African-American history to become their best selves, regardless of who they are and where they come from." Visit website for admission and hours; 315 E. Warren Ave., Detroit, Michigan 48201, 313/494-5800, thewright.org

***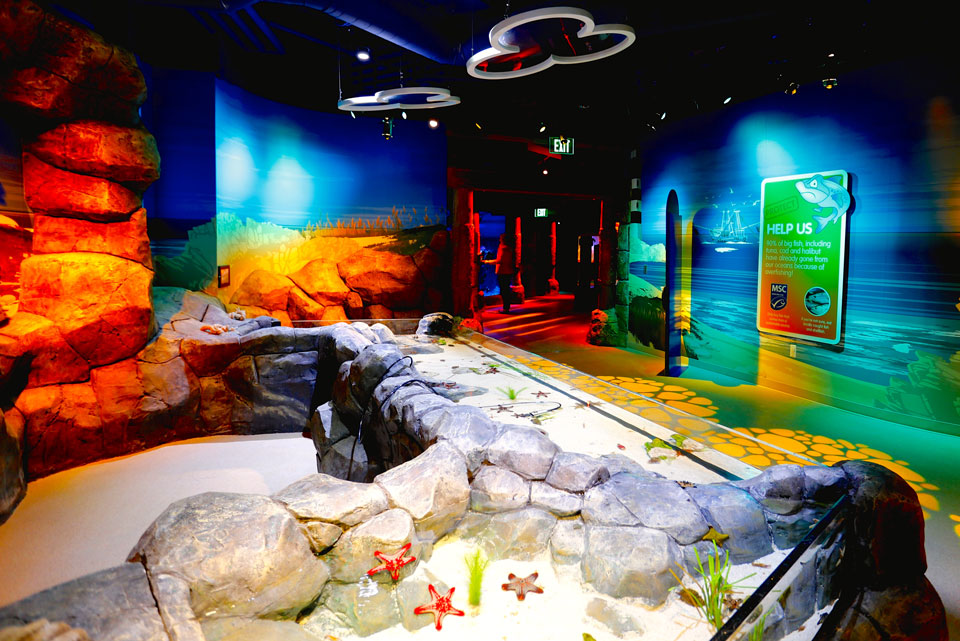 Sea Life Michigan

In 2015, Mera, a giant pacific octopus, took up residence at Sea Life Michigan, but you'll have to keep a keen eye out to catch a glimpse of her. (Try looking in the Shark Shipwreck exhibit, where she's frequently hiding in a tropical coral reef.)

Mera is one of 300 species of marine life residing at the Detroit aquarium that covers 35,000 square feet and 26 exhibits. The attraction embraces a kid-friendly approach, with viewing windows children can climb into and exhibits that provide a kid's-eye view of the sea life living there.

"The aquarium is built so children can access it," says Kelli Cadenas, curator at Sea Life Michigan. "There is nothing too tall that they can't see or too hard to reach. Everything is at their level."

The 120,000-gallon ocean tunnel where sharks and stingrays swim alongside guests is a popular exhibit, as is the Rockpool, a touch pool that allows you to get up-close to some of the ocean's smaller creatures.
"This is one of our most popular exhibits," says Cadenas. "It's full of invertebrates you can touch like the hermit crabs and sea urchins." Visit website for admission and hours; 4316 Baldwin Rd., Auburn Hills, Michigan 48326, 866/622-0605, visitsealife.com/michigan