Travel
| Long Weekends
Michigan Winery Weekends
In Michigan's wine country, you'll find a wealth of vineyards — nearly all perfect for taking in the state's vibrant fall colors. Here are three recommendations to get you started.
October 2017
BY Kim Schneider | Photo courtesy of Rove Estate Vineyard and Winery
October 2017
BY Kim Schneider | Photo courtesy of Rove Estate Vineyard and Winery
Rove Estate Vineyard and Winery, Traverse City
A woman dances next to a smiling toddler, a few steps from a fiddler in a Celtic music quintet, and the scene couldn't make Rove Estate Vineyard and Winery owner McKenzie Gallagher any happier.
When she and her winemaker husband, Creighton, opened one of the Traverse City area's newest wineries on a farm that had been in Creighton's family for three generations, they had a vision for both crafting great wines and creating a comfortable place for people to gather.

Friday music nights are a draw, as are events like the annual family fall fun day (set this year for Oct. 21) with its cider pressing and wagon rides. The big attraction, though, is the winery's wraparound porch situated at Leelanau County's highest point. From here, the foreground is all lush grapes and vineyard greenery with a backdrop of hills coated in the many shades of autumn. It's a view that attracts a parade of photographers, painters and wine lovers.

The area's sandy soil, which has long been perfect for growing fruit, is yielding wines that are fruit-forward, bright and crisp, according to Coenraad Stassen, the Gallaghers' winemaking mentor. The winery's great reds are possibly due to the way the geography of the property retains warmth, particularly in the vineyard area known among family members as the "banana belt."
Rove Estate Vineyard and Winery is situated along M-72, the route between Traverse City and Sleeping Bear Dunes, a popular stop for vacationing families, notes McKenzie.
"We're open until 9 and have a stay-and-relax vibe," she says. "We want people to enjoy our farm and the beauty of Leelanau County." Mon.–Thur. 11 a.m.–7 p.m.,
Fri.–Sat. 11 a.m.–9 p.m., Sun. 11 a.m.–6 p.m.; 7007 E. Traverse Hwy., Traverse City, Michigan 49684, 231/421-7001, roveestate.com

***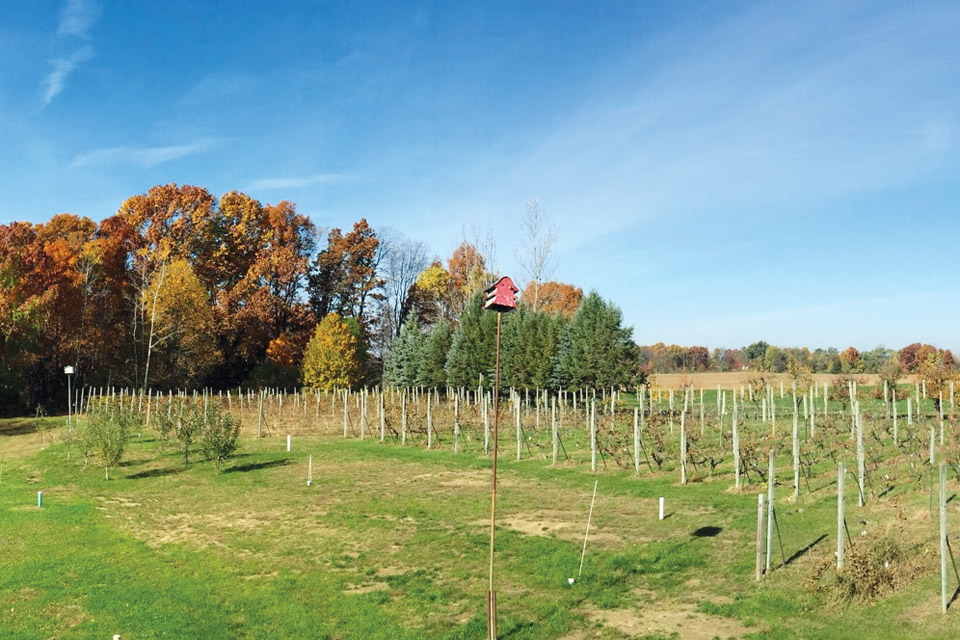 Sandhill Crane Vineyards, Jackson
The Pioneer Wine Trail, located not far from the Ohio border in Michigan's southeast corner, is one of the state's smallest wine regions. Sandhill Crane Vineyards winemaker Holly Balansag says that helps make it one of the most personal.
"It's a very relaxing spot, not one for hurrying in to taste a few wines and hurrying out," she says. "We encourage people to make a day of it."
Come fall harvest, those curious about the winemaking process can head down to the cellar to watch the crush when it is going on. Or, spend the day on the patio overlooking grapes at the peak of harvest lushness, while sipping wine by the glass and enjoying a cafe lunch or playing a vintage board game.
Watching the namesake cranes is an event itself, especially as the birds prepare to migrate south. Each fall, as many as 8,000 sandhill cranes gather at the nearby Haehnle Sanctuary, a spot that teams up with the winery to throw the annual Cranes, Colors and Cabernet celebration of newly released cabernet sauvignon, fall foliage and the graceful birds. Sales of the winery's Blushing Crane benefit the sanctuary, while proceeds of another wine, Abrazo, benefit a local humane society.
Sandhill Crane Vineyards is also known for wines made with local fruits. Some are aged in bourbon barrels before bottling, while others feature surprising ingredients such as maple syrup. Visitors can also visit the off-site tasting room at the Dexter Cider Mill near Ann Arbor to pair semisweet Apple Crisp wine with fresh doughnuts. Mon.–Sat. 11 a.m.–7 p.m., Sun. noon–6 p.m.; 4724 Walz Rd., Jackson, Michigan 49201, 517/764 0679, sandhillcranevineyards.com

***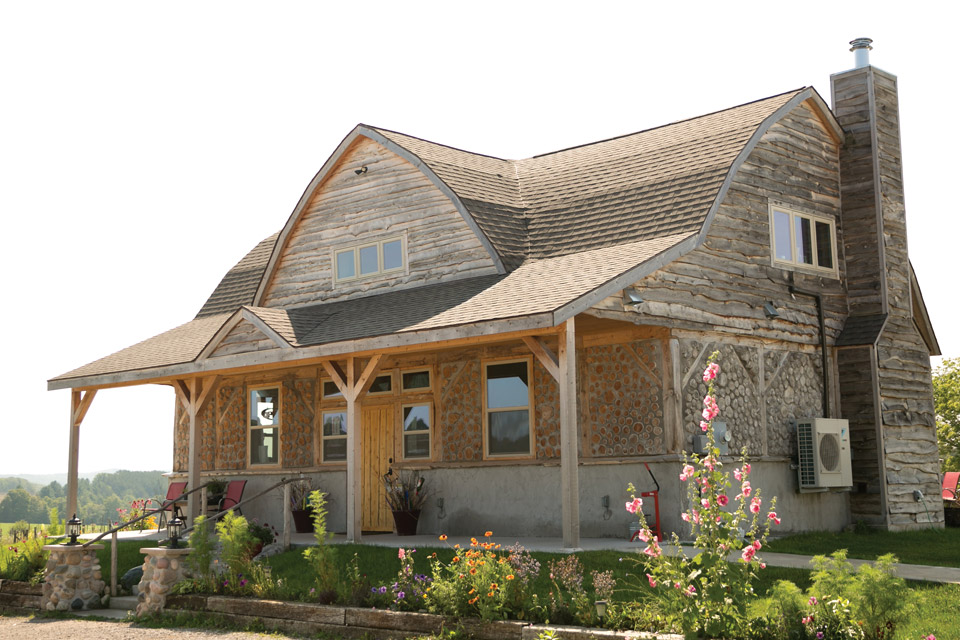 Walloon Lake Winery, Petoskey

Ernest Hemingway, arguably the best-known historic cottager on Walloon Lake, would likely approve of the region's newest claim to fame: the Walloon Lake Winery.
The vineyard and winery, located about a half-mile from the lake's western arm, recently won a best-of-class award at the annual Michigan Wine Competition for its North Arm Noir dry red that's aged using light oak.
That was a surprise only because the wine was made with Marquette grapes, a signature of Michigan's Tip of the Mitt American Viticulture Area, besting better-known European varietals like pinot noir and cabernet sauvignon.
Winemaker and owner Connor Dennis says the secret lies with the grapes and growing conditions on the farm that's been in the family for 60 years.
"You pick them, and they're fantastic to eat. Crush them, and they make really good wines," he says. "This indicates an exciting future for the [Bay View Wine Trail] itself."
Dennis, a former teacher, started the winery with his parents — also educators — and sister. He's finding his new venture is not unlike his old, although the current classroom is a stunning tasting room barn with vaulted cathedral ceilings, a crystal chandelier and cordwood harvested on-site and positioned to resemble fieldstone on the interior and exterior walls.
Since few visitors have tasted wines made from Marquette or petite pearl grapes, there's education involved, but it's of a variety even better than recess.
"We have to explain that it's a different way of tasting," Dennis says of the instructions he gives guests, "asking people to consider 'Do you like it or don't you like it' rather than comparing it to a wine that it isn't." Mon.–Sat. 11 a.m.–8 p.m., Sun. noon–5 p.m. through Oct. 31; 3149 Intertown Rd., Petoskey, Michigan 49770, 231/622-8645, facebook.com/walloonlakewinery
***

Harvest-Season Fun
From farm-stay inns to a cranberry bog, plenty of autumn attractions await you in Michigan this season.
Head north to Michigan this fall, and the tempering effects of the Great Lakes will reveal itself in endless belts of crisp apples, colorful pumpkins and even bogs of cranberries — all available to be experienced via roads winding through woodlands painted in reds and oranges.
Booking a farm stay is an increasingly fun option available at spots like Susan Odom's sunny, circa-1910 Hillside Homestead, a farm-stay bed-and-breakfast in Suttons Bay, Michigan. There, you're invited to collect the morning eggs and make popovers from recipe options within the Mother Hubbard Modern Cookbook of 1903.
Elsewhere in Leelanau County and the nearby Old Mission Peninsula, three wineries — Black Star Farms, Chateau Chantal and Chateau Grand Traverse — offer overnight options in upscale rooms overlooking vineyards with private wine tastings, and some even offer gourmet breakfasts as a tasting treat. (For more information, visit
traversecity.com/fall/wineries.)
Apples are more prevalent in Michigan than grapes and are grown on 1,000 family-run farms throughout the state, including Kilcherman's Christmas Cove Farm in Northport, Michigan. The destination is devoted to the preservation of 250 heritage varieties you've likely never tasted but want to, including the Spitzenburg, a favorite of Thomas Jefferson.
In Gaylord, Michigan, Treetops Resort hosts an "Apple of My Eye" themed dinner Oct. 20, pairing a different craft beer with each course.
Knaebe's Mmmunchy Krunchy Apple Farm, located west of Rogers City, Michigan, serves up fresh-pressed cider, apple pie and doughnuts and is one of the many stops near the U.S. 23 Heritage Route. (For more information, visit us23heritageroute.org.)
For a fruit of a similar color but a dramatically different harvesting process, head to the Upper Peninsula's Whitefish Point for tours of the Centennial Cranberry Farm on a natural bog along a Lake Superior dune.
And for sheer variety along the state's west coast and Lake Michigan shoreline, follow the Lakeshore Harvest Country map, which lists road trips by opportunities to enjoy farm life, scenic bike trails, art towns and the fruits of the harvest, whether that's cheese, wine, cider, artisan bread, honey or fresh fruit. (For more information about attractions in the region, visit lakeshoreharvestcountry.com.)

For more information about Michigan's harvest-season destinations, go to michiganfarmfun.com.

Photos courtesy of the wineries listed.