Travel
| Long Weekends
Michigan: 5 Places for On-the-Water Fun
The Great Lakes State's offerings are plentiful, whether you're looking to explore inland lakes, winding rivers or adventures along the shore.
June 2021
BY Frances Killea | Photo courtesy of Traverse City Tourism
June 2021
BY Frances Killea | Photo courtesy of Traverse City Tourism
Lenawee County

Landlocked Lenawee County may not, at first glance, appear to be a destination for water-based getaways, but it only takes a closer look to see just how much it has to offer offshore. Home to over 60 inland lakes, Lenawee County is known for the recreation opportunities on several of its largest, including Lake Hudson (part of the Lake Hudson Recreation Area), where quiet-seekers can enjoy simple camping and no-wake waters.

At the northern end of the county, the Evans Lake Resort rents cabins and all manners of ways to enjoy Evans Lake, from jet skis to stand-up paddleboards. And Devil's Lake, the county's second-largest body of water, hosts the Adrian College rowing and fishing teams, the latter of which hosts annual charters for the public. Devil's Lake is even popular during the winter, when ice fishers arrive and snowmobile racers skid over its frozen surface.

Still water isn't Lenawee's only option. The River Raisin — a 135-mile-long river known as one of the crookedest rivers in the United States — twists through the county, supporting top-quality warm-water fishing and carrying adventuresome paddlers through quiet forest.

Tecumseh Paddling Co., based in Tecumseh, takes people out for several trips, from short jaunts to an 8-mile trek down the river. "That longer trip, that's kind of a neat one," says Mark Johnson, owner of Tecumseh Paddling Co. "You very rarely see anybody else." And, he says, because of the way the river winds and turns, there's always interesting scenery. Go to visitlenawee.com and tecumsehpaddling.com for more information.

Monroe County

A keystone of southeastern Michigan, Monroe County is on Lake Erie and its coast offers multiple access points for adventures on the water. The county has a history of sailboat racing, with hubs like the North Cape Yacht Club and the Monroe Boat Club hosting regattas throughout the summer, although nonmembers will find ample dock space and public launches in Bolles Harbor. Nearby, Sterling State Park also welcomes visitors to its public boat launch. As Michigan's only state park on Lake Erie, it protects a mile of beach and has 256 lakefront campsites.

Sterling State Park also offers some fishing within a few protected lagoons, but the real sport is on the big lake.

"Lake Erie, whether it's the shores of Michigan or Ohio or even Canada, is one of the best walleye fisheries in the country," says Joe Ross, general manager at the Cabela's store in Dundee. "The numbers and the size of the fish that come out of that lake consistently year after year are just phenomenal."

Numerous charters launch from marinas up and down the county's shoreline, taking customers onto the lake with the promise of safety and a good time, and — with any luck — a good catch.

"I've never met a charter captain that doesn't get just as excited as their customers do," says Ross. "They have a passion for it, and it shows." For more information, visit michigan.org.

Traverse City

Four and a half hours from the Ohio border, Traverse City is nestled in the groove of Grand Traverse Bay, mostly against the West Arm of the two-pronged waterway. Each side of the bay is best for something: the east side blooms with parasails, the west is filled with marinas, and just inland, the Boardman River flows casually through downtown into Boardman Lake. It's a destination for water lovers, no matter the medium: sailboats, jet skis, pontoons, kayaks, even inflatable trampolines are available for rent from various outfitters, allowing locals and visitors alike a variety of ways to leave the land behind.

Jet skiers and sail boaters find easy afternoons on the protected waters of the East and West arms of Grand Traverse Bay, two long fingers dragging south from the big water of Lake Michigan. It's a unique result of glacial movement and supports many of the region's watercraft rental and charter companies, but the bay — for all of its opportunities — is not the only way to see the town by boat.

For a small city of fewer than 16,000 residents, Traverse City boasts nine breweries, and adventurers who don't want to compromise paddling time (but do want to sip the local suds) can opt into a kayak brewery tour.

"It's a really easy way to be on the river," says Troy Daily, founder of Kayak, Bike & Brew. On his excursions, participants visit up to four brewpubs within a few blocks of the water and paddle up to 3 miles. "You get a whole different perspective of being right in the heart of everything but being on a very quiet river that goes right through downtown." For more information, visit traversecity.com and kayakbikebrew.com.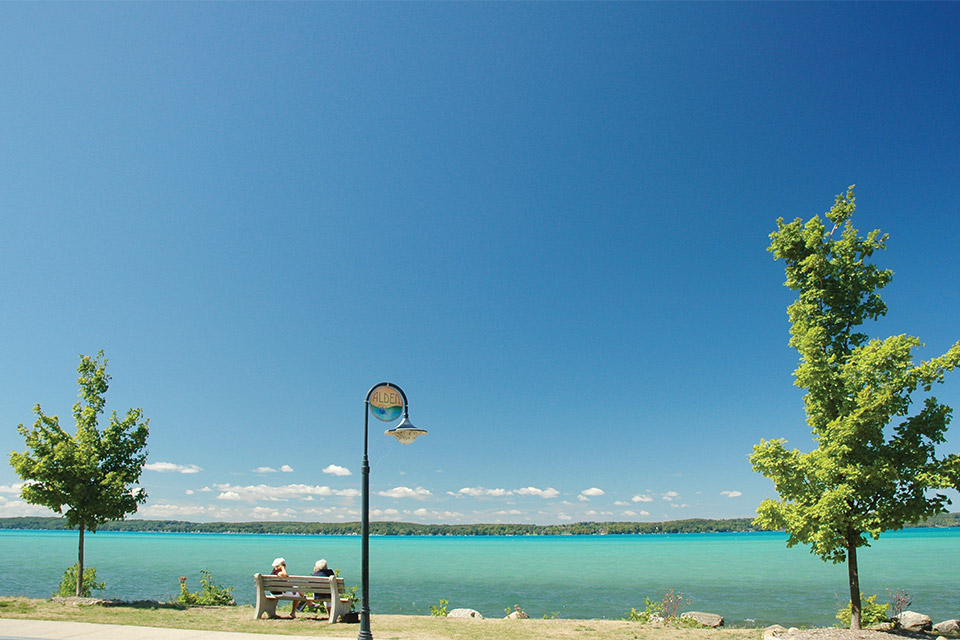 Torch Lake

Not far from Traverse City and the twin branches of Grand Traverse Bay is Torch Lake, another long lake that glaciers carved into the land. It's Michigan's second-largest inland lake; to swim from end to end is to cover 19 miles and driving around it takes 90 minutes. Many people tend to stay close to Torch Lake's southern end, where shallow water and white sand create a Caribbean hue (minus the salt).

Pontoon boats, which are easy to handle and spacious enough for snacks and beverages, are a popular choice for folks seeking an ambling float, and the lake's gemstone clarity is a joy for swimmers. Torch Lake is also a destination for paddlers as part of the Chain-of-Lakes Water Trail, a 100-mile network of lakes and rivers managed by the nonprofit organization Paddle Antrim.

While various sections of the trail are suitable for beginners, the Torch Lake section — a 21.8-mile stretch along the lake's eastern shore — is classified for advanced kayakers and canoeists due to increased challenges from wind, motorboat wake, and sheer distance. It's broken up into four sections to allow for shorter trips, and because there's no water current, out-and-backs are possible, eliminating the need for a car shuttle.

"Torch Lake is a developed lake, so you will have scenes of houses and cottages along the way," says Deana Jerdee, executive director of Paddle Antrim. "But the diversity of the waterway, and the depth, and the color, and the clarity, and to just say you've gone the distance ... is definitely something to say." For more information, visit michigan.org or paddleantrim.com.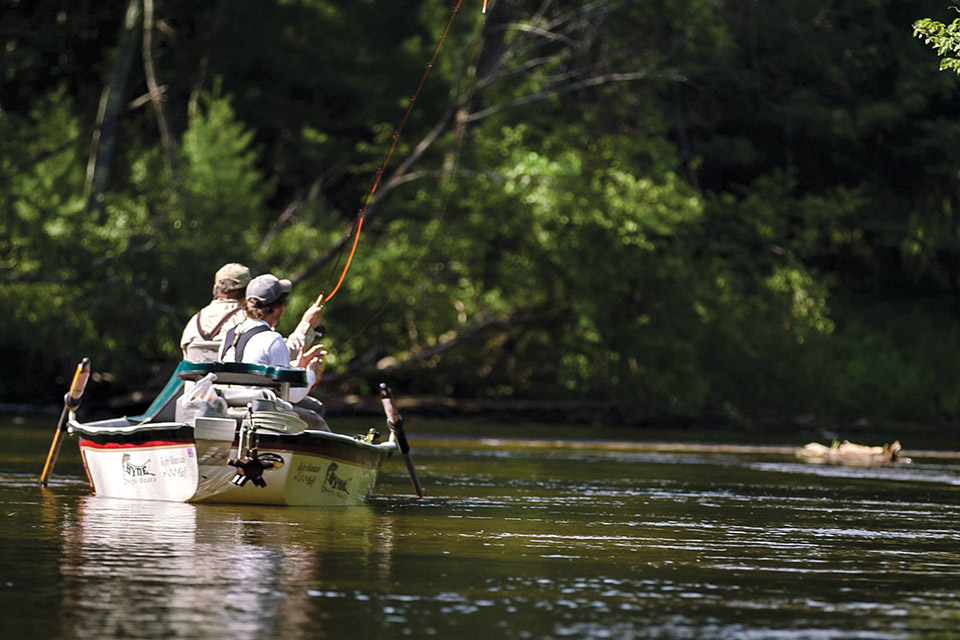 Ludington

On the far west side of Michigan, Ludington, founded on the bounties of lumber, fishing and salt harvesting, now welcomes visitors seeking miles of sand beach and national forest. Nationally designated a Wild and Scenic River, the Pere Marquette runs for 66 miles from just south of town and draws anglers from all over the region. But the harbor town still wears the stripes of its shipping past, and some of them are very much part of the experience here.

From the Ludington pier, the SS Badger — the last coal-fired steamship in the United States — still shuttles passengers across the lake to Manitowoc, Wisconsin, following its path from the mid-20th century when it toted train cars from one state to the other. These days, it carries mostly tourists either across the lake or for designated shoreline cruises. Regardless of cargo, crowds still gather to wave as the Badger docks and departs.

North along the shoreline, Ludington State Park is home to another living relic. Beyond the beaches (nearly 7 miles of sand from the entrance), a mile-and-a-half walk from the nearest parking is Big Sable Point Lighthouse, a beacon that still welcomes visitors up its 112 steps for unrivaled scenery.

"It's the best view in the park," says park manager Jim Gallie. "You can see 40 miles on clear days: to the bluffs up near Sleeping Bear Dunes, you can see far to the south, you can watch the freighters as they go by."

During the summer, Gallie recommends starting with a morning walk to the lighthouse and some big water swimming in Lake Michigan, with an evening in a canoe on Hamlin Lake, the park's quieter eastern side. "It's much more family friendly or good for younger kids to swim in, because it's a lot calmer." Go to pureludington.com for more information.