Travel
| Long Weekends
Kentucky: Horses, Caves & Bourbon
A trip to Kentucky offers a wealth of American heritage, including beautiful horses, tasty bourbon and amazing caves.
October 2018
BY Jill Sell | Photo courtesy of Kentucky Derby Museum
October 2018
BY Jill Sell | Photo courtesy of Kentucky Derby Museum
HORSES

Kentucky Derby Museum

Perhaps you've been lucky enough to see the Kentucky Derby in person. Or maybe you just watch the famous horse race sitting in front of your television, wearing a big floppy hat and sipping a mint julep. Either way, a visit to the Kentucky Derby Museum is a sure bet for its educational, cultural and entertainment value.

A $6.5-million renovation and expansion of the museum will open Nov. 1. New exhibits focus on trainer D. Wayne Lukas and jockey Bill Shoemaker, two of the greatest names in the sport's history. Also, a new stable will house the nonprofit museum's resident thoroughbred and companion horse.

"We wanted to build upon the momentum of our recent growth, take the museum to the next level … and excite everyone about the extraordinary event that is the Kentucky Derby," says Patrick Armstrong, president and CEO of the Kentucky Derby Museum.

The destination's signature exhibit, "The Greatest Race," is a 360-degree, 18-minute film updated each year that makes you feel as if you are trackside. Included in the museum admission price is a 30-minute walking tour of the adjacent Churchill Downs Racetrack. 704 Central Ave., Louisville, Kentucky 40208, 502/637-1111, derbymuseum.org


Kentucky Horse Park

The Kentucky Horse Park celebrates its 40th anniversary in 2018. Focal points include the popular Hall of Champions exhibit and memorial walk, horseback trails, pony rides and self-guided tours.

"This year, the [park's on-site] International Museum of the Horse, a Smithsonian affiliate, unveiled a new permanent exhibit," says Jonathan Lang, deputy executive director at the Kentucky Horse Park. " 'Black Horsemen of the Kentucky Turf' chronicles African-Americans' contributions to the equine industry."

The park hosts more than 100 equine competitions each year, the majority of which are free with daily admission, adds Lang. "In any given week," he says, "guests can experience some of the world's top competitors compete at the world-class show facilities." 4089 Iron Works Pkwy., Lexington, Kentucky 40511, 859/233-4303, kyhorsepark.com

---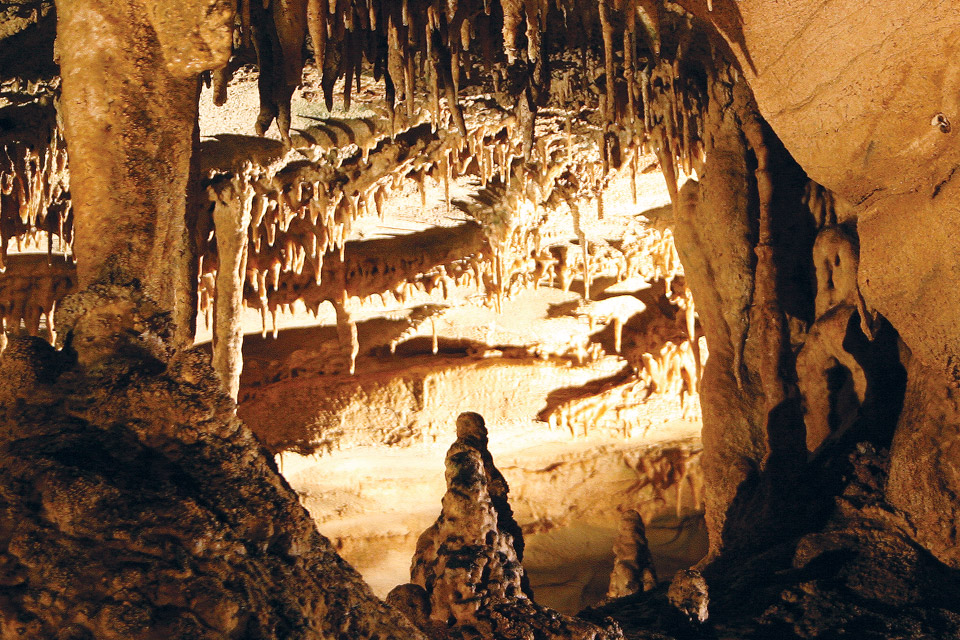 CAVES

Mammoth Cave National Park

As the world's longest known cave system — a limestone labyrinth that covers five levels and more than 400 explored and charted miles — Mammoth Cave National Park is both an American treasure and an adventurer's paradise.

"Some tours focus on the cave's history. To me that's the most interesting," says Molly Schroer, a ranger and public information officer at Mammoth Cave National Park. "It's not just about modern times, but how the cave was used in prehistoric times as well."

Geology tours teach visitors about the different kinds of rocks and formations present at Mammoth Cave National Park. There are also belly-crawling adventure tours available for those who don't mind squeezing through tight spaces. Schroer advises travelers be aware of their abilities and limitations before embarking on any of the tours offered at the site.

"On some tours, there are steps down to 230 feet underground," she says. "And then you have to climb back up. There is no other way to do it." 1 Mammoth Cave Pkwy., Mammoth Cave, Kentucky 42259, 270/758-2180, nps.gov/maca


Hidden River Cave

When completed this fall, the new, 100-foot-long underground swinging bridge in Hidden River Cave will be the world's longest of its kind. Construction hasn't been easy, though.

"Everything seems to be slower when you are building in a cave," says tour guide Greg Hogan.

Workers were faced with hauling large metal bridge pieces — many weighing 300 pounds each — down more than 200 steps into the cave. Holes were drilled into cave walls to support the beams, and although the bridge, which spans a 40-foot-drop, will have some movement to it, high sides will ensure visitor safety. In addition, a new boardwalk to Sunset Dome, a spectacular 5-1/2-acre underground room, is scheduled for completion in spring of 2019.

"We hope to have a grand reopening then," says Hogan. "It's a pretty cool project." 119 E. Main St., Horse Cave, Kentucky 42749, 270/786-1466, hiddenrivercave.com

---


BOURBON

Jim Beam American Stillhouse

Bourbon is an $8.5 billion industry in the Bluegrass State, according to the Kentucky Distillers Association. The spirit supports more than 17,500 jobs and generates more than $1.8 million in tax revenue annually. And, for those who want to dig into bourbon's backstory, a stop at the Jim Beam American Stillhouse in Clermont is a good place to start.

Visitors who take the tour that begins at Jim Beam's natural limestone water well learn about the complete bourbon-making process, from mashing ane distilling to racking and bottling. Shuttles ferry tour-takers to the distillery's historic rackhouses where barrel after barrel of Jim Beam bourbon ages until ready for consumption.

And, of course, there are free samples at the end of the tour. Depending on the tour and other factors, some lucky visitors to the Jim Beam American Stillhouse have even met seventh-generation master distiller Fred Noe, the great-grandson of Jim Beam.

"We encourage guests to plan ahead as tours can sell out," says Kim Bennett, senior director of Kentucky Beam Bourbon Experiences with Jim Beam's parent company, Beam Suntory. Those who can't make it out to Clermont can opt instead to stop by the Jim Beam Urban Stillhouse on Fourth Street in downtown Louisville. 526 Happy Hollow Rd., Clermont, Kentucky 40110, 502/215-2295, jimbeam.com


Maker's Mark Distillery

For some, visiting the source of the iconic bourbon whiskey with the distinctive bottle and red, hand-dipped wax seal is a pilgrimage. If you do make the trip to Loretto, Maker's Mark Distillery director of visitor relations Sydina Bradshaw suggests paying a visit Monday through Friday.

"Come on a weekday when production is happening," she says. "Most people are surprised that all Maker's Mark [whiskey] is made on-site at the distillery."

The one-hour distillery tour is the most popular draw. For an additional fee, there's a longer 2-1/2-hour Maker's Mark Immersion Tour that includes a set of Maker's Mark wax-dipped rocks glasses. No matter the tour, purchasing tickets in advance is key to getting a spot on the day you want to visit. 3350 Burke Spring Rd., Loretto, Kentucky 40037, 270/865-2099, makersmark.com

---
Local Flavor
Through the end of October, travelers can get a taste of the Bluegrass State thanks to the nine-stop Kentucky State Parks Culinary Trail. The passport-style tour of cuisine from across the state offers a beautiful wooden cutting board to those who partake in all nine meals. Offerings range from the Kentucky Hot Brown with a side of succotash and bourbon biscuit pudding for dessert available at Rough River Dam State Resort Park to the Local Surf & Turf meal with sides of sweet corn and green beans available at Kentucky Dam Village State Resort Park. For more information about the Kentucky State Parks Culinary Trail, visit betterinthebluegrass.com/trail.