Travel
| Long Weekends
Erie, PA/Western NY: Summer Road Trips
If you're heading east along Lake Erie through Pennsylvania and western New York, consider taking the slow road. Here are four towns you shouldn't miss.
June 2018
BY Rich Warren | Photo courtesy of Visit Erie
June 2018
BY Rich Warren | Photo courtesy of Visit Erie
Erie, Pennsylvania

The city of Erie overlooks a picturesque bay created by a long hook-shaped peninsula known as Presque Isle (French for "almost an island") and the state park's 4 million annual visitors rival Yellowstone National Park. Presque Isle's 7 miles of sandy beaches are especially popular, and 13 miles of trails attract bikers and hikers. Near downtown, the Erie Maritime Museum tells the story of the region's role in Great Lakes history, particularly during the War of 1812. A replica of Oliver Hazard Perry's U.S. Brig Niagara is docked outside the museum and can be boarded when it's not out sailing the Great Lakes. This summer season, a smaller schooner, the Lettie G. Howard, will offer two cruises a day. visiterie.com

Artful Shopping: Glass Growers Gallery features regional fine art and American crafts, including jewelry, pottery, paintings, sculpture and even socks with humorous phrases. "We like to include lighthearted things in our mix," says gallery manager Vanessa Vahanian, who prides herself on the relaxed atmosphere. "We're not a hoity-toity gallery." 10 E. Fifth St., Erie, Pennsylvania 16507, 814/453-3758, glassgrowersgallery.com

Grab a Bite: In nearby North East, the Skunk & Goat Tavern offers craft beers, fanciful cocktails with names like "Corpse Reviver" and unusual dishes that include bison pierogies. And you can't miss the stuffed animals, including several skunks and a goat adorned with a jingle-bell necklace. 17 W. Main St., North East, Pennsylvania 16428, 814/347-9078, skunkandgoattavern.com

---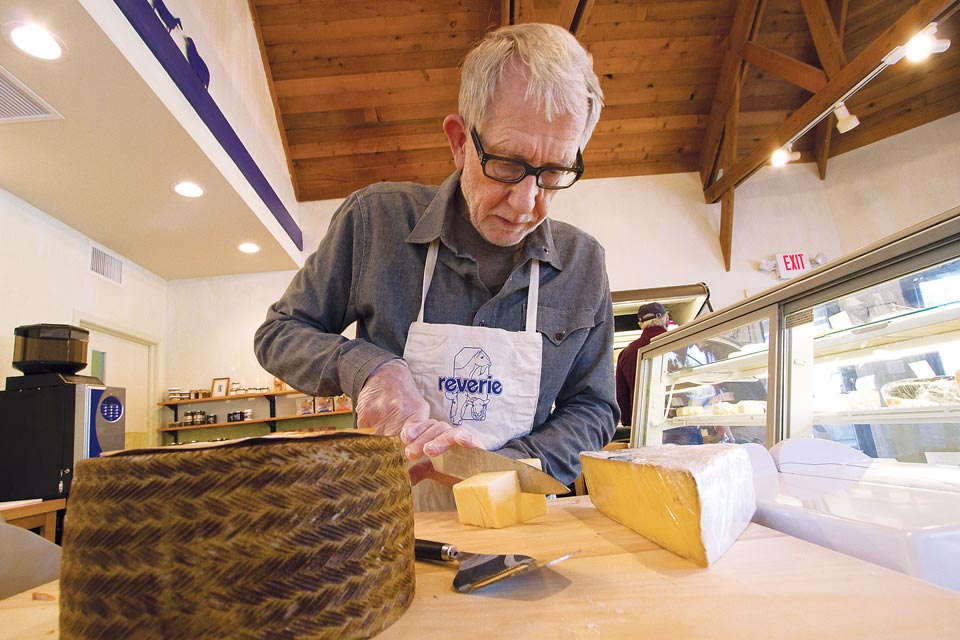 Chautauqua, New York

The town of Chautauqua is often described as Victorian, but that's somewhat of a misnomer. Among its charming structures are Arts and Crafts bungalows, modern homes with rooftop pools and even a Lustron prefabricated metal home manufactured in Columbus after World War II — all hugging the shoreline of Chautauqua Lake. Many of the homes are located within the renowned Chautauqua Institution, which since 1874 has offered summertime educational programs mixing fine and performing arts, lectures, interfaith worship programs and recreational activities. Visiting guests for 2018 include filmmaker Ken Burns, New York Times columnist David Brooks and cellist Yo-Yo Ma. Though it's tempting to limit your stay inside the Institution's grounds, don't. Other wonders lie just down the road. tourchautauqua.com

Say Cheese: "Cheese is a living thing, and at Reverie we celebrate it," says Riko Chandra, co-owner of Reverie Creamery, one of many agritourism destinations in the area. Reverie sells its own award-winning, all-natural artisanal cheese, as well as other local food items like quince paste. 3943 St. Rte. 394, Mayville, New York 14757, 716/789-5757, reveriecreamery.com

Fresh and Fine: The fine-dining, farm-to-table restaurant The White Carrot describes its offerings as "hyperseasonal" with 20 to 30 percent of its menu changing each day. "We take whatever is fresh and available and base our daily menus on that," says owner and chef Brian Kiendl. 4717 Chautauqua Stedman Rd., Mayville, New York 14757, 716/269-6000, whitecarrotrestaurant.com

---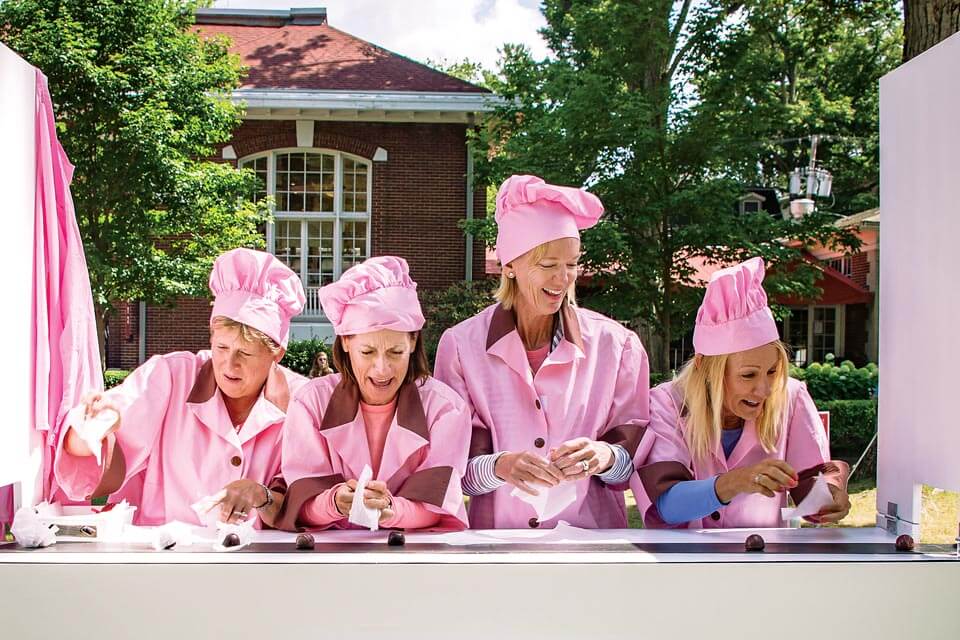 Jamestown, New York

Jamestown is best known for its legacy of laughter. It's the hometown of Lucille Ball, who went on to become one of the most recognized faces in TV history as Lucy Ricardo in "I Love Lucy." Jamestown pays homage to the comedian with five colorful murals, two statues (locals were so outraged by the first one they dubbed it "Scary Lucy" and demanded a second, prettier one) and the Lucille Ball Desi Arnaz Museum, where highlights include a reproduction of the Ricardos' iconic apartment, gowns and wardrobe. This year's annual Lucille Ball Comedy Festival runs Aug. 1 through 5 with a lineup that includes Lily Tomlin, Amy Schumer, Dan Aykroyd, Laraine Newman and Garrett Morris. jamestownupclose.com

> Laugh Out Loud: After Aug. 1, Jamestown's comedic star will shine even brighter when the National Comedy Center opens, paying tribute to contemporary comedians with interactive videos, holograms and other displays tailored to each visitor's sense of humor as identified by a brief survey. 203 W. Second St., Jamestown, New York 14701, 716/484-0800, comedycenter.org

> Beautiful Birds: Think of Jamestown native Roger Tory Peterson as a 20th-century John James Audubon. His vibrant illustrations of birds fill the pages of dozens of field guides he compiled. At The Roger Tory Peterson Institute of Natural History, those breathtaking illustrations are currently on display, many for the first time. 311 Curtis St., Jamestown, New York 14701, 716/665-2473, rtpi.org

---

Ellicottville, New York

Ellicottville is the epitome of a quaint small town, with its village hall, gazebo and spire-topped church. The main shopping district is both upscale and varied. You'll find fashion, fine arts, pottery, jewelry and artisanal chocolates all within a short distance of one another. Dining choices range from an Italian brewpub to an eatery that sells both burritos and bicycles. But look up to see another distinguishing characteristic of Ellicottville: The ski slopes on the high hills surrounding the town are testament to the multitude of outdoor recreational possibilities that extend long past skiing season. ellicottvilleny.com

The Great Outdoors: Adventure Bound on the Fly sells outdoor gear of all sorts, but it also offers guided fly fishing, paddleboarding and kayaking trips, as well as women's retreats and backpacking experiences. 16 Washington St., Ellicottville, New York 14731, 716/217-4047, adventureboundonthefly.com

Uncommon Shopping: The eclectic wares at the whimsically named Kazoo II range from Zuni silver and turquoise jewelry and huge silk butterflies to several Buddha statues complete with a lotus flower. "I carry things that appeal to my own aesthetic," says shop owner Arleen Solly. "People seem to respond well. I've been here 26 years." 21 Washington St., Ellicottville, New York 14731, 716/699-4484

---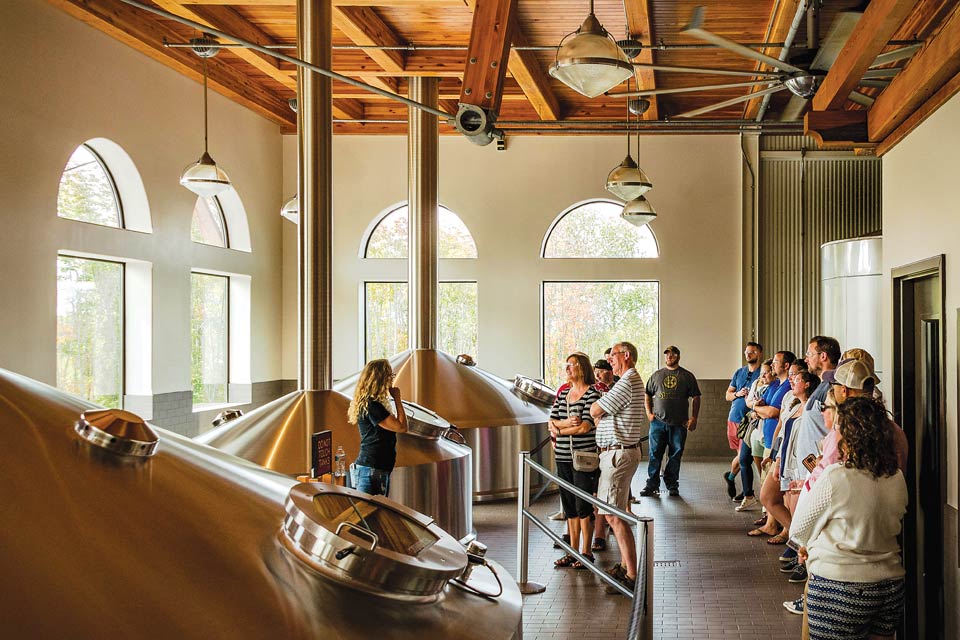 Side Trips
Don't miss these western New York attractions.

The Chautauqua Belle: With its decks piled like a wedding cake, tall smokestacks, and gingerbread lattice, the Belle is one of the last few operating steamboats left in North America. Visitors can enjoy both historical and cocktail tours of Chautauqua Lake as well as other themed rides, such as an Independence Day fireworks cruise.78 Water St., Mayville, New York 14757, 716/269-2355, 269belle.com

Southern Tier Brewing Co.: Craft beer reigns supreme in the midst of New York's premier wine region, thanks to Southern Tier, whose ever-expanding line of handcrafted ales is now available well beyond New York. The Lakewood brewery offers tours and tastings that include new beers under development. 2072 Stoneman Circle, Lakewood, New York 14750, 716/763-5479, stbcbeer.com

Bemus Point: The locals will tell you Bemus Point is the place for nightlife on Chautauqua Lake. Grab a brew and listen to live music at places like the Village Casino (1 Lakeside Dr., Bemus Point, New York 14712) or Ellicottville Brewing on Chautauqua (57 Lakeside Dr., Bemus Point, New York 14712). Those looking for a bite to eat should check out See-Zurh House (14 Main St., Bemus Point , New York 14712), which serves American cuisine and lake views.