Travel
| Long Weekends
5 Summer Finds in Western New York
From trails to bird-watching, these five destinations in the Chautauqua Lake region promise a way to soak in the serenity of the season.
June 2020
BY Frances Killea | Photo courtesy of Panama Rocks
June 2020
BY Frances Killea | Photo courtesy of Panama Rocks
Panama Rocks

Jonathan Weston is the first to say it: Panama Rocks is a small park. At just 60 acres, it's a blip in an area of New York rich with state forests and wildlife management areas. Although other wooded areas cover more ground, Panama Rocks' 1-mile trail holds a lot of adventure. Opened as a park in 1885 — the same year New York's Niagara Falls State Park was established — Panama Rocks is still privately operated but open to visitors for a modest fee (and a signed waver).

"The ridge of rock itself is about half a mile long, and it's not like a flat, straight ridge," explains Weston, the park's executive director. "There are crevices, passageways, small caves ... It's up to you to be as adventurous as you want to be."

Weston welcomes exploring the ridge, scrambling over rock exposed by valley-carving glaciers and shaped by thousands of years of geological change.

"Over the last 15,000 or 20,000 years, the rocks have slowly eroded, the bedrock moves," he adds. "It's called geologic creep, so they actually separate, forming more crevices and passageways."

In addition to hiking, Panama Rocks is readying an ax-throwing pavilion, open to anyone over the age of 12. Whatever the draw, Weston says Panama Rocks is a destination for all ages.

"One of the things I really love [is when] we have multiple generations in a family come and enjoy," he says. "One family ... they've been coming up every year for 50 years for their family reunion." 11 Rock Hill Rd., Panama, New York 14767, 716/782-2845, panamarocks.com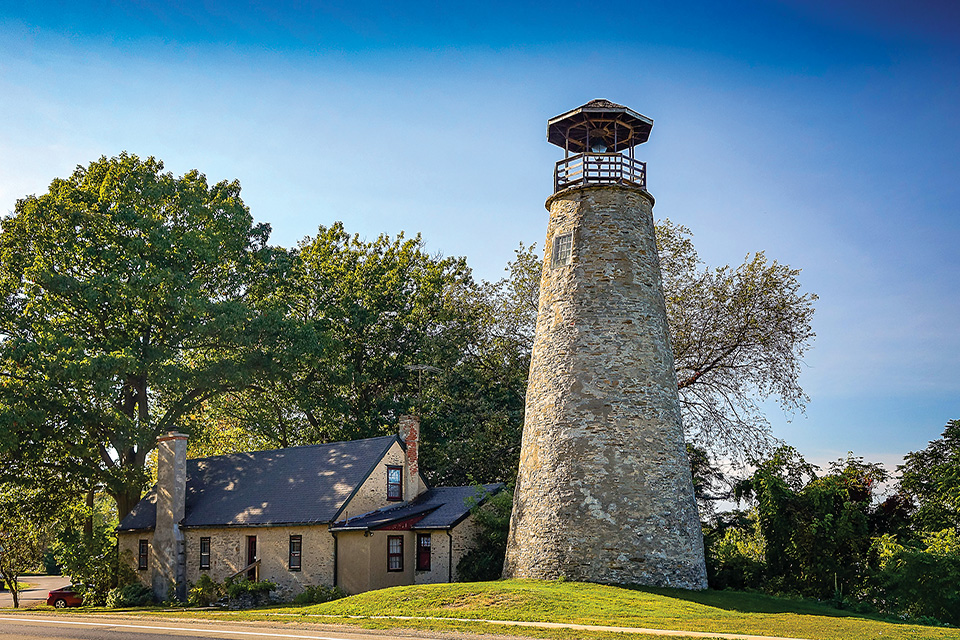 Barcelona Lighthouse

On a good day, Lake Erie is a playground for sailboats and a highway for cargo vessels, and its beaches were made for lazy afternoons. But Lake Erie has a stormy reputation and its waters blanket thousands of shipwrecks. That's why, in 1828, Congress appropriated money to build the Barcelona Lighthouse. With the opening of the Erie Canal in 1825, the region was quickly identified as a port for the increased commercial and passenger traffic on the lake.

"The federal government paid to have a 1,200-foot break wall built out into Lake Erie," says Cristie Herbst, president of the Chautauqua County Historical Society, "and then they also realized that ships needed a lighthouse for guidance."

Built for $5,000, the Barcelona Lighthouse is small but strong, standing 40 feet tall and with walls that taper from 3 1/2 to 2 feet thick. Initially powered by whale oil, the landmark became the nation's first public building to use natural gas in the early 1830s.

"One of the key things about Barcelona is that at the time [it was built], it was a short portage to Chautauqua Lake … about 9 miles," says Herbst. "When the travelers and the shippers were on Chautauqua Lake, they then were in the Mississippi River basin. From there, they could travel all the way down to the Gulf of Mexico by water."

The harbor is still a destination for boaters and fishermen. Travelers can picnic at the lighthouse and tour a small museum housed inside the keeper's cottage. 8234 East Lake Rd., Westfield, New York 14787, 716/326-2360, parks.ny.gov



Chautauqua Rails to Trails

A 28-mile corridor cuts through rural and wooded Chautauqua County, New York. Stretching from Brocton to Sherman, the route was once a leg for train cars. Starting with the Cross Cut Railroad, more than 10 companies owned the land over the years. Conrail was the last, making a final run along the route in 1978. The tracks are long gone, but the corridor is hardly abandoned.

"You will see vineyards, you will see cattle, you will see pastures, you will see fields that are overgrown, lots of woods — soft woods, hardwoods, pinewoods— you'll see swamps," says Jim Fincher, president of Chautauqua Rails to Trails. "You see about all there is to see."

Chautauqua Rails to Trails was founded in 1991. After years of fundraising, it purchased the abandoned railroad bed in 1995 to give it new life as a recreational byway. Today, the rail trail is popular for hiking, biking and horseback riding. Each segment has a different name in honor of an important donor, and interactive maps are available online.

The trail is not quite continuous — some portions of the former rail line that cross private lands are off-limits — but public trailheads are well marked. Although the surface is unpaved, it is maintained by local volunteers. The trail's inclines are train grade, meaning it is accessible by riders of many skill levels and the scenery keeps the ride interesting.

"I like the section between Findlay Road and Wollaver Road," Fincher says. "That's where the gullies are the steepest and deepest. Some of the sides of the gullies are 45 degrees … you can almost look straight down." For more information, visit chaurtt.org.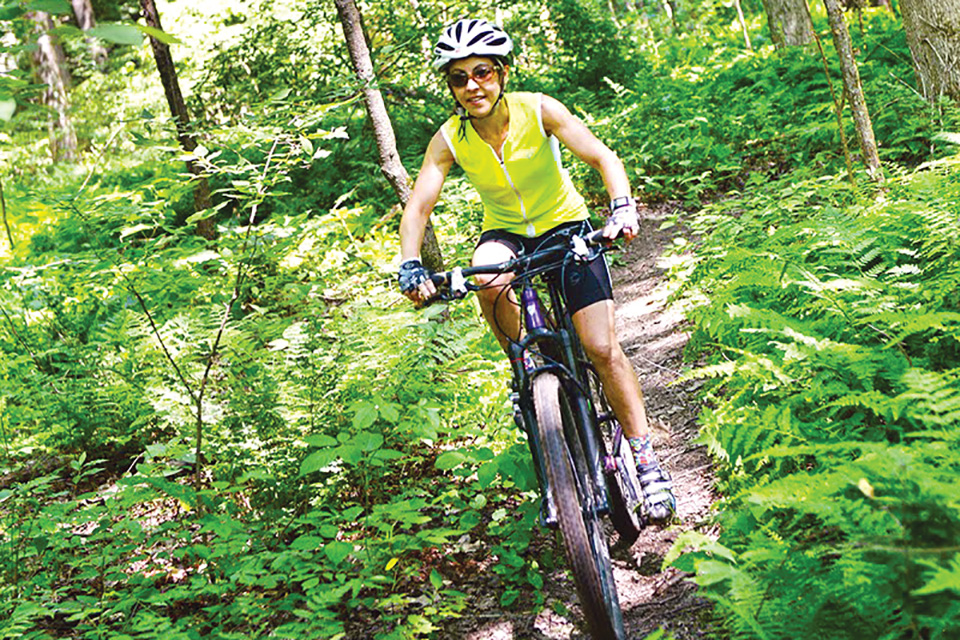 Long Point State Park

Long Point State Park occupies a small notch along Chautauqua Lake and the peninsula is a destination for year-round recreation. During winter, groomed trails invite cross-country skiers. In summer, boaters and beachgoers flock to the marina and picnic pavilions, while a web of trails draws hikers and mountain bikers.

"It looks like a bowl full of noodles," Murl Kinal says of the park's trail map. Close as the trails may look on paper, though, there's no sense of crowding.

"The sightlines are good, and it's built in a way that makes sense," adds Kinal, who co-owns Loud Performance, a bike and snowmobile outfitter in Bemus Point, New York, that is located just a mile from Long Point State Park and has its own trail system.

"We own property all the way to the next road back behind us," Kinal says. "You can ride on our mountain bike trails and pop out on the next road over, and that road goes straight to Long Point."

Kinal says the trails at Loud Performance don't have a lot of elevation changes, but they are built well and interesting to a variety of riders.

"We don't have any giant mountains or huge amounts of rock and stone that people have to ride through," he says. "So, we just try to build the trails in a way that's fun and flowy and really accessible for everyone." 4818 Rte. 430, Bemus Point, New York 14712, 716/386-1171, parks.ny.gov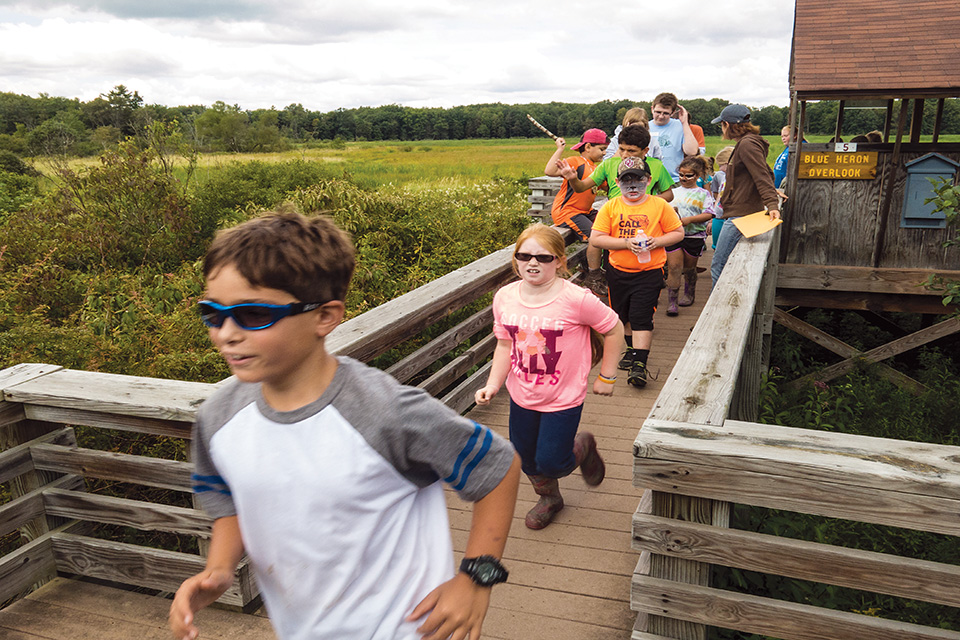 Audubon Community Nature Center

In 1957, Jamestown's branch of the Audubon Society was simply a group of nature enthusiasts who gathered on a small property to socialize and birdwatch. Over the years, they acquired more land, blossoming from an original plot and pavilion to today's Audubon Community Nature Center: a 600-acre preserve with wetlands, walking trails, gardens and picnic areas.

"We have 17 live animals inside the nature-center building," says Leigh Rovegno, the center's executive director. "All of them have been rescued from either the wild or people who were raising them and weren't supposed to have them."

There's even a resident bald eagle, Liberty, who has had a home at the center since 2002. During 2020's bird-a-thon at the center in May, bird-watchers counted 93 different species on-site over the course of the day. But that's just the beginning of the wildlife you'll see here.

"We have a lot of beavers, we have a lot of muskrats," adds Rovegno, who also notes mink, fox, deer and coyote live in the area as well. "It's fun in the wintertime to see all the footprints and trails out there."

Hikers can explore 6 miles of trails that loop through fields and around ponds for free, and there's only a small fee to visit the nature-center building.

"It's a really easy place to take a walk," Rovegno says of the grounds. "It's very flat, the trails are really wide. If you're not a regular hiker, you're not going to get lost." 1600 Riverside Rd., Jamestown, New York 14701, 716/569-2345, auduboncnc.org