Travel
| Long Weekends
5 Michigan State Park Getaways
The Michigan State Park Commission celebrates its centennial in 2019. Here are five natural spots to make part of your summer travel plans.
May 2019
BY Kelsey Husnick | Photo courtesy of Michigan Park System
May 2019
BY Kelsey Husnick | Photo courtesy of Michigan Park System
Fayette Historic State Park, Garden

Fayette Historic State Park, located along Lake Michigan in the state's Upper Peninsula, honors Fayette, which thrived as an industrial community that manufactured pig iron for the Jackson Iron Co. between 1867 and 1891. All of the pig iron was loaded on barges, shipped out of Snail Shell Harbor and taken farther down Lake Michigan to be turned into steel.

The town has been reconstructed into a living museum, depicting what late 19th-century life was like, and visitors are invited to tour the town hall, the company store and several residents' homes.

"The machine shop is still standing … where [workers] did most of the repair work on steam engines and other equipment they would need to fix or build," says park supervisor Randy Brown.

One of the natural attractions of the park's 711 acres and 3 1/2 miles of hiking trails is Bluff Trail, which traverses the 90-foot limestone cliffs overlooking the site.

"You look out across the harbor and see this just fantastic natural bluff, so you get this wonderful mix of natural beauty and then the historic," Brown explains. "You can go up on top of the bluff and look back over the town." 4785 II Rd., Garden, Michigan 49835, 906/644-2603, michigan.gov/fayette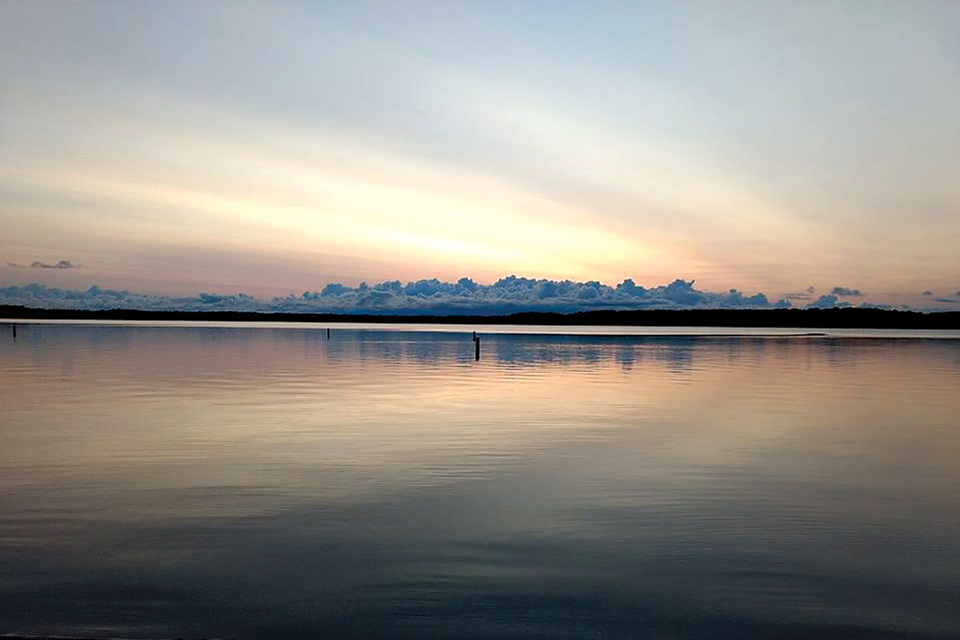 Interlochen State Park, Interlochen

The oldest park in the Michigan state park system, Interlochen State Park provides the perfect setting for tubing and kayaking. And, explains park supervisor Chris Stark, since the 187-acre area in the northwestern part of the state is located between Duck and Green lakes, it's become a hot spot for fishing.

"Both are really good fishing lakes," he says. "They have everything from lake trout to small bass and pike."

Swimmers are sure to appreciate the sandy beach along the Duck Lake shoreline, which is also a great place to picnic. "It's located right near our park store, where you can get ice cream or a sandwich and hang out on the beach there," Stark adds.

Interlochen State Park also boasts the largest number of campsites in the state, with 444 sites.

"We have everything from rustic options over at our Green Lake side which has no electricity or running water, to our Duck Lake side, which has electricity, flush toilets and all the modern facilities," Stark says. "We also have three cabins that are available for an alternative lodging experience for somebody who doesn't have camping equipment." 4167 M-137, Interlochen, Michigan 49643, 231/276-9511, michigan.gov/interlochen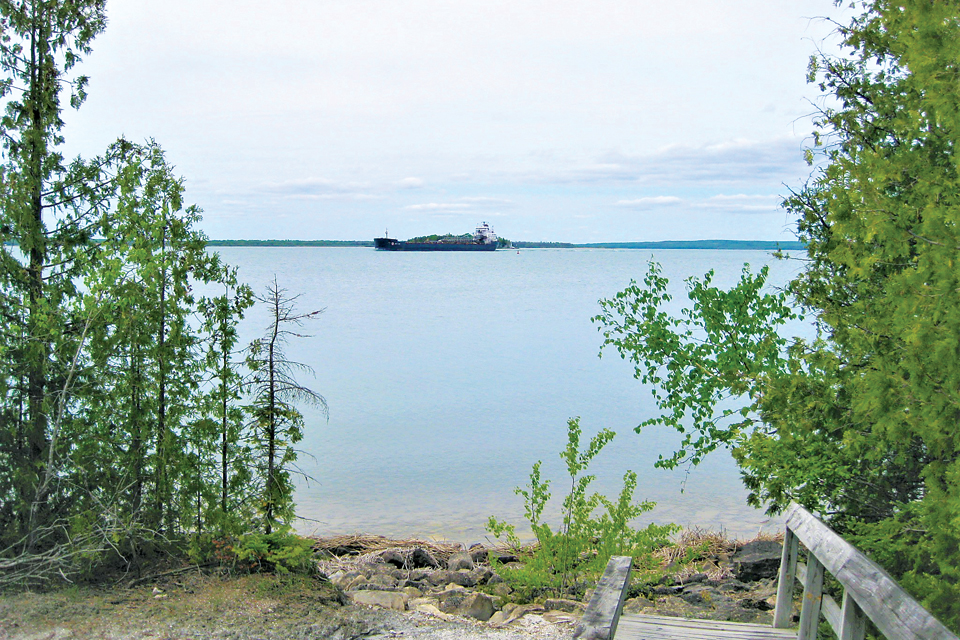 Lime Island State Recreation Area, Raber

Just getting to Lime Island State Recreation Area is half the fun. Located in the St. Marys River — approximately 2 1/2 miles off the eastern coast of Michigan's Upper Peninsula — the island is only accessible by boat.

"It takes a special kind of person to get out there," says Corey Butcher, parks and recreation supervisor for Lime Island State Recreation Area. "You have to own your own boat, charter one or find somebody ... to take you over."

The park, which is open June 1 through Sept. 2 this year, is tailor-made for outdoors enthusiasts. The campsites have platforms for tent camping and cabins that sleep four to eight people, but electricity is limited, and there is no indoor plumbing. Seven miles of trails help campers navigate the forested island that's ideal for bird-watching and fishing.

"The majority of the island is undeveloped," Butcher says. "The campsites and restroom facilities sit on about 15 of the island's 932 acres." Boats can be launched at the Raber Township Public Boat Launch, located on South Raber Road, 3 miles past Goetzville on M-48 North. To charter a boat, contact the Michigan Charter Boat Association at 800/622-2971 or visit michigancharterboats.com. (Click on the Lake Superior link and then click on St. Marys River to find charter boats.) For more information about Lime Island, call 906/248-3422, michigan.gov/limeisland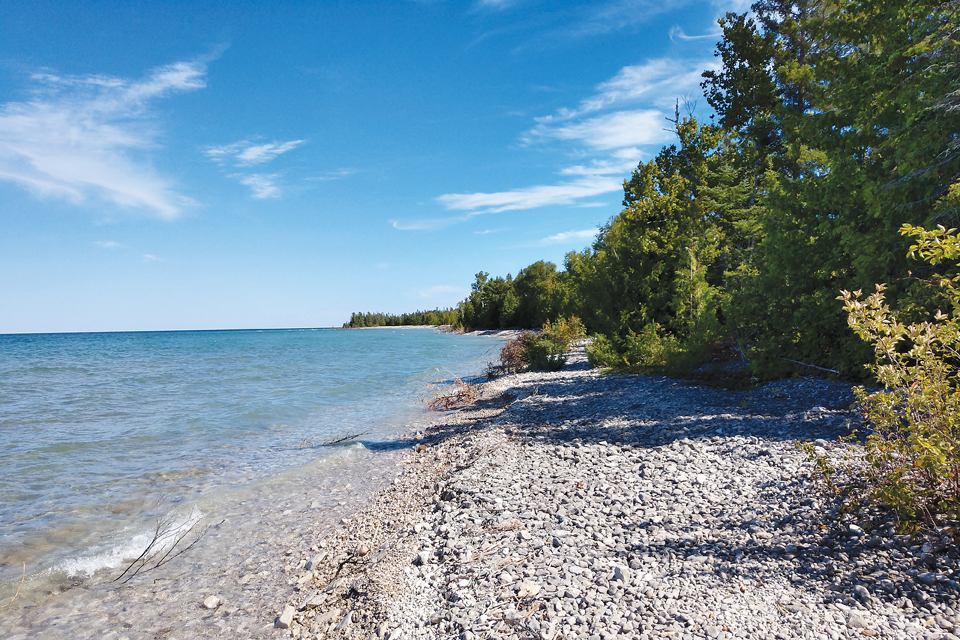 Thompson's Harbor State Park, Rogers City

The 5,380 acres encompassing Thompson's Harbor State Park are home to one 6-mile limestone trail that leads the way through what has become a popular day-trip destination for biking, fishing and spotting wildlife.

"Two cabins are available for rent year-round, but the rest is really just wild, undeveloped land," says Blake Gingrich, parks and recreation supervisor for Thompson's Harbor State Park. "A lot of people hunt the land. There are quite a few black bears, along with white-tailed deer and ruffed grouse."

At this time of year, the park blooms with dwarf lake iris that thrive in northeast Michigan.

"The trails are carpeted with dwarf lake iris," Gingrich says. "They're literally only 2 inches off the ground."

The park has also been designated a Michigan Dark Sky Preserve, making it an ideal place for stargazing, especially at Observatory Point, a stretch of land that juts out into Lake Huron.

"If someone is into night-sky viewing, it's probably the darkest sky you'll see," Gingrich says. "You can't see any lights." Located 26 miles north of Alpena on U.S. 23 N., Posen, Michigan 49776, 989/734-2543, michigan.gov/thompsonsharbor


Rockport State Recreation Area, Rogers City

Those searching for pieces of the past won't be disappointed at Rockport State Recreation Area, located along Lake Huron. The abandoned quarry that spans 300 acres of the 4,237-acre park is a popular place to search for fossils, including bony fish and plants from the Devonian period that date back roughly 300 million years.

"People come from all over to fossil hunt in the quarry," says Gingrich, who is also parks and recreation supervisor for Rockport State Recreation Area. "Everywhere you walk, there are Petoskey stones. [Going to] that quarry is like being on the moon."

Petoskey stones are made of fossilized coral polyps. When dry, the stones resemble ordinary limestone, but when polished, the distinctive and beautiful mottled patterns of the six-sided coral fossils emerge.
In addition to the trails that attract hikers, bikers and horseback riders, the sinkholes dotting the park are also fun to explore.

"The park is heavily wooded, and so you'll be walking along and all of a sudden there will be this huge hole in the ground," Gingrich says. "Some of them have water in them, some don't, but there's a drop-off cliff that's neat to see." 5001 U.S. 23 N., Rogers City, Michigan 49779, 989/734-2543, michigan.gov/rockport

All Michigan state parks mentioned in this story, with the exception of Lime Island State Park, require a Recreation Passport to enter. Nonresident visitors can purchase daily passes for $9 or an annual pass for $33 on the Michigan Department of Natural Resources website, michigan.gov/dnr.