Travel
| Long Weekends
3 Spring Outdoor Adventures in West Virginia
From rafting to fishing to off-roading, the Mountain State offers a wealth of outdoor adventures as spring takes hold.
March/April 2021
BY Frances Killea | Photo courtesy of West Virginia Tourism Office
March/April 2021
BY Frances Killea | Photo courtesy of West Virginia Tourism Office
Fishing

The first time Pamela Dunlap went fishing, she was 49 years old and on a blind date with a sportsman she wanted to impress.

"With fly fishing, you've got all this gear that you need to carry because it's a lot more intricate," she recalls. "I had no idea, so he's got all this stuff laying out for me to put on."

Despite muddling her first few casts and dealing with a tangle of line, Dunlap caught her first fish that day and hasn't stopped fishing since. Soon, she began to introduce her friends to the water and, as interest grew, she started hosting outings. Now she leads guests from near and far on trips from Seneca Rocks to the Elk River.

"People contact me and say, 'I didn't know West Virginia had so much nice trout,' " Dunlap says. "We have been a hidden gem."

Although there are fish to catch year-round, springtime is when trout are plentiful. Dunlap's biggest annual event, Women, Wine & Waders (canceled for this year), brings women to the north fork of the south branch of the Potomac River — near Cabins, West Virginia — each spring.

Good fishing isn't limited to the mountains and rivers though. Dunlap recommends Stonewall Jackson Lake in Lewis County for smallmouth bass and the creature comforts of the on-site resort, restaurants and boat rentals. Fishing is also popular along the Ohio River. Regardless of where you go, though, Dunlap insists on packing some important basics.
"Anybody who is fishing [needs] a hat and polarized sunglasses," she says. "For one thing, the glasses will protect your eyes, and being polarized, you can see through the water a little bit better."

A fishing license is another must, available through the West Virginia Department of Natural Resources website. Whether the fish bite or not, the beautiful West Virginia scenery offers an experience in itself. Plus, guided trips, offered by dozens of outfitters throughout the state, can teach those unfamiliar with fishing how to cast a line, tie a fly and other important skills.

"There's so much to it," says Dunlap, "and you can take it to all levels that you have time for." For more information about fishing in West Virginia, contact the West Virginia Department of Natural Resources by calling 304/558-2758 or visiting wvdnr.gov.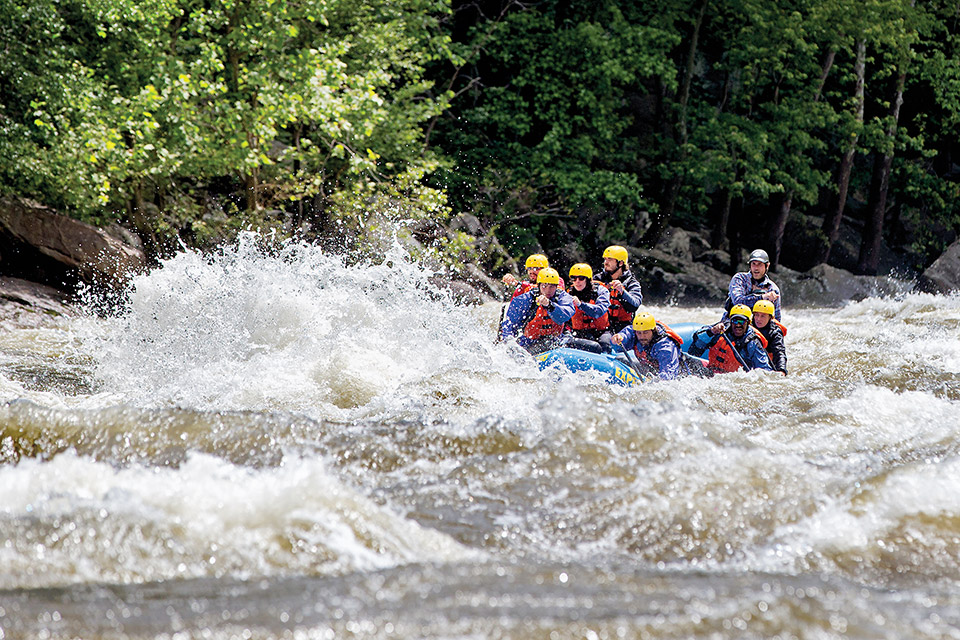 Rafting
Bryant Baker has been guiding the adventuresome down wild waterways for nearly two decades. Originally from Texas, he has spent most of his professional career in West Virginia working with ACE Adventure Resort. He became a permanent resident of the state in large part because of the myriad opportunities on the New River.

"When it gets you, it's in your blood," he says of rafting, "and there's nothing you can do about it."

Runnable from a water flow of as little as 1,000 to as much as 32,000 cubic feet per second, the New River has a wide window for a commercial season. During the spring, however, mountain runoff swells the river, creating an ideal world for people looking for a faster, more challenging trip.

"Anything above 11,000 or 12,000 [cubic feet per second], you start getting into what we call 'big water,'" Baker explains.

Under the rush of water, boulders and other features that are normally exposed begin to create waves and hydraulic holes.

"You really don't find that too often on the East Coast," he adds. "So that's a huge draw for sure … being able to float by hydraulics that could swallow a two-story house."

Throughout the early season, the lower 7 to 8 miles of the New River are dominated by Class IV and V rapids, distinguished by longer passages of rougher, less predictable water.

"The rapids themselves are less technical, there's less stuff you have to maneuver around," Baker explains. "But what gets scary is you lose your recovery time in between your rapids."

ACE Adventure Resort guides require riders on the lower New River to be at least age 13 or up, but people who might not want to run something quite so challenging can find a milder thrill on the upper portion of the New River, which is marked by slower Class II and III rapids. Most rafting outfitters, including ACE Adventure Resort, supply guests with personal flotation devices, helmets, paddles and even wetsuits for colder days. The only thing Baker asks people to bring to the experience is an open mind.

"[If] you have a mindset of, OK, I'm going to go do something new and a little bit scary, and you listen to what the guide is telling you, you're going to be good to go." 1 Concho Blvd., Oak Hill, West Virginia 25901, 877/787-3982, aceraft.com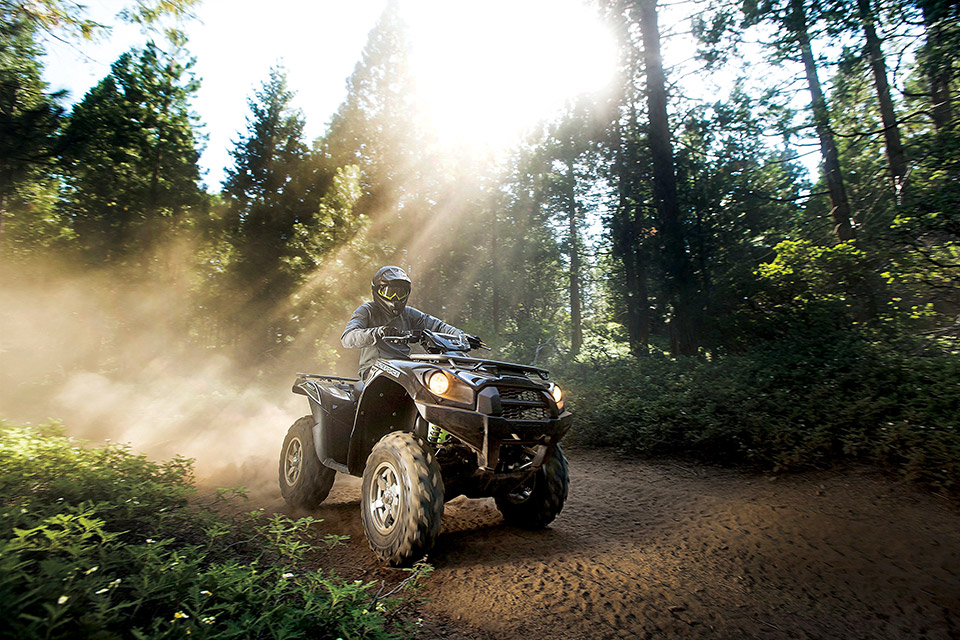 ATV Riding

West Virginia's Hatfield-McCoy Trails would stretch some 730 miles if laid out linearly. Instead, the routes designed for off-road motorized vehicles spiderweb across nearly a quarter of a million acres. Now one of the largest managed systems for motorized vehicles in the eastern United States, the Hatfield-McCoy Trails have been in development over nearly 25 years as their creators repurposed former utility routes for recreational use.

"Our trail network exists entirely on private property," says Hatfield-McCoy Trails executive director Jeffrey Lusk, adding that most of the territory is controlled by natural-resource extraction companies. "There's a tremendous amount of old roads — logging roads, timber roads, coal roads, gas roads — so we build less than 10% of our trails. We just use those old, settled roadbeds, clear them up ... and use that as the foundation for our trails."

Connector trails link different parts of the system together, ensuring travelers can keep exploring. As Lusk says, "You can go out for days and never cross your path."

Camping is prohibited, so travelers who want to use the trails typically book a stay at one of the more than 60 overnight spots in the surrounding communities and plot a series of day trips.

"We have limited ATV ordinances, so as you come off [the trails] into the communities, you have the ability to ride your ATV … so you can experience the community," says Lusk. "I like to call it 'destination riding.'"

Many places to stay provide easy access to the trail, and there are eight designated trailheads. Terrain varies, but most areas are in the easy to moderate range, so riders of all skill levels can have an enjoyable experience. And while riding the Hatfield-McCoy Trails isn't free, it is easy: Out-of-state residents pay $50 for a pass at one of 112 locations, display the sticker on their required helmet and ride for a year.

"In spring, as things leaf out, it's green and dense and cool and shaded," Lusk says. When temperatures climb, the hollows stay cool, but scaling the more exposed switchbacks definitely has its rewards. "You go up to the top of the mountain, and you're up on top of the world ... It is an amazing place." For more information about the Hatfield-McCoy Trails, call 800/592-2217 or visit trailsheaven.com.