Travel
| Hocking Hills
Spa Offerings in the Hocking Hills
If you're looking for a place to recharge and relax, these options pair perfectly with a weekend exploring the scenery of southeast Ohio.
May 2021
BY Marisa Palmieri Shugrue | Photo by Jumping Rocks Inc.
May 2021
BY Marisa Palmieri Shugrue | Photo by Jumping Rocks Inc.
Inn & Spa at Cedar Falls
Considering the secluded, intimate setting of the Inn & Spa at Cedar Falls, it's no wonder 60-minute couples massages are traditionally the spa's most popular offering. The inn, located in Logan, is surrounded on three sides by Hocking Hills State Park. The spa itself is housed in a cozy former log cabin where hardwood floors, natural light, exposed beams and a fireplace add to the peaceful ambiance.
Although same-room, side-by-side couples massages have been temporarily paused due to current health restrictions, a bevy of individual massage offerings and multiple-service packages fill the void, says Nicole McCabe, general manager at the Inn & Spa at Cedar Falls. Whether your preference is an hourlong hot stone massage or a warm bamboo massage, there is no shortage of options for guests seeking relaxation and a reprieve from a day spent trekking the region's trails.
"For a lot of folks who are maybe not normally hikers, it's a relief to come to the spa after they've hiked a day or two to get their sore muscles worked out," McCabe says, advising guests to book their services 30 to 45 days out due to how quickly appointments fill up.
It's common for spa guests who aren't staying at the inn to book their services around a mealtime, she says, so they can enjoy the inn's on-site restaurant and spa in the same visit. "The earlier they book," McCabe adds, "the more likely they are to be able to schedule around the rest of their weekend activities." 21190 St. Rte. 374, Logan 43138, 740/385-7489, innatcedarfalls.com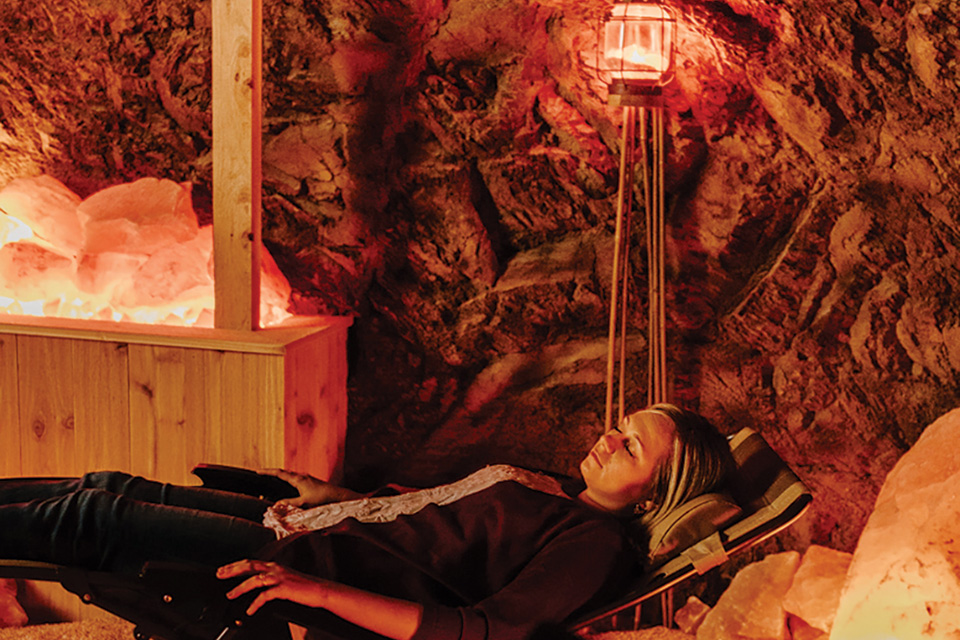 Hocking Hills Serenity Salt Cave
Wellness seekers looking for a unique experience may want to try halotherapy, or dry salt therapy, at Hocking Hills Serenity Salt Spa in Logan. Owner Mindy Bailey says her mission is to provide an alternative option for people who'd like to relieve the symptoms of respiratory-, skin-, stress- and mood-related ailments.
The benefits of halotherapy, lauded for its antibacterial, antimicrobial and anti-inflammatory properties, come from inhaling the tiny, all-natural salt particles diffused into the air.
"The cleansing of the respiratory system and immune support is very important, especially right now," she says. "It provides benefits for a variety of respiratory and skin conditions and your mood."
The salt cave is handcrafted from three 350-pound Himalayan salt boulders imported from Pakistan. Smaller rocks are spread throughout the 18-by- 18-foot space and the ground is covered in salt particles. Forty-five-minute sessions, which are by appointment only and restricted to members of the same group due to current health protocols, entail listening to relaxing music and reclining in a zero-gravity chair. The cave, which is dimly lit in calming red light, is also wheelchair accessible. A smaller room called the Zen Den offers dry salt therapy by way of heated Himalayan salt domes, which visitors can touch to improve circulation and sooth stiff joints.
"[Dry salt therapy is] an indescribable experience," Bailey says. "It benefits your mind, body and spirit." 690 Old McArthur Rd., Logan 43138, 740/385-9999, hhserenitysaltcave.com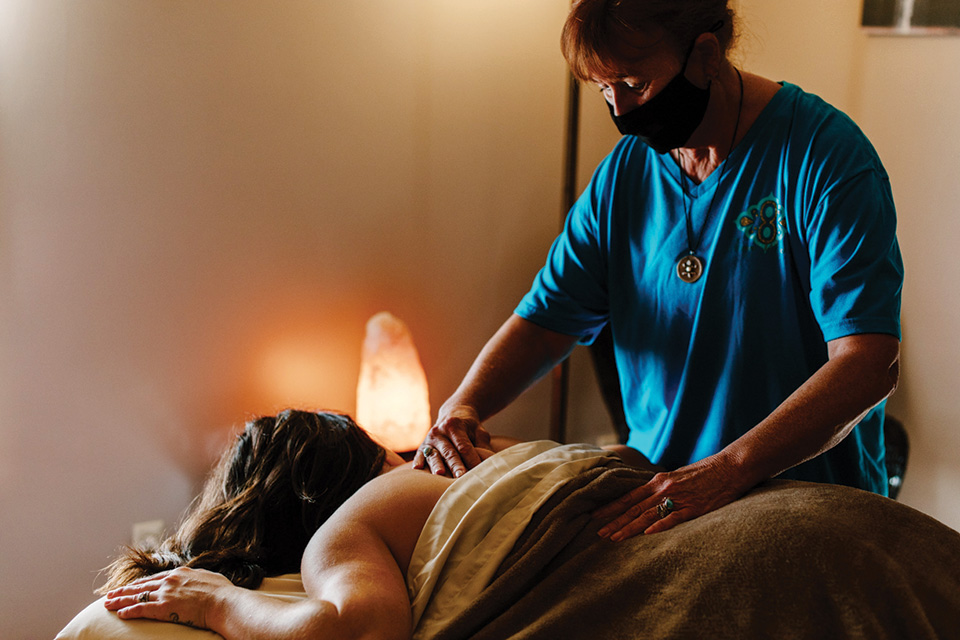 Inner Wisdom Wellness
Inner Wisdom Wellness owners Christy Richards and Trisha Farrar take a holistic approach to well-being.
"People can come get a massage if that's what they'd like to do, but we like to treat the whole person," Farrar says.
The business offers a menu of massage services, including individual, couples, hot stone, prenatal and back and neck massages. Its practitioners also offer energy healing work, meditation classes, yoga classes, facials, wellness coaching and corporate training sessions on topics like stress reduction and compassion fatigue, which has been a common concern in the wake of the pandemic, according to the spa's owners.
Inner Wisdom provides services at its wellness and retreat center in downtown Logan and also will go to guests' cabins to provide yoga, massage and other services, health restrictions permitting. In-cabin services are popular for bridal parties and other small groups looking to treat themselves.
"Self-care is crucial," Farrar says. "People need to take breaks and get away." 53 W. Second St., 2nd Floor, Logan 43138, 740/603-3399, innerwisdomwellness.com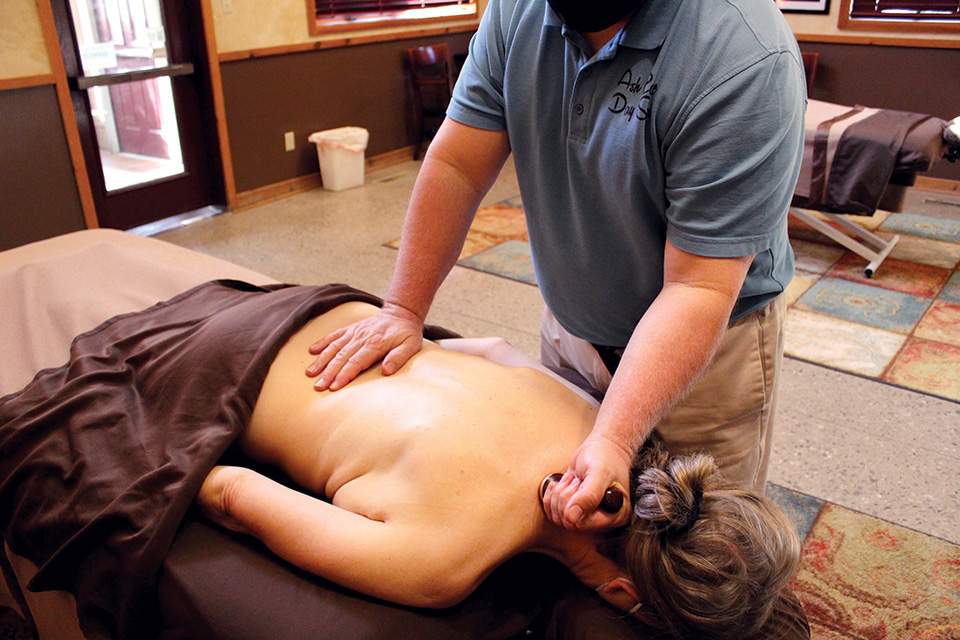 Ash Cave Day Spa
Located 1 mile from Ash Cave State Park on the Getaway Cabins property, Ash Cave Day Spa offers a full range of massages, spa facials, scrubs and wraps both at its location in South Bloomingville and at visitors' cabins throughout the Hocking Hills. Although in-cabin services are not currently available, owner Randall Wellman hopes to bring them back soon because they're a convenient option for visitors, who typically have one goal when they choose to go on a southeast Ohio getaway: relaxation.
"They're already coming to Hocking Hills to relax and get away from stress," he says. "Massages and spa services are all part of what they want to accomplish here."
To that end, one of Ash Cave Day Spa's most popular services is the three-in-one package. It includes a half-hour massage, a spa facial and either a hand or foot treatment for a total of 90 minutes.
"It gives a little taste of everything we offer," Wellman says, advising visitors to book their spa services early and map their routes before they arrive in the Hocking Hills. "It's hard to get last-minute appointments, and with cell service being kind of spotty down here, it's best to know where you're going before you get here." 25780 Liberty Hill Rd., South Bloomingville 43152, 740/332-0004, ashcavedayspa.com

---

3 Yoga Options in the Hocking Hills
Book a class during your visit to Hocking County at one of these spots.
Hatha Yoga: Relaxation and breathing are the focus of these yoga offerings at Inner Wisdom Wellness in Logan. Hatha, a combination of many styles of yoga, incorporates breathing with asanas, or poses, and ends with savasana, or rest. innerwisdomwellness.com
More Than Yoga: Veteran yoga instructor Eloise Del Matto offers this class by appointment at various spas throughout the Hocking Hills, including the Inn & Spa at Cedar Falls and Ash Cave Day Spa. More Than Yoga increases spinal alignment and flexibility with gentle, slow movements. innatcedarfalls.com, ashcavedayspa.com
Personal Yoga: Indulge in a one-on-one yoga session at the spa at Glenlaurel in Rockbridge. The class combines various styles, including Hatha, Vinyasa, Ashtanga and Kundalini, and can be customized to your levels of knowledge, strength and flexibility. glenlaurel.com