Travel
| Cities
Akron & Summit County: Shopping Season
A trip to Summit County this month offers a range of options, whether you're looking for national brands, vintage finds or thoughtfully handcrafted pieces of art.
December 2017
BY Nathan Havenner | Photo by Tori Tedesco Design & Photography
December 2017
BY Nathan Havenner | Photo by Tori Tedesco Design & Photography
First & Main | Hudson

With its brick streets and Western Reserve-style architecture, Hudson's First & Main is a shopping destination that harkens back to the glory days of downtown holiday shopping. The 200,000-square-foot outdoor complex is home to 32 national retailers, boutique stores and restaurants, and sits just behind the town of Hudson's historic Main Street.

Brian Cancelliere's MOD Matter of Design, which sells upholstery, rugs, art, window treatments and accessories, has occupied a storefront at First & Main for the past four years.

"We have 70 different vendors, and we try to showcase local artisans as well," says Cancelliere, whose full-service design store carries both midcentury modern and industrial repurposed products, as well as Ohio-made Norwalk Furniture. "We have been embraced by our customers because there are more interesting options here."

Other retailers include national chains such as J.McLaughlin, Jos. A. Bank, Talbots and White House Black Market, as well as locals such as Scout & Molly's Boutique and Heather's Heat and Flavor. Dining options include chef Shawn Monday's trio of Hudson spots: 3 Palms Pizzeria, Flip Side and One Red Door.

"It is a nice community," Cancelliere says of Hudson. "They tried to blend it with Main Street and the historic district of Hudson, and I think that's kind of the charm of First & Main." 43 Village Way, Hudson 44236, 330/653-9530, firstandmainhudson.com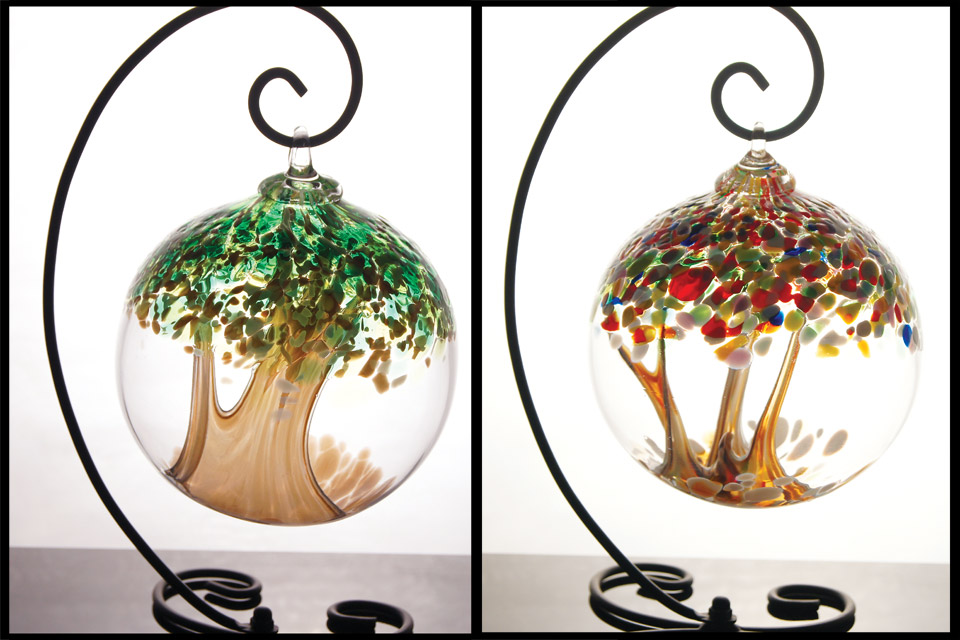 Akron Glass Works | Akron

Akron Glass Works had been practicing the art of glass blowing in the Rubber City's Northside District since 2006. But a 2016 move to a 1930s brownstone church, located just two miles south of the operation's previous location, now means there's more room for glass creations by eight artists, all of whom work at or have been associated with Akron Glass Works. It also allows for an increased number of glass-blowing classes offered to the public.
"We have so many people who want to do the workshops," says glass artist Sandy Holata, who has been with Akron Glass Works since it opened and handles marketing for the operation. "Moving here doubled our space, and we were able to more than double the number of workshops that we can do."

Those workshops range from making Christmas ornaments and paperweights to glass flowers and pumpkins. The on-site store is filled with a wide array of pieces that start as low as $20 and can reach as high as $2,000. Holata says people are often surprised by the affordability of many of the items Akron Glass Works carries.

"When you go to a gallery in another city, things are a lot more expensive," she says. "We like people to buy the stuff. We want it to move and not just sit around." 421 Spicer St., Akron 44311, 330/253-5888, akronglassworks.com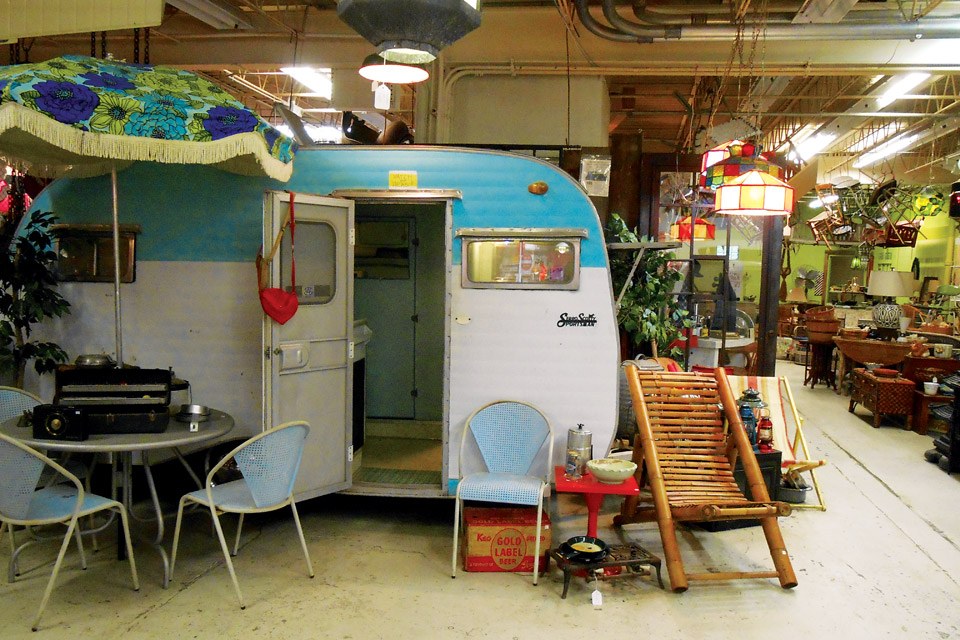 The Bomb Shelter | Akron
From wagon-wheel furniture found in a home furnished in 1959 to a stack of Cold War survival crackers in their original sealed tins, The Bomb Shelter is a 24,000-square-foot oasis for collectors of vintage pieces and oddities.
"The items that people seem to get the most excitement about are things that are midcentury Danish modern — [the] 1960s, with a bit of a groovy flair," says the store's owner, Kevin Royer.
A professional stager has created different areas inside the store to showcase the goods. One features a 1960s camping motif, while the "library" has an academic feel with retro desks, typewriters and stacks of
National Geographic
magazines dating back to the 1940s.
Royer says that with the passage of time, younger people are entering the collecting market, and their interests are different than previous generations.
"You'd go into a store and see crocks, butter churns, yarn-spinning wheels and things like that," Royer says. "It just isn't the interest that the younger people have."
Due to the economic stability of Akron in the mid-20th century, many people were able to purchase new items for their homes, and these are the same items Royer is now looking to buy and stock in his store.
"If you can pick the right pieces out of those houses, you can satisfy a need with the younger kids trying to decorate that way," he says.
923 Bank St., Akron 44305, 330/258-0088, thebombshelterstore.com



River Light Gallery & The Log Cabin Gallery | Peninsula

River Light Gallery's circa-1820 building along the Cuyahoga River in the town of Peninsula — located about 20 minutes north of Akron — showcases works by more than 40 artisans. It features handmade products ranging from creative lamps crafted with industrial parts and Edison bulbs to hand-turned wooden bowls.

"Initially I wanted it to be a little bit more urban-feeling," says owner Diane Seskes. "It sort of had that vibe even though it is in this old building."

Seskes is no stranger to the local art scene. Since 1999, the photographer has operated a pop-up art gallery in a log cabin that sits in her backyard. When the property that now houses River Light Gallery became available for rent in 2015, she decided it was time to expand and began calling artists she had worked with at The Log Cabin Gallery.

"I want it to be items that you don't see at every show you go to," she says.

The seasonal Log Cabin Gallery is open through Dec. 17 and houses more traditional goods, such as handmade quilts and ceramics, while Seskes has worked to make River Light Gallery appeal to a younger crowd.

"The older people come in and they are downsizing and don't have any more room," she says. "I want to appeal to some of the millennials, and we have been." River Light Gallery, 1663 Main St., Peninsula 44264, 330/657-2204, facebook.com/riverlightgallery; The Log Cabin Gallery, 1671 Main St., Peninsula 44264, 330/657-2670, thelogcabingallery.com

***


Holiday Cheer

After a day of shopping, check out these attractions that celebrate the season.


Stan Hywet Hall & Gardens:
Once home to the F.A. Seiberling family, the manor house is full of Christmas spirit during its annual Deck the Hall event, which runs select dates throughout December. Visitors can enjoy the 1 million lights throughout the mansion and grounds.
714 N. Portage Path, Akron 44303, 330/836-5533, stanhywet.org


Hale Farm & Village:
This 200-year-old family farm and historic village celebrates the old-fashioned way with Holiday Lantern Tours on select dates through the month of December. Each tour lasts 90 minutes, with guests experiencing the Christmas season in 19th-century Western Reserve fashion.
2686 Oak Hill Rd., Bath 44210, 330/666-3711, wrhs.org