Travel
| Cities
Akron: 4 Nature & Art Experiences
Beautiful natural sites and a creative spirit make Summit County a great place to explore.
July/August 2020
BY By Lindsey Sellman and Emma Stefanick | Photo by Chris Foster
July/August 2020
BY By Lindsey Sellman and Emma Stefanick | Photo by Chris Foster
Brandywine Falls

This 60-foot waterfall is one of the most picturesque attractions in Cuyahoga Valley
National Park. During the 19th century, the falls powered a sawmill that was the centerpiece of Brandywine Village, one of the valley's earliest settlements.

George Wallace built the sawmill in 1814 and gristmills and woolen mills followed, as did a small community of workers and their families. The former home of James Wallace, George Wallace's son, exists today as the Inn at Brandywine Falls.

William Sommer, an American modernist painter from Detroit, became a full-time artist after being laid off in 1929. He did murals for the Public Auditorium and the Cleveland Public Library.

Sommer lived in the Brandywine Falls area during the 1930s. There, he and other artists used a former school building Sommer purchased as a studio. He spent his days painting while surrounded by the natural beauty of what is today part of Ohio's only national park.

"It makes sense: Art and nature go together very well," says Pamela Barnes, public information officer for Cuyahoga Valley National Park.

Although the Brandywine Falls boardwalk was closed, it recently reopened. Once you've taken in the falls, head out on the 1.7-mile Brandywine Gorge Trail. Because Brandywine Falls is a popular destination and its parking lot often fills up on busy weekends, Barnes suggests having a couple other destinations in mind when visiting the park. She also reminds travelers to stay on marked trails and call the park-closure hotline for updates.

"Look at our website, look at some other locations and have another two or three areas in your mind that you could go to alternatively," she says. 8176 Brandywine Rd., Sagamore Hills 44067, 440/546-5960, nps.gov/cuva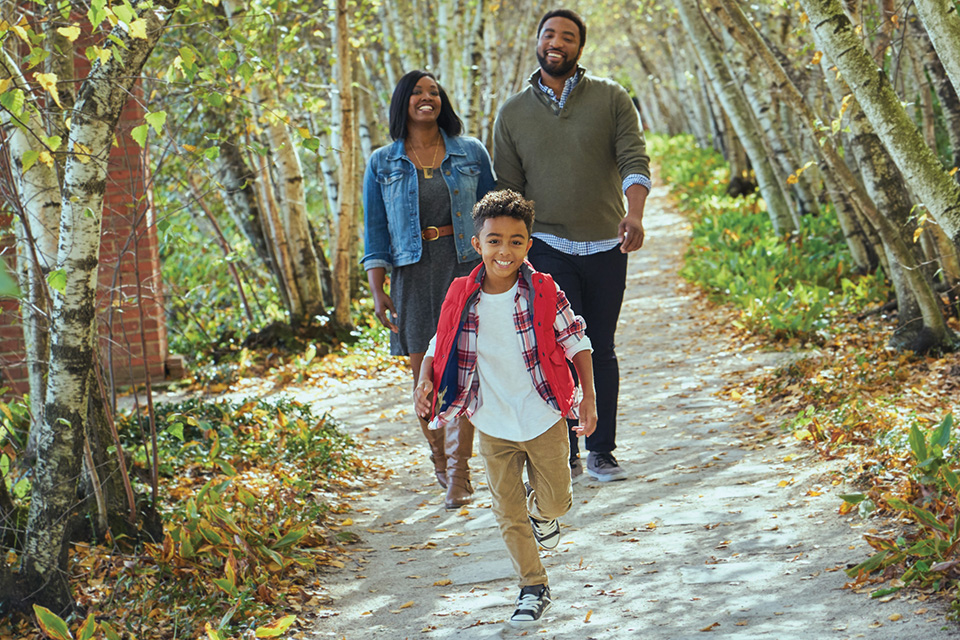 Stan Hywet Hall & Gardens

Built in 1915 by F.A. Seiberling, Stan Hywet Hall & Gardens is the city of Akron's oldest national landmark. Its garden, designed by Warren Manning, is a highlight of the 70-acre estate, with thousands of beautiful flowers planted each year.

Perhaps the most iconic locations to visit in the gardens are the Birch Tree Allee — rows of birch trees that create a narrow passageway to walk through — and the English Garden designed by pioneering landscape architect Ellen Biddle Shipman.

A new summer sculpture exhibition titled "Winds of Change" features several kinetic sculptures by women artists. The garden installation pays homage to the 100th anniversary of women gaining the right to vote. It opened on the grounds of the estate June 16 and is included with the admission fee.

Stan Hywet's gardens provide the chance to get gardening ideas or just relax with a peaceful walk surrounded by scenery. Tours of the gardens and manor house are available, although many are not being offered at this time.

Stan Hywet Hall & Gardens superintendent Tom Hrivnak says the uniqueness of the gardens makes a road trip to see them worthwhile.

"When you step onto the property, it's kind of like you're back in time during the 1920s and 1930s," he says. "It's exactly how the Seiberling family would have seen it driving up to the front of the house or walking through the back." 714 N. Portage Path, Akron 44303, 330/836-5533, stanhywet.org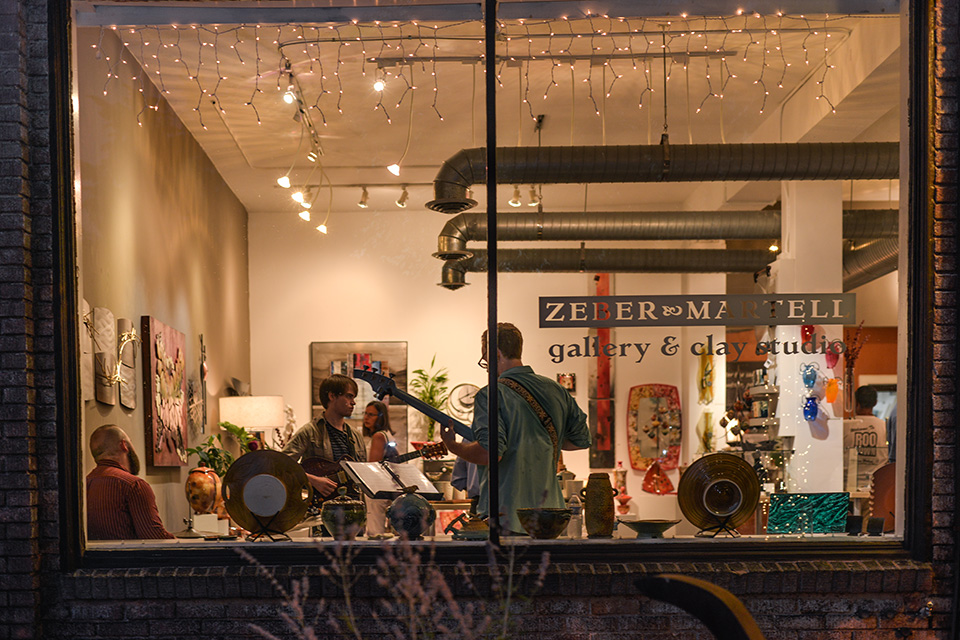 Northside District

An area once filled with houses built to keep up with Akron's booming rubber industry is today a hub for artists and small businesses. With landmarks like Luigi's Restaurant and newer arrivals such as Northside Cellar and Northside Marketplace, the Northside District draws travelers and locals who want to connect with creativity. Zeber-Martell Gallery and Clay Studio is one of the 50 businesses that call the area District home.

"It's sort of its own little community," says co-owner Claudia Zeber-Martell. "It's a nice little walking neighborhood, too. So that makes it all pretty lovely."

The Northside Marketplace on Furnace Street opened in 2017. The marketplace includes a range of craft and food vendors, such as Corinna's Candles, Stella Blue Glass Art, Madly Bath & Body, Fat T's Cookies, Tea Dude and Chris Klassen Art.

In addition to restaurants and shopping, the Northside District offers access to beautiful natural scenery, due to its location near the route of the Cuyahoga Valley Scenic Railroad. (All excursion trains are unfortunately not running this summer.)

Nicole Mullet, executive director of ArtsNow, says this collection of places to explore is what makes the district great.

"It's very rare to have all of those assets in one place," she says. "It's easily accessible, affordable and you can go spend money, eat dinner and go shopping, or you can have an entirely free day that is still beautiful, remarkable and unique." Visit downtownakron.com or northsidemarketplace.com for more information about Akron's Northside District.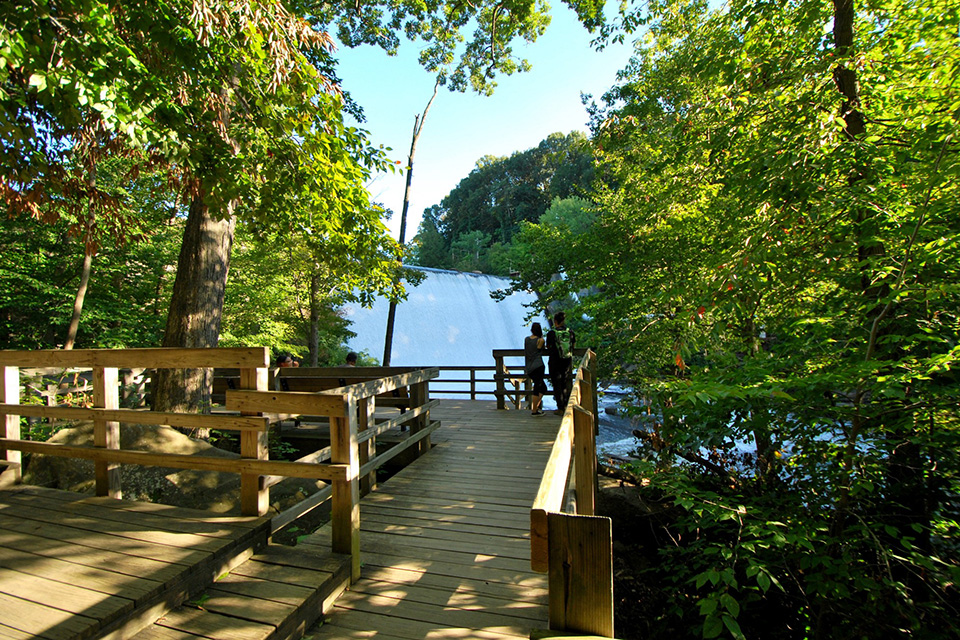 Gorge Metro Park

Although it's just one of 16 park locations scattered throughout Summit County, Gorge Metro Park in Cuyahoga Falls is like no other. Originally founded as an amusement park in the late 1800s, which was replaced with a different amusement park in the early 1900s, the area's rich history is frequently overshadowed by its breathtaking rock formations.

The park has three different trails to explore, Glens Trail, Gorge Trail and Highbridge Trail, each offering different challenges to accommodate hikers of various skill levels. The 1.8-mile Gorge Trail passes by Old Maid's Kitchen (also known as Mary Campbell Cave, although there's no evidence the real Mary Campbell was ever here) and the Gorge Dam. Originally built over Big Falls of the Cuyahoga River in 1911, the dam was decommissioned in 1958 but still remains a popular attraction and piece of park history.

Gorge Metro Park also offers naturalist-led programs throughout the year that focus on the park's history, rock formations and wildlife. Other outdoors programs include kayaking.

"It's the combination of the natural beauty with the sandstone ledges and the river below," says Mike Greene, education and recreation manager for Summit Metro Parks. "You know there are only a handful [of places] throughout Northeast Ohio where you can go see these ledges, and we're really fortunate to have several of these places." 1160 Front St., Cuyahoga Falls 44221, 330/867-5511, summitmetroparks.org