Travel
| Cities
10 Things to Do in Cleveland this Summer
Kayak on the Cuyahoga River, visit incredible museums and explore world cuisines in this city along the shore that shines during the summer.
July/August 2022
BY Lisa Galek | Photo by Ken Busch
July/August 2022
BY Lisa Galek | Photo by Ken Busch
On The Water

Located on the shores of Lake Erie, Cleveland is a vibrant waterfront city with tons of lakeside events and activities. Every three years, it hosts the Tall Ships Festival, a four-day maritime celebration featuring a fleet of historic and international ships. In 2022, the event will visit the North Coast Harbor from July 7 through 10. Attendees can purchase tickets to tour eight ships and even ride on two sail-away vessels. After exploring the boats, check out the festival marketplace with games, activities, concessions and maritime musical acts. "If you are a tall ships enthusiast, this is a unique activity and experience for families and friends to enjoy," says Heather Holmes, an organizer of the festival and executive vice president of downtown experiences and chief marketing officer for the Downtown Cleveland Alliance.

On July 23, hundreds of kayakers and paddleboarders gather on the waterfront for the Blazing Paddles Paddlefest, held annually on the revitalized Cuyahoga River. Many are familiar with the history of Cleveland's "burning river." However, not as many people know that the environmental regulations it spurred allowed for the renaissance of Cleveland's waterfront that Blazing Paddles celebrates. "There could be close to 500 canoes, kayaks and paddleboards out on the body of water that used to be synonymous with environmental ruin," says Jim Ridge, organizer of Blazing Paddles Paddlefest. Participants can rent kayaks through the event if needed but should register as early as possible because supplies are limited.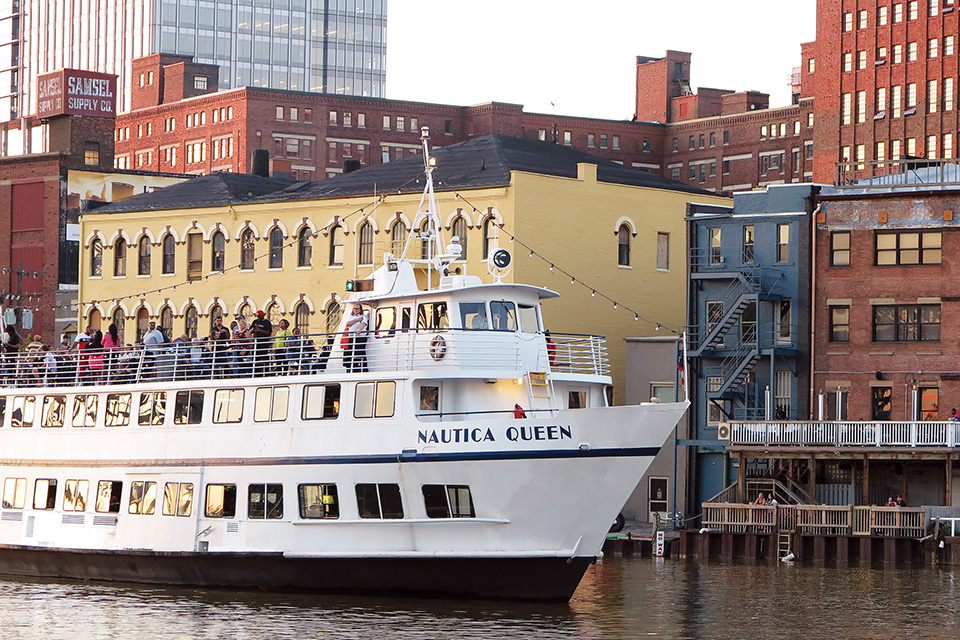 Can't make it to either of these waterfront festivals? Consider a day or evening cruise down the Cuyahoga River or out onto Lake Erie with the help of a Cleveland classic: the Nautica Queen. Lunch and dinner cruises depart Monday through Saturday, with a brunch cruise on Sunday. Throughout the summer, guests can enjoy delicious buffet meals, upbeat music and beautiful lake views of the Cleveland skyline.

Did you know the city was voted the best urban kayaking spot in North America by USA Today? See for yourself when you rent a kayak on the west bank of the river at Great Lakes Watersports. Enjoy an easy two-hour trip paddling toward downtown Cleveland passing historic bridges, landmarks and Rocket Mortgage FieldHouse, where the Cleveland Cavaliers play. Single or double kayak rentals are walk-up only, and weekdays are less busy.

Museums & Culture

A summer visit to the city is the perfect opportunity to check out local arts and culture. At the Rock & Roll Hall of Fame, located near North Coast Harbor on the lakefront, visitors can explore "The Beatles: Get Back to Let It Be." Curators at the Rock Hall created this exhibit as a companion piece to the Disney+ documentary "The Beatles: Get Back." The curatorial team worked with Paul McCartney and Ringo Starr and the estates of John Lennon and George Harrison to gather some never-before-seen artifacts for this new showcase (such as Starr's drum kit from the band's rooftop performance). It also features immersive exhibits and footage that did not air in the nearly eight-hour docuseries. "I love that this exhibit really looks at the bond, togetherness and camaraderie the band had, even at the end of their career together," says John Goehrke, director of guest experience.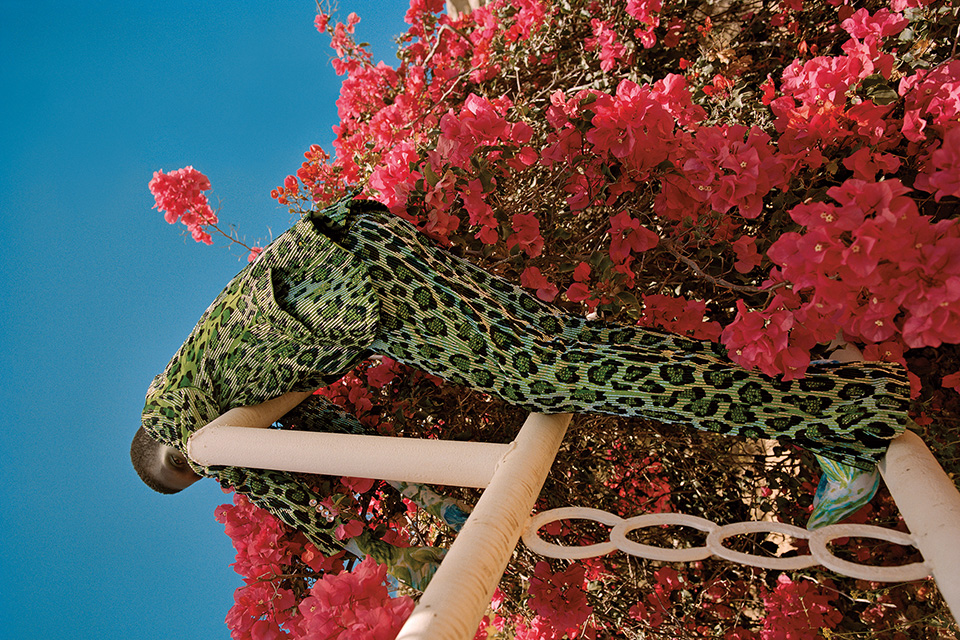 The University Circle neighborhood is home to several world-renowned museums, including the Cleveland Museum of Art. This summer, visitors can view "The New Black Vanguard," a photography and fashion exhibition celebrating Black lives and artists. Though the works have traveled throughout the country, the Cleveland show has exclusive elements, including new fashion vignettes from three unique stylists. Museum visitors will see a variety of high-quality works built for the space, which emphasize that the Black experience is not homogenous. "Our exhibition designers did an impeccable job," says Darnell-Jamal Lisby, assistant curator with a focus of fashion. "It's a very colorful, exciting, outlandish exhibition that just draws you in."

In Beachwood, about a 20-minute drive from downtown Cleveland, the Maltz Museum of Jewish Heritage is featuring "Chagall for Children." This interactive exhibition is based on the art of Marc Chagall, described as the quintessential Jewish artist of the 20th century. Sized for children ages 2 through 12, the exhibit has 14 multi-sensory stations, each with an interactive reproduction of one of Chagall's works. For example, young visitors can touch a farm animal scene with Velcro pieces in one area. In another, they can rearrange beautiful stained-glass puzzle pieces. "This is really about not just observing art, but also making art and engaging in your own creativity," says Dahlia Fisher, director of external relations.

Food & Drink

After all these summertime activities, Cleveland travelers are bound to be hungry. Luckily, the Land has lots to offer when it comes to food and drink. Go online to check out the International Restaurant Passport and Cleveland Brewery Passport compiled by Destination Cleveland, the city's nonprofit convention and visitors bureau. Diners can enjoy discounts and explore different ethnic cuisines, from Asian to Latin. Or, sample drinks at over 40 local breweries and earn prizes for visiting multiple locations. Just sign up for the passports to redeem discounts on your smartphone at participating locations.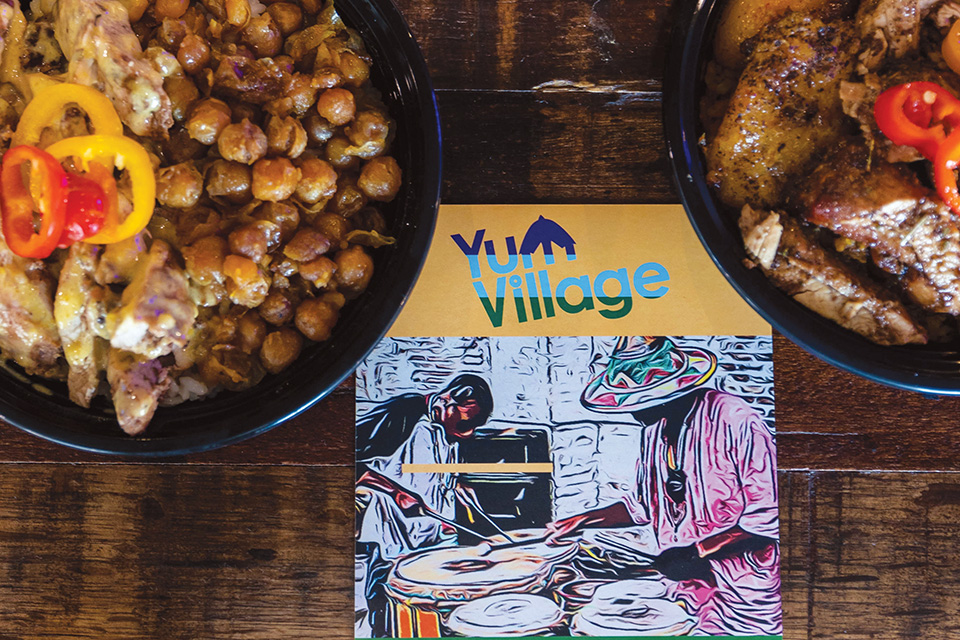 One of the highlights in the restaurant guide is Yum Village, the first Black-owned business on the campus of Cleveland State University. This fast-casual restaurant started with two locations in Detroit and opened its Cleveland site in 2021. Yum Village specializes in Afro-Caribbean dishes influenced by the owner's Nigerian heritage. "We pride ourselves on healthy cuisine. The majority of our menu is vegan," says owner Carasai Ihentuge. Summertime visitors should try the Just Plants Village Combo, featuring sweet potato flips, sweet and spicy plantains, ginger curry chickpeas and coconut/turmeric rice. The restaurant also serves fresh juices, such as watermelon, pineapple and mango-ginger flavors.

Located on the west bank of the Flats, BrewDog's Outpost Cleveland opened in December 2021. The atmosphere at BrewDog can be described in one word: fun. "It's loud. It's rambunctious," says CJ Gilson, assistant general manager. "We pride ourselves on being kind of like a party." In the summer, visitors can enjoy a meal and then stay for games like shuffleboard, pinball or cornhole or just relax and hang out. The beer garden overlooks the Cuyahoga River, so it's a great spot to sit back with a drink (Gilson recommends Cold Beer, a crisp golden ale) and watch the boats pass by on a hot summer night in Cleveland.

For information about these and other destinations, visit thisiscleveland.com.

When You Go
Tall Ships Festival: tallshipscle.com
Blazing Paddles Paddlefest: sharetheriver.com/blazing-paddles
Nautica Queen: nauticaqueen.com
Great Lakes Watersports: glwatersports.com
Rock & Roll Hall of Fame: rockhall.com
Cleveland Museum of Art: clevelandart.org
Maltz Museum of Jewish Heritage: maltzmuseum.org
International Restaurant Passport & Cleveland Brewery Passport: thisiscleveland.com/things-to-do
Yum Village: yumvillage.com
BrewDog's Outpost Cleveland: brewdog.com