Travel
Winged Victory
A visit to the Liberty Aviation Museum offers a look into World War II flyers, military history and more.
July 2015 Issue
BY Vince Guerrieri | Photo by Paul Bowen
July 2015 Issue
BY Vince Guerrieri | Photo by Paul Bowen
The entryway of the Liberty Aviation Museum is festooned with pieces that conjure the days when travel was an event unto itself. Vintage ceiling fans and art deco lettering intermingle with vintage display cases and leather chairs that at one time wouldn't have looked out of place in waiting rooms of train stations — or airports.

You half expect to see Clark Gable walk past. Instead, a display offers a look at the Cadiz, Ohio, native's U.S. Army Air Forces uniform. The museum's anachronistic leanings continue outside, where planes more than 70 years old can routinely be found taxiing on the runway, if not taking off for special event passenger excursions.

"Instead of just looking at something in a museum, we can put you in it and take you up for a ride," says Todd Mather, president of the Port Clinton Experimental Aircraft Association and pilot for the museum.

The Port Clinton museum opened in July 2012. It has a collection that includes two World War II-era planes — a B-25 Mitchell bomber and an Avenger (the type of plane flown by George H.W. Bush in World War II) — as well as boats and a variety of other vintage vehicles including jeeps, a Dodge ambulance and motorcycles.

The attraction has thrived during the past three years and is scheduled to open a new 34,500-square-foot building this month. The new space will hold all of the war transportation equipment acquired by the museum, which was its original mission. The 21,000-square-foot main museum building, which is located in the southeast corner of the Erie-Ottawa Regional Airport, will continue to house exhibits related to the history of early aviation and Port Clinton's contributions to that history.

"As we expand, we're expanding our mission," says museum CEO Ed Patrick. "We're trying to show the golden age of transportation."

***

The idea for the Liberty Aviation Museum dates back to the early 1990s, when the Erie-Ottawa Regional Airport in Port Clinton hosted an annual gathering of "warbirds," planes that were used (or at least built) for combat in the pre-jet age. More than 25 airplanes would show up for the events. Ultimately, the aircraft needed to be stored, and the lakefront town seemed like a natural choice.

In a state full of aviation history, from the Wright brothers in Dayton to Eddie Rickenbacker in Columbus to John Glenn in New Concord, Port Clinton had a footnote of its own: It was once home to what the historical marker at the airport calls "the world's shortest airline."

During the late 1950s and early '60s, Island Airlines flew from Port Clinton to the Lake Erie Islands using the Ford Tri-Motor — a propeller plane dating to the 1920s and '30s, when an enclosed cabin for passengers was revolutionary. A total of 199 were made as Henry Ford tried to do for air travel what he did for automobiles with the Model T.

Nicknamed the "Tin Goose," the Tri-Motor was used by Island Airlines until 1986. The complete 17-mile round trip visited four islands and could be done in 45 minutes. Today, two of those old Tri-Motors can be found at the Liberty Aviation Museum.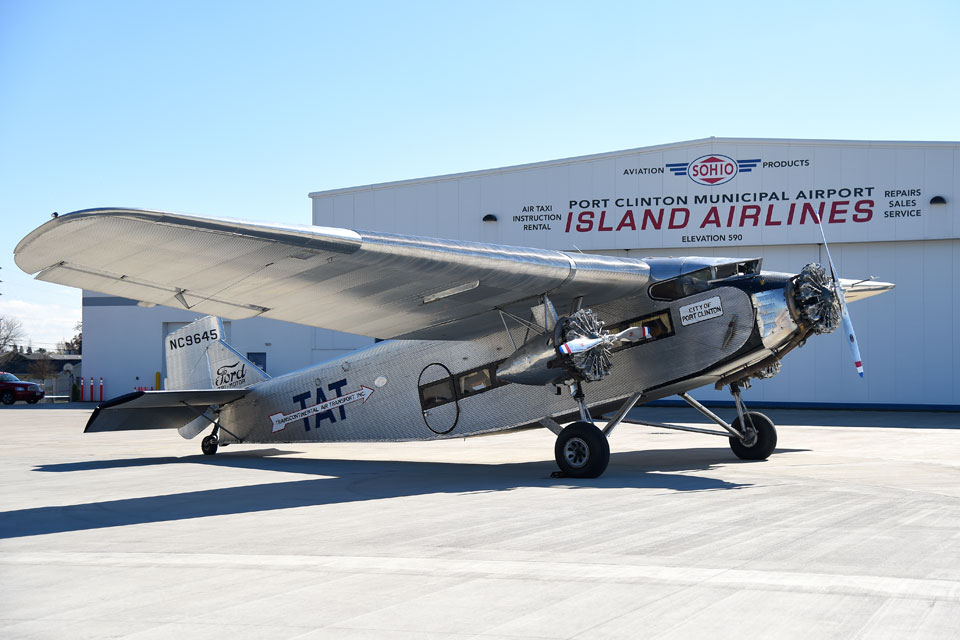 "The City of Wichita" was added to the museum's collection last year at a cost of $1.5 million, and it is being used regularly for flights, giving 10 people at a time the chance to experience what it's like to fly in the Tin Goose. "It's the Orient Express of air travel," explains museum operations director Jeff Sondles, noting the mahogany paneling and aluminum light sconces inside the plane's passenger compartment.

Mather, a pilot and flight instructor with more than 30 years experience, flew his first Tin Goose about a decade ago. It was antiquated, big and slow with heavy controls. "There was no power steering when it was built," he says, before adding that he understands the plane's appeal, particularly in a tourist area like the Lake Erie Islands.

"It's a beautiful ride," he says. "It's great for sightseeing."

The Port Clinton chapter of the Experimental Aircraft Association is currently restoring the museum's second Tri-Motor piece by piece for posterity and future use.

"The goal is to have one plane permanently housed here, and the other flying around as an ambassador for the museum," Sondles says.

***

George Woodling Jr., a lawyer and engineer who died in 2010, provided the seed money for the museum. He was a collector — of uniforms, of artwork, of a lot of things. He was a close friend of Patrick, and his estate provided not only financing but also many of the artifacts on display, including photos of vintage planes and authentic military uniforms.

The museum also showcases artifacts that stand at the intersection of pop culture and military history, such as Clark Gable's uniform and the helmet actor Gary Sinise wore in his role as Lieutenant Dan in "Forrest Gump." It is also home to the uniform of Theodore Roosevelt's aviator son, Quentin, who was killed in combat during World War I.

If Woodling is the museum's spiritual father, its patron saint — with a display in his honor — is Lenny Thom. He played for some of the best football teams in the history of Sandusky High School, and then went on to compete at Ohio State University. After reading They Were Expendable, a book extolling the advantages of small wooden boats in the South Pacific, Thom joined the navy for Patrol Torpedo boat service.

PT boats were used for reconnaissance missions, primarily in the South Pacific, and he was assigned to PT-109, serving as executive officer to a Harvard graduate and ambassador's son named John F. Kennedy. Thom survived the sinking of PT-109 to command his own boat, and he came home after World War II before dying in a car wreck in 1946. (Kennedy, running in his first election for the U.S. House, dropped everything to go to Thom's funeral in Youngstown and served as a pallbearer.)

The museum owns two PT boats — an accomplishment in itself, since many of them ended up being burned at the end of the war. One, which was turned into a cabin cruiser, is awaiting restoration, while the other is nearing the end of a two-year, $2 million restoration. If all goes well, PT-728, named the "Thomcat" in Lenny's honor, will go into the water this year.

But the crown jewel — and the first acquisition of the museum — is the 1945 B-25 Mitchell bomber. The plane was built shortly before World War II ended, so it never saw combat, but it was used first by the military and then privately before being restored to its World War II- era grandeur. It's named "Georgie's Gal" in honor of Woodling.

"That's our flagship," says museum CEO Ed Patrick. "That's the reason we're here."

Liberty Aviation Museum
3515 E. State Rd., Port Clinton 43452
419/732-0234, libertyaviationmuseum.com
Hours: Sun.–Thur. 10 a.m.–5 p.m., Fri.–Sat. 10 a.m.–6 p.m.
Admission: Adults $5, children under 14 free with adult admission