Travel
Western PA: Festivals & Events
Pittsburgh and the western Pennsylvania countryside have a great lineup of summer happenings.
June 2015 Issue
BY Megan Zimmer | Photo Courtesy of Bill Stoler
June 2015 Issue
BY Megan Zimmer | Photo Courtesy of Bill Stoler
Pittsburgh Vintage Grand Prix
Early to mid July

The Pittsburgh Vintage Grand Prix began in 1983 and has been burning rubber ever since. Colorful Aston Martins, Porsche 356s and other vintage cars race through Pittsburgh's Schenley Park for the finale of this 10-day event, which is held each year during mid-July.

The festival stages a week of events, including multiple car shows and parades through downtown Pittsburgh, that lead up to race day. (Plus, all cars must qualify for grid position during preliminary races.) The vehicles are broken up into seven groups, ranging from vintage pre-war cars to sports racers.

More than 150 vintage cars take part and whichever driver gets the farthest in 20 minutes wins. While the races are free, all the proceeds from the events leading up to it, such as the Blacktie & Tailpipes Gala, go toward the Autism Society of Pittsburgh and the Allegheny Valley School. Over the past 32 years, the festival has raised close to $4 million for charity.

"My favorite part about the festival is the paddock, where the drivers keep the cars," says Dan DelBianco, the executive director of the Grand Prix. "You can walk past the cars and talk to the racers as they prepare. I really enjoy it and everyone is really friendly." Schenley Drive and Darlington Road, Pittsburgh 15217, 412/559-3500, pvgp.org


Three Rivers Arts Festival
Early to mid June

Fifty-five years ago, a group of women from Pittsburgh's Carnegie Museum of Art wanted to make art more accessible to the city's residents by taking creativity to the streets. Today, the Dollar Bank Three Rivers Arts Festival draws in more than 400,000 visitors during its 10-day run.

The festival is spread across the city's Cultural District, Gateway Center and Point State Park where Pittsburgh's rivers converge. Visitors to the free event can browse the open-air art market, walk through immersive art installations or catch one of the many concerts scheduled throughout the festival's run. Alt-country songstress Neko Case and indie-rock favorite Jenny Lewis are among this year's slate of headlining musicians.

Presented under the theme "The Unseen and Unheard," this year's festival will introduce new artists and showcase pieces that cover subjects that frequently go unspoken. Since 2009, the festival has focused on becoming more environmentally friendly as well. Event organizers see to the recycling and composting of nearly all of the waste generated during the affair, which has diverted hundreds of tons of garbage from landfills.

"Being in a green space like Point State Park, which is nestled between two rivers, adds to the festival experience," says Veronica Corpuz, director of festival and special events. "It's kind of a magical moment here in Pittsburgh. These plazas, parks and streets turn into a feast of an art festival." Point State Park, Pittsburgh 15222, 412/456-6666, 3riversartsfest.org


Bantam Jeep Heritage Festival
Early to mid June

Long before it became a favorite off-roading vehicle, the jeep was created in response to the U.S. Army's need for four-wheel-drive reconnaissance vehicles. The first one was built in Butler, Pennsylvania, in 1940, and the jeep went on to help the Allies win World War II.

The Bantam Jeep Heritage Festival celebrates the iconic vehicle's 75th birthday this summer. The annual three-day event routinely draws jeep enthusiasts from as many as 30 states, who drive in to celebrate the beloved adventure machine. Jack Cohen, the president of the Butler County Tourism and Convention Bureau, came up with the idea for the festival and the parade.

"He saw this rich history in our town that we needed to take advantage of," says festival director Patti Jo Lambert. "Jeep owners are similar to Harley owners. They simply love their [vehicles] … and this festival is for any type of jeep lover. Some people like the history of the military jeep and others like to take them off-roading ... A lot of people look forward to the festival, and it's great to see how much fun they have."

During the festival, there is a display of historic military jeep models made by Ford Motor Co. and Willys-Overland Motors, as well as a re-creation of the original Bantam model that provided Butler its claim to fame. Festivalgoers can take part in driving-skill contests, the original jeep parade and plenty of other four-wheel-drive fun. Visit website for directions and more information about events and locations. bantamjeepfestival.com


Thurston Classic
Mid June

Watch as dozens of vibrant hot air balloons float across the sky during the 27th annual Thurston Classic hot air balloon festival in Meadville. The festival began in 1988 as a way to celebrate the town's ballooning heritage. The local Thurston family had long ties to ballooning dating back to 1860, and the town created this annual event to celebrate this method of flight.

The event kicks off on Thursday with a night glow, which offers live entertainment as spectators witness tethered-down balloons create a colorful evening display of light as the pilots turn on their flying machines' burners.

The following days are filled with a variety of races, which draws some of the best balloonists in the nation. One such race has the competitors fly to a designated spot and attempt to drop a beanbag on a target.

"Watching [the balloons] is spectacular," says festival co-chairman Ted Watts. "These pilots have a 25-by-25-foot target to [hit], and they'll come down right in the center." 185 Park Ave., Meadville 16335, 814/336-4000, thurstonclassic.com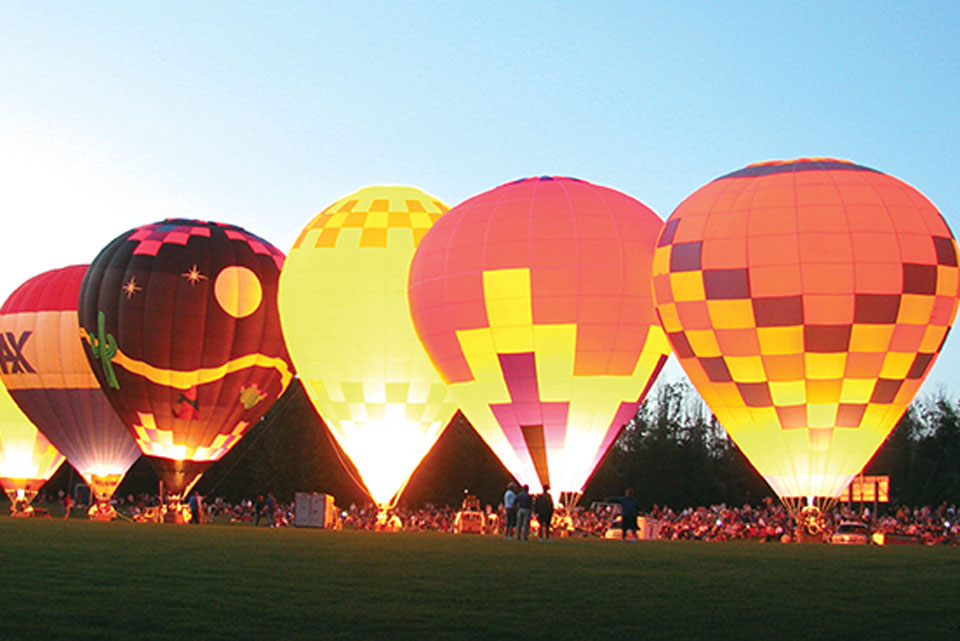 Heart of the Arts Folk Festival
Mid July
Embrace the roots of American music at the Heart of the Arts Folk Festival in Crawford County. Hosted at the University of Pittsburgh at Titusville, the annual event showcases a wide range of workshops and live performances that aim to keep folk music traditions alive and well.
Among the three free concerts at this year's festival is a performance by the acoustic duo of Jay Ungar and Molly Mason, as well as local folk-pop trio Newman. The variety of workshops held throughout the three-day affair cover topics ranging from Celtic and blues mandolin to quilt making to yodeling.
The event embraces obscure instruments such as the tin whistle and strum stick, and the festival also showcases visual arts. On Saturday night, visitors can cut a rug as they learn different American folk dances. For those who simply want to play, there are a number of jam sessions in which visitors can participate.
"I'm a musician," says the festival's interim executive director Helyn Dahle. "It's a cool environment being around people who live for this kind of music and want to make sure it doesn't die."
Corner of Main and Brown streets, Titusville 16354, 814/827-2381, hotafest.com

Fort Armstrong Folk Festival
Late July to mid August
Handmade arts and crafts, Civil War encampments, muscle car displays and a variety of free concerts are just a few things visitors will find at the 44th Fort Armstrong Folk Festival. This family-friendly event, located in the city of Kittanning's Riverfront Park, combines entertainment and history during its four-day run.
The festival began in 1971 as a tribute to local veterans, and this commemoration remains at the core of the festival. Because this year marks the 40th anniversary of the end of the Vietnam War, there will be a special event honoring the veterans who served in it.
On the historical side, there are blacksmith and wool-spinning demonstrations that celebrate the heritage of western Pennsylvania. But there are also classic convertible cars, fireworks, an artists' market and concerts, including performances by 1960s act The Vogues.
"I've come to develop an appreciation for the artists who make the handmade crafts," says executive director Jessica Coil. "They dedicate their lives to these arts, and I've been inspired to work harder because of their dedication."
Market and North Water streets, Kittanning 16201, 724/543-6363, armstrongfestival.com

Beaver County River Regatta

Mid to late August
The Beaver County River Regatta once again sails into Bridgewater with a variety of events, ranging from drag boat races to a kids' fishing derby to a full lineup of live bands.
This year's celebration includes performances by local country rockers The El Dorado Band and Gone South. Festivalgoers can browse craft booths, sample various foods, take part in a wing-eating contest or just sit back and enjoy the entertainment on the water.
Judy Bert, the president of the festival, says her favorite event is the Anything That Floats Contest. "[They use] anything that floats, like Styrofoam or a balloon, and paddle over to get a flag and bring it back," explains Bert. "The winner gets a cash prize, and it's so funny to watch."
As night falls, visitors can kick back and watch as the lighted boat parade glides along the river.
Corner of Riverside Drive and Fulton Street, Bridgewater 15009, 724/774-7615