Travel
West Virginia: Mountain Miles
Hit the road for one of these eight great scenic drives.
April 2014 Issue
BY Kelsey Smith | Photos courtesy of West Virginia Division of Tourism
April 2014 Issue
BY Kelsey Smith | Photos courtesy of West Virginia Division of Tourism
With forests covering almost 75 percent of the state, West Virginia offers a trip into rustic and wild country just across the Ohio River. With so much natural beauty and 37 state parks, it's a great place to hit the road and soak in the scenery. We asked Su Clauson-Wicker, a Blacksburg, Va., resident and author of Scenic Routes and Byways West Virginia, to share some of her favorite scenic drives and stops to make along the way.


The Midland Trail
49 miles | Malden to Hico
EAST on US Route 60

This drive, which starts just east of the state capital of Charleston, runs alongside the New River. "The redbuds will be in bloom, the river will be full and the little waterfalls between Gauley Bridge and Glen Ferris will be frothy with spring runoff," Clauson-Wicker says. Go in late April, and you'll be able to spot the first rafters of the season hitting the water from the New River Bridge. Must See: Stop off at Hawks Nest State Park for dramatic views you can't get from the road, thanks to a tram that descends into the New River Gorge. May–Oct. hawksnestsp.com History Lesson: In Malden, see a replica of African-American icon and former West Virginia resident Booker T. Washington's home and schoolhouse. The site is operated by West Virginia State University. wvstateu.edu


Center State Ramble
52 miles | Philippi to Helvetia
SOUTH on US 119 (merges with West Virginia Route 20) --> EAST on COUNTY ROAD 11

Begin at the covered bridge along U.S. Route 250 in Philippi and travel south on U.S. 119 to French Creek, before heading east to Helvetia. "You'll see dogwood blooming, as well as lots of forest and pretty rivers," Clauson-Wicker says. The drive's endpoint, the Swiss village of Helvetia, looks much like it did when it was settled in 1869. Must See: Check out elk, bison and bears — animals that all once roamed the state — at the West Virginia State Wildlife Center near French Creek. wvdnr.gov Artistic Spot: Visit Ron Hinkle's glassblowing studio in Buckhannon to see him work and learn about the craft. ronhinkle.com


The Northern Panhandle
55 miles | Chester to Wheeling
SOUTH on WV 2 ?--> EAST on WV 208 ?--> SOUTH on WV 3 ?--> WEST on WV 8 ?--> SOUTH on WV 2

Starting at the tip of West Virginia, this drive runs along the Ohio River, offering views of the forest interspersed with cattle farms. "For part of the drive, this winding road leaves the hustle and bustle along the river as it climbs a narrow, wooded gully," Clauson-Wicker says. Must See: Tomlinson Run State Park off of West Virginia Route 3 offers hiking, fishing and cabin rentals. tomlinsonrunsp.com Roadside Attraction: Near the start of the drive, along Carolina Avenue in Chester, you can make a stop at the World's Largest Teapot, a symbol of the state's pottery and china industries.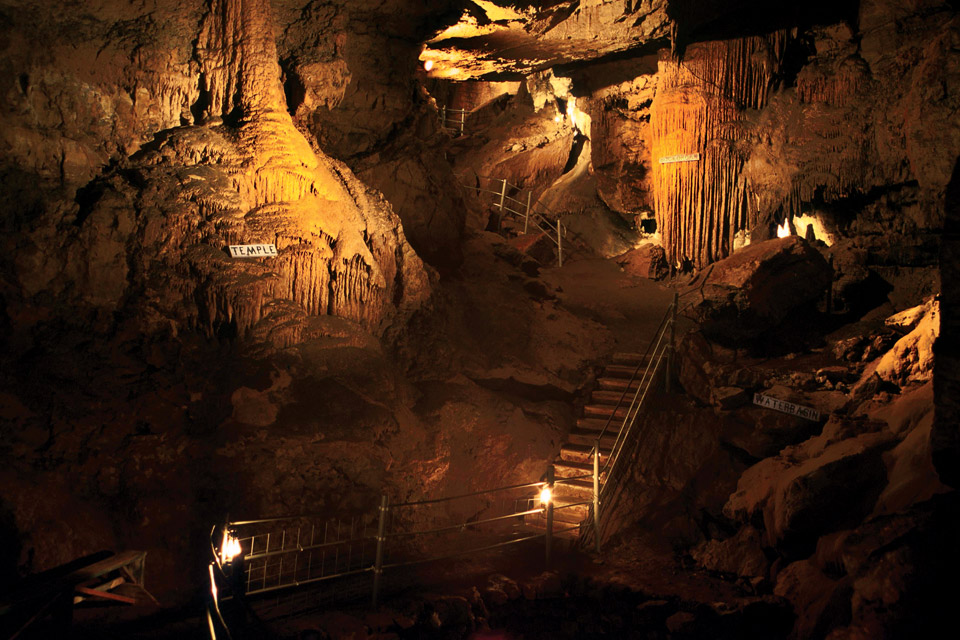 Rocks and Rivers
62 miles | Union to Huntersville
NORTH on US 219 ?--> EAST on WV 63 ?--> NORTH on WV 92 (merges with WV 39)

"This drive may contain the only flat road in West Virginia," Clauson-Wicker says with a laugh. The route winds through the countryside and offers mountain and forest views before ending near Knapp's Creek Bridge. There you'll see a large sandstone arch, also known as the Devil's Backbone. Must See: If you're traveling in the fall, stop at Morgan Orchard to pick apples at a farm that has been around since 1896. morganorchardwv.com Adventure Trek: Organ Cave off of U.S. Route 219 offers a historical tour and a wild tour. On the latter, you have only a headlamp to navigate the cave's multilevel interior, which stretches 45 miles. Closed Sun., organcave.com


The Healing Springs Tour
51 miles | Peterstown to Sweet Springs
NORTH on WV 12 ?--> EAST on WV 122 --> NORTH on US 219 ?--> EAST on WV 3

This drive along West Virginia's southern border meanders through beautiful farm country and ends near Old Sweet Springs, a home designed by Thomas Jefferson. "[It] pops out of the rural landscape like a West Virginia Versailles," says Clauson-Wicker. Must See: Take a side trip from Gap Mills up Peters Mountain to the Hanging Rock Observatory for great panoramic views. hangingrocktower.org History Look: The Red Sulphur Springs resort near Indian Creek along West Virginia Route 12 was a high-end hotel in the 1800s, before serving as a Civil War military hospital. After the war, the hotel continued on until around World War I. All that remains today is the property's stone spring enclosure.


River to River
42 Miles | Capon Bridge to Mathias
SOUTH on CR 14 (also known as Cacapon River Road) ? SOUTH on WV 259 ?--> WEST on WV 55/259 -->? SOUTH on WV 259

The drive begins along the northeastern border of the state, near the headwaters of the Cacapon River in the town of Capon Bridge. It ends at Lost River State Park, which is home to a cabin once used as a summer retreat by the father of Confederate Gen. Robert E. Lee. "You travel through gorgeous farmland and the river simply sinks into the ground and reappears miles later on the other side of the mountains," says Clauson-Wicker. Must See: All of the buildings in Capon Springs still look like they did when they were built in the 1880s. caponsprings.net History Look: The John Mathias Homestead, located in Lost River State Park, was built in 1797. lostriversp.com


Railroad Excursion
19 miles | Cass to Durbin
EAST on WV 66 --> NORTH on WV 28/92 -->? NORTH on US 250/WV 92

The trip begins at Cass Scenic Railroad State Park, alongside the Greenbrier Railroad, and ends at the Durbin and Greenbrier Valley Railroad. Be sure to visit Cass Scenic Railroad State Park before hitting the road. "It's right on the Greenbrier River Trail — a really nice walking, biking and riding trail," says Clauson-Wicker. "There's an old logging village and you can take a steam train that runs up the mountain." Must See: The Durbin and Greenbrier Valley Railroad offers excursions on four different trains that span locomotive history. April–Nov., mountainrailwv.com Roadside Attraction: The world's largest fully steerable radio telescope is part of the National Radio Astronomy Observatory near Green Bank, which is open for tours. nrao.edu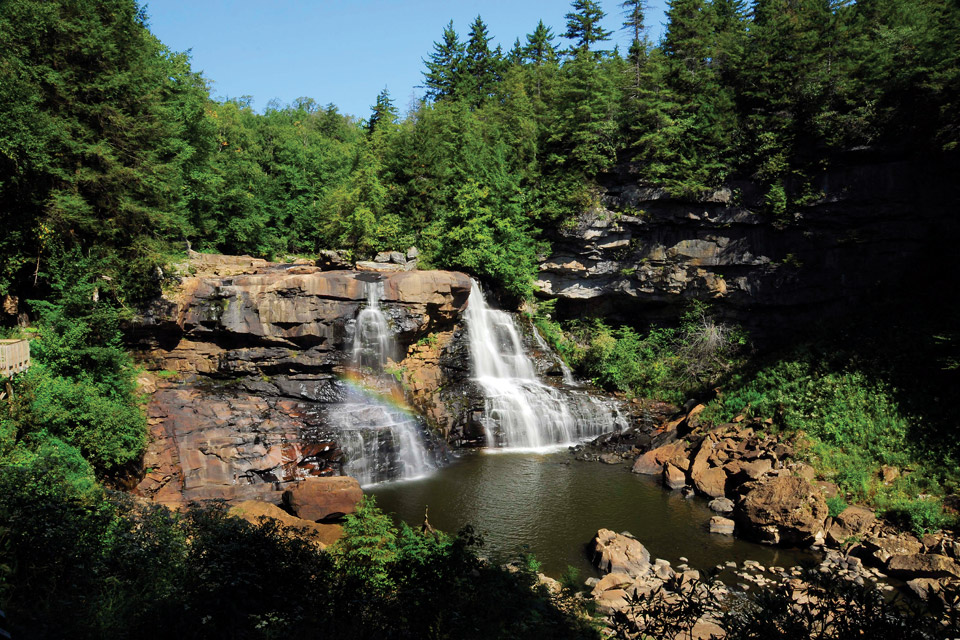 Canaan Valley Loop
45 miles
NORTH on WV 32 (6 1/2 miles north of Harman at WV 32/72 intersection) ?--> WEST on US 219 --> ?SOUTH on WV 72

"The drive goes through the center of this pretty valley that seems perpetually bathed in a soft, filtered light," Clauson-Wicker says. The drive traverses a very hilly, rural era, so she advises against making a trip during the winter. "Route 219 is a winding, mountainous road, so it might be a little scary in the snowy months." Must See: Home to the 60-foot Blackwater Falls, Blackwater Falls State Park is a popular spot for hiking. blackwaterfalls.com Can't Miss: While driving up Backbone Mountain, you'll see a wind farm with more than 100 345-foot wind turbines