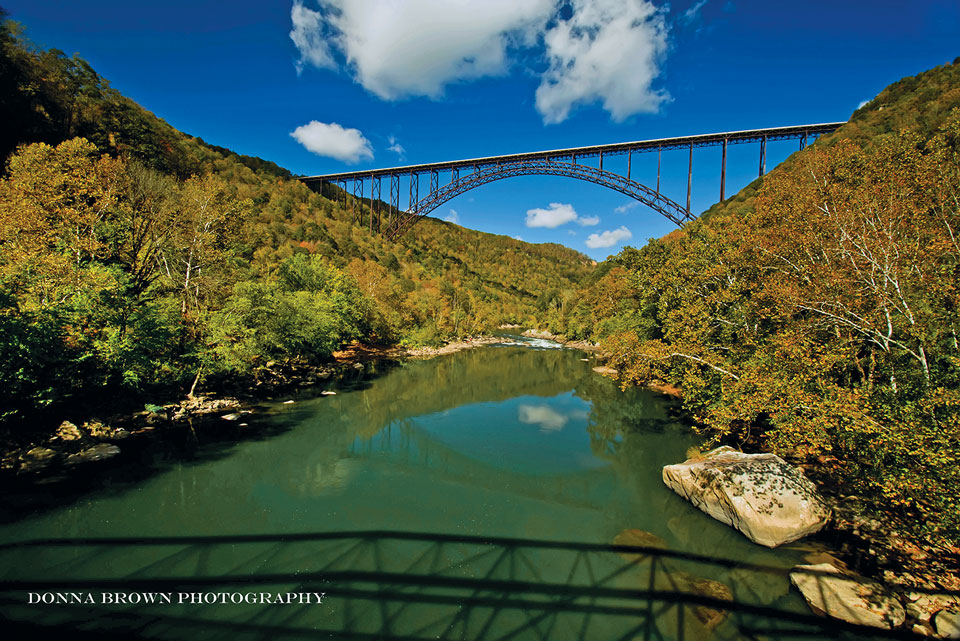 Travel
West Virginia: 5 Fascinating Finds
From a secret government bunker to a re-creation of an early 20th-century mining town, get a new perspective on the Mountain State at these spots
August 2015 Issue
BY Frances Killea | Photo Courtesy of Donna Brown Photography
August 2015 Issue
BY Frances Killea | Photo Courtesy of Donna Brown Photography
The New River Gorge Bridge Walk is not for those who are scared of heights, but it promises an unforgettable experience.

---

New River Gorge Bridge Walk
|
Lansing
Benjy Simpson knows the New River Gorge. Ever since acquiring his first whitewater license in 1982, he has run a rafting company, worked for Outward Bound and given convicted minors a chance at probation over detention with a backwoods skills program. Since the fall of 2010, he's also led more than 22,000 visitors to unparalleled views of the New River Gorge National River while cars rumble 25 feet above.
"Welcome to my office," says Simpson, part owner and tour guide with Bridge Walk, referring to the New River Gorge Bridge, an almost 3/4-mile-long, single-arch span that straddles the river. Simpson ties Indiana Jones hopefuls of all ages (the youngest trekker was 8, the oldest 95) into a safety cable and guides them to the pedestrian-only level of the bridge originally intended for maintenance workers. People can cross the bridge at their own speed, and many stop in the middle — 851 feet above the river — to take in the scenery.
In the 70,000-acre park below, vacationers can take part in all manner of adventure. Dirt-hungry mountain bikers will find more than 40 miles of trail varied enough to appeal to new riders all the way to veterans. Climbers from around the world travel here to scale some of the best sandstone cliffs in the United States, while rafters chase whitewater down the river as it wends through the mountains. Hikers of all ages and abilities will find trails suited to them within the 53-mile-long park, and even those in search of leisure can find places to fish and set up camp along the river or at a host of nearby cabins, bed-and-breakfasts and inns.
57 County Route 85/9, 305/574-1300, bridgewalk.com


Beckley Exhibition Coal Mine
|
Beckley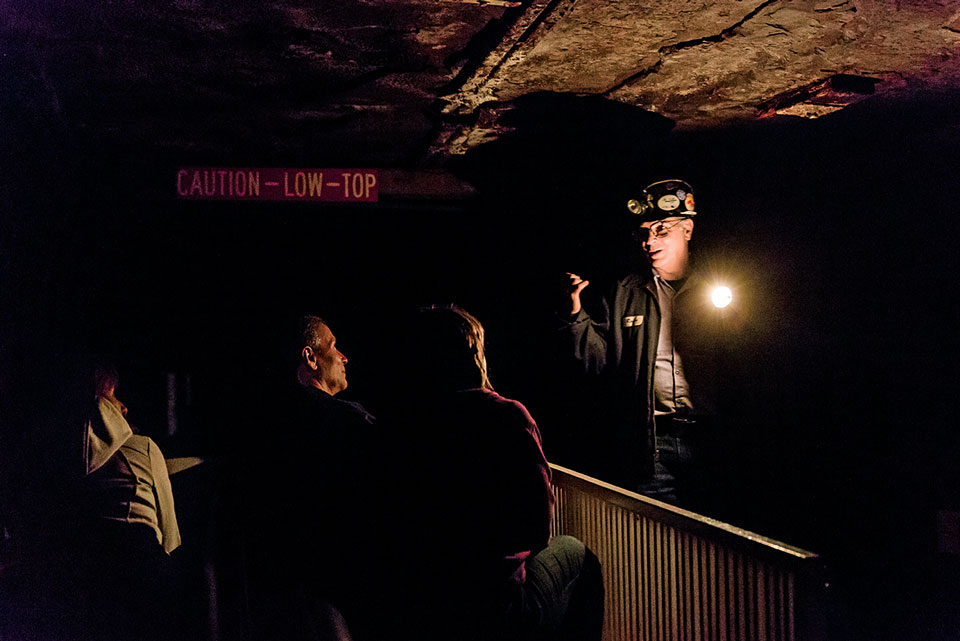 A century after the workers here swung their picks for the last time, visitors can travel more than 1/3 of a mile underground and back in time to experience what life was like for a turn-of-the-20th-century West Virginia coal miner.
In business for a little more than 20 years, the Phillips-Sprague Mine was a relatively small operation. "It was a family-owned mine," says executive director Leslie Baker. "We call those little family-owned mines 'punch mines,' because they're just punched into the hill."
Closed in the mid-1920s, the mine sat untouched under the care of the city of Beckley from 1953 until an enterprising mayor decided to bring people underground once again, beginning in 1962.
That's when a mine-traversing vehicle that seats up to 35 people began its tours into the mine through a passage 6 feet high and 12 feet wide. Veteran coal miners narrate the 35-minute tour, pointing out the subterranean scenery and artifacts from mining days of old.
"Most of my miners have worked more than 20 years underground," says Baker. "You have to understand how important coal is to the area. These coal miners give the true voice to the tours."
Mine tours run nearly year-round, but Baker advises wearing a jacket before hopping in the coal cars. It's always fewer than 60 degrees inside the mountain.
Tourists stopping in Beckley get a chance to sample a miner's life above ground, too. Original buildings from mining communities nearby have been restored and clustered into a representation of how an early 1900s mining town appeared, from the superintendent's house to a community church to a coal camp school.
513 Ewart Ave., Beckley 25801, 304/256-1747, beckleymine.com

The Greenbrier Bunker
|
White Sulfur Springs
The Greenbrier's 10,000 mountain acres are topped like a wedding cake with a resplendent hotel, cottages, guest homes, manicured lawns and a gazebo. You would probably never guess there's a Cold War-era relic twice the size of the White House underneath it all, which was the point of putting it there.
Born of the mid-20th-century fear of nuclear annihilation, the United States government underwrote a construction project at The Greenbrier code-named "Project Greek Island." It broke ground at the same time as a new hotel wing.
"There were rumors [going] around that there was something bumping in that hill," says The Greenbrier's historian, Bob Conte, who has been with the resort for more than 30 years. "They had a cover story. 'We're adding a wing to The Greenbrier.' It had deniability."
The new wing went up, and 112,000 square feet of dorm rooms, meeting halls, an infirmary, a cafeteria and more were tucked below, protected by decontamination chambers and blast doors weighing 10 to 30 tons. "It wasn't just a bunker where people would survive," says Conte. "It was designed and intended to be a place where Congress could continue to provide continuity of government."
The project remained a secret for decades and regular maintenance updated food stores and cleaned air filters. Then, The Washington Post published a story about the bunker on May 31, 1992, officially declassifying the project.
Today, part of the bunker is used as a data-storage facility, while other rooms are rented out for business use. The rest is open for tours, which run daily and are open to the public (you don't have to be a Greenbrier guest to take one).
Conte says the sophistication of the resort adds to the bunker's story.
"I think a big part of it is the contrast," he explains, "the incongruity between the bunker, which was designed for the end of the world as we know it, and The Greenbrier, which many people think of as the height of civilized living."
300 W. Main St., White Sulfur Springs 24986, 855/453-4858, greenbrier.com
Cass Scenic Railroad
|
Cass
During its early-1900s heyday, the town of Cass cut more than 1 million feet of lumber a week at its sawmill, and trains pounded to and from the settlement carrying logs and delivering pulpwood. But a dwindling timber supply and the arrival of faster and cheaper trucks ultimately shuttered the 1902 settlement.
"The town was purchased in 1961 by the state, so the state now owns the town, the railroad, the whole operation," says Cass Scenic Railroad State Park superintendent Scott Fortney.
These days, the operation still revolves around locomotives. While they no longer haul wood, the trains run tours into the mountains, carrying passengers to Whittaker Station, a re-creation of a logging camp. Riders can also opt for a longer ride through the woods to Bald Knob, the third-highest point in West Virginia — a 4 1/2 hour round trip. Travelers can even rent a cabin fashioned out of an old caboose.
Back in town, original buildings have been repurposed for modern use. A museum shares the history of Cass and the logging industry, and the old company store is a gift shop and restaurant. Tours take visitors past the town's old church, bungalows and locomotive shops that still maintain the trains that travel up the mountain.
"The locomotives are over a hundred years old," says Fortney, adding that they are geared to handle sharp turns and intimidating grades inherent in mountain work. "On a mainline railroad … 2 percent is a steep grade. On our railroad, we go up to 12 percent."
242 Main St., Cass 24927, 304/456-4300, cassrailroad.com
Palace of Gold
|
Moundsville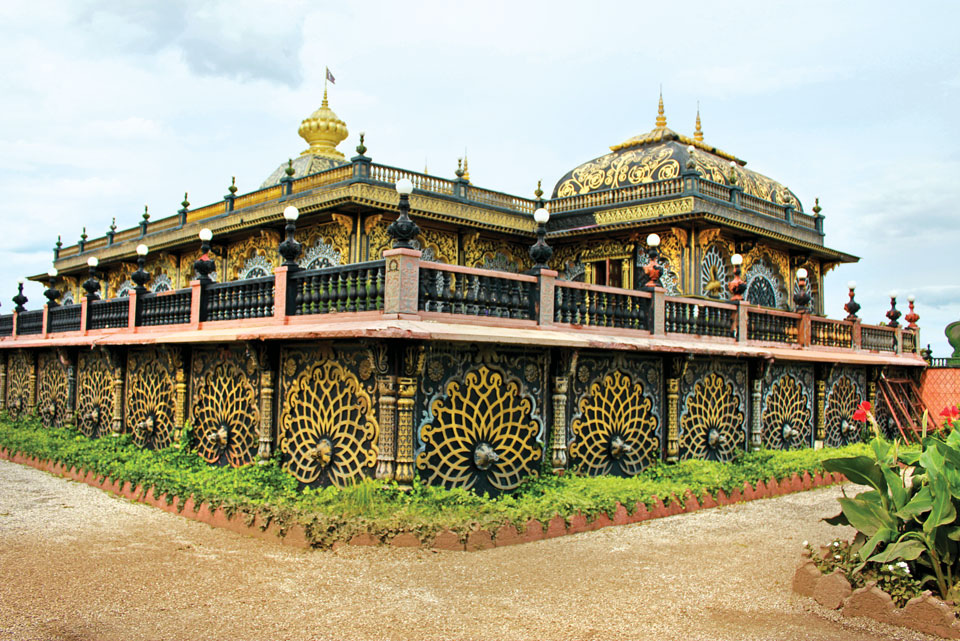 Crowning a mountaintop in Moundsville, the Palace of Gold is 8,000 miles from its Hindu roots in India, but it's far from a misplaced outpost. It's located in the village of New Vrindaban, which has been a Hare Krishna community since 1968, when one of the movement's devotees acquired the land and started a farm.
To prepare for visits from the founder of the International Society for Krishna Consciousness, Swami Prabhupada, members began construction in 1972 on what was meant to be a simple building.
"But over the years, they were coming up with all these ideas," says Tom Lorence, a member since 1985. "And they began expanding and making it more elaborate."
The interior of the palace shines with 22 karat gold foil and is filled with oil paintings, teakwood carvings, stained glass and needlework.
"The most amazing thing about it is that they did it themselves," says Lorence, adding that the teakwood work was done by artists from India. "All the construction stuff they had to learn."
Nearly 40 years after the death of Prabhupada, New Vrindaban has 100 members living on-site and welcomes tourists and spiritual pilgrims. Guests can not only tour the palace but also dine at the village's all-vegetarian restaurant and even stay overnight in the guest lodge or in one of New Vrindaban's cabins. Temple worship is open to all. For those who want to connect with nature, the center's rose garden and lotus-studded pond are worth a stroll.
"The whole area from the palace down to the temple is kind of like a park," says Lorence. "It's very beautiful."
3759 McCrearys Ridge Rd., Moundsville 26041, 304/843-1812, palaceofgold.com