Travel
Shop at Springfield's Heart of Ohio Antique Center
The Heart of Ohio Antique Center delivers nostalgia, fun and good, old-fashioned treasure hunting.
January 2016 Issue
BY Jill Sell | Photo by Kelly Wilt
January 2016 Issue
BY Jill Sell | Photo by Kelly Wilt
Stacked precariously just outside the entrance, the sculpture-like display of vintage wooden canoes immediately draws the eye. Nearby, a white tag on a contraption resembling a suspended, airy bird's nest identifies it as "maybe" being a field cradle — the kind women used when they took their babies with them to pick crops.

One's mind instantly begins to stir with questions and possibilities. Who paddled those canoes? How many babies have dozed in that cradle on warm afternoons? Every antique hides a story, and Springfield's sprawling 116,000-square-foot Heart of Ohio Antique Center has more than most, with upwards of 700 vendors selling their wares in the store's 1,400 booths and showcases.

"We are the biggest and the best," says Karen Barber, a former designer who serves as the antique center's chief operating officer. "We are one of the few authentic antique malls left. We don't sell crafts. We pay homage to our name that you see on the roof from the highway."

That means you won't find mailboxes that were decorated in someone's basement or painted rocks with inspirational messages. Instead, the Heart of Ohio Antique Center is part museum, part amusement park funhouse and part vintage department store.

Pristine dining room sets, colorful and highly collectible millefiori paperweights and old military medals are found alongside items that make you scratch your head in wonder. How is it possible that the key to a little Mickey Mouse tin plate windup toy was not lost after so many years?

Some items transport you to back to your grandmother's always overly warm living room. A black panther ceramic lamp with a pyramid red shade, Weller Pottery teapots, orange and blue Fiestaware and sunburst clocks conjure times you had to be polite to relatives. A stunning art nouveau dragonfly pin reminds you how you regrettably passed over a similar one years ago.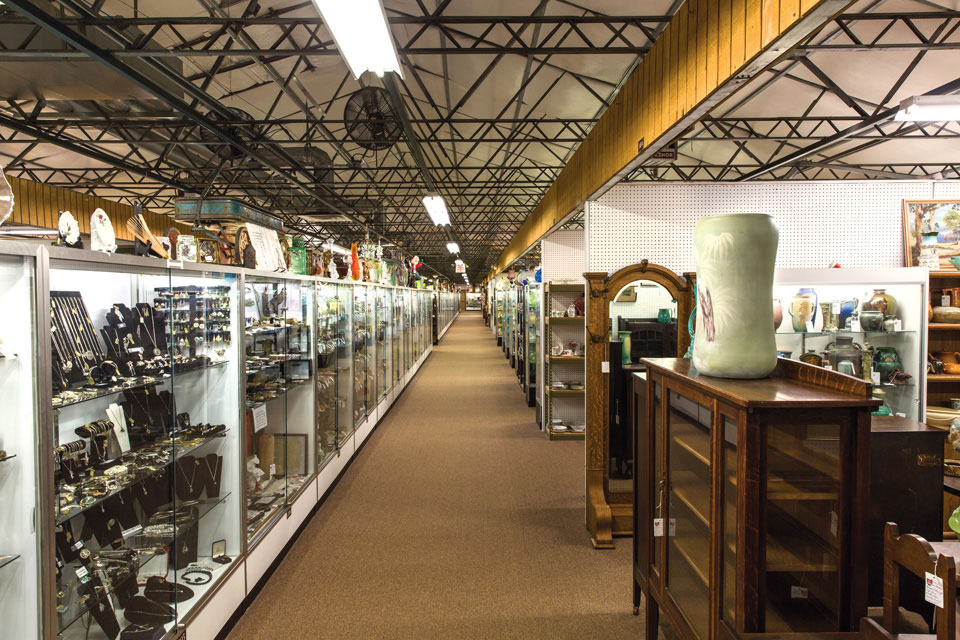 Shopping at the center also can be a wake-up call about your age when you see some things classified as antiques: a pink Maytag wringer washer, a pink dial phone and Pyrex kitchenware. The hundreds of brightly lit showcases, long aisles and dizzying number of small treasures can make you feel as if you are lost in a vortex (in a good way).

"It's not just about the things you buy. It's about the hunt," says mall owner and president Bruce Knight, an antiques dealer who opened his first small shop in 1968 after military duty in Vietnam.

A year later, he founded an antiques show with 40 dealers at the Clark County fairgrounds that still runs to this day. The Heart of Ohio Antique Center building originally housed a flea market business owned by someone else, but it didn't survive six months. Bruce, who owned the property, opened his antique mall there in 1998.

"The concept of the business has changed since the 1960s," he says. "People who wanted antiques did road trips. … But it became more difficult for small antique dealers to be on their own because of taxes and legal considerations. Here, we do all that for them."

Bruce co-owns the business with his wife, Vivalyn, who is partial to collecting oil paintings, carved wooden figures and English pottery. "I always loved antiques, but didn't think much about them until I learned from Bruce," she says.

The couple's center is strong on glassware, high-quality primitives (think birdhouses, benches and cabinets) and unusual wooden furniture. Abbey Knight, the owners' daughter, makes sure that mid-century modern pieces (such as Herman Miller chairs) are represented.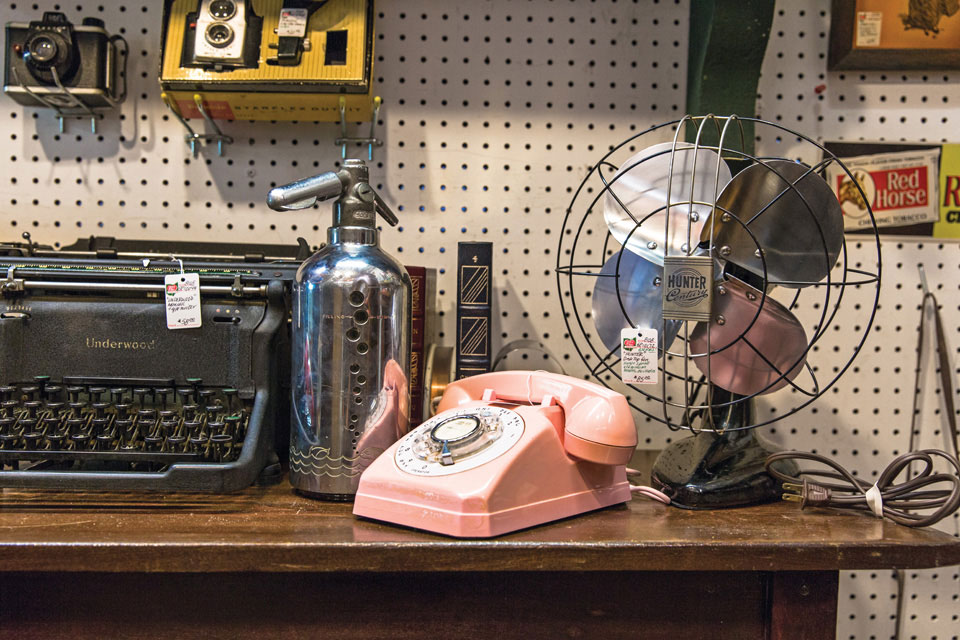 "In the '60s when the business was born, everyone wanted milk glass, pressed glass and marble-topped furniture," explains Vivalyn. "But people's tastes change. Now people want what their grandparents and parents had."

Vivalyn says she believes it is time for Victorian pieces to come back in favor with collectors, but her husband isn't so sure. "Deciding what's big next for collectors is the interesting part, so we attract shoppers and vendors do well," explains Bruce, who has a long waiting list of dealers who want to be part of the center.

Despite the huge inventory, the place runs with amazing efficiency. Showcases and booths are well-lit and not crammed. Employees roam the floor, each carrying a large ring of keys to open glass cases. Red wagons and plastic totes are available for hauling your finds, or a porter will store your selections in a bin near the cashier. Spacious restrooms and a cafe with an ice cream soda shop are located just inside the main entrance. Curbside loading is available.

Wearing comfortable shoes is a must. Although the floors are carpeted and temperatures inside the massive space are always pleasant, it's at least a mile around the place if you walk each row, and that doesn't count for backtracking or getting lost, even with a map.

Like when you spot the trophy. OK, it's not the trophy from the Indianapolis Motor Speedway's most famous race, but it is an Indianapolis Motor Speedway trophy nonetheless — slightly tarnished silver and still important.

Again, you wonder: Who won this race so many years ago? Are there no more relatives who want to keep the prize? You can't help but stop and press your face to the glass to read the faint inscription, and, as you do, you can almost smell gasoline and burning rubber.

Open daily 9:30 a.m.–6 p.m., except for Christmas, Thanksgiving and Easter; 4785 E. National Rd., Springfield 45505, 937/324-2188, heartofohioantiques.com

***

Antique Finds
Here are a few other places throughout Ohio where you can delve into the past.

Heritage Square Antique Mall, Columbus:
This spot carries a bit of everything, including vintage dolls, old fishing lures and aqua-colored gas stoves. The 53,000-square-foot facility, located in a strip mall, features 450 vendors who display goods in glass cases and booths.
1865 Channingway Center Dr., Columbus 43232, 614/864-8722, heritagesquareantiquemall.com

Maumee Antique Mall, Maumee:
The 110,000-square-foot Maumee Antique Mall boasts over 200 vendors and 300 booths and showcases. This is the place to find vintage clothing, mid-century modern pieces and old slot machines.
1552 Reynolds Rd., Maumee 43537, 419/893-2468, facebook.com/maumeeantiquemall
I-76 Antique Mall, Ravenna:
From the occasional vintage gas station sign to a large selection of primitive pieces, this 50,000-square-foot spot boasts more than 400 vendors. The mall offers a shoppers' break room and curbside loading.
4284 Lynn Rd., Ravenna 44266, 330/325-9776, i76antiquemall.com