Travel
Vine Finds
From sprawling vineyards to boutique producers, we'll give you a flavor for our state's wine regions.
August 2014 Issue
BY Kara Kissell | Photo by Jason Miller
August 2014 Issue
BY Kara Kissell | Photo by Jason Miller
LAKE ERIE SHORES AND ISLANDS

Benefiting from a temperate wind that rolls in off of Lake Erie, the 23 winemakers here produce cool-climate grapes that can pack a healthy balance of flavor and alcohol due to an extended growing season. "Our big bold reds, our cabernet francs, our cabernet sauvignons … really enjoy this area because they get a couple of extra weeks of warm temperatures to ripen that fruit," says Joseph P. Fowler, partner and winemaker at Vermilion Valley Vineyards. Fowler's estate winery focuses on grape varieties coming out of Germany, Northern France and Austria — regions with similar climates. Varietals include not only cabernets but also pinot gris and rieslings. "These are our cooler varieties, some of which can really stand the spectrum of almost cool to hot," Fowler says. Recently, eight northwest Ohio wineries that were once part of this trail branched off to form a new one, appropriately and simply named Vino. Vermilion Valley Vineyards, 11005 Gore Orphanage Rd., Wakeman 44889, 440/965-5202, vermilionvalleyvineyards.com

***

The Historian: Adrian Salvador, Firelands Winery
Firelands Winery is located in a wine region that dates back to the 19th century. Adrian Salvador talks about his family's ties to our state's grape-growing past.

Firelands Winery started its life as Mantey Vineyards in 1880. In the 1980s, under new ownership, we began to plant the European varieties on North Bass Island, or Isle St. George. The plants thrived and Ohio realized that we could produce these great varieties here and we could compete against the likes of California.

The man who purchased the winery was named Robert Gottesman, and he was really one of the people that you can trace the resurgence of the Ohio Wine Industry back to. He was passionate about Ohio wines, and he wanted to elevate their quality.

That's where my father comes into the picture. He was a winemaker in Italy and he was sent from Italy to Virginia to help start a winery down there. He ended up in Ohio after answering an ad that Mr. Gottesman had placed in the paper.

Growing grapes is one of those things that is very similar to the way people did it a thousand years ago. There are always going to be technological advancements, but the basic premise is you plant them, you prune them, and you hope Mother Nature helps you out that year.

Now in the cellar, technology really helps ... with things like tanks with large arms that pump over red wine instead of having to come in every six hours over a night to do it. With the world of wine, things are always changing. Firelands Winery, 917 Bardshar Rd., Sandusky 44870, 419/625-5474, firelandswinery.com

***

BUY THIS BOTTLE

2010 Old Vine Zinfandel ($16.99)
Paper Moon Vineyards
Visitors to Paper Moon find a patio with a fire pit and views of the vineyards and pond beyond. The tasting room offers flatbread pizzas to enjoy alongside this winery's 15 wines. 2008 St. Rte. 60, Vermilion 44089, 440/967-2500, papermoonvineyards.com

Lake Erie Estate Petite Syrah ($23)
Quarry Hill Winery
Quarry Hill looks out over a rolling landscape that provides a peaceful setting for an afternoon of sipping. Enjoy a range of regional fruit wines and cabernet franc. 8403 Mason Rd., Berlin Heights 44814, 419/588-3179, quarryhillwinery.org

Frontenac Dessert Wine ($24.99)
Chateau Tebeau Winery
Bob and Mary Tebeau opened Chateau Tebeau in 2009 and have already garnered awards for their fruit and dessert wines. A new indoor seating area provides a comfortable setting for tastings. 525 St. Rte. 635, Helena 43435, 419/638-5411, chateautebeauwinery.com

***

Tourist Favorite: Heineman's Winery
Established in 1888, this island winery serves up fun-loving favorites like Sweet Belle ($10 plus tax), a mix of concord and catawba grapes. 978 Catawba St., Put-in-Bay 43456, 419/285-2811, heinemanswinery.com

***
VINES AND WINES
With a cluster of 28 wine producers nestled along Lake Erie, this northeast Ohio trail makes it easy to visit multiple wineries in a single day. Much like the Lake Erie Shores and Islands trail, the region's proximity to Lake Erie helps moderate the weather, as does the nearby Grand River. "The river canyon is a very deep, long geological feature that runs through the grape-growing belt … and it helps to drain cold air off in the spring and winter," explains Gene Sigel, owner and winemaker at South River Vineyards. "The grapes tend to benefit from a frost-free growing season and limited winter injury because the air drainage is so good … what makes the growing region unique here is not just the soil, it's the air that actually sits over the farms." Less-stressed grapes with a longer growing season means riper fruit, which results in the rieslings, pinot noirs and ice wines prominent in this region.
South River Vineyard, 6062 South River Rd., Geneva 44041, 440/466-6676, southrivervineyard.com
***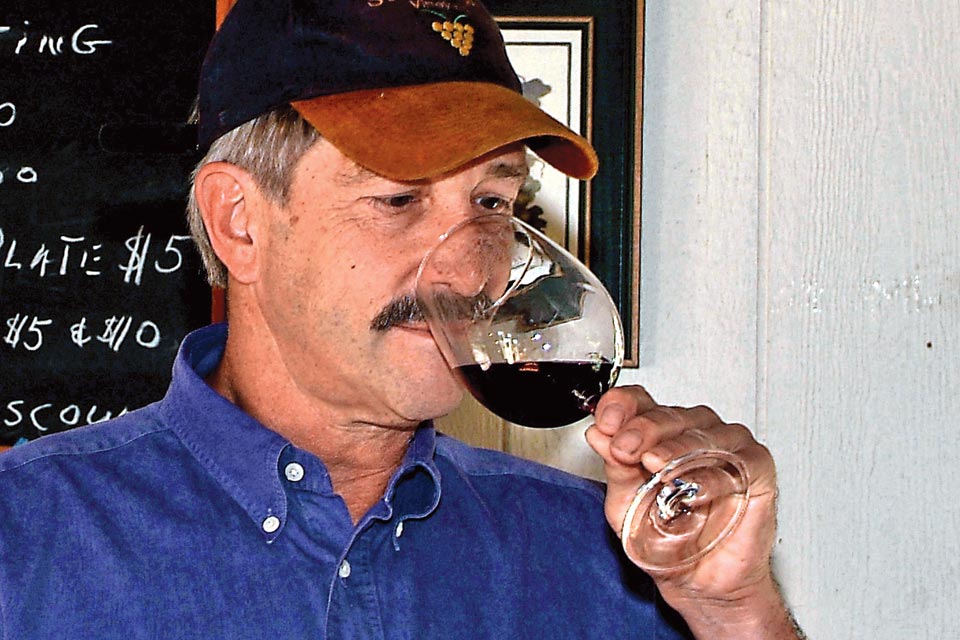 The Craftsman: Art Pietrzyk, Saint Joseph Vineyard
Art Pietrzyk and his wife, Doreen, were the first to grow pinot noir vines in Ohio, and they have made an art out of their handling of the complex and rewarding grape.

Why Pinot Noir?
It's the holy grail because it's one of the few reds that is multidimensional … It has flavors that change depending on the terroir where the grape was grown. And [with] vinification techniques, the flavors vary from raspberry to Bing cherry to black cherry. You might get some plum, might get cloves. … You get a lot more aromatics in a good pinot noir than you might with some other red wines.
What makes the grapes so hard to grow?

Pinot is kind of a slang term in French for pine cone … and a pinot noir cluster of grapes looks very similar to a pine cone, [making] it very susceptible to a lot of mildews because ... it doesn't dry out very easily. That's what makes it challenging. It can only be grown in very few places, where the conditions are just right, and it's not just the climate. You have to have the willingness to be able to do whatever it takes to allow that grape to ripen and to not get diseases, not get mildews.
What has the learning curve been like?
We practiced and practiced and practiced... Do you heat it? Do you cool it? Does it cold soak? What yeast do you use? How long do you macerate it? And so forth and so forth … [There are many] tools that a winemaker has at his disposal now to paint the picture. There are a lot of different colors that he can get from his palette. St.
Joseph Vineyard, 7800 Warner Rd., Madison 44057, 440/298-3709, saintjosephvineyard.com
***

BUY THIS BOTTLE

2013 Grand River Valley Riesling ($14.99)
Ferrante Winery & Ristorante
In 1937, the Ferrante family had a winery in Cleveland's Collinwood neighborhood. A move to Ashtabula County in the 1970s brought them 65 acres, and later a new, spacious estate winery.
5585 St. Rte. 307, Geneva 44041, 440/466-8466, ferrantewinery.com

2013 Sweet Genevieve Vidal Blanc Ice Wine ($34.99)
Laurello Vineyards
Guests here can relax for hours at one of the closely grouped tables or cozy couches in the cantina. Pair varietals such as cabernet francs with flavorful wood-fired oven pizzas.
4573 St. Rte. 307 E., Geneva 44041, 440/415-0661, laurellovineyards.com
2012 Dry Rose ($19.67)
M Cellars
After starting with pinot noir and rieslings, Matt Meineke's vineyard has grown in recent years with new varietals, including the floral and citrusy rkatsiteli. Native to the Ukraine, M Cellars is the only vineyard in Ohio producing it.
6193 South River Rd., Geneva 44041, 440/361-4104, mcellars.com
***
Tourist Favorite:
Debonné Vineyards
Founded in 1972, this popular spot has been producing its award-winning vidal blanc ice wine (a regional specialty) for decades now ($29.99, carry-out).
7840 Doty Rd., Madison 44057, 440/466-3485, debonne.com
***


CANAL COUNTRY

Stretching from Warren to Warsaw, the 40 wine producers located in eastern Ohio make a range of wines that swing from sweet regional to European varieties. "The soils are all sedimentary — lots of rock, gravel and sand that are good for grapes," explains Andy Troutman of Troutman Vineyards and The Winery at Wolf Creek — both estate wineries that are producing award-winning zinfandel and seyval blanc. Ohio's hydrological divide plays into the equation, too. Just north of Wolf Creek, the rivers and creeks run toward Lake Erie. Everything south runs to the Ohio River and on, ultimately, to the Gulf of Mexico. "It all makes for some subtle weather differences come winter," Troutman says. Although these eastern Ohio wineries don't benefit from warm Lake Erie winds like their counterparts to the north, producers here employ vineyard management and growing techniques that allow their grapes to thrive.
The Winery at Wolf Creek, 2637 S. Cleveland Massillon Rd., Norton 44203, 800/ 436-0426, wineryatwolfcreek.com; Troutman Vineyards, 4243 Columbus Rd., Wooster 44691, 330/263-4345, troutmanvineyards.com
***
The Merrymaker: Bill Bakan, Maize Valley Market & Winery
With his light and fun approach to wine, Bill Bakan, owner of Maize Valley Market & Winery savors creating a place where his guests are entertained.
You started with a farm, so how did you end up with a winery?
People look at our place and think it's crazy here. You know, we shoot pumpkins out of a cannon, we're running pig races, we're serving wine, now we're making beer, we're doing all these things and they say, "Why do you do this?" and I say, "Fear of starvation." … It's part of a mix for us. We still farm … 40 different crops.
Why is it important to you to make wine fun?
It isn't just good enough to have a great product. ... I'm not saying you can go out there with smoke and mirrors and goofiness and crazy labels and get by, which we have all of the above. You still have to have a quality product. But [wine] has a reputation as being not blue-collar … but you have to be relatable enough to that average person.

Q: What kind of results are you getting from the grapes?
A: I think we are getting some good benefits out of these soils — that maybe don't have quite as much going for them — when paired with the right hybrid. … So far, the la crescent turned out really well. A French-American hybrid, developed in Minnesota, it makes some very citrusy, bright, crisp summertime wine.
Maize Valley Market & Winery, 6193 Edison St. N.E., Hartville 44632, 330/877-8344, maizevalley.com

***
BUY THIS BOTTLE

Vivien ($24)
Myrddin Winery
This year-old winery is located along Mahoning County's Lake Milton and surrounded by woods. Guests can enjoy patio seating, a nightly bonfire, pizzas and even Tuesday night yoga classes followed by a wine social hour.
3020 Scenic Ave., Berlin Center 44401, 330/654-9181, myrddinwine.com

Tipsy Conductor ($14.95)
Barrel Run Crossing Winery and Vineyard
This family-owned and -operated boutique winery offers a quaint countryside setting that matches the relaxing mood of its dry and sweet wines, all quirkily named after railroad jargon.
3272 Industry Rd., Rootstown 44272, 330/325-1075, barrelrunwinery.com

Truscano ($25) Gervasi Vineyard
A destination where guests can stay at the restored 1830s farmhouse or in one of the on-site villas, Gervasi not only boasts 15 varietals, including wines produced from imported Italian grapes, it also offers an upscale Italian bistro and a casual lunch spot.
1700 55th St. N.E., Canton 44721, 330/497-1000, gervasivineyard.com
***
Tourist Favorite:
Breitenbach Wine Cellar
This winery's Old World look plays on its German heritage, as do the wines inside which include varietals such as riesling.
5934 Old Rte. 39 N.W., Dover 44622, 330/343-3603, breitenbachwine.com
***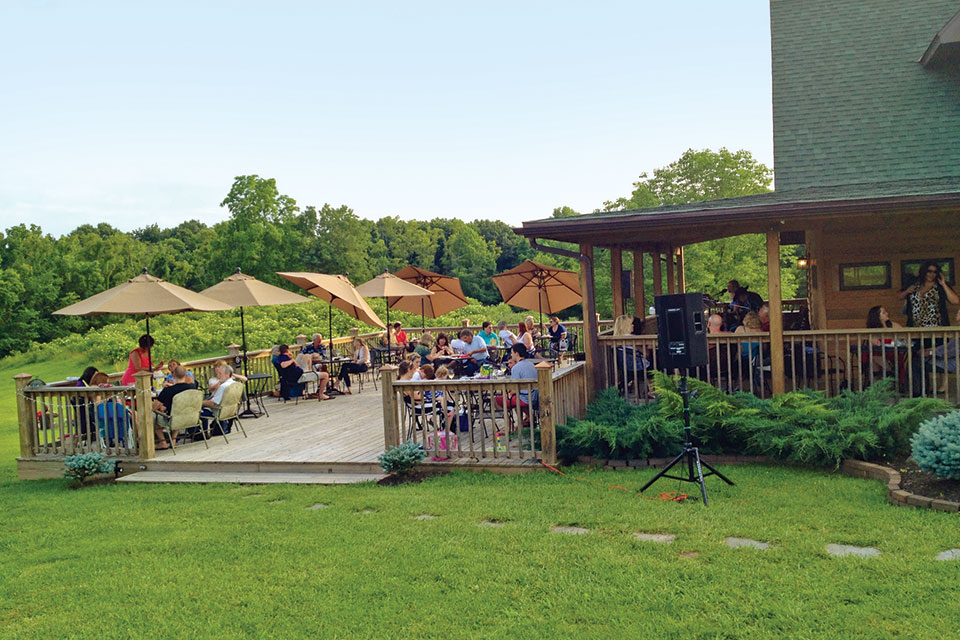 APPALACHIAN
With just 14 producers in the region, southeast Ohio's wine trail is the smallest in the state with wineries often an hour's drive from one another. "It's hardly a tour region," says Neal Dix, co-owner of Shade Winery. "If you want to see a few of them in a day, it would be a big long day." Yet, getting from one to another offers a tour of the scenic hills that are southeast Ohio's signature. Those hills are also what boost grape growing in the region. "Grapes want to grow on hillsides," explains Dix. "Our terrain in that respect can be beneficial and can be good. You can grow grapes in bottomland, but they are not as happy." And these are happy grapes, including Shade Winery's estate-grown cabernet franc, chardonnay and vidal blanc. So choose a couple destinations, pack up some snacks and hit the rolling roads.
Shade Winery, 401 Gilkey Ridge Rd., Shade 45776, 740/696-1323, shadewinery.com
***
The Do-It-Yourselfers: Paul and Donna Roberts, Terra Cotta Vineyards
Paul and Donna Roberts attended annual Ohio wine industry conferences for 18 years before purchasing the 53 acres of land that is today Terra Cotta Vineyards. Donna Roberts offers some insight into the work that goes into a small-production winery.
Our bottling line is a six-spout filler. The wine is pumped from the tank into the filler and we put [each bottle on] and fill them. Then, when it's time to get the sixth bottle on, the first bottle is ready to come off.
Then, we put each onto a semi-automatic corker, which is an old Italian corker, and send them down a conveyor belt, and they're picked off and put in a box. With an automated line that would be an all-automated process — it would even put the label on the bottle. That's another step for us.
There is a lot of maintenance [in the vineyard]. You are looking to be sure that there isn't anything on the leaves ... that might indicate there is some kind of bug or pest or a disease. If so, you get right on that.
Harvest time and picking is very enjoyable because, first of all, the leaves are starting to turn and it's kind of a reward because you've watched these little grapes form through every stage throughout the summer. In a way it's kind of sad that you are picking them now, but on the other hand, it's an accomplishment that you have something to pick.
Terra Cotta Vineyards, 2285 Rix Mills Rd., New Concord 43762, 740/872-3791, terracottavineyards.com

***
BUY THIS BOTTLE
Sunset ($13.95)
Black Sheep Vineyard
Big, fluffy and friendly dogs are the greeters at this former sheep farm. John and Rebecca Black grow cabernet franc and traminette grapes as well as eight other varieties on two and a half acres. Weekends feature musical entertainment.
1454 U.S. Rte. 250, Adena 43901, 740/546-3741, blacksheepvineyard.com
Autumn black ($10.99)
Merry Family Winery
Fruit wines abound at this family-run winery. Local apples from Hirsch Fruit Farm are used in the fall to make the tart and tangy Liberty Apple, while concord grapes from the farm and surrounding areas make up the semi-sweet Gallia County Red.
2376 St. Rte. 850, Bidwell 45614, 740/245-9463, merryfamilywinery.net

Strawberry ($9.95)
Stone Crest Vineyard
A quiet and simple winery, Stone Crest has one goal: create quality wines at great prices. Using North American grapes such as catawba, niagara and concord varieties, the fruit wines at this seven-year-old winery are all around $9.95.
10310 O'Dell Rd., Frazeysburg 43822, 740/828-9463, stonecrestvine.com

***
Tourist Favorite:
Raven's Glenn Winery
The Tuscan setting makes this spot a favorite for summer weddings and romantic dinners alongside the Tuscarawas River.
56183 County Rd. 143, West Lafayette 43845, 740/545-1000, ravensglenn.com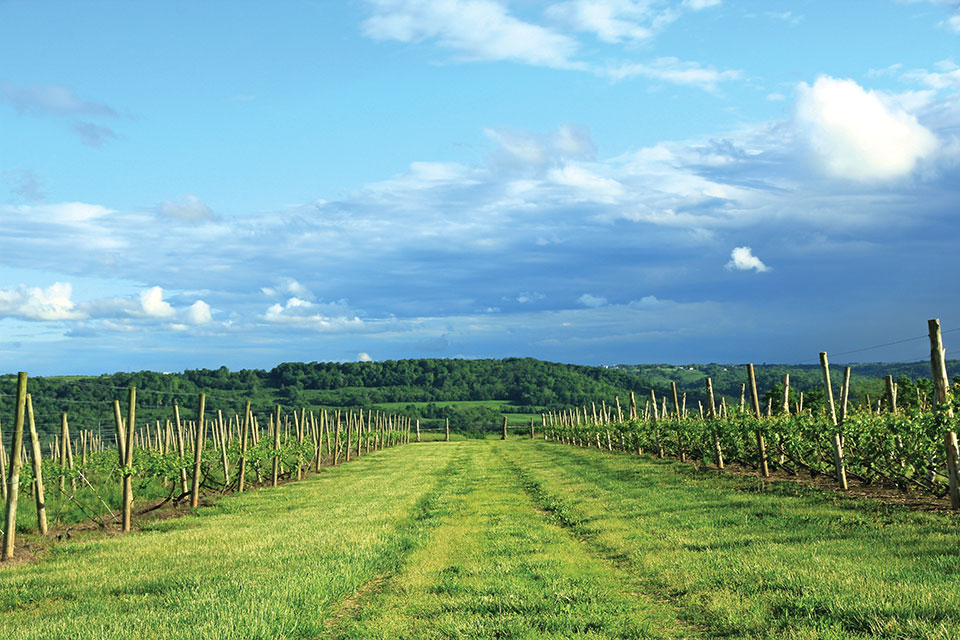 Ohio River Valley
This wine region in the southwest corner of the state is home to 19 producers stretching from Cincinnati to Dayton who make the most of southwest Ohio's mineral-fortified soil. "At one time, the Ohio River Valley was covered by a relatively shallow ocean. Marine creatures settled to the floor of this ocean, forming hundreds of layers of sediments … [that] contain a rich array of complex minerals," explains Brad Hively, owner and winemaker at La Vigna Estate Winery. Early spring frosts here aren't tempered by Lake Erie's moderating effect, which offers a growing challenge, but Hively says there is one varietal that has proven itself: chardonnay. "Ten years ago, I thought chardonnay had saturated the market so why plant. I have changed my tune," says Hively, explaining that Ohio River Valley chardonnays are dry and light with powerful mineral aromas. "Needless to say, our next grapevine planting will be chardonnay."
La Vigna Estate Winery, 6035 St. Rte. 505, Georgetown 45121, 937/375-1104, winegrown.com

***
The Descendant: Kenny Joe Schuchter, Valley Vineyards
Valley Vineyards owner Kenny Joe Schuchter has been growing grapes on his land since 1969. He shares the history of his family's business and where it's going next.
My father tells me we've been on this farm — about 200 acres — for around 110 years. We were always truck farmers. We raised sweet corn, cantaloupes, tomatoes, strawberries, lots of fruits and vegetables; had a roadside market.
My father went to a couple agricultural meetings in the '60s and Ohio State University had a big push to reintroduce wine grapes to this area. They got him very interested in some wine grape varieties and in 1969 we planted 20 acres of grapes. I remember planting the very first row that we ever did back in the vineyard there, so I've grown up in the industry.
Early on, I took on a lot of responsibility [and] for what, 45 years now, I'm pretty much the guy who takes care of those [same] grapes. I attended Ohio State University for about three years. I didn't graduate. I was in agriculture. [Then the business] just took off, and I knew my future was going to be here. So I left school and came back to work, and I have never looked back.
I've had three kids, and two of my kids are in the business with me here. … Joe and Tiffany. They grew up in the business. They would pick strawberries, and they would help me back in the vineyard. I kept them busy as young kids and young adults and never tried to guide them any way in particular. I think they've chosen this to be their lifestyle also.
Valley Vineyards, 2276 E. U.S. 22 & 3, Morrow 45152, 513/899-2485, valleyvineyards.com
***

BUY THIS BOTTLE

Ohio Apple NV ($11.99)
Hanover Winery
The 20 different choices here range from dry reds to sweet dessert wines because owners Eddie and Beth McDonald want to make sure that everyone will feel comfortable stopping in for an afternoon of tasting.
2121 Morman Rd., Hamilton 45013, 513/863-3119, hanoverwinery.com

2012 Cabernet Franc Estate ($15.99)
Meranda-Nixon Winery
This estate winery grows traminette, cabernet franc, cabernet sauvignon, chardonnay and norton grapes. The tasting room, styled after a Tuscan cafe, looks out over the nearly 12 acres of this family farm.
6517 Laycock Rd., Ripley 45167, 855/651-9188, meranda-nixonwinery.com
2011 Cabernet Sauvignon ($20.99)

Kinkead Ridge Estate Winery

Kinkead Ridge's wines can be hard to find and are often an exciting discovery. Small-batch winemaking is Ron Barrett's careful craft, and with plenty of awards, it's clear he's on to something.
904 Hamburg St., Ripley 45167, 937/392-6077, kinkeadridge.com
***
Tourist Favorite:
Harmony Hill Vineyards & Estate Winery
Start your visit to this sustainably farmed vineyard with a hike around the lands that are abounding with critters.
2534 Swings Corner Point Isabel Rd., Bethel 45106, 513/734-3548, hhwines.com

***
Capital City
The 26 wine producers grouped in the middle of the state range from urban boutique wineries in downtown Columbus to sprawling estate wineries outside the city. It's one of the toughest regions to grow grapes, according to Ron Rutter, owner of Rockside Vineyards, an estate winery that grows 10 varietals on four-and-a-half acres. "We have different conditions … we have a number of additional diseases and mold and mildews that we have to worry about here," he says. "So, it requires a lot of work, but the payoff is usually pretty good." Many wine producers in this region showcase lighter-bodied reds, sweet whites and native grape varietals. Rutter's two bestsellers are Night Flight (a blend of cabernet franc, chambourcin and noiret) and Cavu (a blend of riesling, vidal and traminette grapes). "A lot of the French hybrids were developed for this climate ... the American grapes, this is their natural environment."
Rockside Vineyards, 2363 Lancaster Newark Rd. N.E., Lancaster 43130, 740/687-4414, rocksidevineyards.com
***
The Original: Van Creasap, Shamrock Vineyard
Van Creasap's grandfather, physician Thomas N. Quilter, had the first successful wine-grape planting in central Ohio. Creasap, now owner of his grandparents' Shamrock Vineyards, shares the story of how the Ohio wine guru got his start.

My grandfather had a minor in botany when he was going through college and working his way to medical school. Planting and being a green thumb was kind of in the blood, so to speak. But he spent time in the Navy as a physician [in Italy] so he and the family got to see a small winery up-close while there.
[After moving to Marion] he got into rose bushes, believe it or not, with about two or three dozen other physicians at that time that were growing roses competitively. ...
He and these physicians [then] decided, "We should plant some grapes and try to make some wine and see how that goes."
He knew the chemistry behind things. He knew the botany. But he also treated those vines and rose bushes as if they were a patient. You know, they all needed care,
they all needed pruning … It was just a different kind of medicine.
My grandfather was an educator and he loved to teach people, not only medical students about medicine, but when he retired and started his second career, he loved to teach people about wine and grape vines. There are many different wineries in Ohio that were opened by people who had chatted with my grandfather before they started their place. They wanted to [know about] the trials, the tribulations and learn from somebody that was doing it. And he was the one.
Shamrock Vineyard, 111 County Rd. 25, Waldo 43356, 740/726-2883, shamrockvineyard.com

***
BUY THIS BOTTLE
2010 Cabernet Franc ($14.99)
Eldchrist Winery
The small winery grows grape varieties that were developed specifically for the central Ohio climate by the University of Minnesota and Cornell University. La crescent carries a prominent pear flavor, while arandell will soon add character to quality reds.
8189 St. Rte. 736, Plain City 43064, 614/432-0145, eldchrist.com
Blackberry ($17.95)
Brandeberry Winery
This little winery grows three grape varieties: vidal, cayuga and seyval. It's a folksy little spot, but the wines here are sophisticated — crafted by retired engineering professor James Brandeberry.
5118 W. Jackson Rd., Enon 45323, 937/767-9103, brandeberrywinery.com
2012 Cayuga White ($11)
Soine Vineyards
Tim and Sandy Sainey, along with their son Eric and his wife, Cherie, make up the team tending this six-acre family vineyard. Visitors will find a friendly vibe and events such as chili cook-offs and evening concerts.
3510 Clark Shaw Rd., Powell 43065, 740/362-5741, soinevineyards.com
***
Tourist Favorite:
Buckeye Lake Winery
This landmark lake offers a charming atmosphere for sunset sipping. The winery's on-site restaurant pairs comfort food with its wines, which are produced using California grapes.
13750 Rosewood Rd., Thornville 43076,740/246-5665, buckeyelakewinery.com