Travel
Things to Do in Grove City, Ohio
This city near Columbus offers lots to explore, from outdoor adventures at local metroparks to fall farm days with the family to great beer, wine and pizza.
BY Staff & Contributors | Photo courtesy of Visit Grove City
BY Staff & Contributors | Photo courtesy of Visit Grove City
Grove City is located 11 miles southwest of downtown Columbus and has a population of nearly 42,000. The community prides itself on providing a variety of adventures, from a paintball field that draws players from all over to local parks that offer places to hike. (You can even spot a bison along the way, really!) Whether you are a solo explorer seeking moments of solitude paddling on a river, a couple looking to share a night out on the town enjoying drinks and food, or a family hoping to make memories during fall farm days, Grove City has an adventure waiting.
Outdoor Adventures in Grove City, Ohio

Scioto Grove
Metro Park:
The 620-acre Scioto Grove Metro Park, just a 10-minute drive from Grove City's center, welcomes around 500,000 visitors each year. Hikers visit to explore the park's six main trails, including the 1.8-mile long REI River Trail, an urban backpacking trail that still offers a flavor of adventure. This trail is also home to a gently swaying — but very safe — suspension bridge that takes hikers across Grant Run Creek, offering a great photo op. In all, the park is home to over 7 miles of trails, making it a great destination for those seeking a hike or run through the woods at any time of the year. There are also two archery ranges open year-round and a field where the use of drones is permitted. The entire park is pet-friendly, too. Just make sure your dog is well behaved and on a leash.
5172 Jackson Pike, Grove City 43123, 614/949-1078, metroparks.net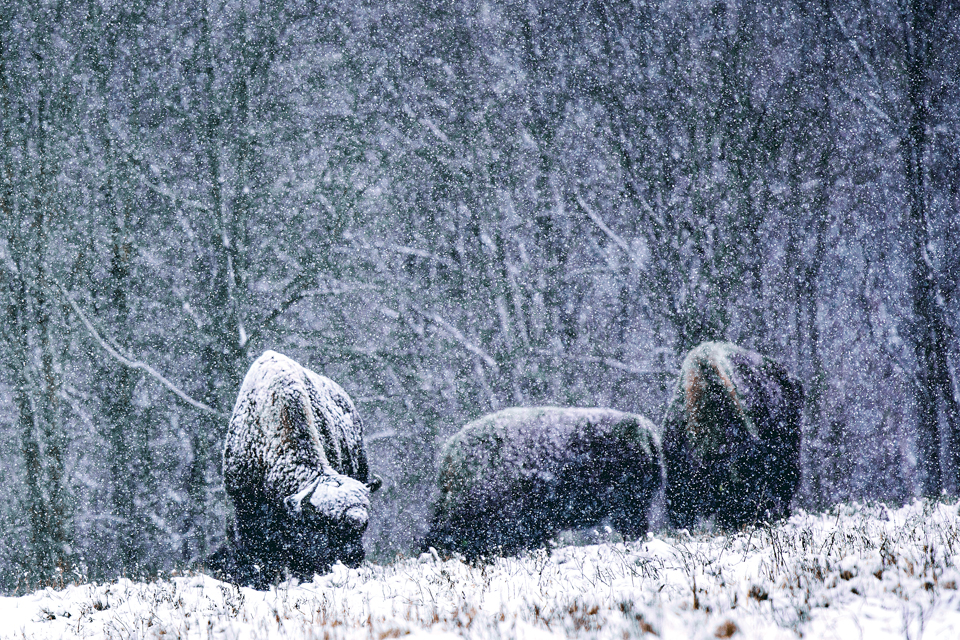 Battelle Darby Creek Metro Park:
Battelle Darby Creek Metro Park is the largest metropolitan park in Ohio, with more than 7,000 acres of native restored prairies, wetlands and forests. The park spans over 13 miles along the Big and Little Darby Creeks and features over 22 miles of hiking trails plus a section of the Ohio to Erie Trail, a system that connects Cleveland, Columbus and Cincinnati. One of the big draws is the park's herd of bison, which roams within enclosed pastures as a nod to the fact the animal once lived here. In the colder months the bison can be seen from the nature center on their winter pasture, and its easier to spot them compared to summer when the grass is higher. In the winter, any of the park's trails can be used for cross-country skiing when conditions allow.
1775 Darby Creek Dr., Galloway 43119, 614/875-7350, metroparks.net


Trapper John's Canoe Livery:
Adventure and nature converge along the Big Darby Creek National Scenic River. Not only is the Darby home to more than 100 species of fish and 38 species of reptiles, including endangered rainbow darters and mudpuppies, but paddlers can explore up to 12 miles of river ecosystem through Trapper John's Canoe Livery. Five self-guided trips of varying lengths are available to paddlers, although novices may want to consider visiting when the water is slower. The livery rents canoes and kayaks only when water conditions allow. Rentals include all equipment, a ride back to the livery and paddling advice. Kaufman says the goal is to provide a way for people to put down their smartphones and spend quality time with one another outside.
7141 London-Groveport Rd., Grove City 43123, 614/877-4321, trapperjohnscanoeing.com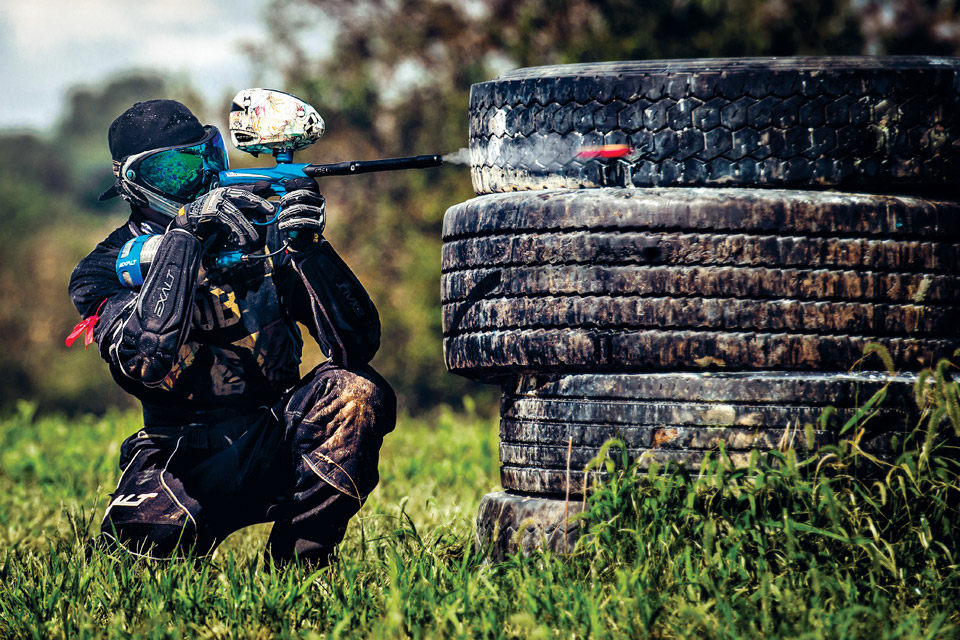 LVL UP Sports Paintball Park:
From first-timers to seasoned pros, adrenaline junkies of all skill levels get their competitive juices flowing at LVL UP Sports Paintball Park, located 5 miles south of Grove City's historic town center. The 36-acre adventure park covers more than 260,000 square feet of natural forest devoted to woodsball play, five themed scenario courses, a shooting range and a pro shop. LVL UP's Valken Village, one of the complex's newest courses, features the largest playable paintball structure in Ohio — a 2-story, 100-foot-long "castle" filled with hiding spaces. The park's X-Ball Park regularly hosts professional players, sponsored leagues and tournament events.
5390 Harrisburg Pike, Grove City 43123, 614/313-1382, lvlupsports.com



Family Fun in Grove City, Ohio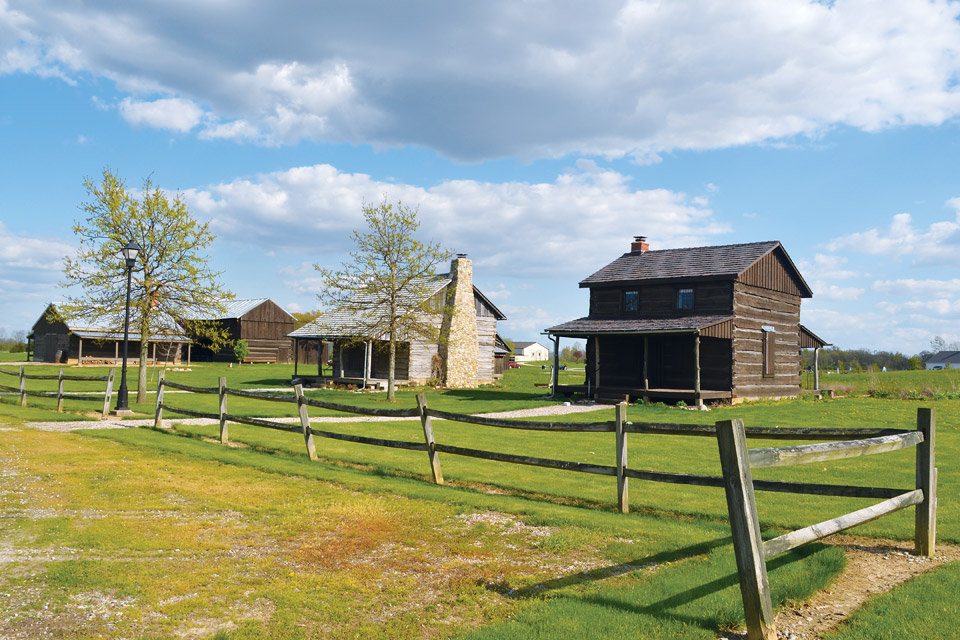 Century Village:
Modeled after a small 19th-century community, Century Village features 11 sites that include a one-room schoolhouse that is original to the site with authentic desks and chalkboards as well as a log cabin and a working blacksmith forge that are all native to central and southern Ohio. Volunteers dressed in period-appropriate clothing help set the tone for hourlong tours highlighting artifacts from the mid-1800s. In 2018, the Southwest Franklin County Historical Society added a 900-square-foot, circa 1884 train depot that once stood in downtown Grove City and operated for 60 years.
4185 Orders Rd., Grove City 43123, 614/277-4061, grovecityohhistory.org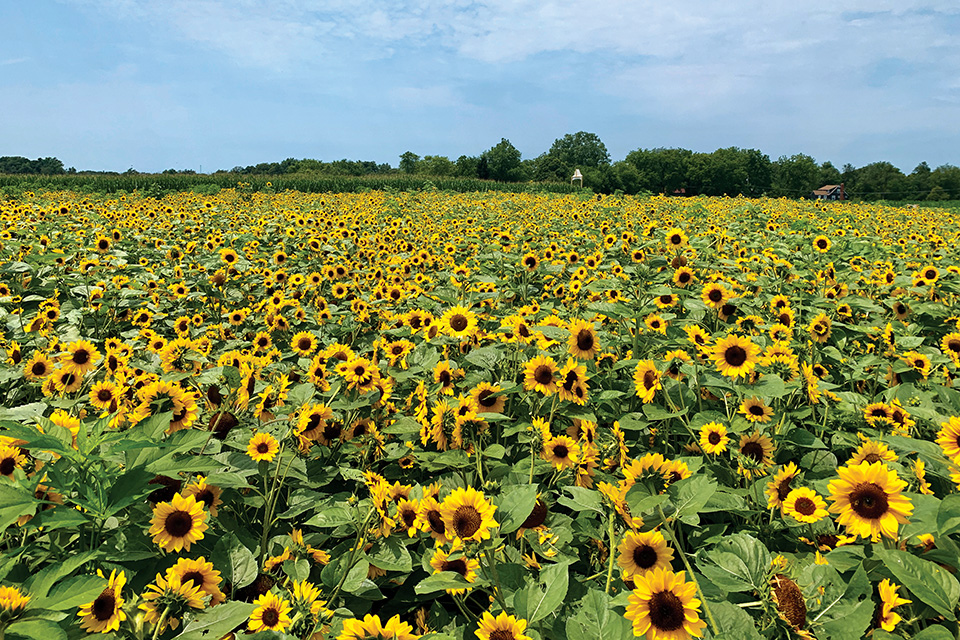 Fall at Circle S Farms:
Each autumn, Circle S Farms hosts its Fall Fun Days, which begin the last week of September and run through October. The visitor experience starts with a hayride to the barn, which holds more than 5,000 bales of hay for kids to climb on. There's also the Pumpkin Cafe, which serves pumpkin doughnuts made from a family recipe, as well as corn and sunflower mazes. The produce stand out front is stocked, but visitors are welcome to go for a tractor ride to pick their own pumpkin from the field.
9015 London Groveport Rd., Grove City 43123, 614/878-7980, circlesfarm.com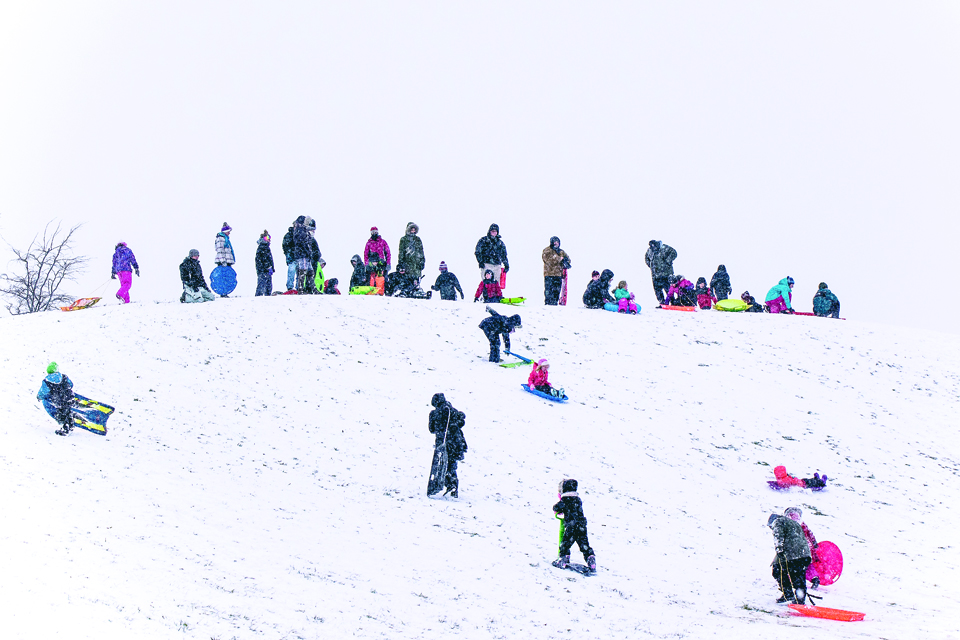 Fryer Park:
Located on the southern side of Grove City, this 110-acre city park is a great destination for nature-related activities once winter arrives. About 20 acres of the park consist of woods, which offer glimpses of various wildlife species. The park offers a few short trails for visitors to walk, including a mile-long paved path and several mulched paths that lead through different wooded sections of the park. The main attraction in winter is Fryer Park's sledding hill, which can be enjoyed by visitors of all ages. Fryer Park is also home to Century Village.
3899 Orders Rd., Grove City 43123, 614/277-3050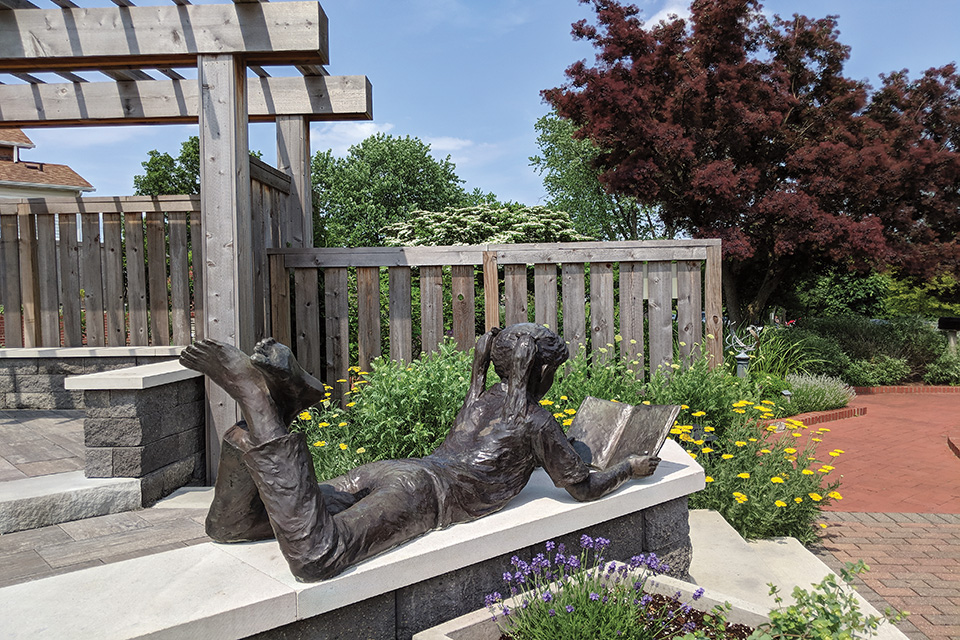 Gardens at Gantz Park:
Local farmer Adam Gantz built his Grove City farmhouse during the mid-1800s. Today, it overlooks an eclectic garden of 500 different herbs from around the world, and the Gardens at Gantz Park has become a destination for both family fun and individual meditation. Along with a rain garden, fairy garden and cutting garden (to name just a few), the gardens of yesterday, today and tomorrow each add a piece to the history of herb gardening. The Garden of Yesterday's herbs, fruits and vegetables would have been found in a mid-1800s Ohio kitchen garden, while the Garden of Today's collections demonstrate modern uses for ancient herbs. The Garden of Tomorrow finds its inspiration in how plants function in landscaping.
2255 Home Rd., Grove City 43123, 614/871-6323, grovecityohio.gov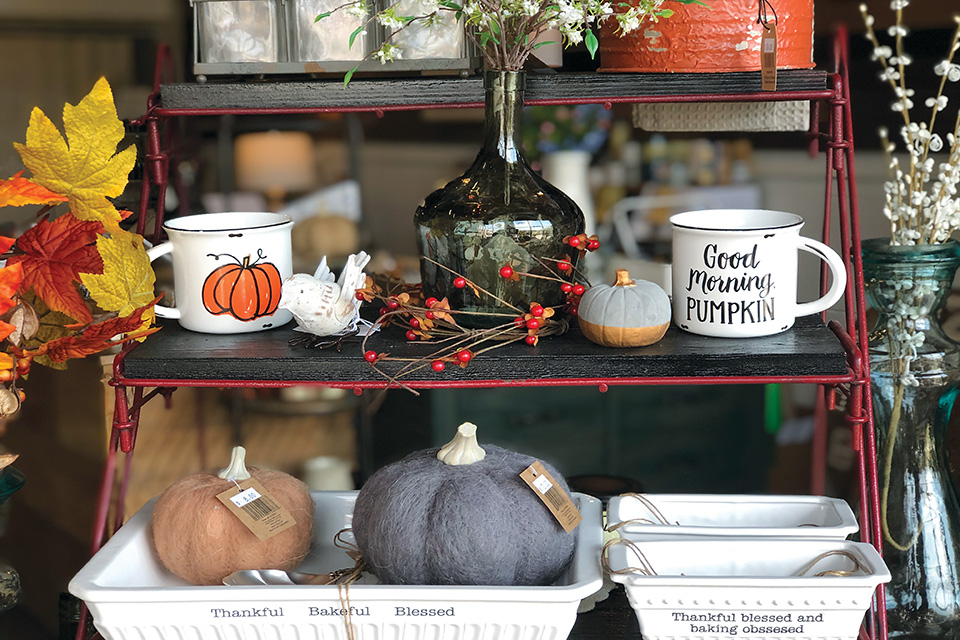 Grove City Pumpkin Trek:
Come September, the slow shift from summer to autumn elicits thoughts of apple cider, falling leaves and, of course, pumpkins. Each year, Grove City businesses celebrate the spirit of fall with the Grove City Pumpkin Trek, a citywide exploration of everything pumpkin. Trekkers can print out or pick up guides at any participating Grove City business. Each stop will stamp your guide if you buy one of their fall-related goodies. Collect enough stamps and turn in your guide at the Grove City Visitor Center for a limited-edition prize.
3995 Broadway #100, Grove City 43123, 614/539-8747, visitgrovecityoh.com


Food and Drink in Grove City, Ohio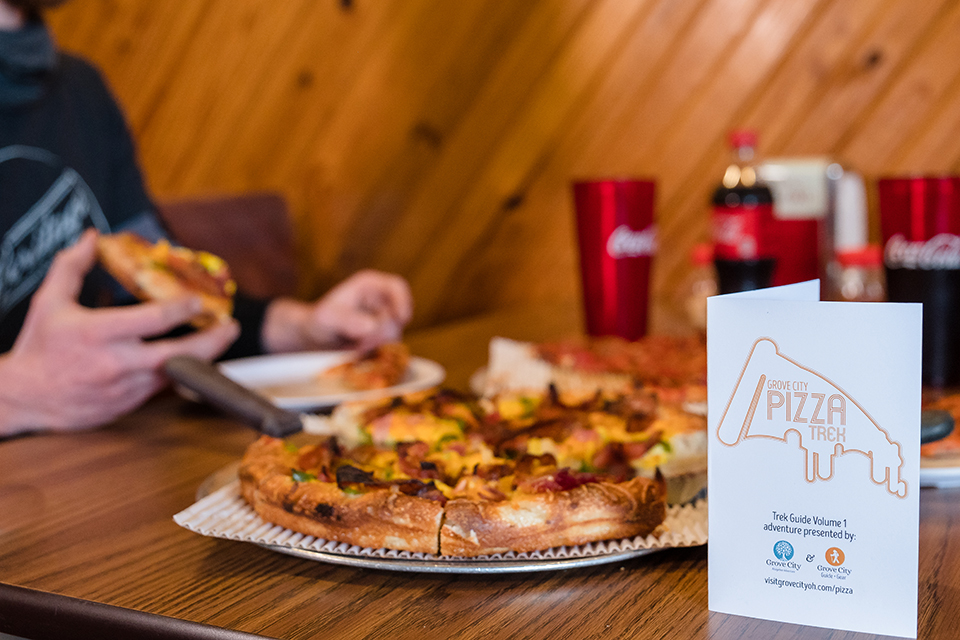 Grove City Pizza Trek: If there is one thing that we can all agree on, it's pizza. So, why not explore Grove City's variety of pizzas and get rewarded for your efforts? Pick up a Grove City Pizza Trek guide at any of the participating establishments or from the Grove City Visitor Center in the heart of town (where you can also get information about and gear for the city's variety of adventures). Get your guide stamped at Pizza Trek establishments and submit the proof of your efforts to earn a prize to commemorate your adventure. 3995 Broadway #100, Grove City 43123, 614/539-8747, visitgrovecityoh.com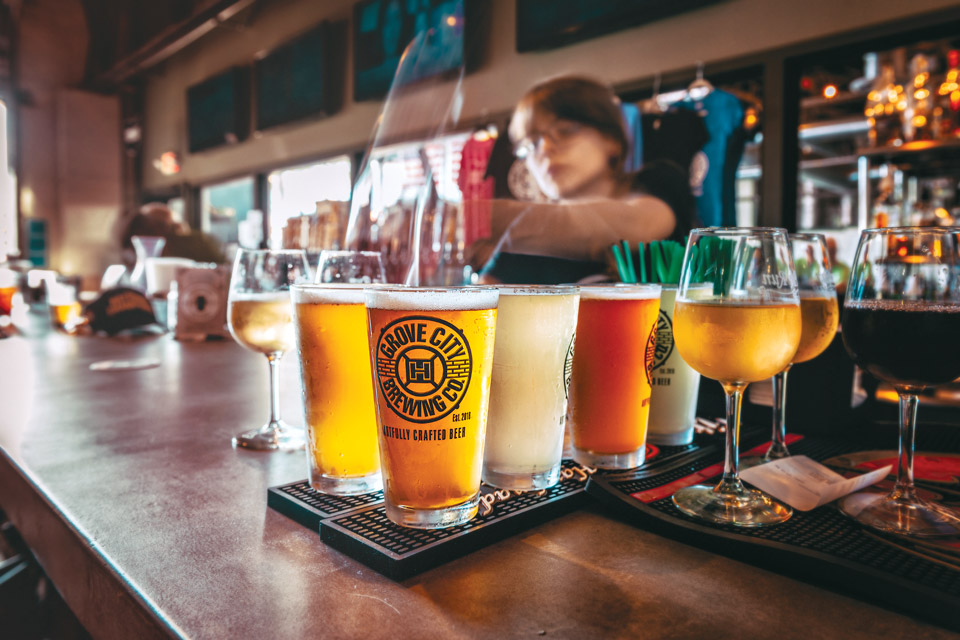 Plum Run Winery & Grove City Brewing Co.: Opened in 2012, Plum Run Winery is named for the small stream that originates from the winemaker's property south of the city. The 3-acre farm produces 16 varieties of grapes, including traminette, vidal, chambourcin and cabernet franc. The winery's spot in downtown Grove City shares space with Grove City Brewing Co., which serves a lineup of beers with an English influence, while using local malts and grains from a farm in nearby Marysville. Brews include staples such as Grove City Beulah blonde ale, Grove City Columbus Street double IPA and seasonal beers inspired by the local Jolly Pirate Donuts. There is also a lunch and dinner menu that spans appetizers, salads, flatbreads, sandwiches, burgers and entrees. Brunch is offered on the weekends. 3946 Broadway, Grove City 43123, 614/991-0338, grovecitybrewery.com



Zassy's Taproom: Zach and Cassy Adams combined their two first names to launch Zassy's Treasures in 2011. The husband-and-wife team would find furniture and other decor items, bring them home and make them over into something new. Now, instead of offering their Zassy's Treasures shop online, the couple hosts Zassy's Fall Vendor Market in nearby London, Ohio, each fall. The couple also operates Zassy's Taproom in Grove City. The menu features tacos and pub-style fare, and Cassy creates three to five new handcrafted cocktails a season, so there's always something different to try. Visit zassystreasures.com for more information about Zassy's Fall Vendor Market. Zassy's Taproom: 3940 Broadway, Grove City 43123, zassystaproom.com


Shopping in Grove City, Ohio
Country Hearth Primitives: With three floors, over 30 vendors and more than 7,000 square feet of merchandise, Country Hearth Primitives offers a selection of goods that span the decades. Owner Jolene Engleman says the shop has a little bit of everything: home decor, jewelry and clothing that includes vintage styles as well as a selection of modern ones. It's easy to spend time wandering through this inviting building, located in what used to be the Grove City Farmer's Exchange. Each room is designed to make shoppers feel at home and to spark ideas for getting creative with their own home decor. 3937 Broadway Suite B, Grove City 43123, 614/875-5201

The Farm Table on 62: Christie Laffin's love of painting and repurposing furniture prompted her to open The Farm Table on 62 in 2016. Today, the store also sells goods made by local artisans as well as clothing, candles, jewelry and home decor. The shop's furniture-painting classes welcome students of all skill levels and seasonal craft-making classes change throughout the year. The Farm Table on 62 will have vendors during its parking lot during Grove City's Art in the Alley Music and Arts Festival, and the store hosts its Christmas open house Nov. 6. 3952 Broadway, Grove City 43123, 614/317-7233, thefarmtableon62.com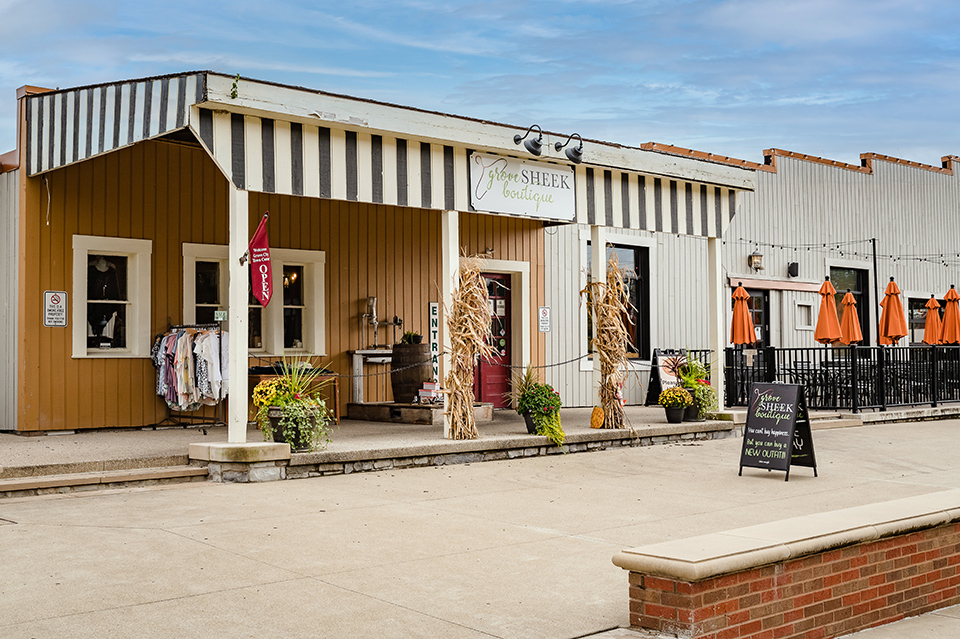 Grove Sheek Boutique: Owner Valerie Heiby launched her shop in March 2021 with the goal of creating a family-minded business with fair prices. The boutique sells clothing, home decor, jewelry, gifts, skin care items, specialty foods and coffee. Heiby says the welcoming and homey style was shaped by time she spent growing up in southeast Ohio before her family moved to Grove City, where she attended high school. 3937 Broadway, Grove City 43123, grovesheekboutique.com

Skylarks Toys and Comics: Feeling nostalgic for the toys of your youth? Skylarks Toys and Comicsstocks an eclectic collection of retro pop-culture playthings as well as ones that are popular today. Owner Daren Neff prides himself on providing a family-friendly destination that likes having a good time and sharing that feeling with the community. The shop also sells comic books (and offers in-house dry cleaning and pressing of vintage issues customers hope to revive). The shop also hosts trivia nights, themed paint-along classes and holiday celebrations. 4060 Broadway, Grove City 43123, facebook.com/grovecityscooleststore

Grove City Town Center: Grove City Town Center is home to over 30 local businesses, making it the perfect place to explore brick-and-mortar shops and sample an array of food and drink. The Town Center is also the site of special events ranging from bourbon tastings to art festivals. Downtown is easily walkable and features a mix of stores, boutiques and eateries. Visitors can pour their own candles at The Chandler and browse rooms of antiques at Country Hearth Primitives. Blu-Willy's serves up laid-back bar foods like chicken wings and burgers and Hop Yard 62 works closely with other central Ohio breweries to offer 21 craft beers on tap. Broadway and U.S. Route 62, Grove City 43123, 614/539-8762, heartofgrovecity.org