Travel
Things to Do in Butler County, Ohio
This county just north of Cincinnati offers a wealth of road-trip-worthy experiences, from outdoor adventures and great food to family fun and public art.
BY Staff & Contributors | Photo courtesy of Travel Butler County
BY Staff & Contributors | Photo courtesy of Travel Butler County
The cities, towns and townships of Butler County, Ohio, have the makings of a great weekend getaway. This county of 390,000 residents, located just north of Cincinnati, is easily accessible and offers a range of activities and attractions, whether one is looking for outdoor adventure (skydiving, kayaking and horseback riding or all available here), landmark destinations (Jungle Jim's Market in Fairfield and The Jug in Middletown are perennial favorites), great food and drink (fried chicken in a waffle cone, anyone?) or exploring places that make art and creativity a community focus.
Indoor and Outdoor Adventures in Butler County, Ohio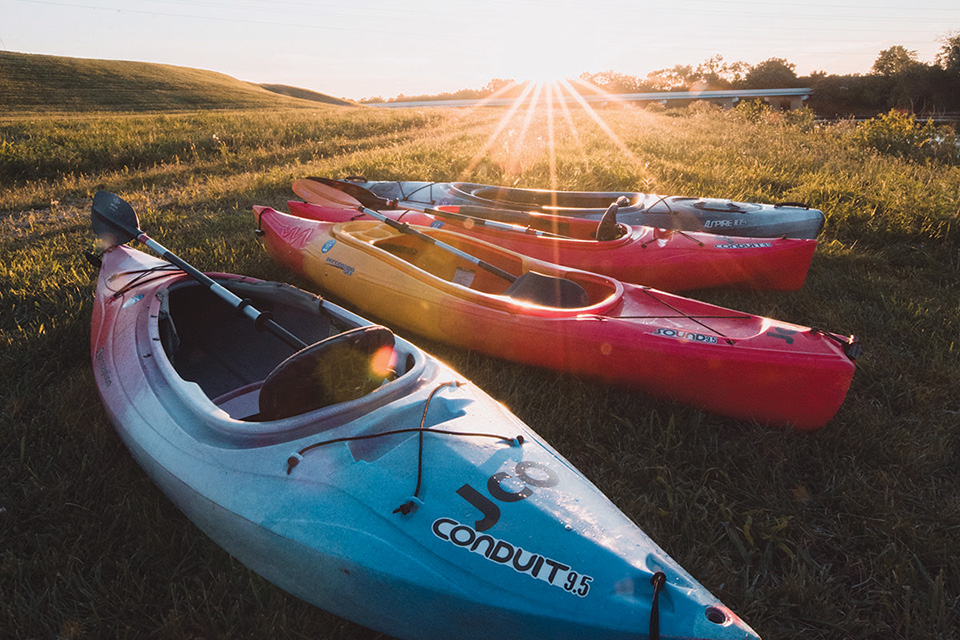 BAAB's Kayaking & Livery, Middletown:
This veteran-owned business operates as a full-service restaurant and bar while offering kayaking on the Great Miami River, named one of the cleanest bodies of water in the state. Choose from a one-hour float for beginners to a standard 6-mile journey to a more advanced 10-mile float. BAAB's Kayaking & Livery owns a fleet of more than 90 kayaks, so visitors do not need to make reservations for groups of six or less. After your time on the water, you can refuel at BAAB's bistro, which offers comfort food like wings, burgers, sandwiches and pizzas, as well as a full bar.
2401 Carmody Blvd., Middletown 45042, 513/217-0436, baabsent.com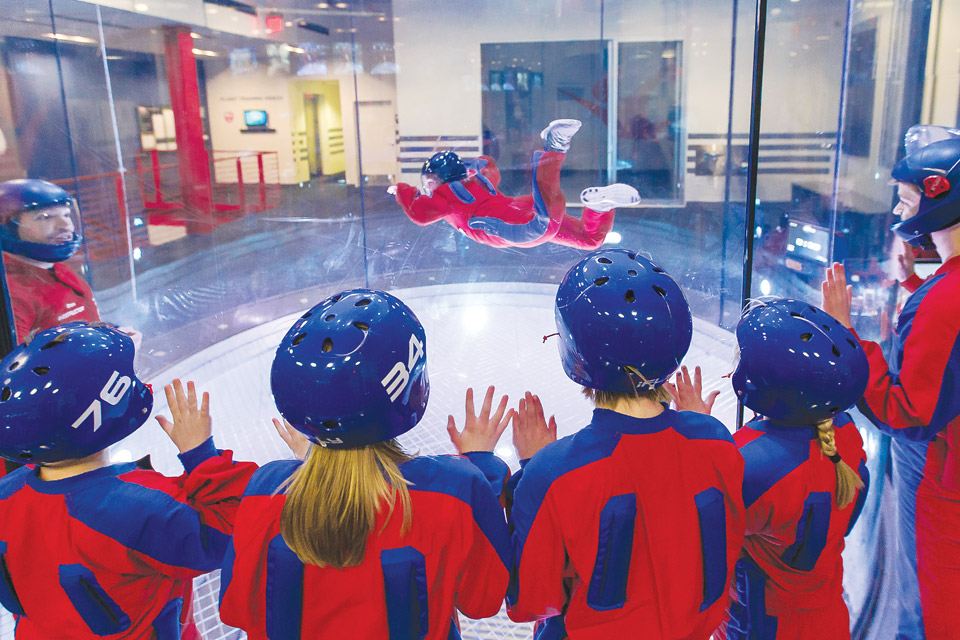 iFly Indoor Skydiving, Liberty Township:
You don't need a parachute to experience the sensation of leaping out of an airplane anymore. At Liberty Township's iFly Indoor Skydiving, guests can soar through the air inside a giant wind tunnel. Following a class led by a professionally trained instructor who demonstrates the simple process of becoming a skilled flyer, it's time to gear up. Each flight lasts about one minute within the wind tunnel, and even professional skydivers have been known to give iFly a try, seeing the experience as a learning opportunity.
7689 Warehouse Row, Liberty Township 45069, iflyworld.com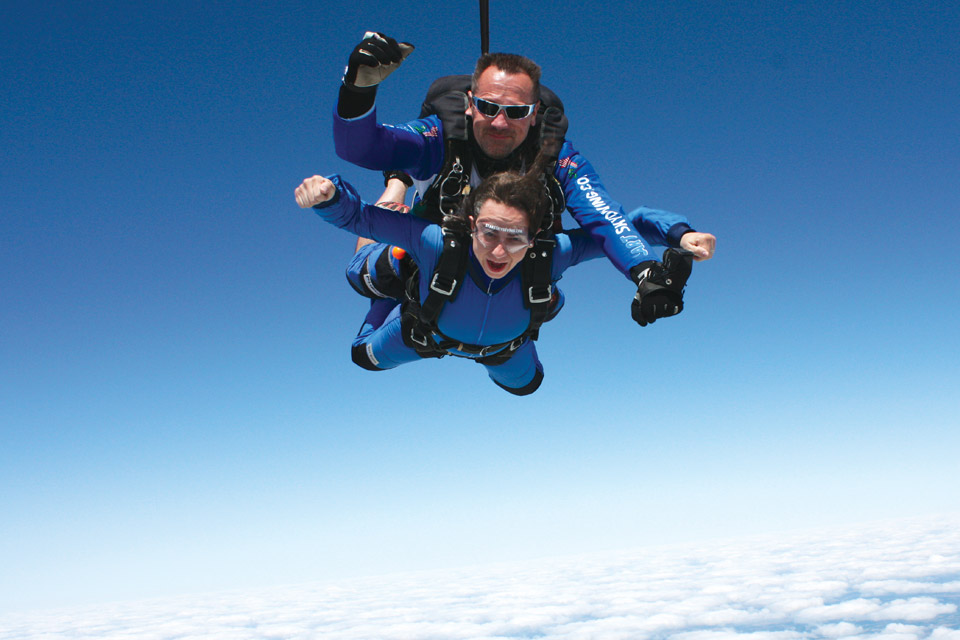 Start Skydiving, Middletown:
Jumping out of an airplane might sound scary to some, but according to John Hart III, co-owner of Middletown's Start Skydiving drop zone, there's no bigger rush in the world. John Hart II founded Start Skydiving in 2006 after spending his early career as an Army Airborne Ranger. The business has tandem and accelerated training programs available for beginners.
1711 Run Way, Middletown 45042, 513/422-5867, startskydiving.com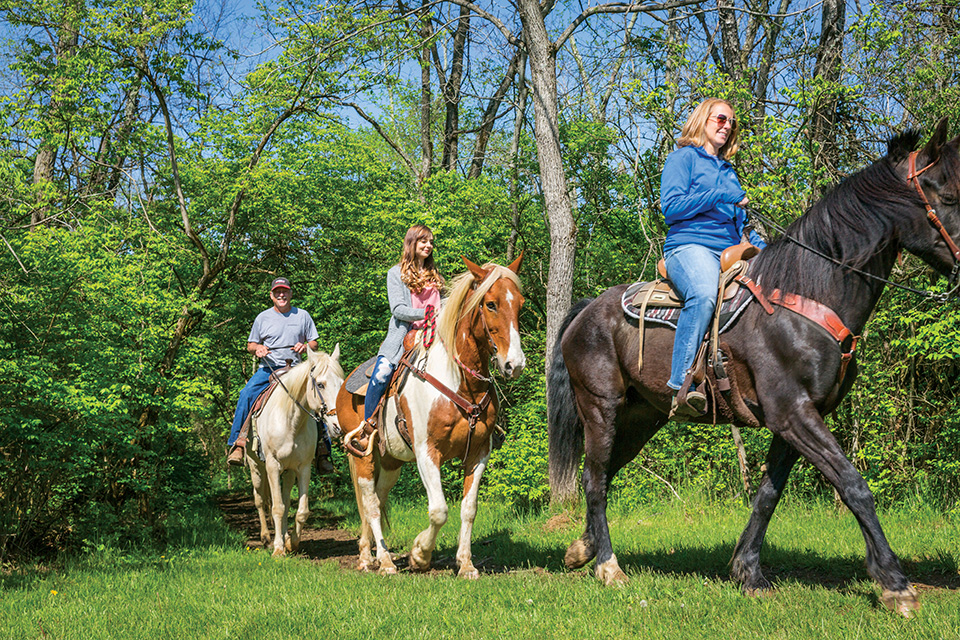 Nation Road Horse Rental, Oxford:
Founder Judy Sheard received the gift of horseback riding as a child and wanted to pass that joy on to others. Nation Road Horse Rental offers five guided horseback trails, ranging from beginner to advanced. Depending on which trail you choose, the rides go from 30 minutes to 90 minutes. For riders under 8 years old, the business offers a parent-assisted pony ride on a large, circular trail. (All trails are located 2 miles south of Hueston Woods State Park.)
6484 Morning Sun Rd., Oxford 45056, 513/255-5752, nationroadhorserental.net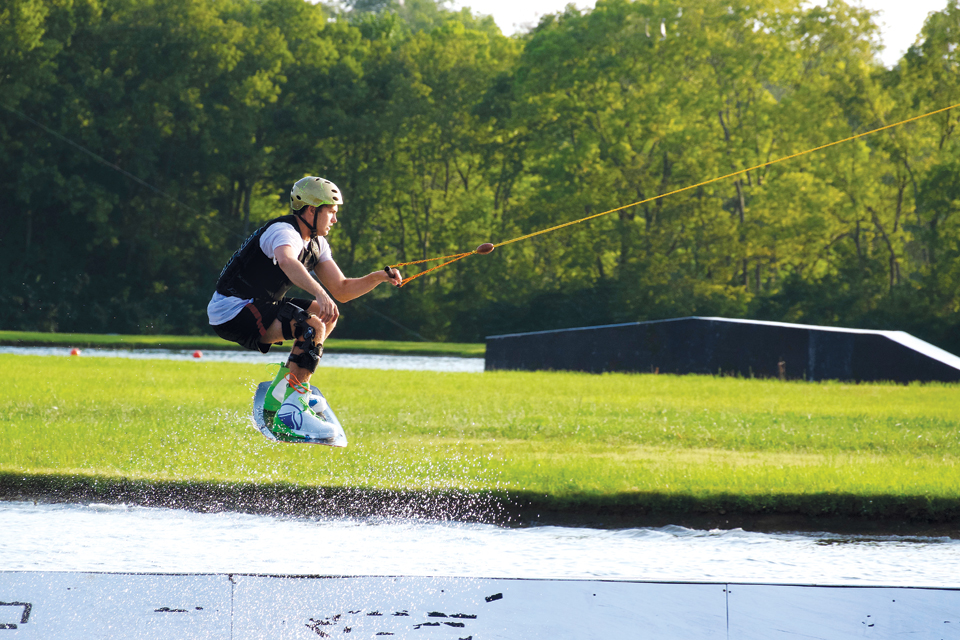 Wake Nation Cincinnati, Fairfield:
Wakeboarding comes alive at Wake Nation, a sport-focused water park in Fairfield, where guests zip across the water by way of a pulley system and cables rather than being towed by a boat. Wakeboarding lessons are a staple at Wake Nation since most of the guests who visit have never been exposed to the sport before. Visitors can also explore the aqua park, where super trampolines, waterslides and obstacle floaties are sure to help you make a splash.
201 Joe Nuxhall Way, Fairfield 45014, 513/887-9253, wakenationcincinnati.com
Where to Eat in Butler County, Ohio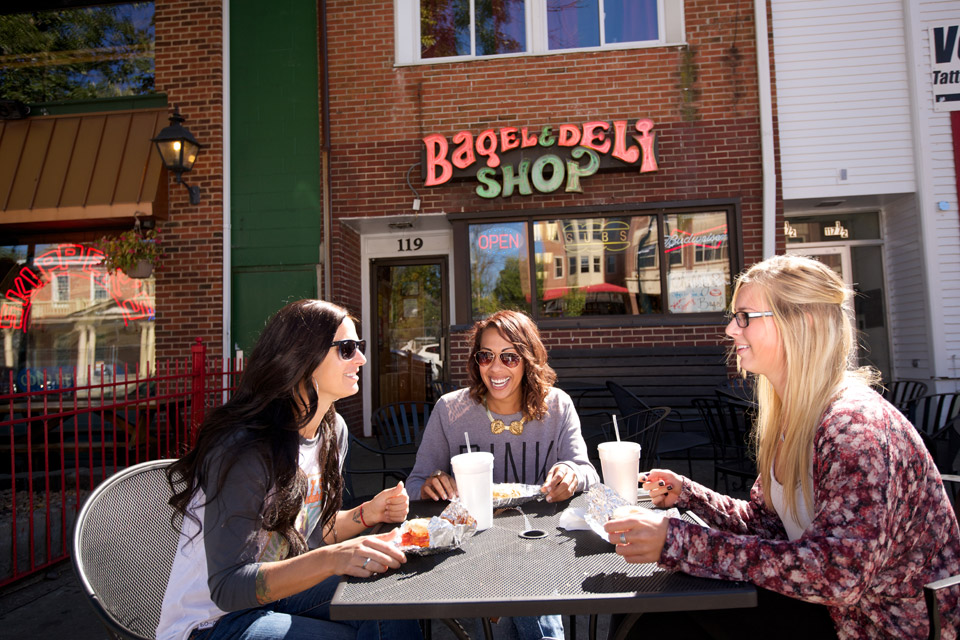 Bagel & Deli Shop, Oxford:
Bagel & Deli Shop has been an Uptown Oxford staple since 1975, serving generations of visitors and Miami University students. The shop features more than 90 creatively named steamed bagel sandwiches, from the Hungry Heifer (with roasted beef and smoked cheddar) to the Bowler's Bagel (with corned beef, cheddar, lettuce, tomato, onions, mayo and horseradish). Want to get your very own bagel sandwich added to the shop's menu? Bagel & Deli encourages you to come up with a unique combination and make your own sign for it. They may hang up the sign, and if the bagel sells extremely well, they just might make it permanent.
119 E. High St., Oxford 45056, 513/523-2131, bagelanddeli.com


CMX CineBistro, Liberty Township:
Guests at this luxury theater aren't forced to choose between dinner and a movie — they can enjoy both in a sophisticated setting that puts the average snack bar to shame. Patrons must arrive 30 minutes before show time to get settled in and comfortable in their luxurious reclining love seats. Servers take each guest's order, including beer or wine from the fully stocked bar and food choices from a menu of fine-dining options. The food and drinks are brought out right before the movie starts, allowing guests to enjoy their meals as they watch their film of choice.
7514 Bales St., Liberty Township 45069, 513/463-0470, cinebistro.com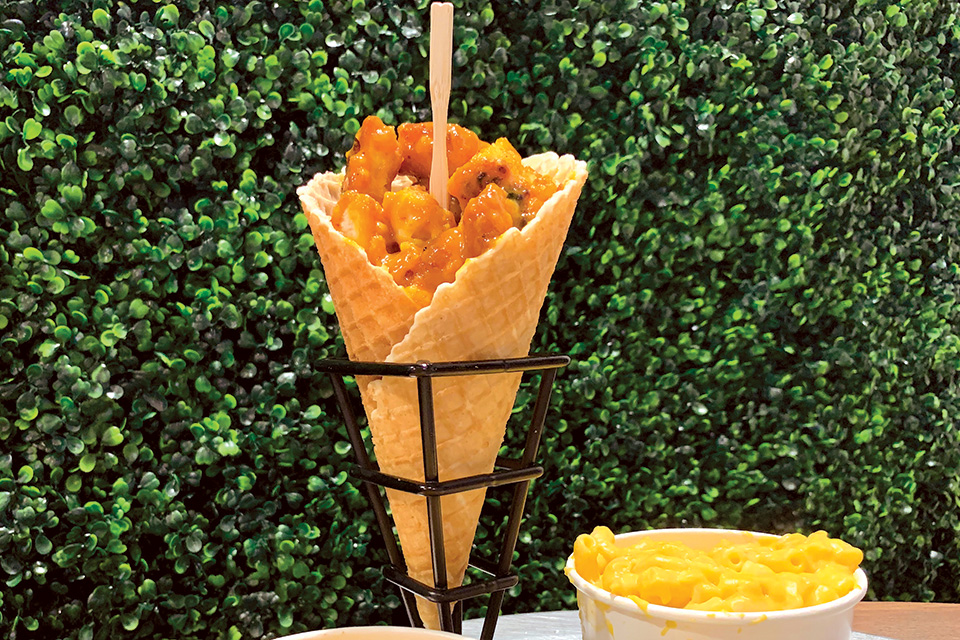 Chick'nCone, Hamilton:
Forks and knives are overrated, right? The delightful Chick'nCone franchise in downtown Hamilton lets you skip the utensils and enjoy tender, air-fried chicken served in a hand-rolled waffle cone. It's the perfect carryout food: a giant cone loaded with crispy fried chicken and served with sides like Caj'nCorn or mac and cheese. Guests can order sauce on the side or tossed onto the chicken (choices include BBQ, Yella BBQ, Peri Peri, Kick'nRanch, Buffalo Blue and Cinna-Maple). Located across from Marcum Park, Chick'nCone falls within Hamilton's Designated Outdoor Refreshment Area, which means visitors can order their chicken cones plus a beer or margarita, then stroll the district.
134 Riverfront Plaza, Hamilton 45011, 513/889-3075, chickncone.com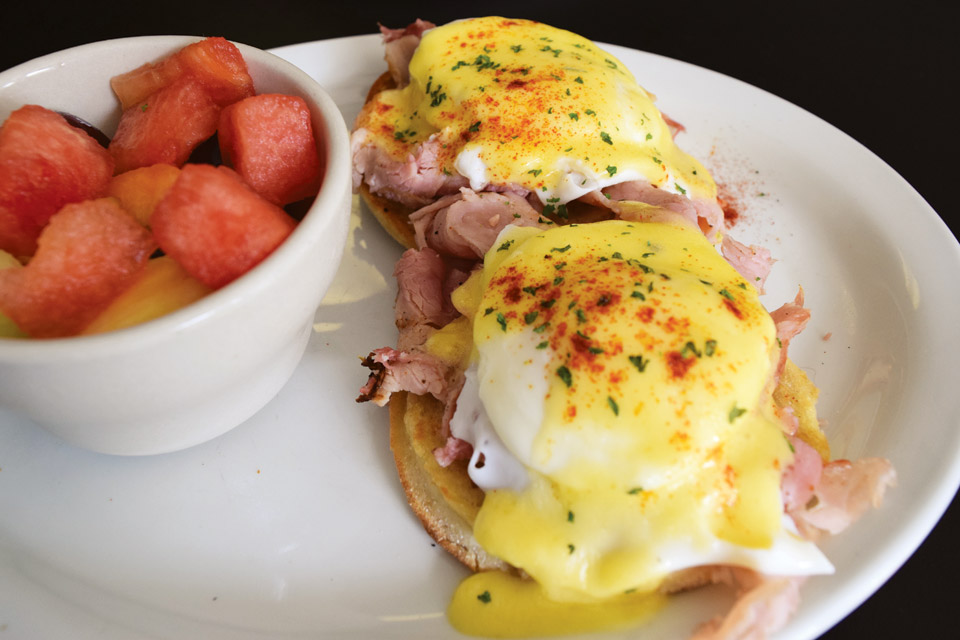 High St. Cafe, Hamilton:
This popular breakfast and lunch spot serves up made-from-scratch meals using only the freshest ingredients, be it the hollandaise sauce on the eggs Benedict or what goes into the restaurant's soup of the day. The friendly atmosphere makes it easy for diners to become regulars and regulars to become friends, while the antiques gift area near the front of the restaurant adds to the place's charm.Order the traditional eggs Benedict. The hollandaise sauce is made from scratch every morning when the first order is put in, and the dish is one of the restaurant's most popular breakfast options.
250 High St., Hamilton 45011, 513/805-7428, highstcafe.com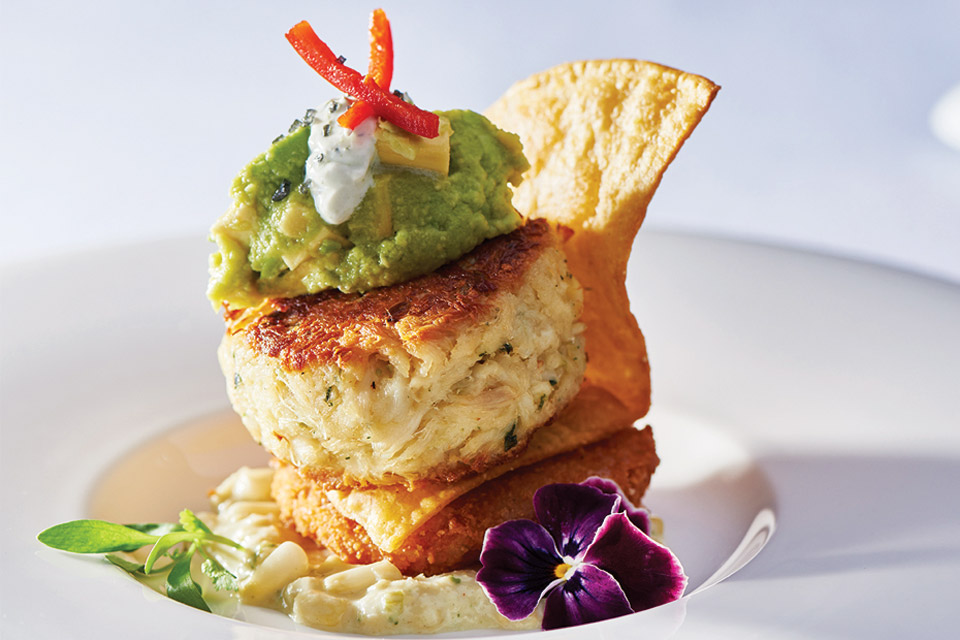 Jag's Steak & Seafood, West Chester
Since 2003, Jag's Steak & Seafood has provided its guests a place to have a great meal in an intimate setting or a night out full of live entertainment. Offering two distinct experiences, visitors can decide what they're in the mood for, but, either way, chef and proprietor Michelle Brown says her goal is to create an experience that stretches far beyond what's on your plate. The menu includes options not usually seen at a traditional steakhouse, including a raw bar of oysters and crab legs, a sushi bar with a variety of rolls and a lineup of creative soups, including crab and red pepper bisques.
5980 West Chester Rd., West Chester 45069, 513/860-5353, jags.com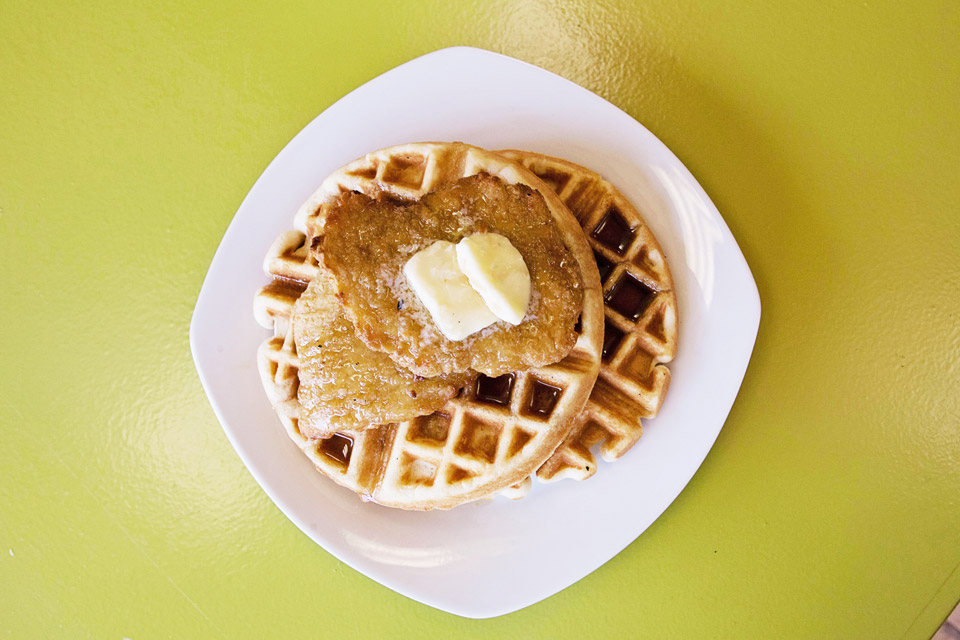 Mockingbirds Cafe, Middletown:
Vibrant yellow walls and a ceiling adorned with brightly colored umbrellas create a fun, inviting atmosphere, but it's the fresh and local ingredients that serve as the cornerstone of this cafe. Owner Nancy Griffith only buys ingredients from food producers within 50 miles and changes her menu based on the season. There are meat-free options on the menu, such as the hummus plate and freshly made soups. However, meat eaters will find plenty to like here, too, including the cafe's popular Cuban sandwich.
1024 Central Ave., Middletown 45044, 513/465-5038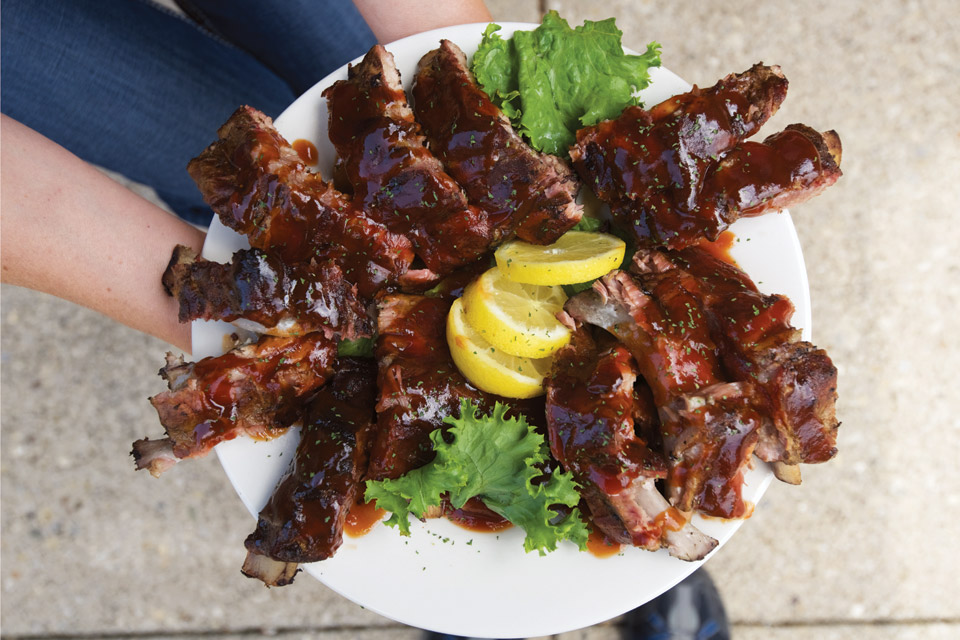 Neal's Famous BBQ, Hamilton:
Starting with a grill and just $10, the earliest days of Mike Neal's business exemplified the phrase "humble beginnings." The first incarnation of his restaurant opened in a former ice cream parlor with just three tables and a few more outside. His smoker, which he kept going through winter, spring, summer and fall, was also outdoors, garnering attention from passersby as he slow-cooked ribs in his homemade barbecue sauce. Now located in downtown Hamilton, Neal's Famous BBQ continues to serve up delicious homemade barbecue in a family-friendly atmosphere with plenty of good vibes.
202 N. Third St., Hamilton 45011, 513/737-2783, facebook.com/nealcafemidwest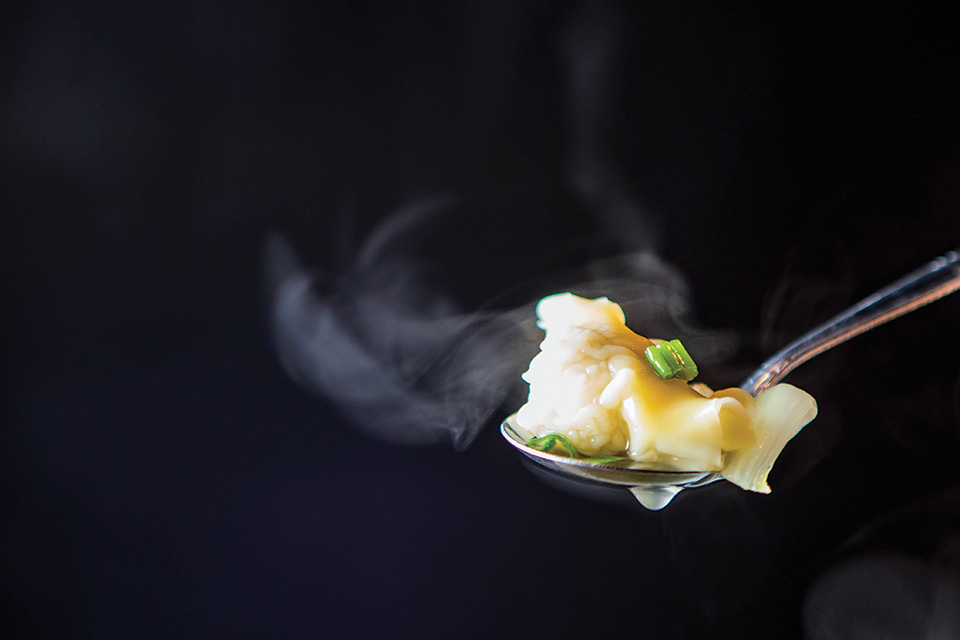 Numprik Thai Lao, Monroe:
Numprik Thai Lao is a locally owned spot that serves authentic Thai and Laotian cuisine. Much of the menu is vegan, vegetarian and gluten free-friendly, and dishes can be adjusted to customers' preferred spice levels. Look for hearty offerings like crispy vegetable spring rolls, tom yam soup, papaya salad, Pad See Ewe noodles, Thai fried rice, green curry and many more. For a perfect summer grab-and-go treat (and to top off your meal), order the restaurant's unique fried banana dessert. The banana is wrapped in a spring roll sheet with coconut flakes and sesame seeds, then fried and topped with honey. And, of course, you can always add a scoop of ice cream.
214 S. Main St., Monroe 45050, 513/360-7709, numprikthailao.com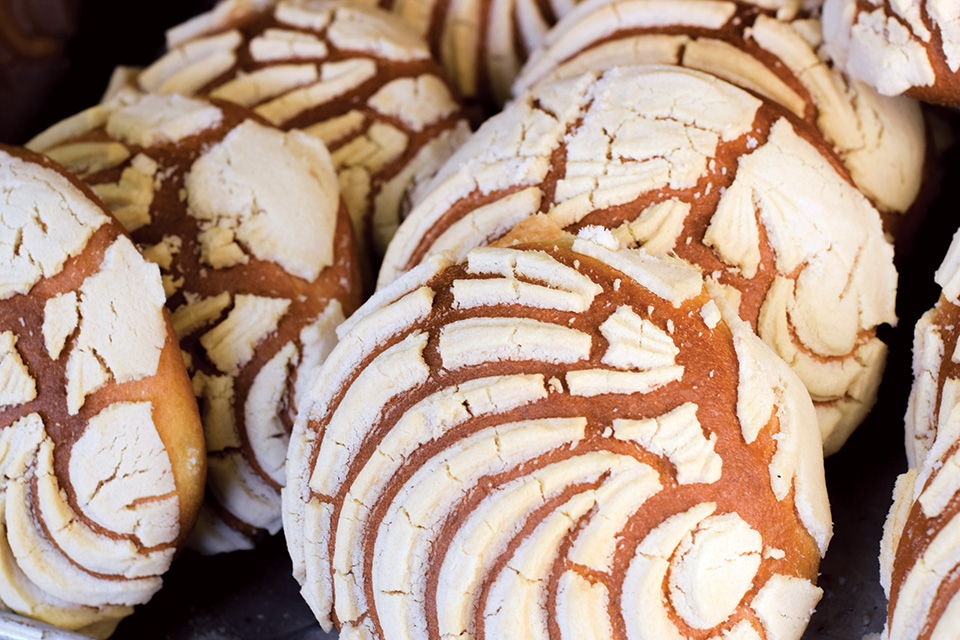 Panaderia La Mexicana, Fairfield:
The family-run Panaderia La Mexicana has been in business for more than 20 years, crafting pastries, cakes, breads, empanadas and other authentic Mexican treats. Customers are treated to wonderful smells of fresh-baked breads and joyful Latin tunes when they walk through the door. Owner Luis Leon and his family feature recipes from west-central Mexico. Highlights include the beautifully intricate conchas, lightly sweet donuts, cinnamon-dusted churros, decadent cheesecakes, colorful gelatins and crusty breads. One of the specialties is the intricate custom tres leches cake.
6503 Dixie Hwy. #5423, Fairfield 45014, 513/942-5065, panaderiamex.com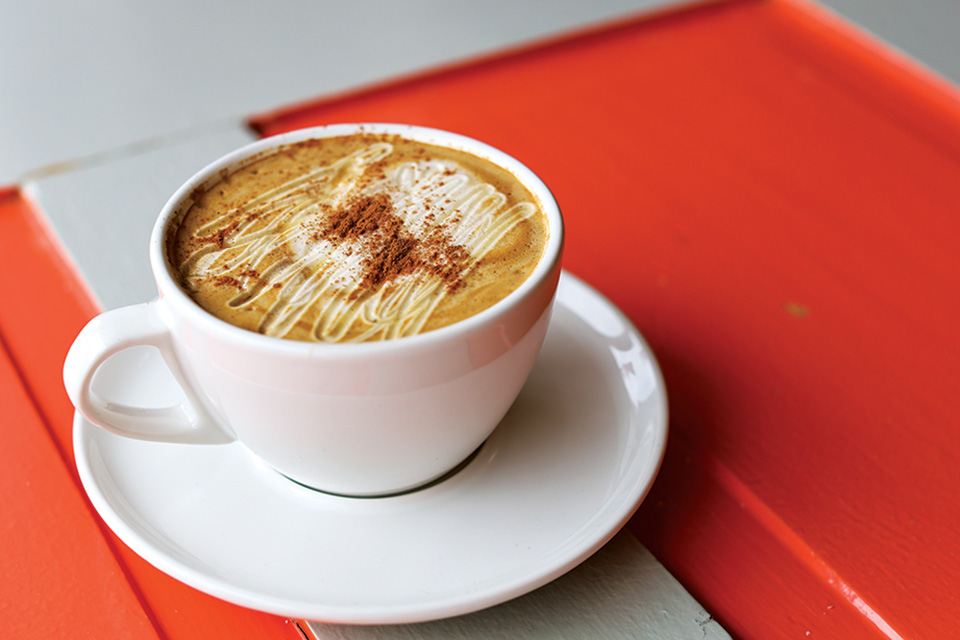 Village Perks, Seven Mile:
Situated along Main Street in Seven Mile, Village Perks features a variety of organic fair-trade roasts alongside frappes, smoothies and hot or iced teas. Pick up your coffee to go, or stay and catch up with friends at this community gathering spot. Order a strong brewed coffee, a shot of espresso, a cappuccino or one of Village Perks' many flavored lattes, and grab a toasted bagel, breakfast sandwich, wrap, salad or even a scoop of ice cream. If it's your first time visiting, the signature Honey Bee Latte is a popular choice. It's warm, frothy and lightly sweetened with a touch of honey.
315 N. Main St., Seven Mile 45062, 513/262-0313, facebook.com/thevillageperksllc
Family Food Favorites in Butler County, Ohio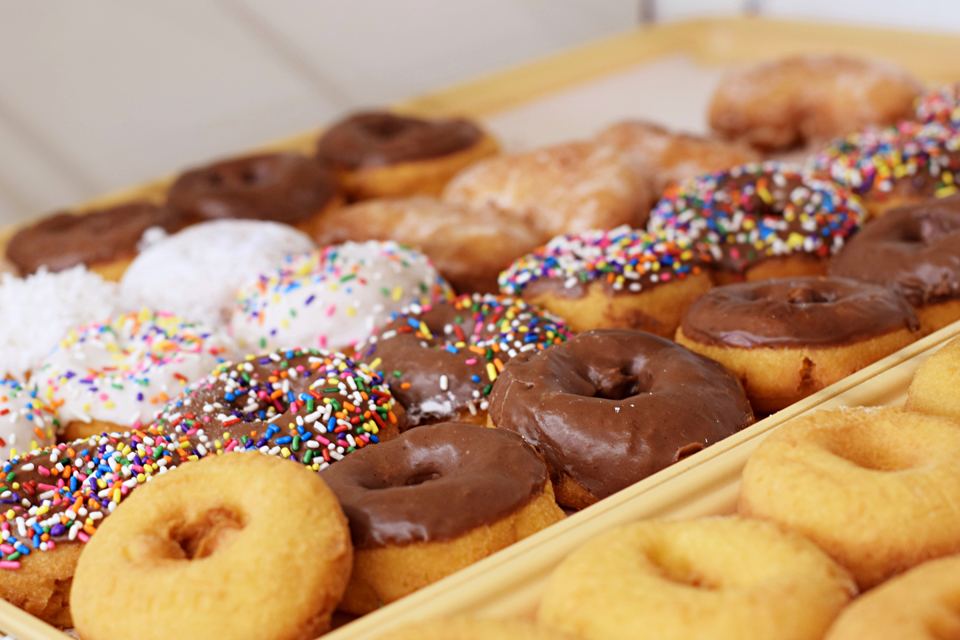 Butler County Donut Trail, 14 Locations:
With one of the highest numbers of doughnut shops per capita in the Midwest, Butler County is the perfect place to sample America's staple morning sweet. Travelers are encouraged to download a map and passport from the Butler County Visitors Bureau website. Those who get their passport stamped at all stops on the trail can trade it in for a Donut Trail T-shirt, which sports a new design each year. Although it's possible to complete the trail over the course of a weekend with an early start, there's no rush to finish them all.
Visit gettothebc.com/donut-trail for information. Locations and hours may change, so make sure to verify before traveling.


The Jug, Middletown

Generations of diners have made The Jug in Middletown a favorite stop for old-fashioned, nostalgic treats. First opened in 1932, the local institution serves burgers, hot dogs, fries and root beer floats in an old school, drive-in setting, complete with car hops dashing out to your vehicle to take your order. Pull into a numbered parking spot and try a few of the classics here: from cheeseburgers to chili dogs and waffle fries to chicken nuggets. Signature eats include the Jug Boy with a middle bun, cheese, lettuce, pickle and tartar sauce, as well as the Middle Burger with peanut butter, honey, bacon and pickle.
3610 Central Ave., Middletown 45044, 513/424-1677, thejugburger.com
The Frost Factory, Liberty Township:
The Frost Factory at Liberty Center lets you create your own slushie with flavors that appeal to kids and adults alike. The shop features preset combinations or you can build your own blend of flavors. Non-alcoholic fan favorites include the salted caramel latte, cotton candy-flavored Unicorn Magic and strawberry basil lemonade. Adults are welcome to add their favorite booze to slushies. Try a shot of vanilla vodka in the Orange Dream or a bit of tequila in the sweet and spicy mango habanero. Liberty Center is also a Designated Outdoor Refreshment Area, so you can take your slushie to go.
7547 Bales St., Liberty Township 45069, 513/644-0170,
facebook.com/thefrostfactoryliberty

The Cone, West Chester
You'll know you're in the right place when you see the line of cars snaking around the parking lot at The Cone. This West Chester institution has been delighting families with its signature soft-serve ice creams since 1973. Offerings include a classic soft-serve twist, house-made orange sherbet, candy-topped sundaes, buckeye parfaits, shakes and banana boats. The house specialty is the Wizzard, a blend of ice cream and your choice of candies, chocolate chunks or cake batter. Or try one of The Cone's Specialty Wizzards, like Banana Cream Pie, Tiramisu or Oreo Explosion.
Open seasonally; 6855 Tylersville Rd., West Chester 45069, 513/779-7040, thecone.com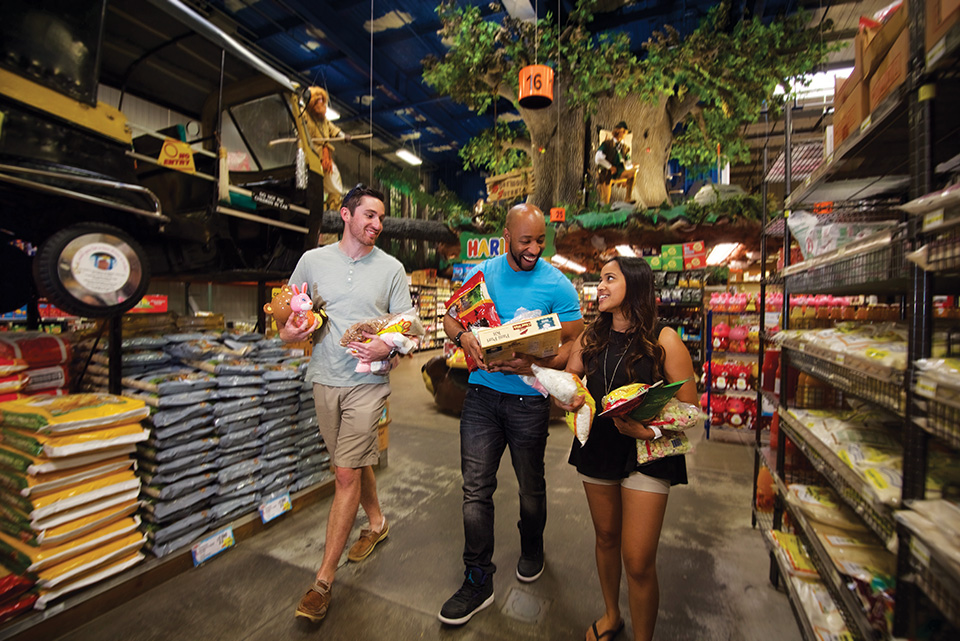 Jungle Jim's International Market, Fairfield:
Jungle Jim's must be experienced to be fully appreciated. The massive operation that covers 200,000 square feet and carries products from more than 70 countries is a little bit of everything: grocery, wine and beer shop, liquor store, cheese monger, sushi stand, international market, toy store, bakery and gigantic culinary playground. If you're only visiting one section of Jungle Jim's, head to the international produce department, which offers tastes ranging from durian to dragon fruit. While you're shopping, you can take in the zany decor and animatronic figures.
5440 Dixie Hwy., Fairfield 45014, 513/674-6000, junglejims.com
Art Experiences in Butler County, Ohio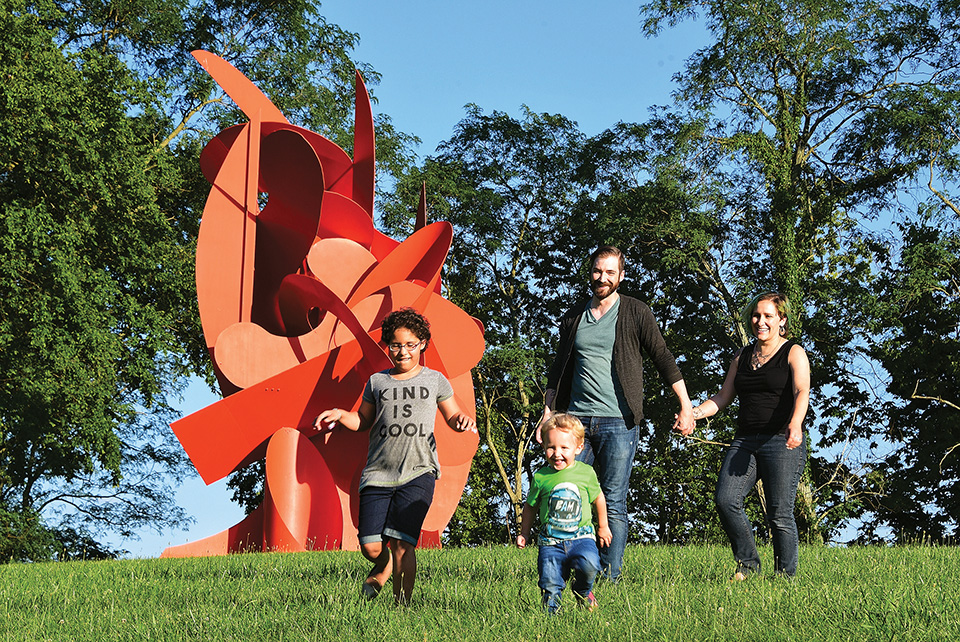 Pyramid Hill Sculpture Park & Museum, Hamilton:
Pyramid Hill Sculpture Park offers a hidden delight tucked among the hills west of downtown Hamilton. The park spans more than 300 acres of woods and meadows dotted with over 80 fascinating sculptures. The best way to experience Pyramid Hill is by starting at the visitor center and renting an Art Cart. It's hard to beat the fun of driving over the park's rolling hills, stopping to admire sculptures and natural features throughout the park. If you have time, pack a picnic lunch, or head out to hike the hills on foot. Be sure to check out the Ancient Sculpture Museum in the center of the park, which houses Egyptian, Greek, Roman, Etruscan and Syrian antiquities. Pyramid Hill is open almost every day of the year.
1763 Hamilton Cleves Rd., Hamilton 45013, 513/868-1234, pyramidhill.org
Hamilton, City of Sculpture:
Hamilton was once an industrial hub on the Great Miami River. Busy in the first half of the 20th century, that hum had quieted by the time the '80s arrived. City leadership began to nurture Hamilton's artistic side, installing the first of many sculptures in 2000. With the enthusiasm of a few dedicated residents, including Pyramid Hill Sculpture Park & Museum founder Harry T. Wilks, the town began to grow into a title bestowed on it by then-Gov. Bob Taft: Hamilton, City of Sculpture. In 2002, Hammond placed a sculpture designed by Lyman Whitaker along the Great Miami River. It's one of more than 100 artworks throughout Hamilton. Both local and national artists are represented, including Kristen Visbal (sculptor of Wall Street's "Fearless Girl"), who designed a tribute to the city's namesake, Alexander Hamilton.
1 High St., Hamilton 45011, 513/844-8080, cityofsculpture.org


Miami University Museum & Sculpture Park:
Miami University in Oxford is known for its classic, red brick buildings, but the Miami University Art Museum takes a more modern shape. Founded in 1978, the museum houses a collection of 17,000 works, and that's just inside its walls. In 1979, "Star-Crossed" by Nancy Holt was added to the grounds. An earthworks sculpture, it was designed to eventually merge with the landscape. During the last 40 years, Miami University has acquired additional outdoor works, such as Eugene Brown's recognition of the area's Native American culture, a piece called "A Tribe Named Miami, A Surveyor's Stake, A Town Named Oxford" and Mark di Suvero's "For Kepler." Nine sculptures are spread across the museum's grounds, but others dot the campus.
801 S. Patterson Ave., Oxford 45056, 513/529-2232, miamioh.edu/artmuseum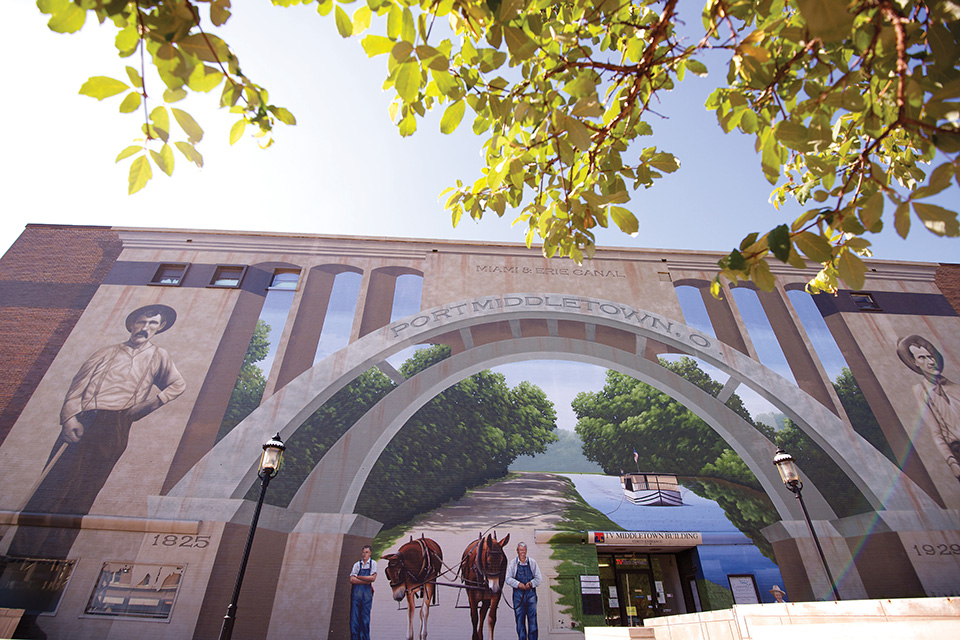 Middletown Murals, Middletown:
A longtime steel town, the community of Middletown was enthusiastic about arts and recreation, at one point supporting an orchestra and constructing an arts center that still operates today. During a downtown revitalization project, officials decided to expand the role of arts in the community. In 2004, Middletown first commissioned an artist to paint a depiction of a historic photograph showing a 1914 market scene. The community now has 14 murals throughout the city.
130 N. Verity Pkwy., Middletown 45042, 513/424-2417, middletownartscenter.com
Creative Classes in Butler County, Ohio
The Learning Kitchen, West Chester:
The Learning Kitchen offers dozens of classes focused on different themes, such as specific dishes or ingredients, date nights, international cuisines, even classes for kids. Owner David Metz says popular classes include Homemade Pasta, Homemade Cinnamon Rolls, Authentic Thai Curries, India at Home, KY Bourbon Steak and Hibachi Steak & Shrimp. The Learning Kitchen draws on the expertise of Cincinnati-area chefs to lead the various classes and customers get hands-on experience. Participants arrive to find their ingredients set out at their own cook station, complete with cooktop, cutting board, chef's knives and all the kitchen tools needed for the class.
7659 Cox Ln., West Chester 45069, 513/847-4474, thelearningkitchen.com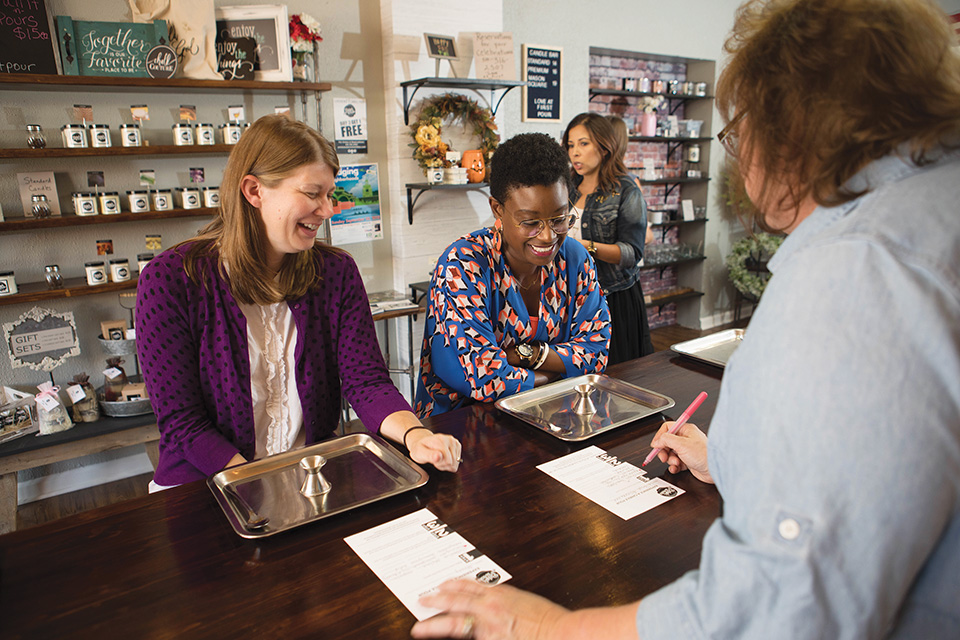 Petals & Wicks, Hamilton:
Owners Sherry and Mike Hoskins describe Petals & Wicks as a "scent bar," where visitors can create their own custom candles or body products. They opened the store in Hamilton's Main Street shopping district in 2018, inspired by other shops they discovered during their travels. Petals & Wicks has anywhere between 100 to 120 scents at any given time, and the store's seasonal fragrances are often the most popular, especially during fall and winter. Among the shop's body products, the natural goats milk shea butter honey lotion is a favorite.
119 Main St., Hamilton 45013, 513/316-2307, petalsnwicks.com

Visit travelbutlercounty.com for more information about destinations in Butler County, Ohio.