Travel
7 Small-Town Ohio Holiday Celebrations
From a volunteer effort that illuminates downtown Cambridge to a museum on Medina's Public Square dedicated to Christmas memories, these places and events embody the spirit of the season.
Nov./Dec. 2022
BY Jason Brill, Kaitlyn Finchler, Kim Schneider and Damaine Vonada | Photo courtesy of Dickens Victorian Village
Nov./Dec. 2022
BY Jason Brill, Kaitlyn Finchler, Kim Schneider and Damaine Vonada | Photo courtesy of Dickens Victorian Village
Dickens Victorian Village
This annual celebration in Cambridge is made possible each year through the generosity of its many volunteers.
You don't need to be visited by the ghosts of Christmas to get wrapped up in the giving spirit. While Ebenezer Scrooge woke up feeling charitable near the end of Charles Dickens' "A Christmas Carol" after a harrowing adventure, you can just head to Cambridge between Nov. 1 and Dec. 31 to get in on the good feeling.
Started in 2006, the annual, free-of-charge Dickens Victorian Village transforms the Guernsey County seat into a slice of Dickensian life with 92 scenes featuring carolers, Father Christmas, Tiny Tim and even Scrooge himself. The 180 life-sized mannequins, which are made by hand and dressed up in vintage attire, are set up along Wheeling Avenue, Cambridge's main street. And it's all possible because of nearly 1,000 hours of volunteer service each year.
"Some of us work on assembling the mannequins, some of us work on marketing," says Julie Davey, president of the board of directors for Dickens Victorian Village. "It's really heartwarming."
The idea came from local artist and men's clothing store owner Bob Ley and his late wife Sue, who was a teacher. The pair wanted to create something special that would bring people to Cambridge for the holidays. Sue, who had been an English major, took one look at the town's Victorian-esque architecture and thought the world of Dickens would be a perfect fit. Bob created the first of the mannequins.
"He then went out into the community and found a mass of volunteers," Davey says.
The town has carried on, with new people chipping in each year and additional aspects being added, such as a nightly light show that turns the county courthouse into an awe-inspiring spectacle set to Christmas music. Tea services and horse-and-carriage rides, which both require a ticket purchase, were added over the years as well.
In another display of local generosity, Dickens Victorian Village has a welcome center thanks to donations. It houses a Curiosity Shoppe with gifts and an Imagination Station where people can dress up in Victorian-era garb for photos.
"It's a definite feel-good for me and some of the other volunteers who put in so much time during the year," Davey says, "to see how everything has evolved, and how it's appreciated by visitors from all over."
647 Wheeling Ave., Cambridge 43725, 740/421-4956, dickensvictorianvillage.com
---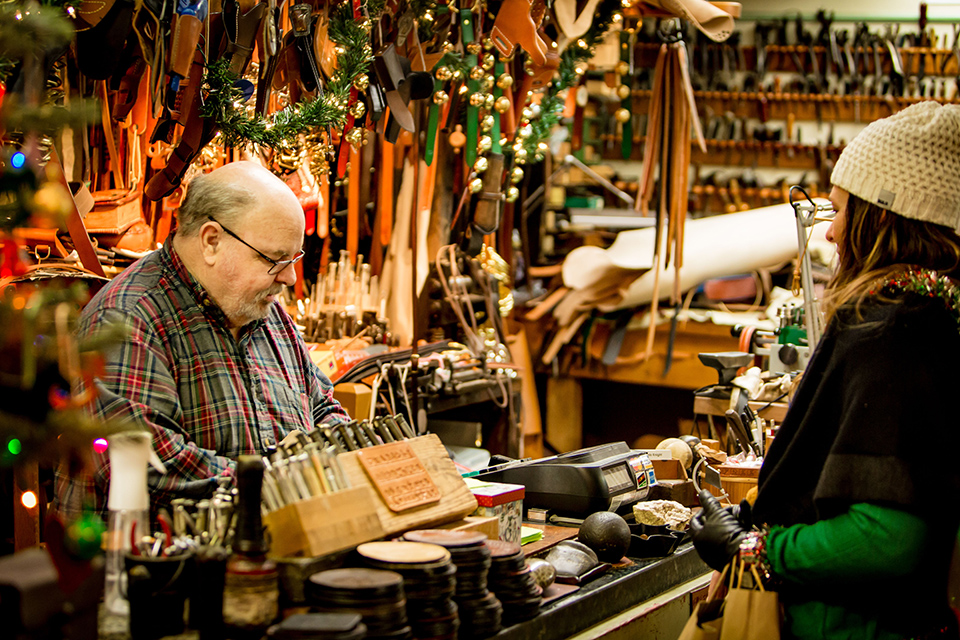 Christmas Candlelighting at Roscoe Village

Dec. 3 & 10 • Coshocton
That glittering small town typically found inside a snow globe comes to life during Historic Roscoe Village's Christmas Candlelighting Ceremony. The annual tradition has been a holiday highpoint here since 1968.
Located along the route of the Ohio & Erie Canal, the restored town recalls a bygone era. Around 1,000 people turn out each weekend to partake in the collective Christmas spirit, from hearing strolling carolers to visiting with Santa.
That togetherness shines brightest during the candle-lighting ceremony, where a different group from the community is honored each year. (Last year it was local teachers. This year, it's outstanding students.) After the singing of "Silent Night" and the reading of a Christmas story, the honorees begin the ceremony by lighting their candles. Slowly, each person in the crowd lights their candle until there's a sea of flickering lights.
"When you have close to 1,000 people singing and lighting candles, it gives you goosebumps," says Angel Underwood, Historic Roscoe Village's marketing and group sales manager.
Attendees can enjoy holiday treats like roasted chestnuts, mulled cider and ginger cookies made each year by local businesses. The whole experience adds up to a festive occasion that has dazzled generations of families.
600 N. Whitewoman St., Coshocton 43812, 740/622-7644, roscoevillage.com
---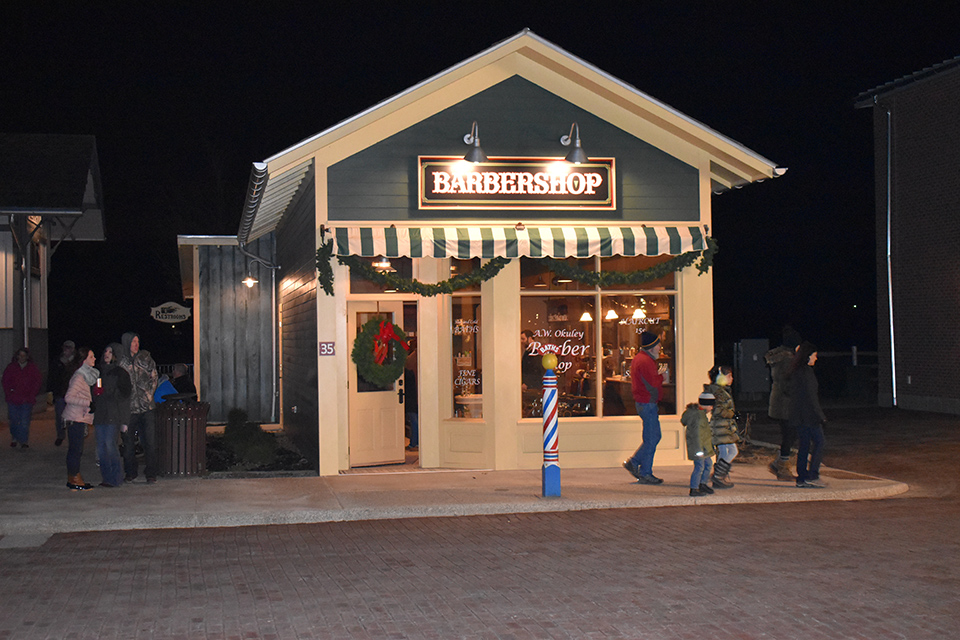 1920s Holidays on Main Street at Sauder Village

Nov. 26, Dec. 3 & 10 • Archbold
Sauder Village tells the story of Ohio, from frontier days to the dawn of cars and movie theaters. The latter is illustrated by the living-history destination's 1920s Main Street, a vividly re-created city block that offers a flavor of what life was like a century ago.
For the holidays, Sauder Village offers a ticketed 1920s Holiday on Main Street evening event, during which families can take in the sights and sounds of the season, from classic window displays to carolers to the 20-foot Christmas tree outside the train depot. (A separate, 21-and-older "Making Spirits Bright" event is set for Dec. 2.)
"We start with what could be interesting for people or what they might not know about Christmas in the 1920s," explains Sheri Friesner, director of the historic village at Sauder Village. "Not just what they were doing in the homes but what could be happening in different shops in a typical 1920s small town."
The inviting blast-to-the-past also offers the chance to watch a holiday film from the 1920s in the theater and see how the street's hardware store, bank and other locations would have been decorated during the era. 22611 St. Rte. 2, Archbold 43502, 419/446-2541, saudervillage.org
---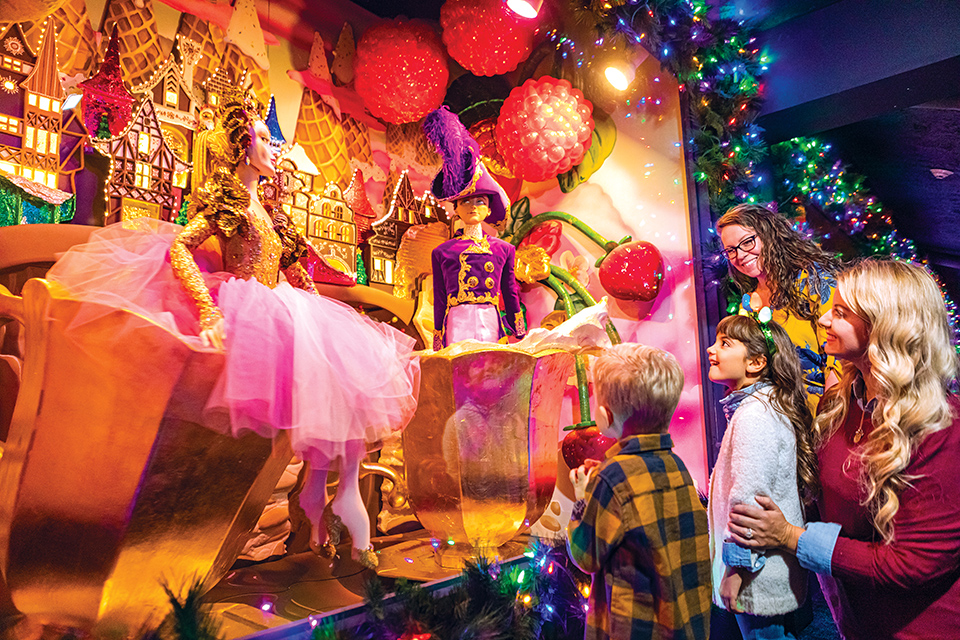 Castle Noel

Mark Klaus' incredible museum in the heart of downtown Medina holds within it a lifetime of Christmas memories, no matter your age.
Mark Klaus' personal Christmas memories run deep. He remembers hearing stories about how his paternal grandfather would use wallpaper scraps to build Christmas villages for his father and his siblings because they didn't have enough money for presents. He thinks back to going to a Peninsula tree farm with his dad to pick out a 16-footer that barely fit in their Seven Hills house. He recalls his dad jingling all the way, decorating that home inside and out and inviting friends, family and neighbors over to give them a holiday they would remember. And he's always nostalgic for the idea of sitting around and watching the same movies each year.
"Christmas movies are a part of our American tradition," says Klaus. "Other movies come and go, but Christmas movies you line up and watch every single year — they're a part of celebrating."
Over the years, Klaus' lifelong love of Christmas — even in the face of the tragedy of  losing his mother on Christmas Eve when he was 16 — has resulted in a huge collection of movie props, over a thousand toys from decades past, decorative department store window displays from New York City and more. Castle Noel, the downtown Medina wonderland-meets-museum he started in 2013 with his wife Dana, has halls (and rooms) decked with almost all of it. Visitors can explore the spot's 40,000 square feet as part of a guided tour, which requires a reservation and ends with a scoot down the slide like the one seen in "A Christmas Story."
Klaus, who bears a striking resemblance to the other Claus, simply loves helping people create new memories or become nostalgic for old ones. Castle Noel is home to holiday movie props, such as the sleigh from Jim Carrey's "How the Grinch Stole Christmas," Cousin Eddie's RV from "National Lampoon's Christmas Vacation" and an animatronic reindeer from 1985's "Santa Claus: The Movie." Once, he spotted a young woman standing in front of that reindeer with a tear in her eye. Turns out, her mother had passed away recently, and they always watched that movie together each Christmas.
" 'Somehow, I feel closer to her standing by all this stuff,' " Klaus recalls her saying. "I went into my office where I have the original casting [mold for the reindeer], and I said, 'Why don't we hold this, and we'll take a picture for your mom.' ... So many things like that have happened here."
260 S. Court St., Medina 44256, 330/721-6635, castlenoel.com
---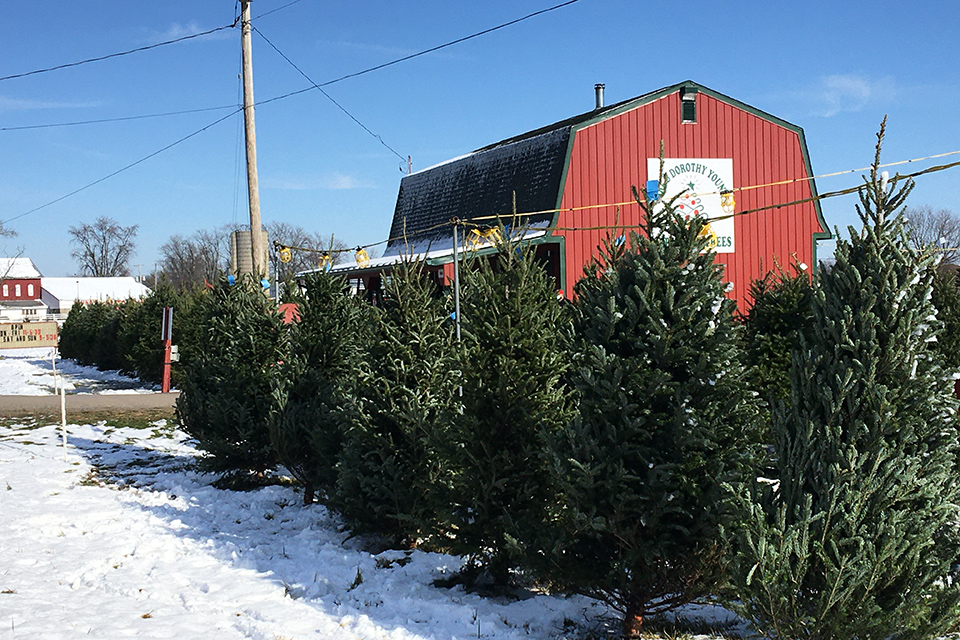 Carl & Dorothy Young's Christmas Tree Farm
Nov. 25–27 & Dec. 2–4 • Yellow Springs
When families arrive at his farm near Yellow Springs to cut their own Christmas tree, Ben Young immediately recognizes repeat customers.
"I can always tell our regulars because the kids want to get their hot cocoa before they get their tree," he says.
Complimentary cocoa, of course, is hardly the reason that locals make it a tradition to kick off their holiday celebrations with a visit to the cut-and-carry farm that Young's father Carl started with his wife Dorothy in 1985.
"Folks enjoy the entire experience," he says, "of coming here with their children or grandchildren and having everyone take part in choosing and cutting down a tree, putting it on a sled, and dragging it back to their car."
The 30-acre Christmas tree farm has 26,000 pine, spruce and fir trees, and about 1,800 of them will be big enough to brighten homes this holiday season. Young supplies handsaws and tub-style sleds and uses a machine to shake off dead needles.
The farm also offers fresh wreaths naturally decorated with pine cones, and its cheery gift shop carries ornaments and stocking stuffers. The adventure of getting a Christmas tree the old-fashioned way is so popular that Young uses an advance reservation system so that families don't have to wait in long lines. And since its selection sells quickly, the farm is open only from Friday through Sunday on two select weekends during the holiday season.
"The demand for our trees," says Young, "is growing faster than the trees themselves."
4968 U.S. Route 68 N., Yellow Springs 45387, 937/708-6828, youngschristmastreefarm.com
---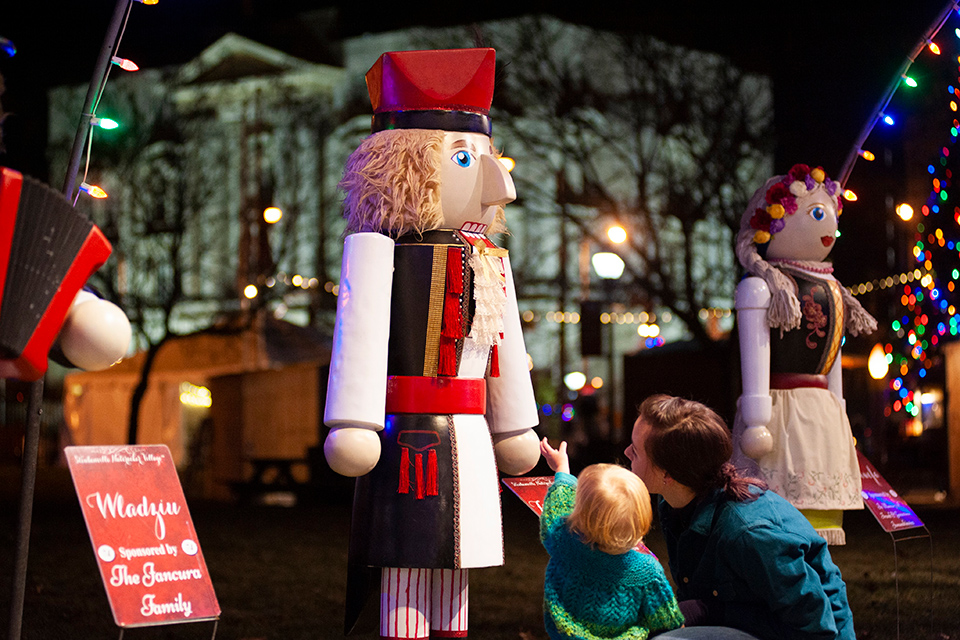 Steubenville Nutcracker Village

Created as way to bring people back downtown, this whimsical and artistic display offers an example of how the holidays can inspire change.
The magic of the Christmas season and its bright, multicolored lights can illuminate often-overlooked areas. That's what Therese Fedoryka sees when she looks at Steubenville Nutcracker Village. The event, which runs Nov. 22 through Jan. 7, features 200 life-size, hand-carved nutcrackers lining the streets of Steubenville in Jefferson County.
Fedoryka's father, Mark Nelson, helped start the free event in 2015 to inspire residents to take pride in their downtown. Nelson, who owns Nelson Fine Art & Gifts, which crafts religious gifts, tables, chairs and more out of wood, thought nutcrackers would be a fun way to pique people's interests and tie into the German heritage of Steubenville.
"The name of the town honors Baron von Steuben," explains Fedoryka, who serves as event coordinator and nutcracker designer, "but also a lot of German immigrants settled in Steubenville."
The nutcrackers, which include The Wizard of Oz's Cowardly Lion, Scarecrow, Tin Man and Dorothy, Steubenville native Dean Martin, and even Baron von Steuben himself, are so intricate and detailed, you'd swear they were built in Santa's workshop. But Fedoryka's brother-in-law, Brodie Stutzman, crafts all of them.
"It's a labor of love," says Fedoryka, noting that this year's new nutcrackers include Glinda the Good Witch, Belle from Beauty and the Beast and Mr. and Mrs. Coal Miner, honoring Steubenville's coal-mining heritage. For his day job, Stutzman is a mold-maker and does gold leaf and filigree work. But when he has time during the year, he works on the nutcrackers while he's waiting for a mold to dry.
Fedoryka says the nutcrackers have also delivered on the idea of helping rejuvenate downtown. In the last five years, about 30 buildings have been purchased, many by local investors, and are in various states of restoration. A new cigar shop, brewery and pizza spot are all in the works. Fedoryka's family business has been part of the investment too. Since 2015, Nelson Fine Art & Gifts has purchased a half dozen buildings and started three businesses downtown, including a gift shop where miniaturized versions of all 200 nutcrackers are sold.
"It's a perfect example of showing that something that's perceived as ugly … can be transformed magically," Fedoryka says, "and the perfect time of year for that magic transformation is Christmastime. Then, for the rest of the year, they kind of see that thing in a new light."
155 N. Fourth St., Steubenville 43952, 740/282-5334, steubenvillenutcrackervillage.com

---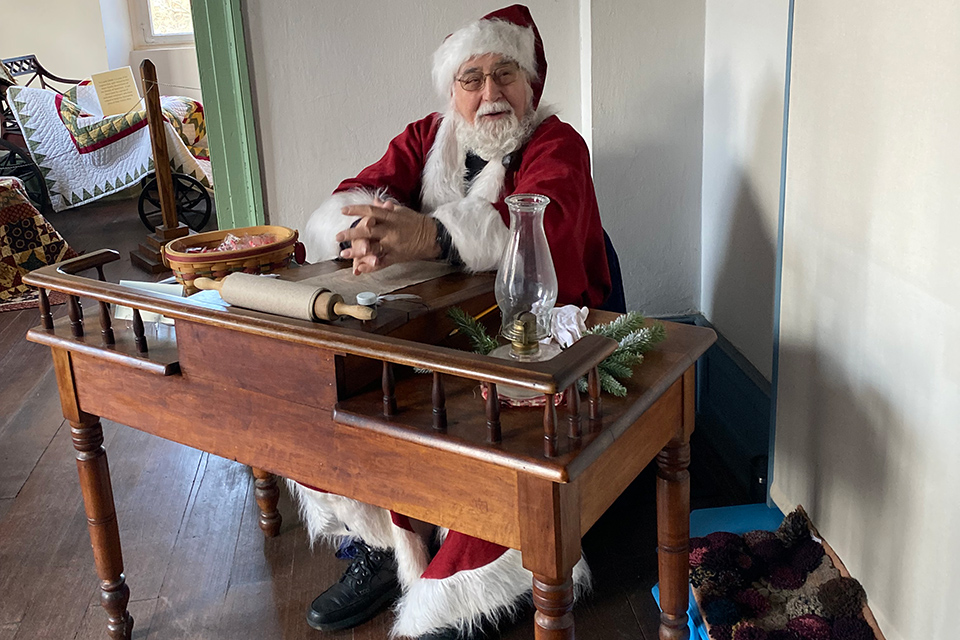 Christmas in Zoar
Dec. 3 & 4 • Zoar
The tiny Tuscarawas County village of Zoar has a little more than 160 residents, but the community founded by German separatists in 1817 as a Utopian Christian settlement is rich in history. Homes and buildings throughout the village offer a feel of what it would have been like to live in that community, which lasted up until the end of the 19th century.
During the holidays, travelers can explore the village by way of guided tours while also learning about the traditions of the those who once lived here. The two-day Christmas at Zoar event highlights that history while embracing the spirit of the season.
"For Christmas, we switch our tours [to share information] about how different Christmas traditions originated," says Tammi Shrum, historic sites director at Historic Zoar Village and the nearby Fort Laurens Museum in Bolivar.
During Christmas in Zoar, visitors can shop at the museum store, grab a pastry from the bakery, browse the juried craft show and enjoy the tree-lighting ceremony. Residents take part in a porch-decorating contest that has long been a tradition in the village. Even those who visit outside the days of the event can enjoy the holiday cheer.
"Christmas at Zoar is a one-weekend event," Shrum says, "but at the village we really make sure there is something magical for the duration of the holiday season."
198 Main St., Zoar 44697, 330/874-3011, historiczoarvillage.com