Travel
5 Ohio Christmas Favorites
Have a heaping helping of holiday cheer at these destinations that exemplify the spirit and wonder of the season.
Nov./Dec. 2020
BY Staff & Contributors | Photo by Ken Blaze
Nov./Dec. 2020
BY Staff & Contributors | Photo by Ken Blaze
Castle Noel, Medina: There are few places that will get your holiday spirit pumping like Mark Klaus' Christmas wonderland. Spanning half a city block and housed in a former church in downtown Medina, Castle Noel is packed with Christmas-movie memorabilia, including a sleigh-load of props from the 2000 Jim Carrey film "How the Grinch Stole Christmas" and Cousin Eddie's decrepit RV from "National Lampoon's Christmas Vacation." But the unique tour also features window displays from New York City department stores and a treasure trove of memory-joggers from Christmas mornings past. The grand finale of the tour is a trip down a twisty red slide, just like the one Ralphie took in the classic 1983 film "A Christmas Story." Call or visit website for hours and admission (reservations are required). 260 S. Court St., Medina 44256, 330/721-6635, castlenoel.com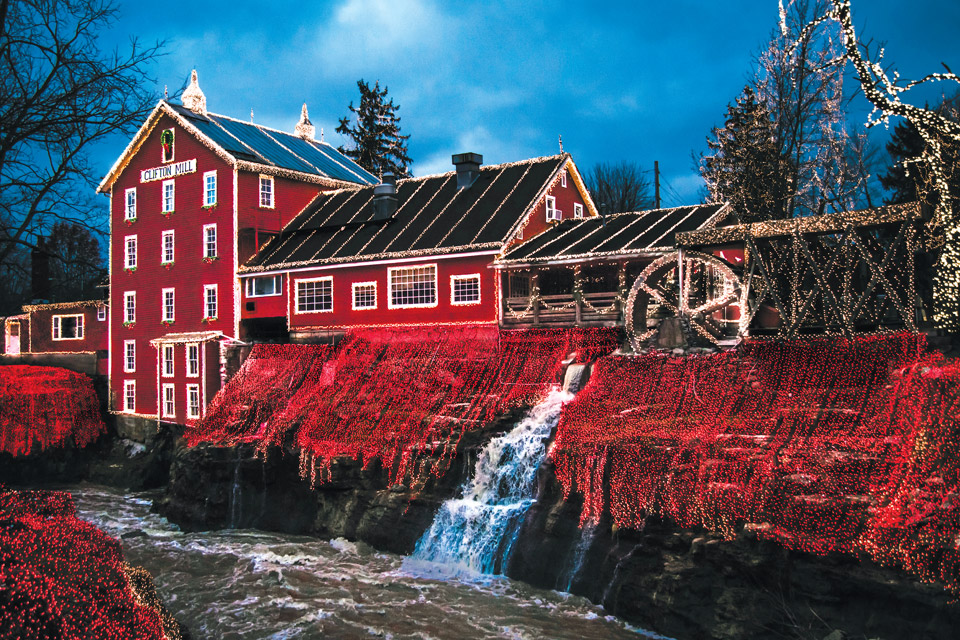 Legendary Lights of Clifton Mill, Clifton: Decorated with almost 4 million lights, Clifton Mill near Yellow Springs is a spectacle to behold this time of year. The tradition dates back to 1987 and began when Anthony Satariano Jr. and his father, Anthony Sr., bought the mill and strung 100,000 lights simply because they felt like decorating the property. Today, the annual holiday attraction also includes a miniature town — complete with a 1950s Frisch's Big Boy, opera house and drive-in movie theater — and the Satariano family's collection of more than 3,000 Santa likenesses. A covered bridge on the property is part of the show, too, particularly every hour, on the hour, when all of the lights on the mill and bridge go dark just before a four-minute light show synchronized to Christmas music. Call or visit website for dates and times. 75 Water St., Clifton 45316, 937/767-5501, cliftonmill.com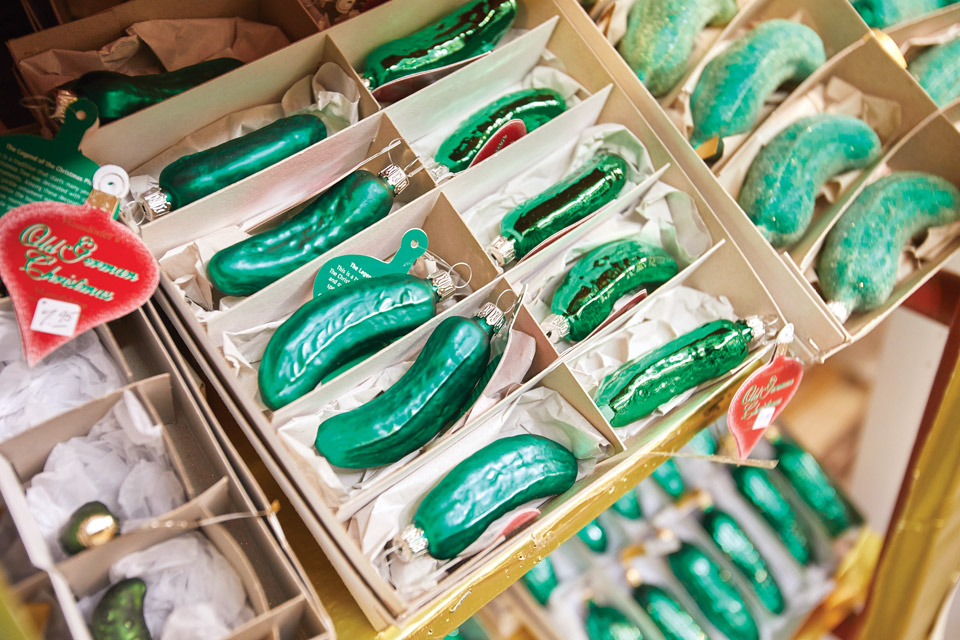 Hixson's, Lakewood: Artist, educator and floral designer Bill Hixson's northeast Ohio store spans 8,000 square feet and is packed with ornaments of all shapes and sizes, ranging from hedgehogs and frogs to depictions of local landmarks and Santas of all kinds. (You'll even find a version of the traditional glass pickles that decorated Christmas trees during the 19th century.) Hixson knows his stuff, too. In addition to designing his own line of ornaments, he worked on the White House Christmas tree during the Reagan, Bush (both George H.W. and George W.) and Clinton administrations. His store has been in the same spot since 1959, offering a rush of holiday cheer to all of those who walk through its doors this time of year. There's a reason Hixson has earned the nickname "Mr. Christmas." 14125 Detroit Ave., Lakewood 44107, 216/521-9277, hixsonsinc.com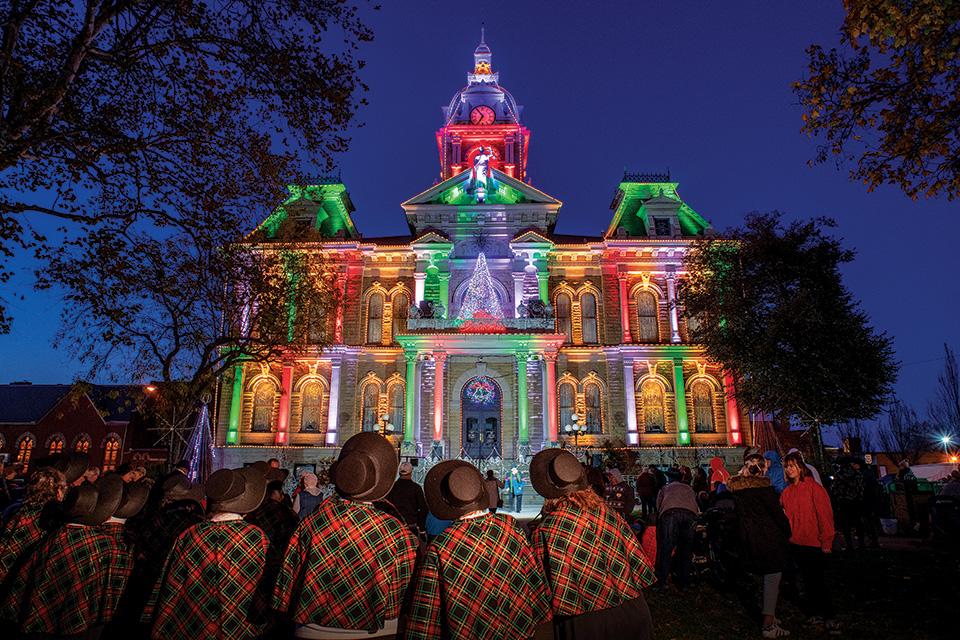 Dickens Victorian Village, Cambridge: Thanks to the contributions and hard work of local businesses and volunteers, downtown Cambridge transforms into a Victorian hamlet each holiday season. Dozens of mannequins dressed in 19th-century garb and arranged in vignettes throughout town bring the personalities from Dickens' classic tale "A Christmas Carol" to the streets of Cambridge, from lamplighters to carolers. But that's only part of the holiday fun in this southeast Ohio town each November and December. To add to the ambiance, the Guernsey County Courthouse illuminates the night with thousands of lights timed to pulsate to the beat of holiday music in a continuously running show that has become an Ohio holiday favorite. Dickens Victorian Village runs through Jan. 2. For more information, visit dickensvictorianvillage.com.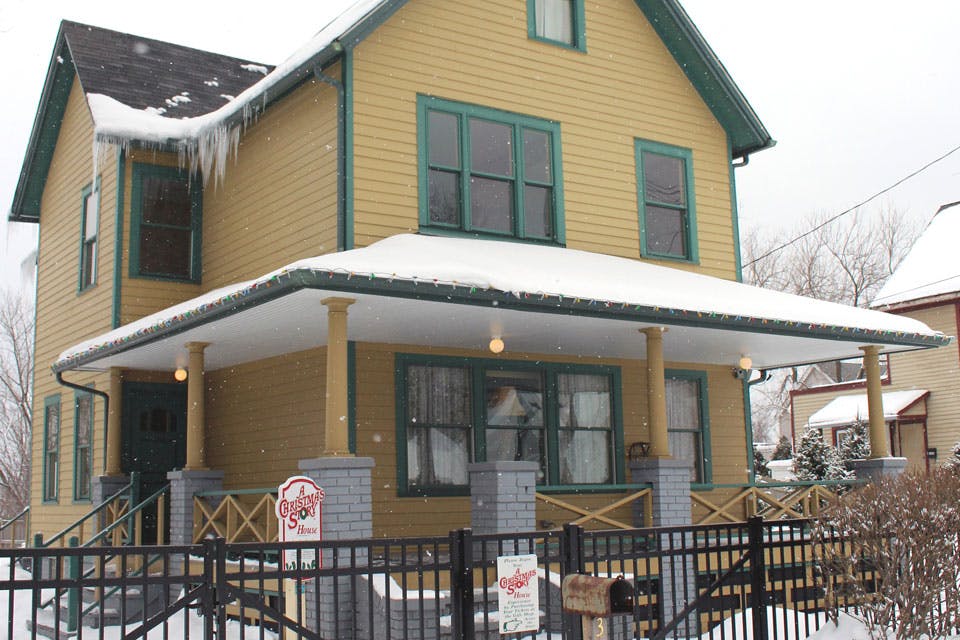 A Christmas Story House & Museum, Cleveland: There may be no greater Ohio destination to connect with Christmas-season nostalgia than paying a visit to the house where Ralphie leveled his Red Ryder BB Gun and (nearly) shot his eye out. Located on a quiet street in the Tremont neighborhood of Cleveland, the 1895 home has been refurbished to look how it did during the filming of the classic 1983 film "A Christmas Story," which airs around the clock on cable television each Christmas Day. San Diego native Brian Jones, who makes and sells replicas of the famous Leg Lamp from the film, bought the house on eBay and transformed it into the holiday-season favorite it is today. Although the home's interior scenes were filmed on a soundstage, Jones has lovingly re-created the inside to match the movie's look, and hardcore fans can even book an overnight stay. Call or visit website for hours and prices. 3159 W. 11th St., Cleveland 44109, 216/298-4919, achristmasstoryhouse.com