Travel
3 Relaxing Wineries with Great Views
Visit three charming vineyards that offer beautiful views, great wines and welcoming spaces.
August 2015 Issue
BY Staff & Contributors | Photo by Casey Rearick
August 2015 Issue
BY Staff & Contributors | Photo by Casey Rearick
Meranda-Nixon Winery | Ripley

Grapes hang from tall trellises, glistening in the sun as wind blows lightly across the Ohio River valley. The breeze whispers through the golden wheat of a nearby field and provides a respite from the hot summer sun for those working deep in the vines — removing grape leaves to help the fruit ripen evenly and prevent disease.

Seth Meranda slowly rolls across his 13-acre property, inspecting the rows from the window of his 1977 yellow Mercedes-Benz. He bought the car for $935 and handily restored it — a testament to his propensity for problem solving. Today, he's carefully inspecting grapevine canopies, ensuring the fruit is high enough off the ground.

"We want to catch every ounce of sunlight through the growing season," the Meranda-Nixon Winery co-founder explains in his strong southern Ohio drawl.

Seth has already been working since sunrise, and he won't stop until it dips below the hills. "I pretty much follow the sun," he says.

A cozy wine-tasting room sits at the end of the dusty country road leading up to the property — located in Ripley, about 52 miles southeast of Cincinnati. Seth's wife, Maura Meranda, greets visitors with a smile and encourages them to taste the winery's offerings: cabernet sauvignon, trotter white, norton and chardonnay to name a few.

"What I love is when someone comes into my tasting room, if they're in a bad mood when they come in, they're not going to be in a bad mood when they leave," she says.

While Maura expertly handles the customer service and business ends of the operation, Seth is entranced by the science of it all.

"I'm kind of a science geek," he says.

"He's definitely a science geek," confirms Maura with a laugh.

This property hasn't always been home to ripening grapes. Seth's great-grandfather first purchased the land in 1913, and the family farm yielded tobacco and grain crops for decades. But as the tobacco industry began to wane, a new vision became necessary.

"Tobacco's kind of going by the wayside," says Seth. "The writing was on the wall." So, in 2003, Seth moved the focus to winemaking — a trade once deeply familiar to southern Ohio. In fact, in 1859, Ohio was at the forefront of the nation's winemaking industry. A 3,000-acre swath of grapes ran along the Ohio River from Cincinnati to Ripley.

"In the 1800s, Ohio was second to France as the leading wine producer," explains Maura.

A graduate of The Ohio State University College of Agriculture, Seth was able to teach himself modern day winemaking, and his diligence paid off. Meranda-Nixon Winery has won a list of awards from Tasters Guild International, the Cincinnati International Wine Festival and more.

"We're rewriting the history books here with what can be done in the Ohio River valley — in Appalachia," says Seth.

He and Maura found each other after both became widows in recent years. Maura's husband died in 2010, while Seth's wife, Tina, died two years later. Her maiden name was Nixon, and she was a co-founder of the winery. "Bob and Tina aren't with us," says Seth, "[but] I see them in the kids every day."

These days, Preston, Austin, Lizzie and Ben all help out at the winery, from trimming leaves to giving tours in the old Mercedes. "The long-term goal is to keep the family farm sustainable," says Seth. "If any of the kids want to get involved after they go to college, we'll look into that."

Until the time to make those decisions arrives, Seth and Maura Meranda are content with their place in the rolling hills of southern Ohio and the wines they're making.

"When you sit and you look at your vines and you reflect on your day as you're drinking your own wine," says Maura, "it doesn't get any better than that." 6517 Laycock Rd., Ripley 45167, 855/651-9188, meranda-nixonwinery.com

— Leo DeLuca


***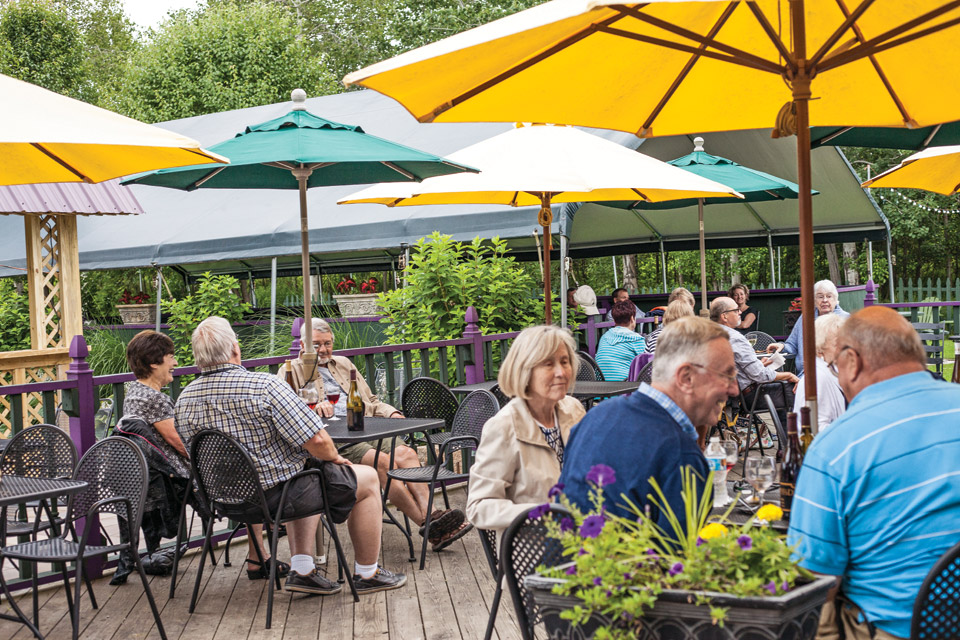 Harpersfield Vineyard |
Geneva
The place is mostly hidden from the road by vineyards and trees in the summer, providing the perfect spot for those looking to while away a lazy afternoon. Rows of grapes wind along the gravel lane that leads visitors to the wonderfully rustic tasting room and grounds.
Beautiful native perennials that suit the climate border the vineyard's inviting stone patio, and there are even still apple trees from the property's former life as an orchard scattered throughout the landscape.
The fleur-de-lis detailing on the side of the building offers the first clue to the French influence on the wines Wesley Gerlosky makes here. Inside, the menu presents each choice with a French phrase. The chardonnay is listed as "Fût de Chêne," meaning "aged in an oak barrel," and the pinot noir goes under the moniker "Clos mes Amis," which means "vineyard of my friends."
"It was wish fulfillment on my part," explains Gerlosky, who opened Harpersfield Vineyard in 1979. "I wanted to make this place as close to France as I could."
After buying his father's fruit farm in 1974, Gerlosky replaced most of the apple trees with grapevines so he could make wine. It was around that time that a friend introduced him to French wines, and he wondered if he could make wine of the same quality in Ohio.
"I tasted the wine [from grapes] I was growing [and thought], oh hell, we're not too far off the mark here," he recalls.
The winemaker first met Adolf Ribic while he was running Gerlosky Fruit Farm with his father. Ribic owned a construction business at the time, and he and his wife, Patty, would drive to Geneva from Lakewood to pick apples.
When the couple learned Gerlosky was making wine, they ventured back to the former fruit farm to try it. "It was in 1996, my husband and I came over here and tasted the chardonnay, and that was it — hooked," says Patty. "Over the years, we were probably one of the best customers. We were always here buying chardonnay."
In 1998, the Ribics moved from Lakewood to Geneva to be closer to northeast Ohio's wine country. They often spent entire afternoons at Harpersfield Vineyard enjoying the outdoors and the wine. Their love for the place was so strong that when Gerlosky mentioned in 2004 that the vineyard may be sold, Patty and Adolf jumped at the opportunity.
"We said, let's do this damn thing, and we did," says Patty, adding that she and Adolf agreed to take the reins on one condition.
"They said, 'you have to stay on as a winemaker,' and I said, 'that sounds pretty sweet,' " recalls Gerlosky. "I can do what I love and not have all the headaches of running the business."
Harpersfield Vineyard is considered a small operation, but it has grown in the decade since the Ribics became owners, adding 11 acres of grapevines a few miles away along state Route 534 for a total of 29 acres. "[The benefit is] we can run it ourselves," says Patty. "I don't have the headache and the heartache of having to find people to do things for me. … My husband and I, we can do it."
Every year, the Ribics add something new to the winery. Last year, it was picnic tables with floral umbrellas in square gravel beds. This year, it was a large wood-fire grill, where they bring in local chef John Senger to prepare special meals on Sundays. The vineyard also replaced its regular menu with a small summer lineup that includes smoked trout, a cheese plate, desserts, flatbreads and grilled sandwiches.
From the vineyard's best customers to its current owners, the Ribics are clearly enjoying their work. "We're just going to keep doing this until we can't do it anymore, until old age or whatever happens," says Patty.
The way Gerlosky sees it, things couldn't have worked out any better.
"We share the same vision," he says. "We have pretty much been the dynamic trio. Everybody has their areas of expertise, and sometimes they overlap and sometimes they don't. I couldn't have asked for better people to take this business over."
6387 St. Rte. 307, Geneva 44041, 440/466-4739, harpersfield.com

— Alyssa Nieset
***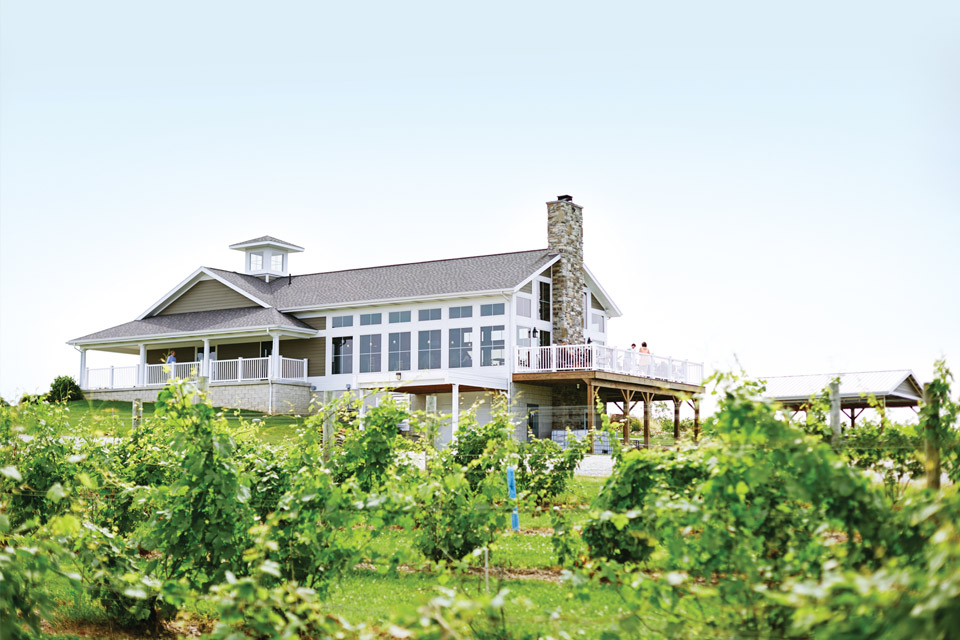 Quarry Hill Winery
|
Berlin Heights
Lake Erie peeks out through a haze on the horizon. It is just visible over the tree line, which wraps the view in a summery swath of green. The water changes hues with the weather, and when the leaves fall, the lake becomes the backdrop for cool evenings spent sipping wines out on the patio.
Inside, floor-to-ceiling windows allow light to spill into the tasting room. The building that houses it is perched on a high point overlooking fields of grapevines and fruit trees. Wooden chairs and tables fill the floor, but they're spaced in such a way that no one feels crowded. Behind a granite bar, Quarry Hill Winery co-owner and vintner
Mac McLelland writes on a chalkboard that lists appetizers and the current wines: vidal blanc, cabernet franc and an ice wine are among the day's offerings.
McLelland went to college to study business administration, not knowing the business he'd end up running would be a winery. But in a way, his career began in the backyard of the house he lived in during those college years.
"It started as simple as that," he recalls. "The house I was renting had grapevines growing behind it. I thought, nobody picks those grapes, let's make some wine." The experiment grew into a hobby, and after a few post-graduation jobs failed to keep his interest, McLelland decided to make the hobby his profession.
He landed at John Christ Winery in Avon Lake, where for seven years he learned winemaking. "I started really getting into the science of it," says McLelland.
Eventually, he wanted to stretch beyond running a winery for someone else. In 2004, he walked into Berlin Heights' Quarry Hill Orchards farm market with an idea.
Orchard owner Bill Gammie had become a friend over the years because McLelland frequently shopped there, especially during the fall when he'd visit to pick up cider for wine.
The two went into business together, planting vines on 4 acres and making wine in a small production area behind the farm market. Starting in 2005, that's where Quarry Hill Winery pressed, fermented and bottled, selling mostly wholesale to stores and restaurants. But customers wanted more. "What people kept telling us was, 'we need somewhere we can come and sit down, drink some wine and just relax,' " says McLelland.
By 2008, in the wake of the nation's economic crisis, he and Gammie were trawling a sea of reluctant lenders until they found a local bank willing to give them a loan. They started construction, and in 2010, the wine operation moved up the hill to its current home.
Business grew almost immediately. When McLelland began to draw more customers than he could comfortably seat, he installed a brick patio outside, lined on one end with flat boulders from the former sandstone quarry across the street. He built a circular fire pit at the opposite end.
Visitors have the treat of seeing nearly every step in the process that brings them their glass of Buckeye Red — a proprietary mix of Concord grapes and other varieties — or petit syrah (McLelland says he is the only Ohio vintner growing it commercially). Down a short set of stairs from the tasting room, guests find a viewing window into the bright cellar where McLelland ferments his grapes. Every autumn, he does his pressing on a small cement patio just outside of it. Between making the wine and overseeing the fields and the bar, McLelland says he often feels like he's managing three businesses at once, and he's honest about the work involved.
"It's not a 9-to-5 cocktail party, like some people may think," he says. "Having a vineyard is one of the hardest things I've ever done."
McLelland not only loves what he does, he believes in it. In the fields, he shows off tightly clustered pinot noir grapes, plucking leaves away to expose the knotty fists to the sun so moisture doesn't cause rot. Every red, white, ice wine and rose McLelland makes is from his vines. His apple, cherry and berry wines all begin with Ohio-grown fruit, including a wide selection harvested from Quarry Hill Orchards down the hill.
"You've got to use what you've got, right?" McLelland says. "If I want to know what this terroir, what this area, tastes like, you grow it yourself. I'm not making wine from grapes grown in Argentina, California — don't want to. You can buy that stuff anywhere. You can't buy Ohio wine just anywhere."
8403 Mason Rd., Berlin Heights 44814, 419/588-3179, quarryhillwinery.org

— Frances Killea