Travel
On a Roll
Head to Michigan, and you'll find events that celebrate putting the pedal (or pedals) down.
June 2014 Issue
BY Kara Kissell | ART BY
June 2014 Issue
BY Kara Kissell | ART BY
The Motor City has been moving us since Henry Ford built his first car in 1896. And even though Detroit's automotive industry has seen its share of challenges, the city's spirit and its perseverance to build have never faltered. Everything automotive still reigns supreme in Detroit, and there are plenty of celebrations and museums that celebrate that fact. But another mode of transportation, fueled by companies with names such as Shinola and Detroit Bikes, is gaining traction here as well. The popularity of bicycling is rising in many industrial cities looking to a future that embraces sustainability and a renewed sense of connectedness and community. Plus, getting around on two wheels has more to do with the Motor City's past than you might think. "Some of these [automotive companies] started out making bicycles and eventually shifted it into things with motors," explains Stephen Johnson, owner of Motor City Brew Tours, a company that offers bus, cycling and walking tours in Michigan. Whether you want to see the city's renewal behind a pair of handlebars or celebrate the automobile as a work of art, Michigan has you covered this summer.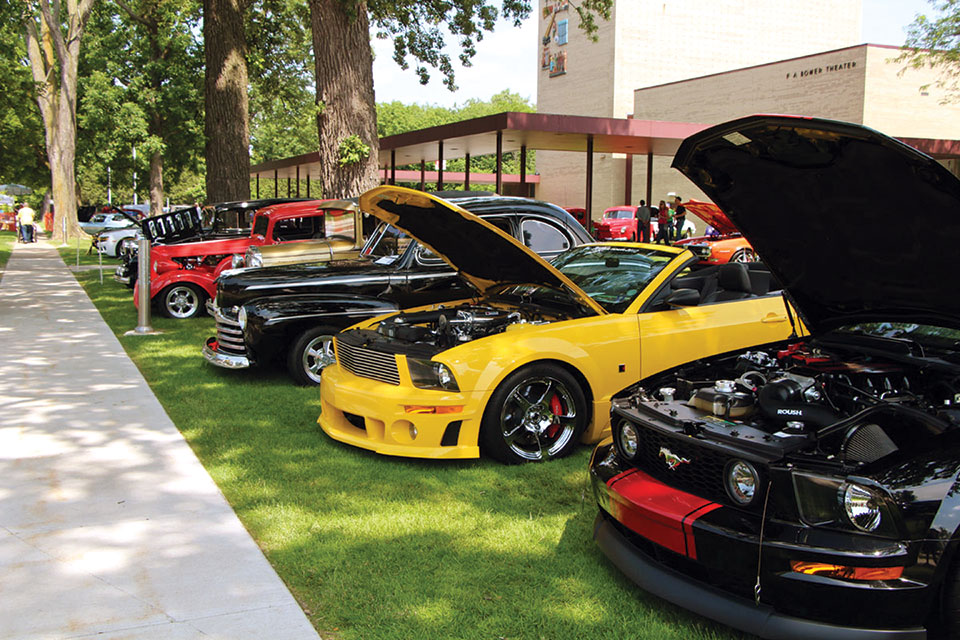 Artistic Drive
More than 700 cars register for the Sloan Museum Auto Fair each year, hoping to take top prizes in categories ranging from best engine to best paint. Hoods are popped and propped all across the lawn of the Flint Cultural Center as families full of car aficionados browse the beautiful display of artistic rides. And while the judges are browsing the fair's entries, kids can get inspired in the automobile craft with experiences tailored just for them, according to Jason Watson, one of the fair's advisers. (He's the son of automotive engineer Jack Watson.) "We have a special event for just the kids to build model cars," he says. "That's how you get them into the car hobby. [You get] them enthused about being customizers and expressing their creativity." June 28–29; 1221 E. Kearsley St., Flint, Mich. 48503, 810/237-3450, sloanautofair.com

On Tour
Music is arguably Detroit's second-most famous export. Founded by Berry Gordy in 1959, the Motown record label was home to Diana Ross and The Jackson 5. Since then, the city has given the world Madonna, Bob Seger, Eminem and many others. "How did it come about that an area can produce a huge amount of talent and such a number of different genres of music?" asks Karen Gage, co-owner of Wheelhouse Detroit, a bicycle shop and bike tour company. "We just happen to be really fortunate to have a lot of soul and creative folks." That rich history is what inspired Wheelhouse Detroit's Music Heritage Tour. The 12-mile bicycle cruise takes riders to the Motown Museum and past music venues such as St. Andrew's Hall. "Huge names have come through there when they're getting their start," Gage says, "the Beastie Boys, R.E.M., Oasis." May–Sept, visit website for dates and times; 1340 E. Atwater St., Detroit, Mich. 48207, 313/656-2453, wheelhousedetroit.com

Dream Machines
Classic cars and a heavy dose of nostalgia fill Detroit's Woodward Avenue during the annual Woodward Dream Cruise. The escapist event finds around 40,000 old-school automobiles cruising a 16-mile stretch of road over 12 hours. "It's really just a time for people to re-live when life was a little bit easier, a little bit slower paced," says committee member Louie Katsaros. "Some people, from kids all the way to those in their 70s, will sit on the streets watching cars go by all day." Billed as the world's largest free one-day auto fair, the event is not just a step back in time for the nearly 1.5 million people it draws. Katsaros says it's also heaven for hardcore car fanatics. "If you are a car buff, you'll see classic vehicles from the '20s, '30s and '40s all the way up, that are just in perfect condition," he says. Aug. 16; Woodward Avenue, Detroit, Mich. 48220, woodwarddreamcruise.com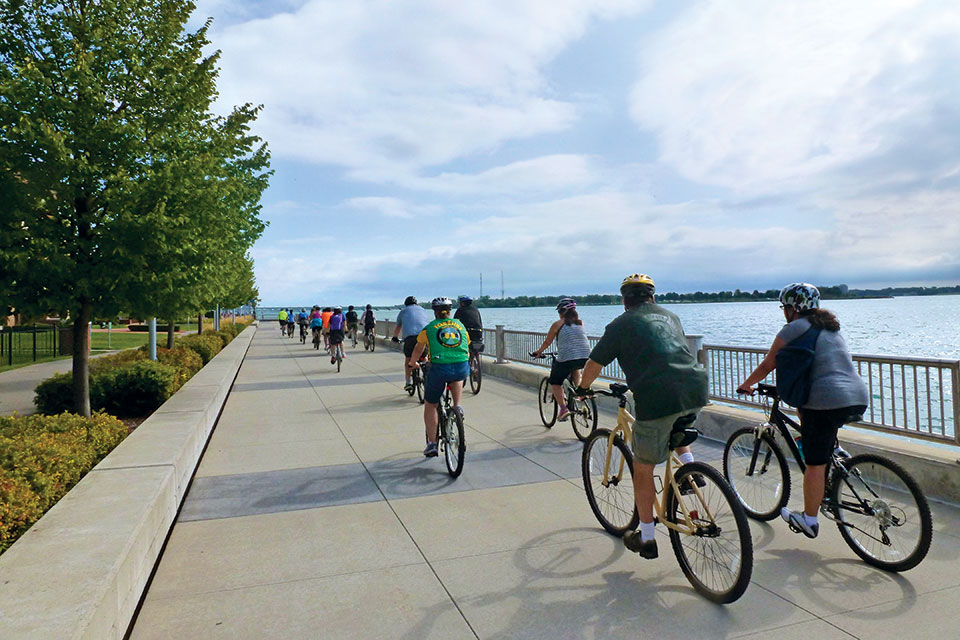 History Ride
During the early 1900s, Detroit's lower east side was filled with automotive factories. Today, it's where Motor City Brew Tours owner Stephen Johnson takes riders on an 11-mile trek through automotive history. "It could be an industrial place that is still there or it could be an empty lot, and [we tell] the stories behind what was there at the turn of the century," he explains. Although Johnson's business started with brewery tours of downtown Detroit, he has branched out into new themes such as his Auto History Bike & Brew Tour (although the word "brew" still appears in the names of his tours, not all involve beer). Johnson's auto history tour also passes by Detroit's new RiverWalk and gives riders a chance to see Belle Isle from afar. "We're showing the city in a different way," he says. "I say we're just one cog on the wheel of lots of great things happening in the city." May–Sept, visit website for dates and times; 511 W. Canfield St., Detroit, Mich. 48201, 248/850-2563, motorcitybrewtours.com

Rare Finds
Elegant and historically significant automobiles from throughout the country will be showcased in Plymouth, Mich., during Concours d'Elegance of America, a weekend-long event that includes live entertainment, a gala celebration and a prestigious car auction. "The main goal is to showcase the most important automobiles in the history of the industry," explains executive director Jim McCarter. "A concours is really like a museum." One of this year's featured categories is titled "The Evolution of the Sports Car." Beginning with the year 1919, the committee chose 30 vehicles to represent every major innovation in sports cars up to 1972, including a 1963 Cobra 427 Roadster and a 1963 Maserati. "The difference between a concours and a car show is you only see one of every type of car that we choose to have," McCarter says. "You won't see 10 of anything." July 25–27; The Inn at St. John's, 44045 Five Mile Rd., Plymouth, Mich. 48170, 248/643-8645, concoursusa.org

***


WHEEL CONNECTION

Henry Ford built his museum as a testament to the accomplishments of groundbreaking American minds, and bicycle-shop-owners-turned-aviation-pioneers Wilbur and Orville Wright were at the top of his list. In 1936, Orville Wright even directly supervised the brick-by-brick relocation of his and his brother's original Dayton, Ohio, bike shop to Ford's museum in Dearborn, Mich. Today, the shop features reproductions of the Wrights' bicycles as well as their original tools, bicycles and equipment. "It was quite fortunate for us all that they were bicycle manufacturers," says Matt Anderson, curator of transportation at the Henry Ford Museum. "They [believed] that it was fine to make an airplane inherently unstable. The pilot could make corrections and keep the plane aloft through active control, because that is what people did on bicycles all the time."
20900 Oakwood Blvd., Dearborn, Mich. 48124, 313/982-6001, thehenryford.org