Travel
Ohio's Ancient American Indian Sites
Native American tribes created elaborate earthworks across Ohio that can still be seen today. These locations contain many mysteries, but also connect us to those who lived here thousands of years ago.
June 2021
BY Brooke McCaffrey and Jim Vickers | Photo by Ohio Images
June 2021
BY Brooke McCaffrey and Jim Vickers | Photo by Ohio Images
Serpent Mound
This 1,427-foot effigy mound in Adams County was created by astronomically sophisticated builders, although the era in which it was made still prompts debate among researchers.

When Frederick Ward Putnam of Harvard University first visited Serpent Mound in 1883, the archaeologist could not pinpoint the American Indian tribe responsible for building the earthwork, which some say resembles a snake with open mouth preparing to eat an egg.

"It's very hard to actually date earthworks," explains Jennifer Aultman, director of historic sites and museums for the Ohio History Connection. Disagreements over Serpent Mound's age and whether it was constructed by the Adena (800 B.C. to 100 A.D.) or Fort Ancient cultures (1000 to 1500 A.D.) have left its exact origins in question.

What archaeologists can agree on is the 1,427-foot-long effigy is deserving of praise for its design. The earthwork weaves back and forth, with the head and coils of the snake aligning with the sun on summer and winter solstices. Serpent Mound's astronomical sophistication, as well as the fact that it was the site of a meteor strike millions of years ago, make the fact that it was used as a place of ceremony all the more interesting. Travelers can check out an observation tower built in the early 1900s and an on-site museum during their visit.

"It's a place where people come and feel like they're connecting with another time," says Aultman. 3850 St. Rte. 73, Peebles 45660, 800/752-2757, ohiohistory.org

---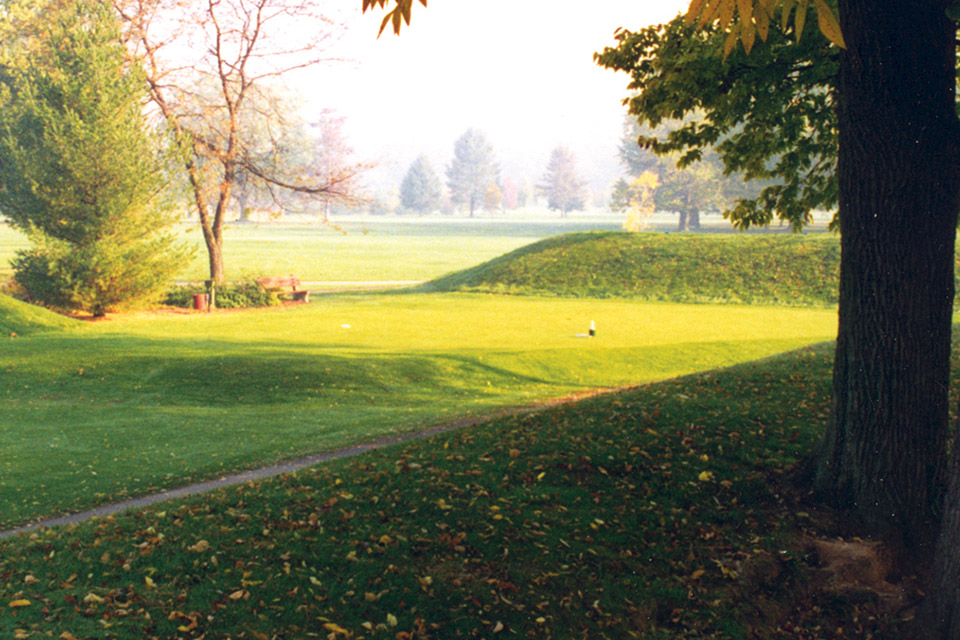 Newark Earthworks
These earthen works in the city of Newark reflect both science and ceremony, allowing researchers to speculate about the Native American tribes that made them.

Half of the American Indian earthworks once built in what is today the city of Newark are gone. Those that remain offer insight into the people who constructed and used them not only to measure the movement of the moon and the progression of the seasons, but also for ceremonial purposes.

Ancient Native American tribes built the Great Circle and Octagon earthworks between 100 and 500 A.D. The Great Circle has 8-foot-high walls and is more than 1,200 feet in diameter. The Octagon encloses 50 acres and is a lunar observatory that tracks the moon's 18.6-year cycle.

"There was something very scientific about it, something very astronomical about it," says John Low, director of the Newark Earthworks Center, associate professor at The Ohio State University at Newark, and a citizen of the Pokagon Band of Potawatomi. "We know today that Native Americans' worldview is very concerned with balance and harmony, stability, predictability. ... It may have been used to assure the efficacy of their ceremonies." 455 Hebron Rd., Heath 43056, 740/344-0498, ohiohistory.org

---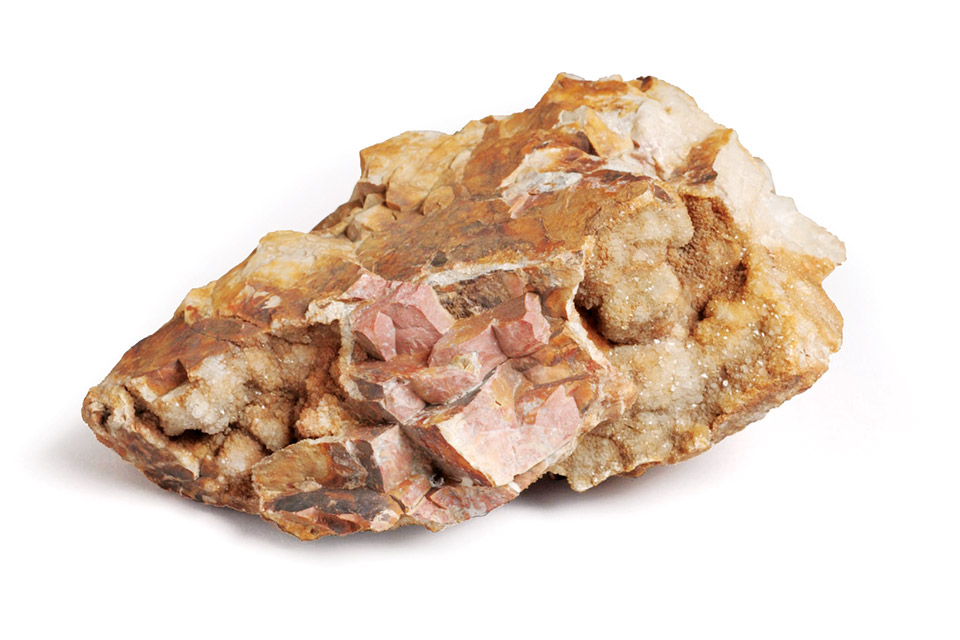 Flint Ridge
American Indians quarried flint at this central Ohio spot for more than 14,000 years. Today, you can walk in their footsteps.
Flint Ridge runs nearly 8 miles through Licking and Muskingum counties. The site where ancient Native Americans quarried flint is now a 533-acre preserve that tells the story of how the high-quality, rainbow-hued rock was treasured for use in tools, weapons and as an item of trade.

Marti Chaatsmith, a citizen of the Comanche Nation and direct descendant of the Choctaw Nation of Oklahoma, is associate director of the Newark Earthworks Center. She often leads tours of Flint Ridge for visiting American Indian groups on tribal-heritage trips. This site is different than the monumental earthworks most closely associated with Ohio's American Indian sites. Archaeologists say it was a working quarry for more than 14,000 years, and you can still see the outcroppings where chunks of flint were chipped off, as well as onceactive and long-abandoned quarry pits.

"When I visited it with the Pokagon Potawatomi or the Shawnee tribes, I told them, 'This was your land. … you're walking on land that your ancestors walked on,' " says Chaatsmith. "That's a very powerful feeling for people who have been disenfranchised and marginalized and kept from their homelands for a very long time." 15300 Flint Ridge Rd., Glenford 43739, 740/787-2476, flintridgeohio.org

---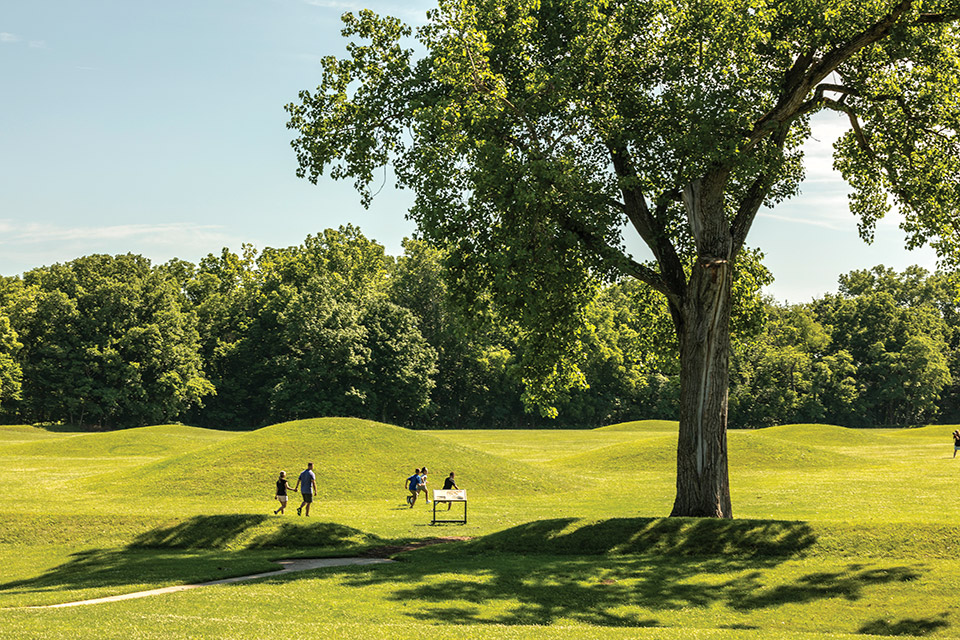 Hopewell Culture National Historical Park
This National Parks Service site protects these earthworks built by American Indians over the course of centuries more than 2,000 years ago.

Hopewell Culture National Historical Park invites travelers to explore the past and walk among six earthworks built around 2,000 years ago. The Mound City Group, Hopewell Mound Group, Hopeton Earthworks and Seip Earthworks are open to the public every day of the week, while the park's two other sites, High Bank Works and Spruce Hill Earthworks, can be accessed only on occasion by way of ranger-led hikes

"They are the best examples of the Hopewell culture," says Susan Knisely chief of interpretation, education, and outreach at Hopewell Culture National Historical Park. (Hopewell is a blanket description for the ancient Native American civilization that lived in this part of Ohio and other northeastern and midwestern woodlands between 100 B.C. to 500 A.D.)

Despite the lack of written records from the time period, the park's dedication to archeological research has enabled staff and visitors alike to gain deeper insight into the rich history and heritage of the American Indians who built these earthworks between 1 and 450 A.D. Much of what is known stems from examining tool patterns, artwork depictions and the geometry of the earthworks. Through maps, modern technology, and collaboration with their American Indian partners, the park has pieced together clues to better understand these works while avoiding the sort of excavations that would harm the structures.

As the park's only completely restored earthwork, Mound City Group allows visitors to walk the ancient site where walls enclose a stretch of land large enough to contain several football fields. As the site of burial mounds, archaeologists hypothesize that the earthwork was used as a place of ceremony and gathering. 16062 St. Rte. 104, 740/774-1126, Chillicothe 45601, nps.gov/hocu.

---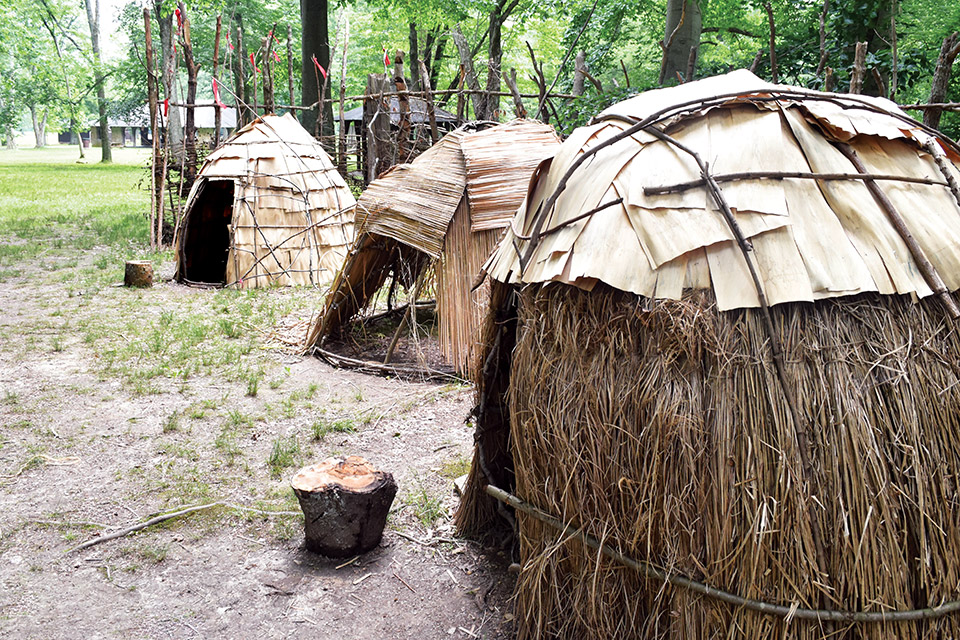 Fort Ancient Earthworks
Visit the largest ancient hilltop enclosure earthwork in North America, a 126-acre plateau built by American Indians over the course of four centuries.

Visitors to Fort Ancient Earthworks & Nature Preserve may not initially notice the significance of its entryway. The conical and crescent-shaped mounds greeting visitors as they near the site are aligned to solstices and other astronomical events. Beyond the entrance, travelers find a broad grassy area and the Fort Ancient Museum contained within a hilltop enclosure high above the Miami River.

The largest ancient hilltop enclosure earthwork in North America, the plateau stretches 126 acres. American Indians built the site in several phases between 1 and 400 A.D., likely the result of collective efforts between various tribes. Still, much of Fort Ancient's history remains a mystery. There are no active archaeological investigations examining how the site came to be, although researchers have drawn inferences about its use.

"It was almost certainly a gathering place, a place where ceremony happened," says Jennifer Aultman, director of historic sites and museums for the Ohio History Connection.

Starting in 2006 and concluding in 2015, Robert Riordan of Wright State University conducted a series of excavations at Fort Ancient that led to the discovery of Moorehead Circle, a woodhenge surrounding a circular area paved in stone and red clay. Researchers have since theorized the circle's purpose as a focal point of the hilltop enclosure for ancient tribes, even noting the specific colors of the clay. Brown, red and yellow clays are featured in specific places in and around the circle, leading archaeologists to speculate that the original builders had an eye for engineering and sourcing soil and clay. Site visitors can learn about the works of these American Indians, while enjoying peaceful walks in a beautiful natural area.

"It reminds people to pay attention to nature, wildlife, birds and the interconnectedness of life," says Aultman. 6123 St. Rte. 350, Oregonia 45054, 800/283-8904, ohiohistory.org

---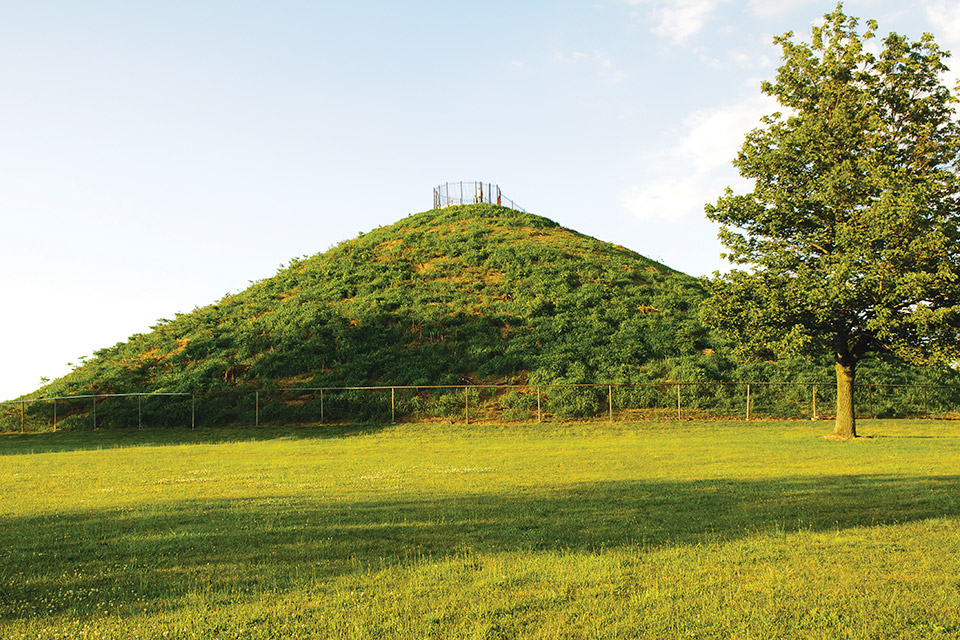 Miamisburg Mound
This Native American earthwork is one of the largest conical mounds in eastern North America.

Reaching 65 feet toward the sky on a 100-foot-tall ridge, the Miamisburg Mound captures both your attention and your imagination. The earthen structure has a circumference of 800 feet and is one of the two largest conical mounds in eastern North America. (The other, Grave Creek Mound, is in Parkersburg, West Virginia.)

The Grave Creek Mound is 69 feet high, but historical references suggest the Miamisburg Mound may have once been taller, says Brad Lepper, archaeology curator at the Ohio History Connection. He adds that excavations during the mid-19th century, which determined the structure was in fact a burial mound, may have been the cause. Today, an observation platform atop the mound can be accessed by steps.

"In this social context, it seems disrespectful to put that on a burial mound," Lepper says, adding it would likely not be done today. "But it is there, and visitors can go up and get a really imposing view of the surrounding landscape."

The structure, made from 54,000 cubic feet of earth, was constructed by Native Americans associated with the Adena culture that existed between 800 B.C. and 100 A.D.

"A rule of thumb is that the larger a mound, the more times it was used for mortuary rituals," Lepper says. "This is a case that it was probably used for much longer than some other Adena mounds by the surrounding communities for some reason." 900 Mound Rd., Miamisburg 45342, ohiohistory.org