Travel
Ohio Love: 32 Reasons to Love Our State Right Now
From date ideas and great stays to food finds and memorable moments, here's what has us feeling warm and fuzzy about our state.
Jan./Feb. 2023
BY Jason Brill, Denise Cameron, Kaitlyn Finchler, Elise von Gunten, Sarah Miller, David Nilsen, Kelly Powell and Jim Vickers | Photo by David Patch
Jan./Feb. 2023
BY Jason Brill, Denise Cameron, Kaitlyn Finchler, Elise von Gunten, Sarah Miller, David Nilsen, Kelly Powell and Jim Vickers | Photo by David Patch
Artistic Achievement
The enormous wild sunflowers on the 28 grain silos along the Maumee River in Toledo are an instant mood lifter. Friends on a boat ride came up with the idea of beautifying the formerly drab structures, leading to a community effort in which funding from a variety of entities and a crew of local artists helped make Gabe Gault's design a reality. The largest mural of its kind in the United States, the 170,000-foot-long Glass City River Wall was finished in October 2022 with the addition of three images — present-day depictions of a Native American elder, woman and child — to honor those who first farmed here. glasscityriverwall.org

---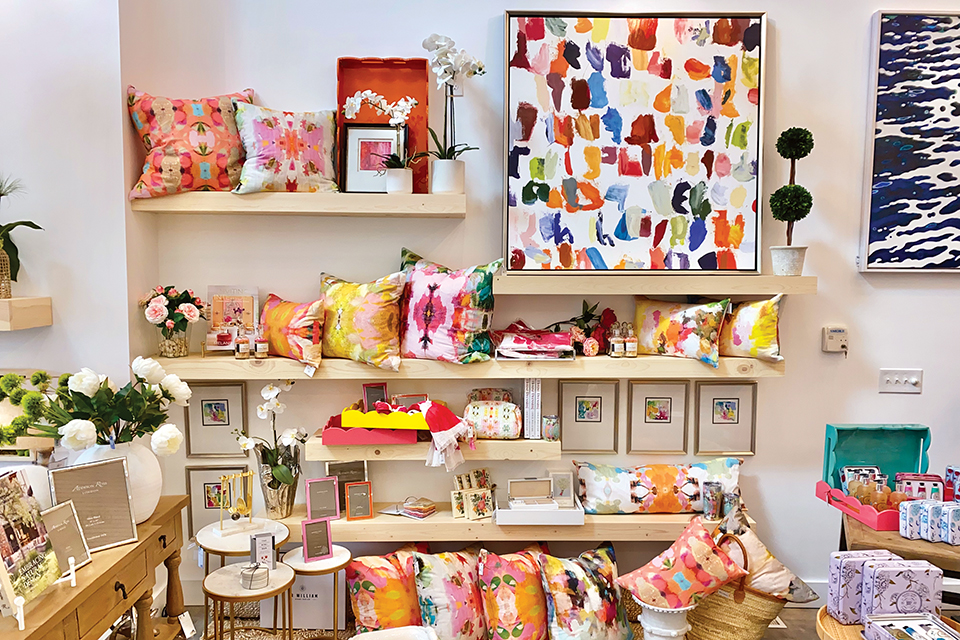 Heavenly Home: Gather by Angel 101 in Perrysburg provides an inviting place aimed at inspiring more together time around the table. Read about Gather by Angel 101 in Perrysburg.

---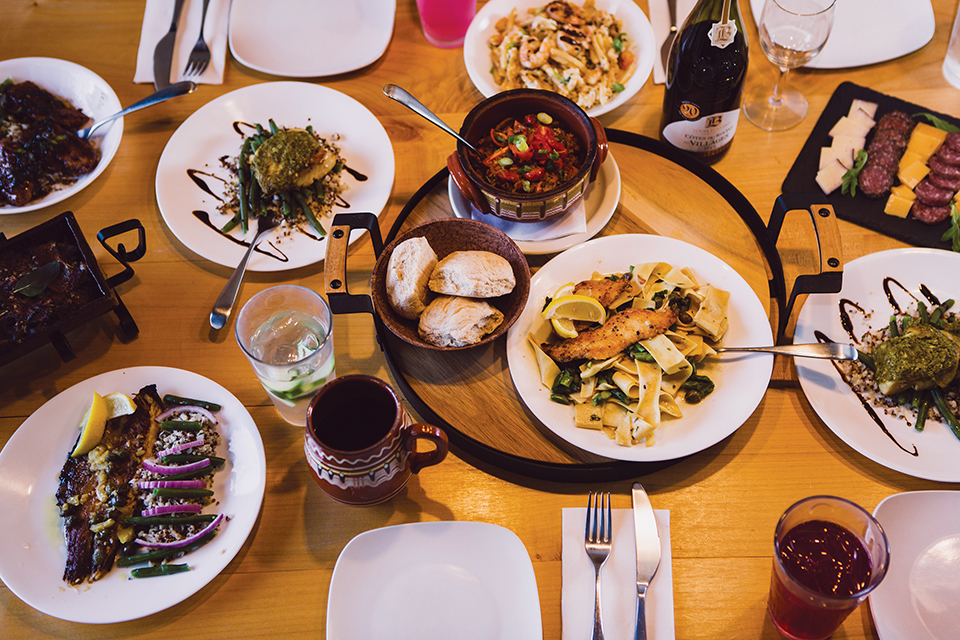 Flavor Trip

One doesn't expect to find a European bistro in a small college town, but chef Boyko "Boby" Mitov, owner of The Clay Pot in Bowling Green, creates a transportive experience filled with Old World flavors.

His customers savor a rotating, seasonal menu served in an intimate and soothing setting. Rich flavors infused with healthy, sustainable ingredients inspire Mitov's dishes.

"That means nothing commercial, no chemicals," he says.

Mitov uses grass-fed beef, wild-caught seafood and Sam Marzano tomatoes grown in volcanic soil. Italian oils, olives and pastas; Bulgarian sheep feta and honey; and Turkish capers are among his ingredients.

Inside the kitchen, handmade Bulgarian clay pots line the top shelf. Mitov treats his patrons to slow cooking and takes no shortcuts.

"My mission is to show people there's a different way to eat," he says. "When you come to dinner here with friends, have a drink, take your time. That's how I feel about life, about food." 182 S. Main St., Bowling Green 43402, 419/373-6050, theclaypotbistro.com

---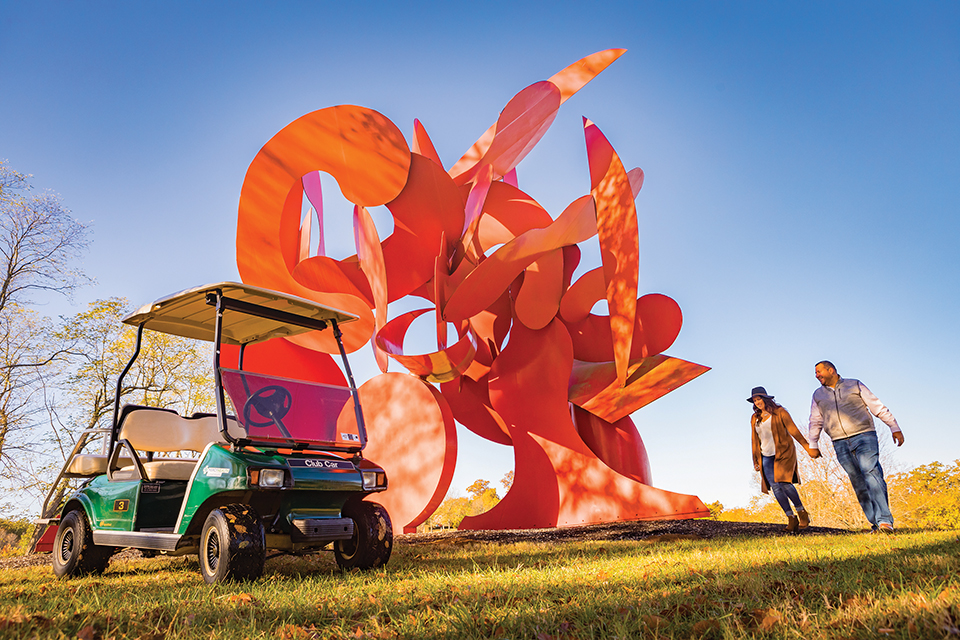 Art Experience
Pyramid Hill Sculpture Park and Museum started as a labor of love. In 1987, the late Harry T. Wilks purchased property in Butler County to build his home and then began buying up adjacent parcels and clearing space for roads, paths and ponds. Today, the more than 300-acre property is home to over 80 monumental works of art installed along the gently rolling terrain. It's a fun place for couples to explore together, either on foot or by way of an Art Cart available for rent. 1763 Hamilton Cleves Rd., Hamilton 45013, 513/868-1234, pyramidhill.org

---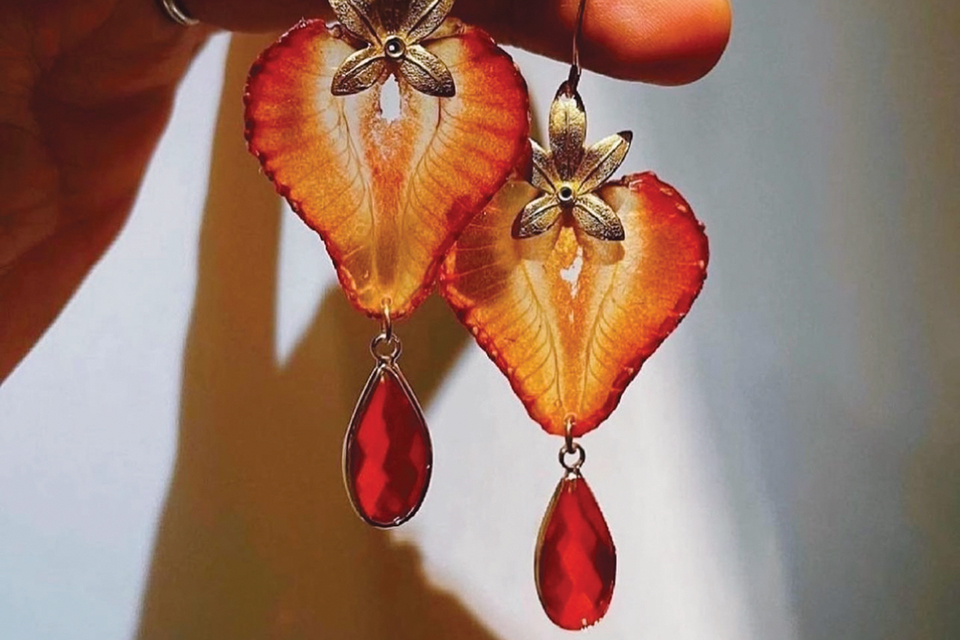 Wonders of Nature

Artist and stay-at-home mom Jami Tammerine creates pieces of jewelry under the name Jupiter Oak that are out of this world, and at the same time, totally of it.

"I have been making jewelry for as long as I can remember," says Tammerine, who lives in Toledo.

But it was a chance conversation while taking part in a metalsmithing program at the Toledo Museum of Art that helped shape the artist's approach, which involves taking leaves, herbs and flowers from her garden and capturing them in resin to create beautiful, nature-inspired pieces of jewelry.

"Everything just blew up," she says. "People seem to love it."

Her favorite pieces include her Saturn earrings: Queen Anne's Lace inset in a bezel with gold wire that replicates Saturn's rings. Also popular are her fruit pieces, where she'll take slices of dehydrated fruit, such as strawberries, and lay them in resin atop a brass-cut leaf.

"I love designing and I love color," Tammerine says, "and I get a thrill that people like my stuff." jupiteroak.com

---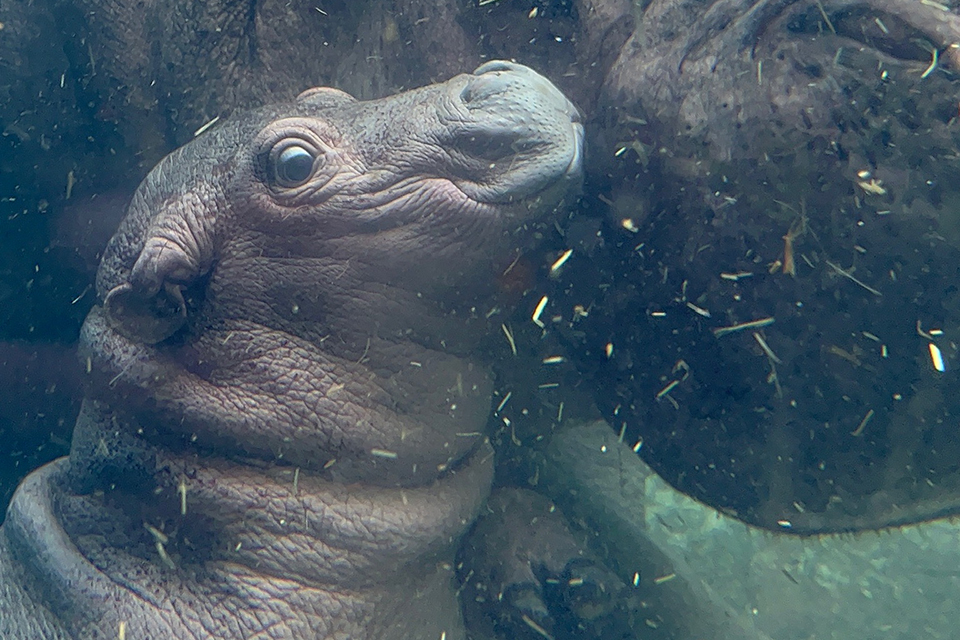 Oh Baby!
There are few things in this world cuter than a zoo baby. Now, amp up that cuteness one notch by making it a baby hippopotamus. After the Cincinnati Zoo was blessed with the arrival of Fiona in 2017 — the first Nile hippo born there in 75 years — the city adopted her as a mascot of sorts. Then, in summer 2022, baby Fritz, Fiona's half-brother, made his appearance. In late summer, the siblings met for the first time. The family of four, including mom Bibi and Fritz's dad Tucker, are all doing well.

---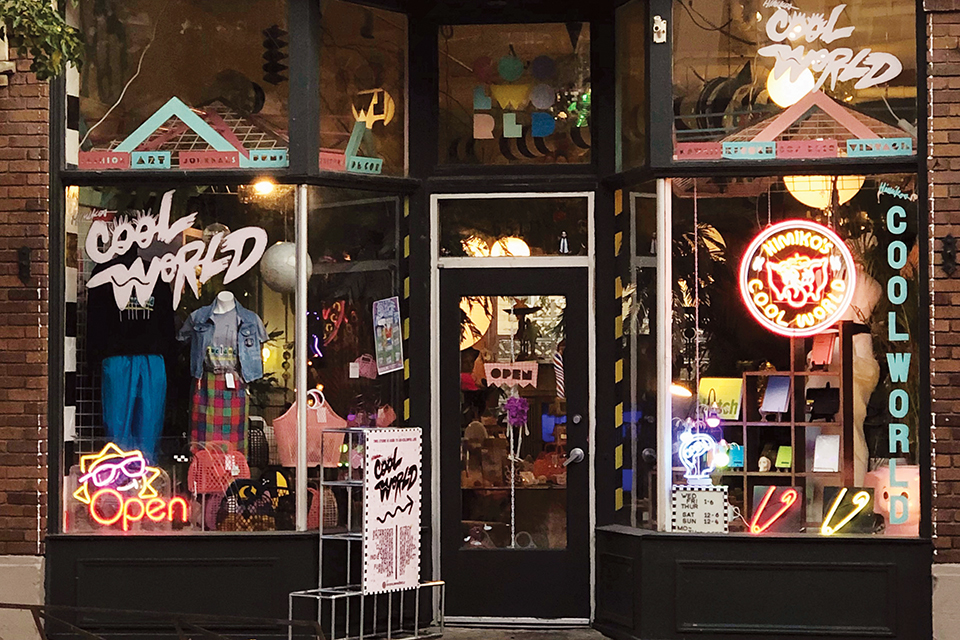 Fun Stop

Step into Himiko's Cool World and you'll find a funky shop brimming over with paper goods as well as interesting clothing, decor and furniture. From kitschy ceramics to Cleveland-centric merchandise designed by shop owner Haley Himiko Hudson Morris, there is a lot to love.

"The '80s are definitely my favorite era of fashion and music and interior design," Morris says of her inspiration. "And there's just this kind of outlandish, very creative stuff from [the '60s to the '90s], so I don't try to put myself in a box."

After starting her business as a pop-up shop, Morris secured a permanent location in Cleveland's Gordon Square Arts District in October 2021. Although Himiko's Cool World is more than a paper shop, Morris gravitates toward the goods because of her Japanese heritage and the nation's stationery supremacy, as well as her love for writing, drawing and documenting. She presents this inventory alongside eye-catching vases, brightly colored jewelry and surreal tabletop sculptures.

"I love decorating. I love interior design and art installation," Morris says. "That's one of my favorite parts of the store: just constantly adding to the collage of this wacky interior." 6511 Detroit Ave., Cleveland 44102, 216/417-7040, coolworldcle.com

---

Vineyard Additions
Ever since opening in 2010, Gervasi Vineyard has created new experiences at its 55-acre estate in Canton. In 2023, two more will be added with the addition of new structures housing a spa and a wine cave. The Spa, a 5,000-square-foot facility, will provide a range of services in a luxurious space, with a lineup that spans massages, facials, body treatments, and manicure and pedicure services. The Cave offers an underground, 1,000-square-foot tasting room (with an adjoining 4,500-square-foot wine barrel cave) that will be open select hours for tastings and tours. gervasivineyard.com

---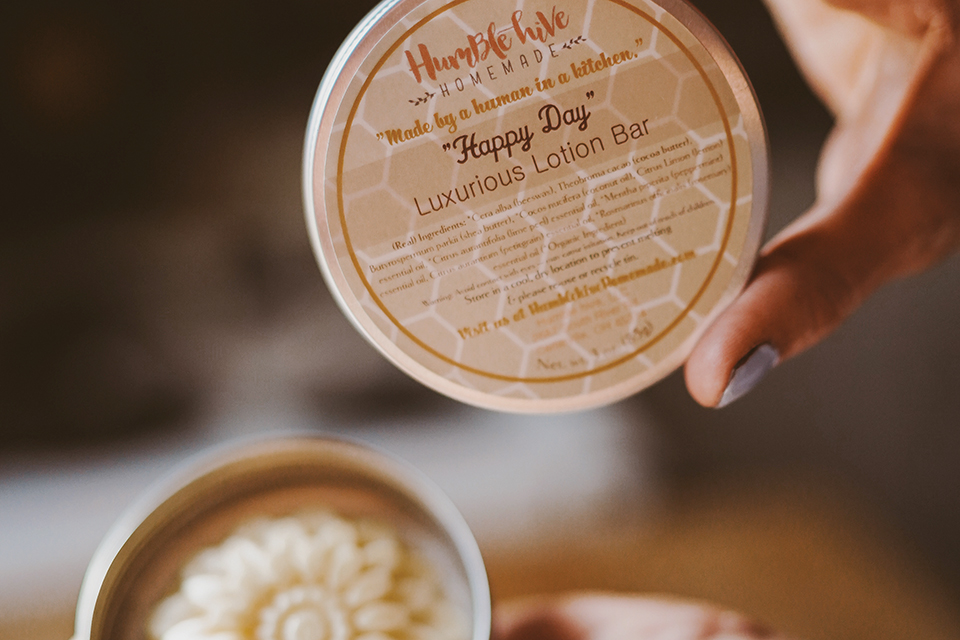 The Human Touch: Lauren Craig's Humble Hive Homemade offers cosmetic and personal care products that are good for people and the world. Read about Humble Hive Homemade in Dayton.

---


All Aboard: The Pullman Bed and Breakfast offers the chance to experience the heyday of luxury train travel without ever leaving the station. Read about the Pullman Bed and Breakfast in Dennison.

---

Scottish Flavor
Kin & Kilt is bringing an air of Scotland to downtown Marion in early 2023, complete with whiskey flights and 10 ax-throwing lanes suitable for hosting league play. The creation of Dave and Lynn Roush, the spot features comfy furniture and a beautiful wood bar that was handmade in Marion. Kin & Kilt will also offer liquor lockers — where patrons can reserve a bottle to make sure their favorite rare variety is available during visits — and food from outside vendors, including Scottish biscuits with nuts and honey. facebook.com/kinandkilt
---


Of Note
During the mid-20th century, the city of Akron was a hot spot for touring jazz musicians. These days, you can revisit that era in the city's downtown arts district by way of a music club and neighboring boutique hotel and lounge collectively known as the
Blu Zone
.
The experience begins with check-in at Blu-tique, a 71-room hotel that opened in a historic 1923 building that embodies the feel of a 1920s speakeasy merged with a timeless jazz feel. Or as Blu Zone founder Tony Troppe puts it, "The interior and vibe is all focused on the atomic age of cool."
Blu-tique's first floor lounge, The 1: Food & Spirits, offers a chill atmosphere to grab a preshow bite and a drink. The menu features modern Mediterranean fusion from chef Frank Zifer and includes vegetarian and vegan options.
After dinner, head over to Blu Jazz+ across the street. The old-school space has high-top seating for 140. Acts taking the stage here span the jazz scene, from 18-piece orchestras to renowned quartets, trios and soloists.
Blu-tique Hotel, 1 S. Main St., Akron 44308, 888/236-2427, blu-tique.com; Blu Jazz+: 47 E. Market St., Akron 44308, 330/252-1190, blujazzakron.com

---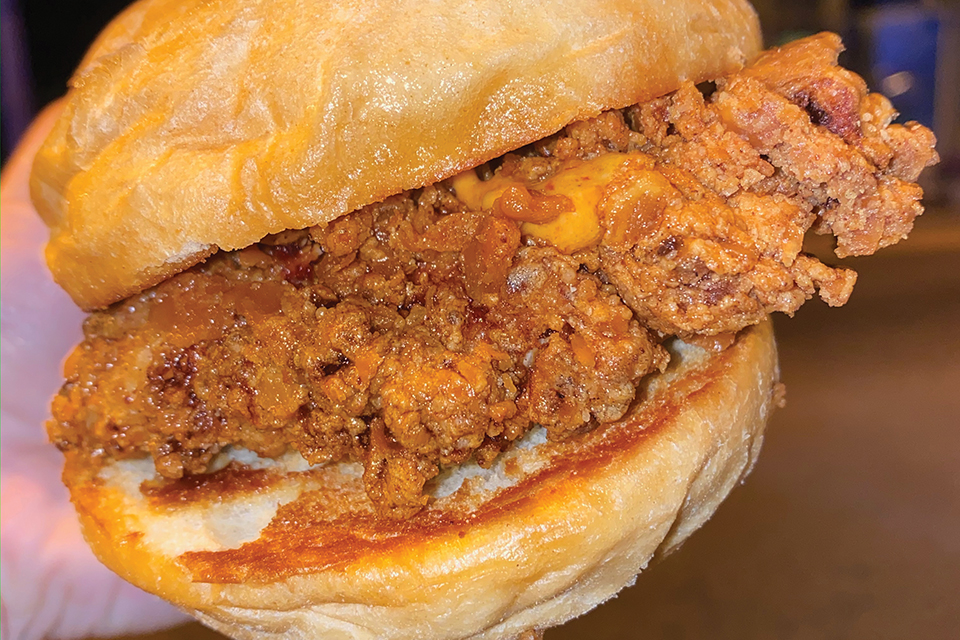 Hot Spot

Fire Chicken Sandwiches
in Ashtabula has generated serious heat since opening in June 2020. The spot originally adopted a unique schedule of 11 a.m. to 6 p.m. and 10 p.m. to 2 a.m. to accommodate hungry patrons of Bridge Street's bar scene and built its reputation on its quality fried chicken, made-in-house pickles, top-of-the-line brioche bun and signature sauce.
Eventually owner Jeremy Vincenzo adopted a more traditional schedule and began experimenting with monthly specials. One of his favorites — now one of the shop's "Signature Sammies" is the Big Ed, stacked with cheddar cheese, coleslaw and sauce. Others include the Fleetwood (mac and cheese, ranch, pickles) and the Gasolina (honey fire, cheddar, bacon, pickles).
"People make personal relationships with some of these special sandwiches," Vincenzo says. "There's a guy who's a really good regular of mine, and every time I see him, he [brings his favorite] up."
The standard BYO Chicken Sandwich lets customers choose from three tiers of deluxe add-on toppings. If nuggets are more your style, Fire Chicken Sandwiches sells them by the boxful, with five dressed-up options from which to choose, including the Philli Boi, which features philly steak, peppers, onions and cheese sauce.
1001 Bridge St., Ashtabula 44004, 440/650-5002, facebook.com/firechickensandwiches


---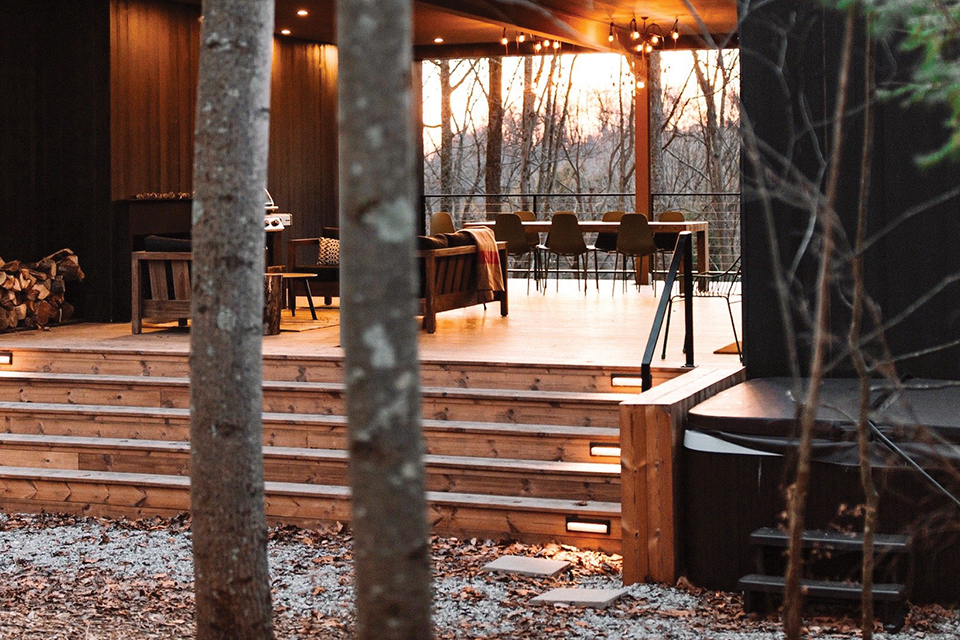 Hygge in the Hills

The Hocking Hills is known for its wealth of cabin getaways, but
Idyll Reserve
adds an earthy-modern option to the mix. Jay DeVore; his wife, Kelly; and sister, Laura DeVore, opened Idyll Reserve in late 2021, offering a high-end, sustainable option for those who love the outdoors. Four of the five units are designs by Michigan's Hygge Supply, a maker of modern, sustainable-home kits that feature eco-friendly materials. ("Hygge" is a Danish concept that refers to creating a warm atmosphere and enjoying the good things in life.) The fifth option is an existing cabin that was completely renovated to create an aesthetic matching the others.
idyllreserve.com
---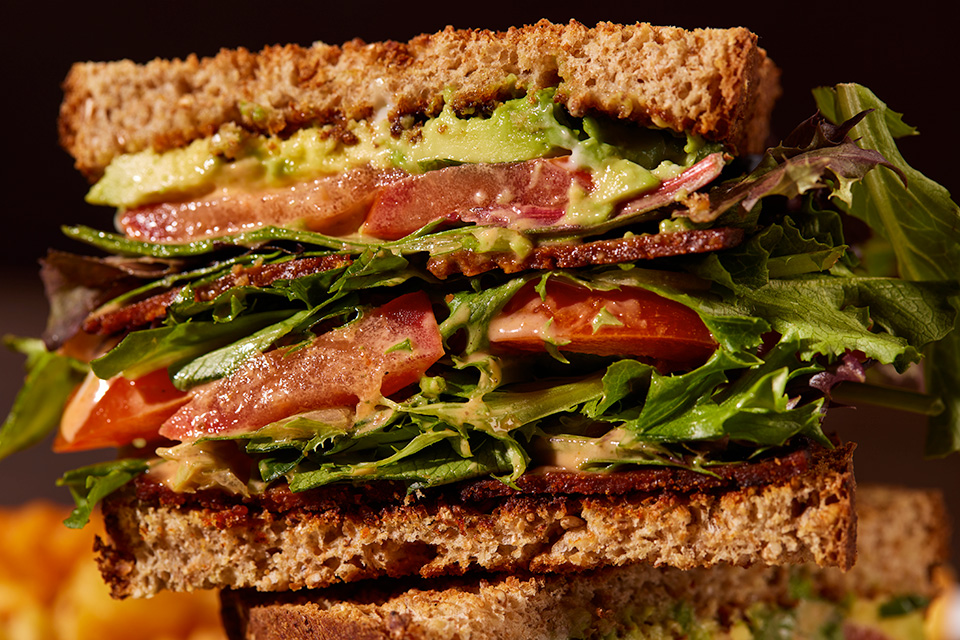 Beyond Belief

The idea for chef Clayton Freeman's restaurant came in 2018, after he retired from his job as service director of several Columbus-area car dealerships. He launched a food-delivery service that offered a menu of 100-percent vegan dishes, but he had no idea what to call it until his wife reminded him that the answer was right in front of him.
"She said, every time they taste the food, they look at you and go, 'Clayton, I can't believe this is vegan,' " Freeman recalls. "And that's where the name came from."
During the pandemic, business began to increase, and Freeman opened a brick-and-mortar Can't Believe It's Vegan location in Westerville in 2022. Customer favorites from his menu include the BLT sandwich, the crispy "nochick" sandwich, angel hair spicy sausage pasta and lasagna rolls. Freeman draws inspiration for the dishes on his menu from other chefs and suggestions from his customers.
"Some of it is looking at what nonvegan chefs are doing and saying, 'Man that's an innovative idea, let me see if I can make a vegan version of that,' " he says. "Some of it is from people coming up to me and saying, 'Have you ever thought of this?' " 584 W. Schrock Rd., Westerville 43081, 614/392-2163, cantbelieveitsvegan.biz

---

Super Season
Even Browns and Steelers fans sat in awe last year as Athens High School alum Joe Burrow led the Cincinnati Bengals to within minutes of winning not only the Bengals' first Super Bowl title but also Ohio's first. The team that Ohioan Paul Brown created in 1967 was a joy to watch as they marched through the season and the AFC playoffs on to football's biggest stage. They did it in style, too, helmed by a young star of the game we'll all be watching for years to come.

---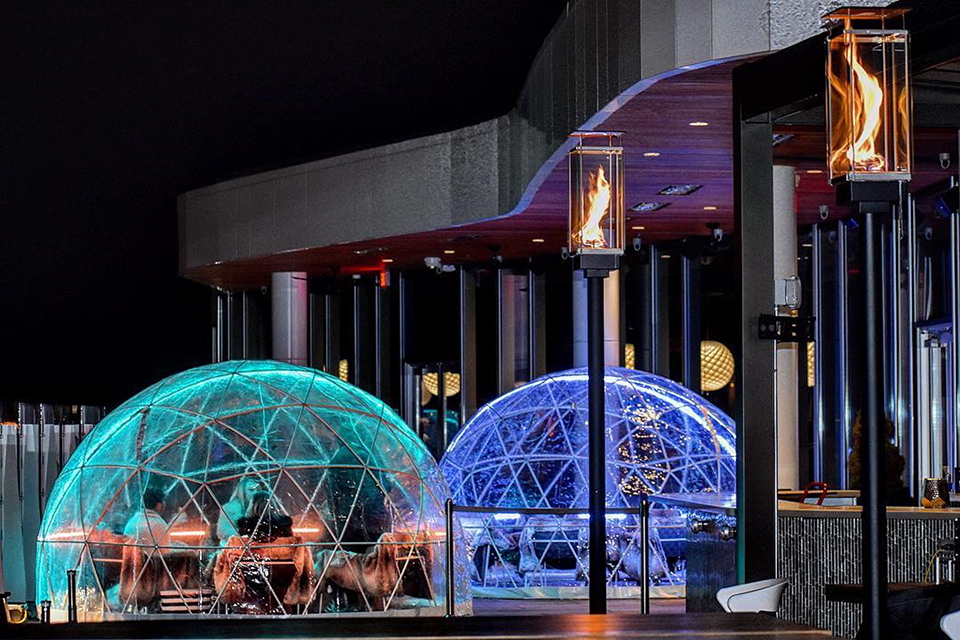 Old & New: The city of Dublin has two distinct sides — joined by a one-of-a-kind pedestrian bridge — that add up to a great night out. Read more about the perfect Dublin date night.

---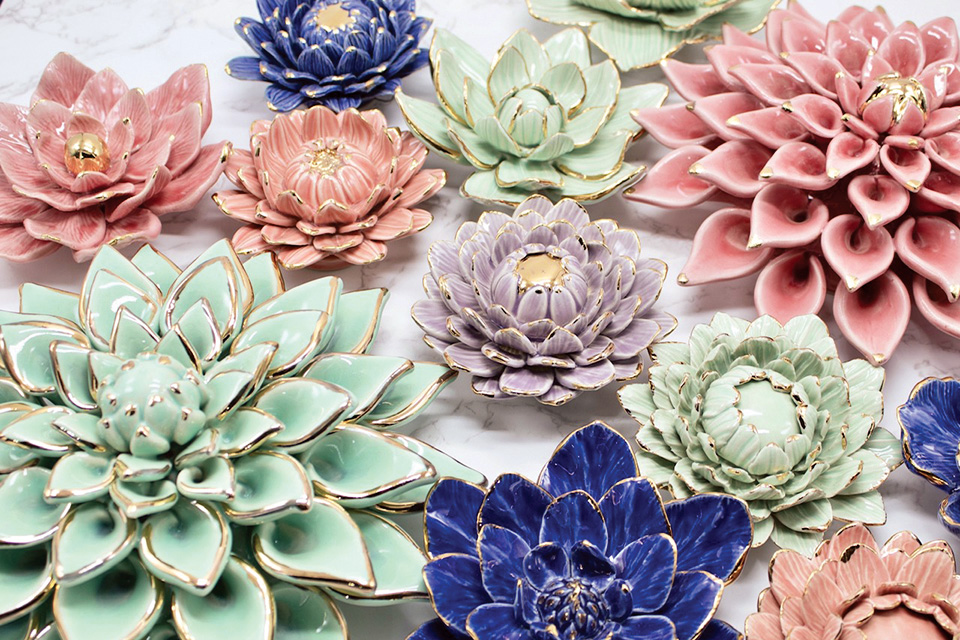 Flower Power

Inspired by a high school ceramics class, Juniper & Lark owner Sonita Cannon went on to study the subject in college. A decade later, she launched her own business, creating colorful ceramic flowers and trinket dishes inspired by patterns and shapes found in nature.

"It's like how chefs create food to make people happy — they want the food to taste good — that's kind of like what I do," Cannon says. "I wanted to make things that may put a smile on somebody's face."

The stay-at-home mom, who is based in Macedonia, says the creative outlet has let her grow her business while also raising her daughter. Sharing her work has been gratifying because her pieces are both decorative and functional. The ceramic flowers and dishes are crafted using white stoneware clay and accented with 24-karat gold. A kitchen collection and home decor items such as vases are among Juniper & Lark's products.

"It took me a while to build my confidence in finding the right consumer and once I did that, it was great," Cannon says. "You just want to keep doing it and keep sharing your work with others." juniperandlark.com

---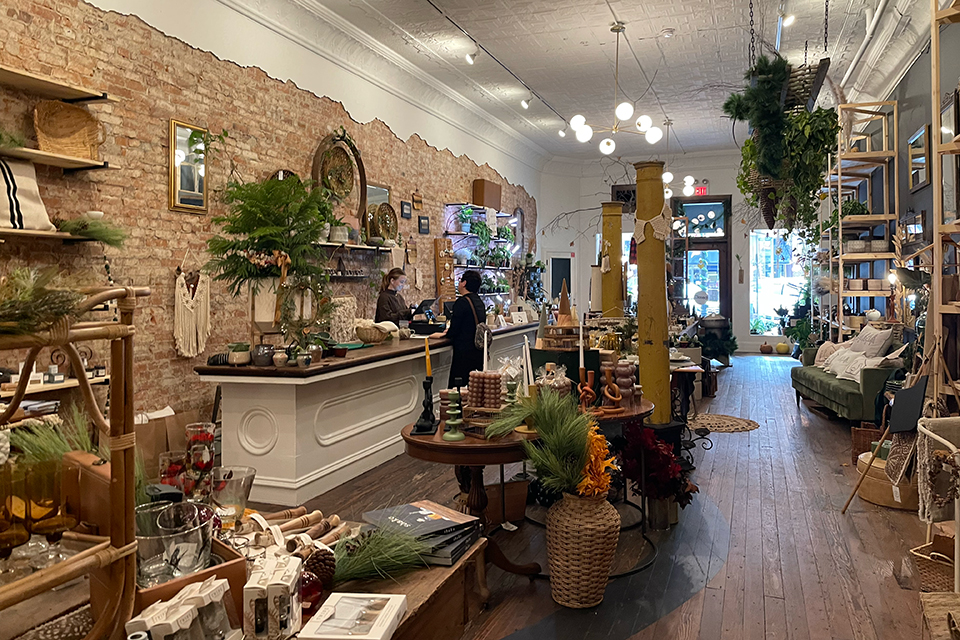 Doing Good

Refined: Purveyors of Fine Goods stands out in Greenville's downtown, with its deep-forest hue and inviting front windows that offer a glimpse of the products inside. The shop, which opened in 2018, but relocated to this spot in March 2022, sells fair-trade and locally made wares among its curated selection of home items, gifts and more.

"It's not your typical boutique. It's not your typical home decor store," says owner Charity Shellabarger. "It's a little bit of everything."

The artfully displayed collection spans live house plants, home decor, kitchen items, baby items and apothecary. Refined also sells a selection of second-hand clothing, as well as its "Love On" sweatshirt, which has become one of the shop's signature items since debuting in 2020. Launched as a morale raiser in a rough year, the item has continued to sell, with a portion of proceeds from each "Love On" sweatshirt now benefitting a different local organization every three months.

"Our biggest thing is simply to be kind and love people," Shellabarger says. "Truly what we want to do is spread joy and smiles on people's faces." 529 S. Broadway St., Greenville 45331, httpsrefinedgoods.com

---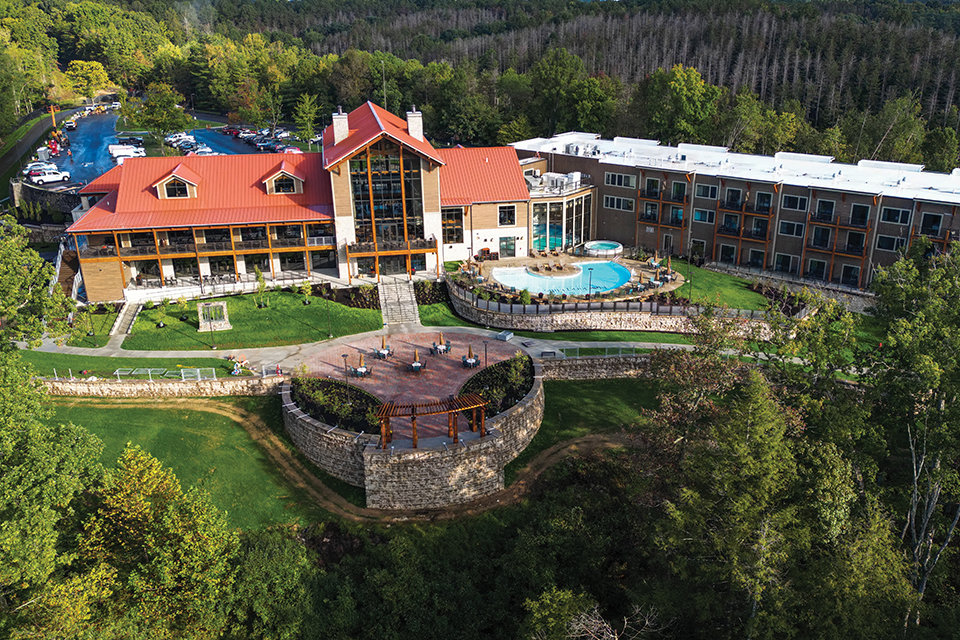 Lodge Life

Stepping into the lobby of the new Hocking Hills Lodge & Conference Center, visitors are greeted by the grandeur of the region's natural beauty. There are a pair of 39-foot stone fireplaces and beams of rich Ohio wood. A wall of glass at the far end of the space extends from floor to ceiling, framing a view out across some of our state's most striking scenery.

When fire brought an end to the Hocking Hills Dining Lodge in 2016, it also created an opportunity. Hocking Hills State Park never had a lodge where visitors could stay overnight, like other Ohio parks do. In 2019, Gov. Mike DeWine and Ohio Department of Natural Resources director Mary Mertz made it a priority to create one. Opened in fall 2022, the $40 million, 74,000-square-foot lodge offers 81 guest rooms, an on-site restaurant and plenty of outdoor gathering spaces, all within a hike or short drive to the region's most popular attractions.

"It needed to be something that showed off the beauty of the area," Mertz says. "It's a world-class hiking area, and it deserved a world-class lodge to go with it."

Works by local artists are incorporated throughout the space, and Matt Rapposelli, who helmed Hocking Hills Dining Lodge's kitchen, heads the Rock House Restaurant and Pub. The lodge is welcoming year-round, complete with an all-season outdoor hot tub and five cozy fireplaces. 20020 St. Rte. 664 S., Logan 43138, 740/270-6100, hockinghillsparklodge.com

---

Wa-Who?
Even those who didn't love the Cleveland Guardians name change couldn't argue with what American League Manager of the Year Terry Francona's ballclub achieved in 2022. The game's youngest roster announced loudly that postseason baseball was back in the city, beating the Tampa Bay Rays and pushing the New York Yankees to a five-game series before exiting the field with their heads held high. When a guy who watched SpongeBob SquarePants as a kid (and has the walk-up song to prove it) is swatting the walk-off home run, it's clearly a new day for baseball in Cleveland.

---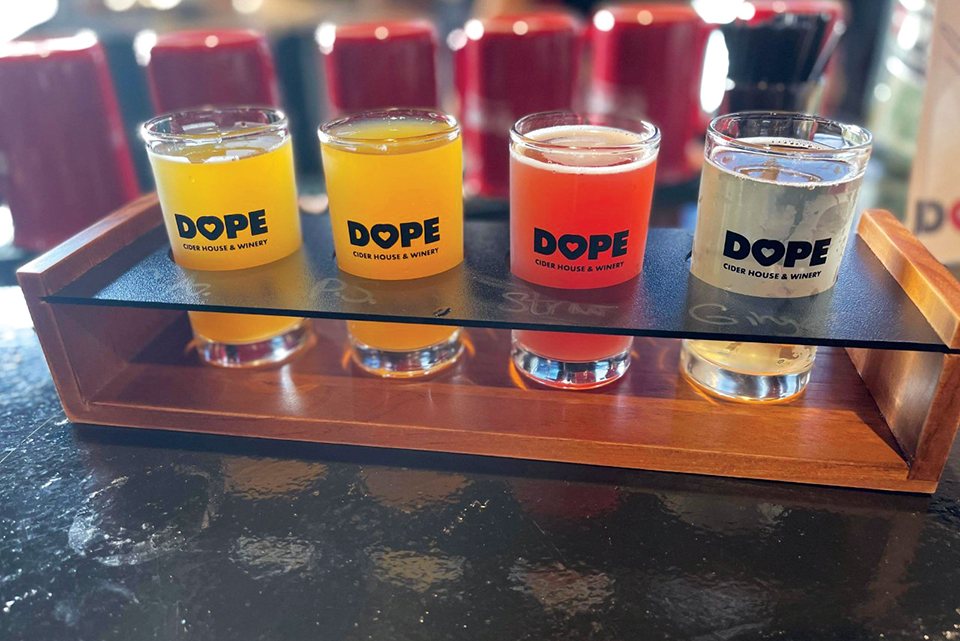 Drink Positive: Hannah Ferguson has built a fast following after opening D.O.P.E. Cider House & Winery in her hometown of Youngstown. Read about D.O.P.E. Cider House & Winery in Youngstown.

---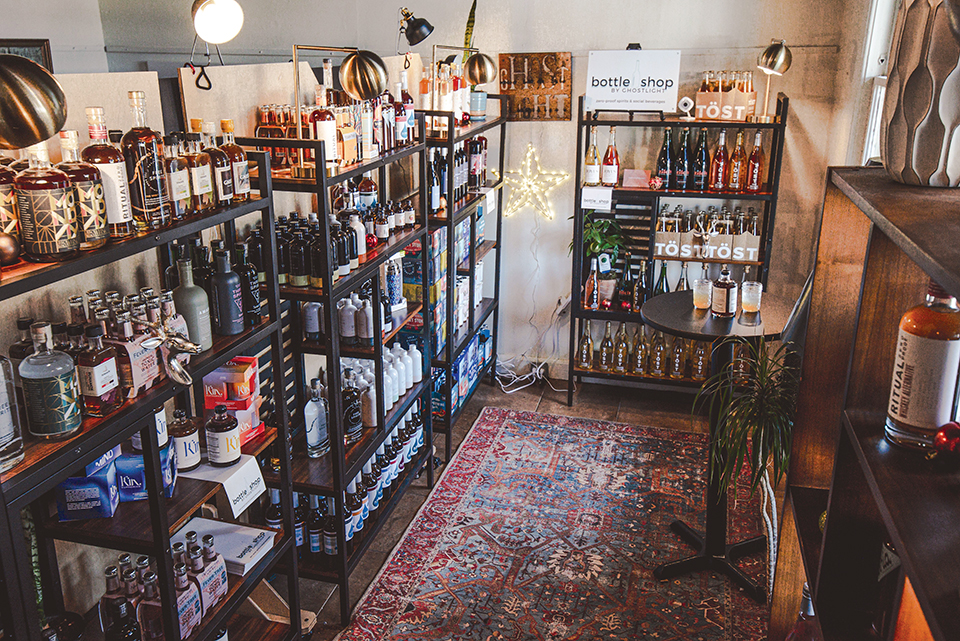 Bottle Service

With a growing number of adults exploring a sober lifestyle or simply cutting back on alcohol consumption, nonalcoholic adult-beverage options are rapidly improving and becoming easier to find. In Dayton, Ghostlight Coffee opened a nonalcoholic bottle shop at its main location in the city's South Park neighborhood in late 2021.

"I've always thought it must be hard for people to do social things with colleagues or friends if they're not a drinker or just choose not to drink at one time or another," says Shane Anderson co-founder of Ghostlight Coffee.

Anderson dedicated an entire room to Bottle Shop by Ghostlight, stocking nonalcoholic beers, wines, spirits and other beverages. He says wine options from Tost and Studio Null have been popular, as have beers from breweries like Athletic and Two Roots. Anderson has personally enjoyed zero-proof spirits from Three Spirits and Monday. Ghostlight Coffee will soon open Gather by Ghostlight, a coffee shop and bar in Dayton's historic Arcade, where nonalcoholic options will sit alongside their alcoholic counterparts on the menu.

"It makes sense to have those options available," Anderson says, "whether it's for health or religious or social reasons, or just to get up the next morning." 1201 Wayne Ave., Dayton 45410, 937/985-2633, ghostlightcoffee.com

---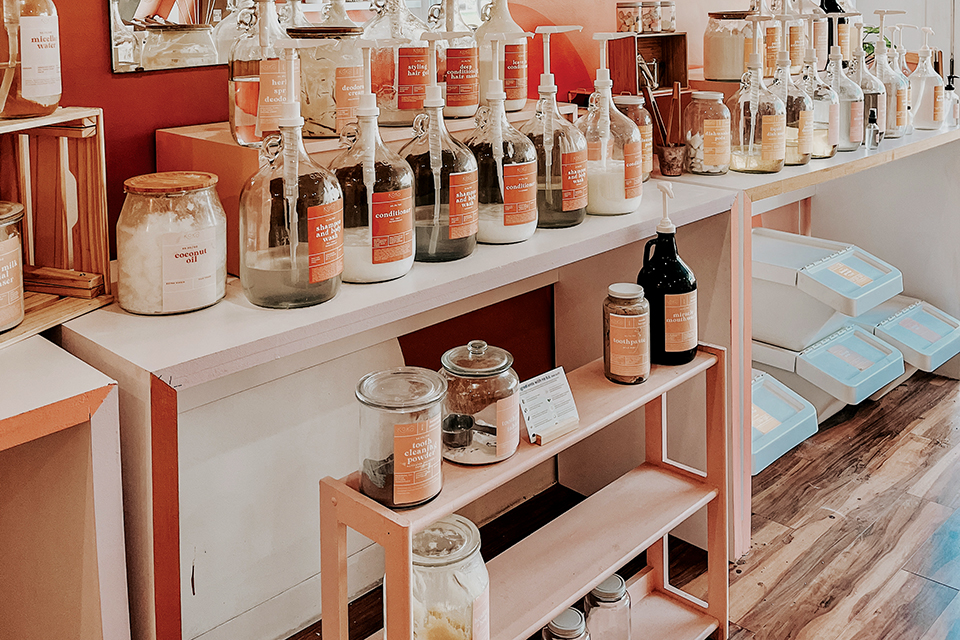 Waste Less
Scroll through Koko Sustainable Living Shop + Refillery's Instagram feed and you can't help but feel the positivity emanating from the Columbus business's pink-and-peach color scheme. With locations in the city's Clintonville and Hilltop neighborhoods, Koko sells Earth-friendly products for the home, cleaning and personal care, but it also helps customers cut back on their use of single-use plastics by providing the ability to refill their favorites in-store. Bring your own bottle (or buy a reusable one at the shop), step up to the bulk bar and purchase toiletries and cleaning supplies by the ounce. Clintonville: 3023 Indianola Ave., Columbus 43202, 614/732-4417; Hilltop: 15 N. Westmoor Ave., Columbus 43204, 614/972-7256, kokotheshop.com

---

Candy Crush
For years, Spangler Candy Co. in Bryan had a factory store and museum where visitors could pick up Dum-Dums and other candies and browse displays that traced the history of the longtime family company. Spangler closed the store and suspended factory tours in March 2020, but the following year, the company purchased two adjoining storefronts in downtown Bryan to create a new store and museum. Scheduled to open in 2023, Spangler Candy World will feature a larger store, interactive displays and a 360-degree virtual tour of the factory. spanglercandy.com

---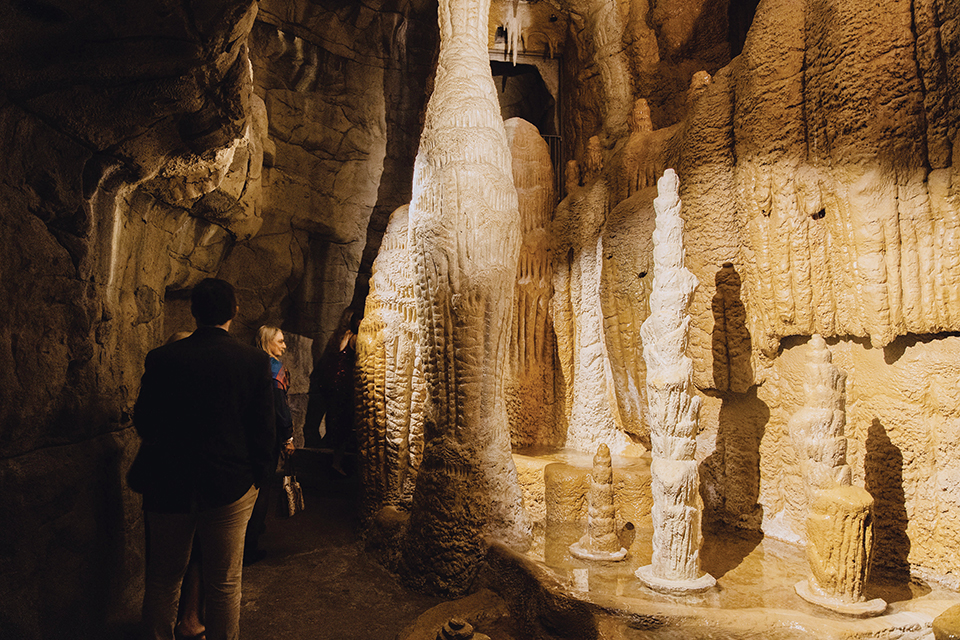 Historic Loves: The Cincinnati Museum Center offers a great day date for those who want to learn, explore and celebrate the Queen City. Read more about the perfect date at Cincinnati's Union Terminal.

---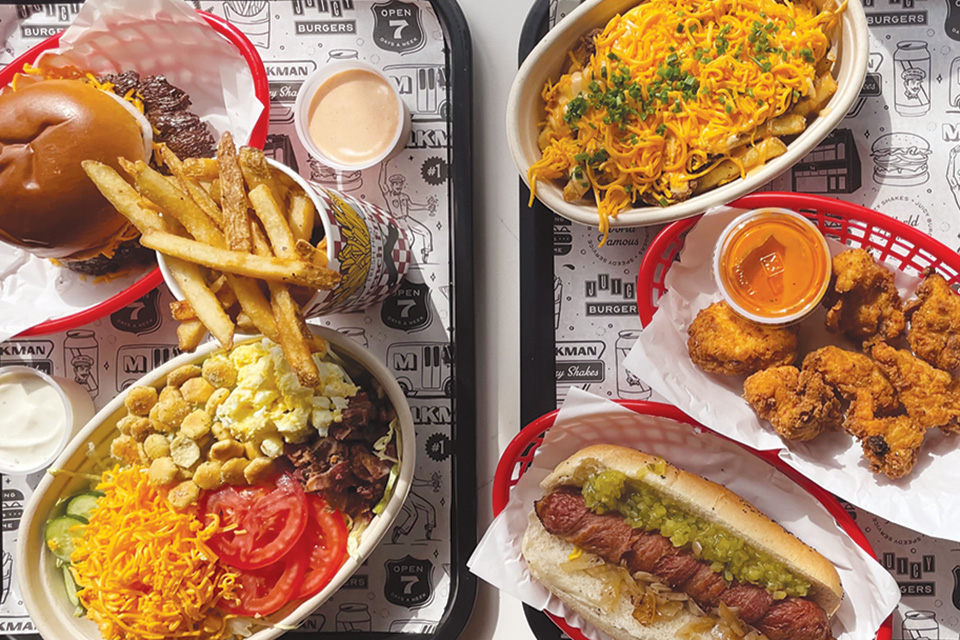 Good Eats: Milkman in Cincinnati's Over-the-Rhine neighborhood embraces a vintage vibe with its selection of smash burgers and shakes. Read more about Milkman in Cincinnati.

---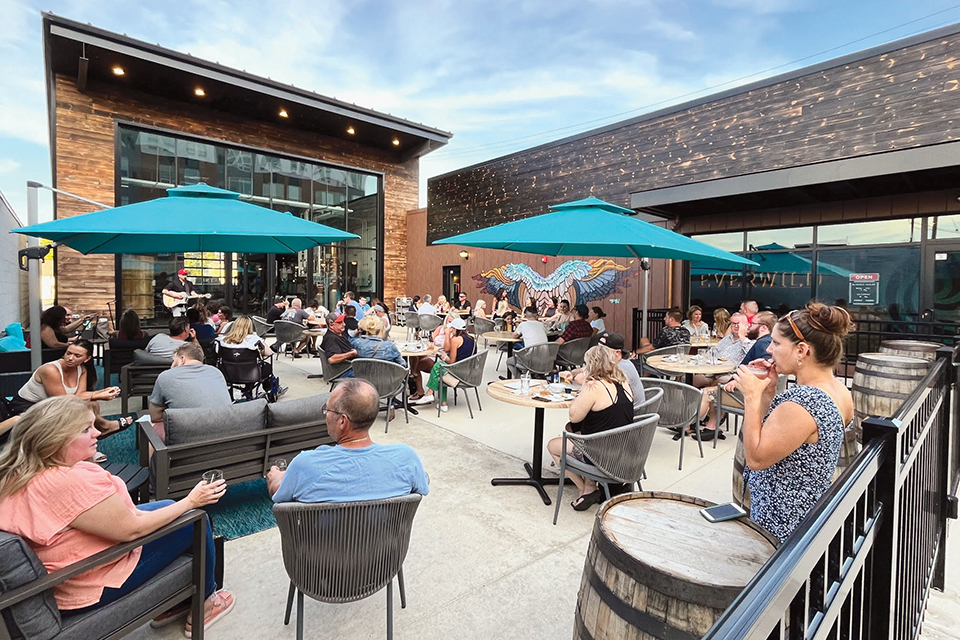 Community Spirit
Craft bourbon distiller Everwild Spirits opened in Sandusky's ever-burgeoning downtown in 2022, serving creative cocktails paired with small plates and desserts — billed as "Before" and "After" — with options that span a charcuterie board and flatbreads to a chocolate truffle flight and bourbon pie.

The easygoing atmosphere invites you to linger, enjoy live music or catch a game. Cozy couches and chairs and repurposed-bourbon-barrel tables make the place modern and sophisticated while at the same time wonderfully down to earth. Owned by Rick Lynch, his wife, Gia Gennari-Lynch, and her brother, Jude, Everwild Spirits is the first-ever bourbon distillery in Erie County.

"Kentucky is known for their bourbon because they are geographically located on a limestone aquifer," Lynch says, explaining that quality grains and water are what make great bourbon. "Coincidentally, Sandusky, Ohio, is also situated on a limestone aquifer."

The spirits here are crafted using Ohio-grown grains and local water, and they are aged in barrels made from Ohio oak, the latter of which Lynch adds is some of the country's best.

"We're proud that everything we're using is from Ohio," he says. 212 Hancock St., Sandusky 44870, 419/408-6069, everwildspirits.com

---

Flick Pick
Those in the 21-and-older crowd looking for the warm glow of a night out in the heart of the city with Columbus' skyline as a backdrop will find it at NightLight 614. The ticketed movie series hosts a lineup of popular film classics at downtown's Genoa Park on select Thursdays and Fridays, from early June through mid-October. Last year's series kicked off with the Coen Brothers classic "The Big Lebowski" and ended with the horror-genre sendup "Scream." Each week, a different local craft brewery is on-site serving beer (wine is also available) and a rotating lineup of several food trucks offer a wide selection of movie-time eats. nightlight614.com

---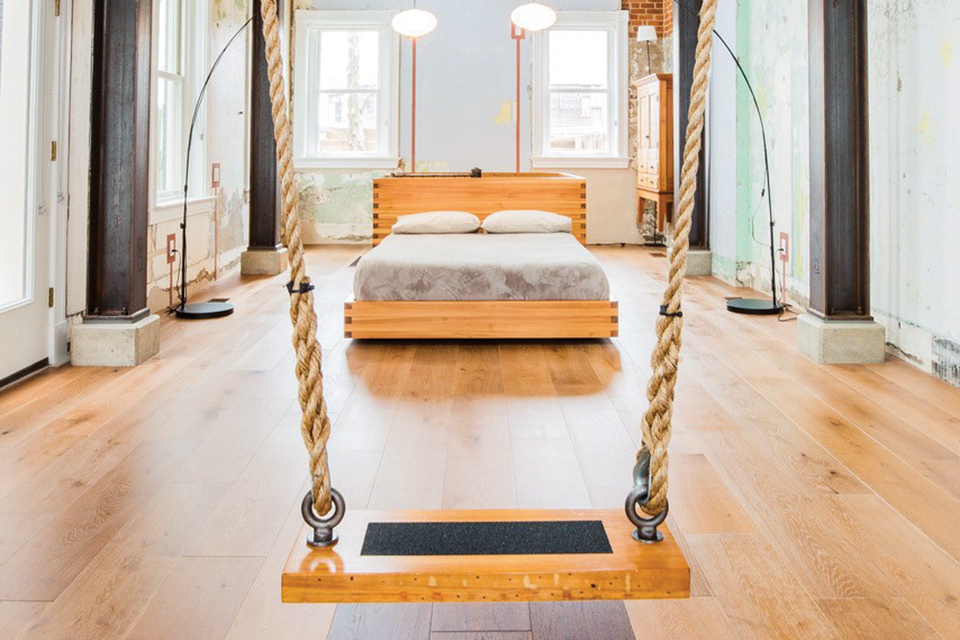 Work of Art

At artist Mark de Jong's Swing House, you don't just look at the art, you live in it. The three-story, 1880s Victorian-style brick home in Cincinnati's Camp Washington neighborhood is hollowed out into one cathedral-like room, with a series of steel-beam reinforcements providing the structural viability that floors, ceilings and walls once did.

Suspended from one of the arches — set between a bed and the kitchen — is the 30-foot swing that gives the house its name. The swing's bench is made with wood salvaged from a floor joist, which is a theme de Jong implemented throughout the house.

He also honored the building's history by leaving its walls beautifully rough, providing a mix of exposed brick, patches of wallpaper and paint from bygone days. (Don't worry, the bathroom has modern updates.) To de Jong, though, the house really becomes a work of art once a guest stays there.

"Unlike a museum where you walk by the art and then move on to the next piece," he says, "there are so many different details that you don't see until you stay there for a while." 1373 Avon Place, Cincinnati 45225, 513/325-6625, swing-house.com

---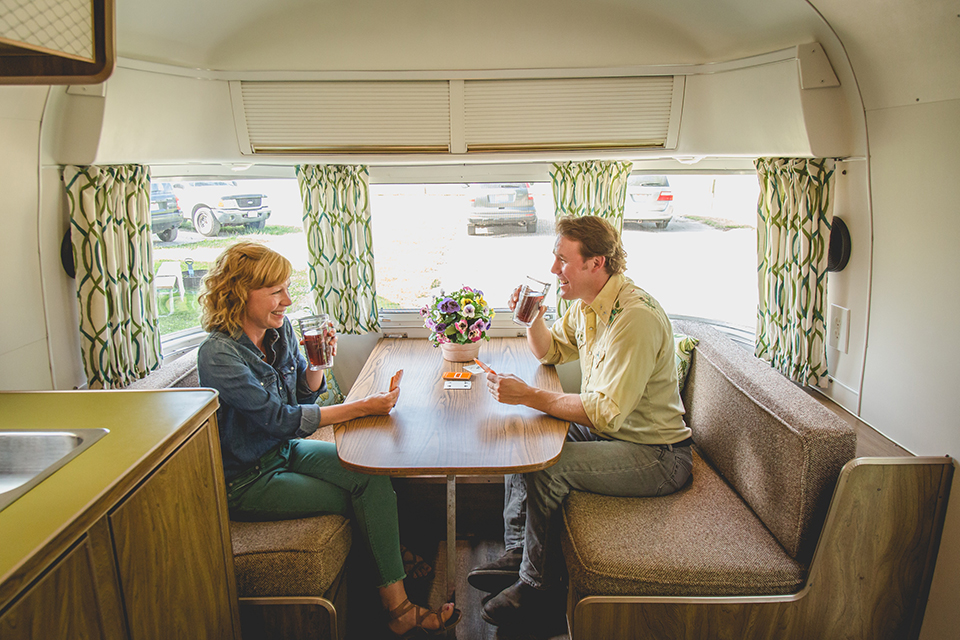 Camping Classics: Two vintage recreational vehicles give Coshocton KOA Holiday campground guests a taste of life on the road. Read more about the vintage Argosy campers in Coshocton.

---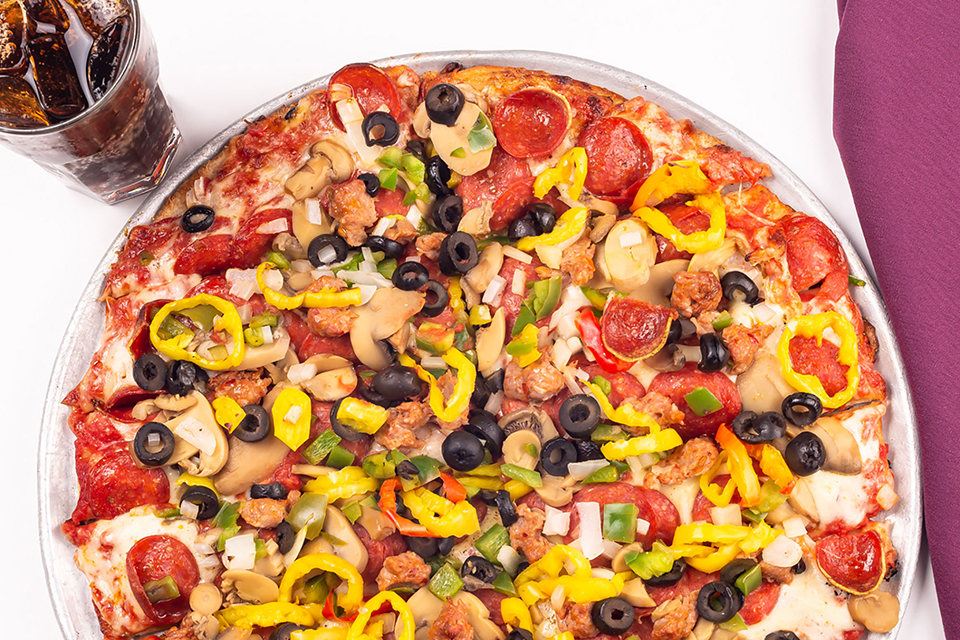 Pizza Stops
With its thin crust, square-shaped cuts and edge-to-edge toppings, there is a lot to love about Columbus-style pizza, and there may be no better way to learn about the regional specialty than the Columbus-Style Pizza Trail. Restaurants across the area offer versions of the style, which dates to 1934, and a digital pass system makes tracking your progress at each of the 18 participating spots easy. Dine in or carry out at all of them within a year to earn a stainless-steel pizza cutter and hot pad for your efforts. Visit four spots for a Columbus-Style Pizza Trail T-shirt. experiencecolumbus.com/pizzatrail