Travel
Michigan: 4 Fall Favorites
The Great Lakes State bursts with autumn hues this time of year.
October 2015 Issue
BY Amy S. Eckert | Photo courtesy of Pure Michigan
October 2015 Issue
BY Amy S. Eckert | Photo courtesy of Pure Michigan
Michigan's rolling landscape springs into brilliant color in autumn as the thick forests of maple, oak and birch trees exchange their wardrobe of summer green for red, yellow and orange. It's a seasonal palette made all the more vibrant against the blues of the Great Lakes. Salmon head for inland streams when the nights turn cool, and the state's orchards grow heavy with ripe pears and apples. We asked four Michiganders with ties to various corners of the state to share their favorite places to celebrate the season.
Fall Fishing
Michigan's trout streams are famous among fly fishermen. In a region so teeming with fish, a dedicated angler can find success with a rod and reel year-round. But come autumn, the state's streams offer a few more reasons to slip on your waders.
"The colors on a northern Michigan trout stream are just vibrant in the fall," says Chuck Wibert, who has been fishing the state's waterways for all of his 73 years. "Family vacations are over. The nights have grown cold enough there are no mosquitoes in the woods. There's less pressure on the river. There's no fight for a parking spot. It's just very pleasant. "And," he adds, "I do catch a few fish."
Salmon fishing on the Pere Marquette River has garnered press across the country. But if timing a getaway with the spawning season seems onerous, Michigan's crystal-clear streams offer the promise of trout all season long.
Wibert says he thinks it's a good idea to contact a local guide for advice on where to go and how to make sure you're meeting local catch-and-release and bait regulations. Convincing a fisherman to divulge the location of his favorite fishing hole can prove tricky, but Wibert will admit this much: "I've had good luck going after rainbows and browns," he says. "And I think it's hard to beat the North Branch of the Au Sable River."


The Pere Marquette River runs nearly 64 miles, stretching from Lake County south of Baldwin, Michigan, into the Pere Marquette Lake and then on to Lake Michigan. The Au Sable River runs approximately 138 miles through Michigan's northern Lower Peninsula, passing through the towns of Grayling and Mio before reaching Lake Michigan.
Apples & Cider

Autumn and apples go together, particularly in western Michigan's fruit belt. In Spring Lake, Vander Mill perfects the art of cider making, relying on locally grown fruit.
Traditional and creative, soft and hard, their ciders range from kid-friendly sweet drinks to adult beverages incorporating blueberries, hops and even poblano peppers.
At Fennville's Crane Orchards, families arrive with bags in hand to pick their own apples: McIntoshes and Honeycrisps, Empires and Cortlands. Hanging heavily from trees no taller than a grown man, the apples are scooped up easily and quickly, leaving plenty of time to head into Crane's Pie Pantry for pie a la mode before driving home.
But Holland, Michigan, resident Myka Nienhuis' favorite fall stop is Robinette's Apple Haus & Winery, a Grand Rapids institution just 30 minutes from where she lives that's been part of her life since childhood.
"I remember making the turn into the road," she recalls, "the rows of apple trees, the giant red apple on the front lawn. Robinette's made fresh cider at the mill just outside their restaurant. There was a little bench I could stand on and watch them fill jug after jug."
That tradition — buying apples by the bushel, and eating fresh doughnuts and cider around Robinette's fireplace — is one she repeats every year with her kids.
"We never miss a season," she says. "My parents' and three siblings' fall officially began with a trip to Robinette's Apple Haus."
Vander Mill, 14921 Cleveland St., Spring Lake, Michigan 49456, 616/842-4337, vandermill.com; Crane Orchards, 6054 124th Ave., Fennville, Michigan 49408, 269/561-8651, craneorchards.com; Robinette's Apple Haus & Winery, 3142 4 Mile Rd. NE, Grand Rapids, Michigan 49525, 616/361-5567, robinettes.com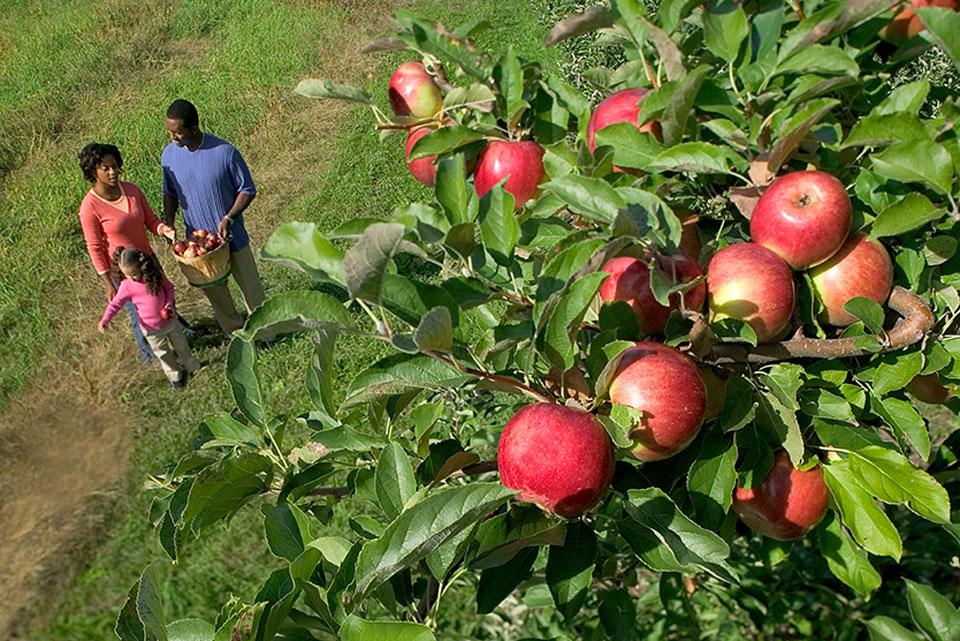 Upper Peninsula Color Tour
Spanning 48 miles and more than 160 years of history, Marquette's multiuse Iron Ore Heritage Trail links the landscapes and sites associated with the region's rich mining history. In autumn, the route blazes with color as thick stands of maple and oak trees rim the Lake Superior shoreline with gold.
Ali Fulsher, a Northern Michigan University student and amateur photographer, sometimes travels the Iron Ore Heritage Trail on foot, sometimes on bicycle. And although she's attracted to the trail year-round, fall is one of her favorite times to visit.
"I bring my camera every autumn and try to capture the beauty of the fall colors," Fulsher says. "I also shoot the symbolic mile markers and the various interpretation and artwork along the trail. Every year, there's something new for me to find."
One of those new additions is a mural installed beneath the Lake Superior & Ishpeming Railroad — a piece that pays homage to the miners of the Marquette Iron Range.
Trail users who succeed in turning their eyes from the trail's vibrant foliage find information posts recounting Marquette's iron-mining industry. Authentic artifacts and remnants of the era line the trail, including abandoned open-pit mines and idle wooden mine shafts.
"The Iron Ore Heritage Trail is a great industrial setting," says Fulsher, "with a steel bridge, iron ore pellets scattered on the hillsides, trains overhead."
The Iron Ore Heritage Trail runs through Marquette County from Republic Township to Kawbawgam Road in Chocolay Township. For more information about recreational opportunities along the corridor, visit ironoreheritage.com.

Sleeping Bear Dunes
Towering 450 feet above Lake Michigan, the Sleeping Bear Dunes National Lakeshore is best known for summertime beach combing and Lake Michigan dune climbs. But this part of Michigan may be at its loveliest in the fall.
Julie Mountz, a 31-year resident of nearby Empire and the wife of a Sleeping Bear Dunes employee, has delved into the wilderness in all four seasons. But she thinks that autumn brings a special charm to this corner of Michigan.
"Because the Sleeping Bear Dunes have such a wonderful mix of deciduous trees, the fall color is just spectacular," she says. "When color peaks in October, the leaf peepers come up, and it's like the land is on fire."
Road trippers cruise the park's 7.4-mile Pierce Stocking Scenic Drive for glimpses from several observation decks. In summer, shutterbugs point their cameras toward Lake Michigan, but this time of year, cameras are just as likely pointed inland, toward a landscape cloaked in russet and gold.
Nearly 100 miles of hiking trails allow visitors to experience the park's natural beauty, accompanied by the crunch of leaves underfoot.
Mountz's fall favorite is along Trail's End Road, an area that reflects the autumn color in Otter, Bass and Deer lakes. She keeps her eyes open for the lakes' namesake wildlife as well as for wild mushrooms, such as chanterelles, oysters and puffballs.
"People get all excited about morels in springtime," she says. "But really, fall mushrooms are much more plentiful and easy to spot." Sleeping Bear Dunes National Lakeshore is located approximately 25 miles west of Traverse City.
For more information, visit nps.gov/slbe.