Travel
Geneva-on-the-Lake: Visit 3 Longtime Landmarks
This Ashtabula County destination along the Lake Erie shore has been a draw for generations. Today, it still embodies an inviting, old-time feel.
March/April 2021
BY Rich Warren | Photo by Dawn Bubonic, courtesy of Ashtabula County Visitors Bureau
March/April 2021
BY Rich Warren | Photo by Dawn Bubonic, courtesy of Ashtabula County Visitors Bureau
It's known as The Strip, and Geneva-on-the-Lake's milelong thoroughfare is lined with arcades, shops, food stands, mini golf and an array of restaurant and nightlife options — all infused with a frozen-in-time quality. Sure, this lakeside haven has evolved with the times, but its long history is apparent the moment you arrive.

Known as Ohio's oldest summer resort, Geneva-on-the-Lake has been drawing families since the late 19th century. They frolic along the Lake Erie shoreline and stay in one of the many cottages, B&Bs, campgrounds and retro motels on or near The Strip. It's common to hear of families who have been coming here for three, four, even five generations.

"I see the same familiar faces year after year," says Mayor Dwayne Bennett. "In the summertime, it's like one big extended family."

Although The Strip is home to many iconic fixtures — like Madsen Donuts, which has sated many a sweet tooth since 1938 — Bennett points out that new businesses are constantly joining the mix. And while their business interiors may be modern, new arrivals make efforts to ensure that their buildings' exteriors fit the village's old-time feel.

"I don't see the nostalgia factor decreasing here anytime soon — that's our brand," Bennett says. "In fact, I'd like to double the number of reasons for people to come."

He's proud of the archway spanning state Route 534 and the 6-foot-high aluminum letters spelling out GOTL at the village's entry point. Work is proceeding on multi-use trails that will connect The Strip to the beach and marina at the nearby state park.

Bennett says he believes the number of local family businesses that have passed from one generation to the next holds another kind of appeal for visitors.

"This town is all about families, families who've been visiting for decades and families who've lived here even longer," he says. "Our town really is like an episode of 'Cheers.' If you walk into a local business, the owners really might just know your name."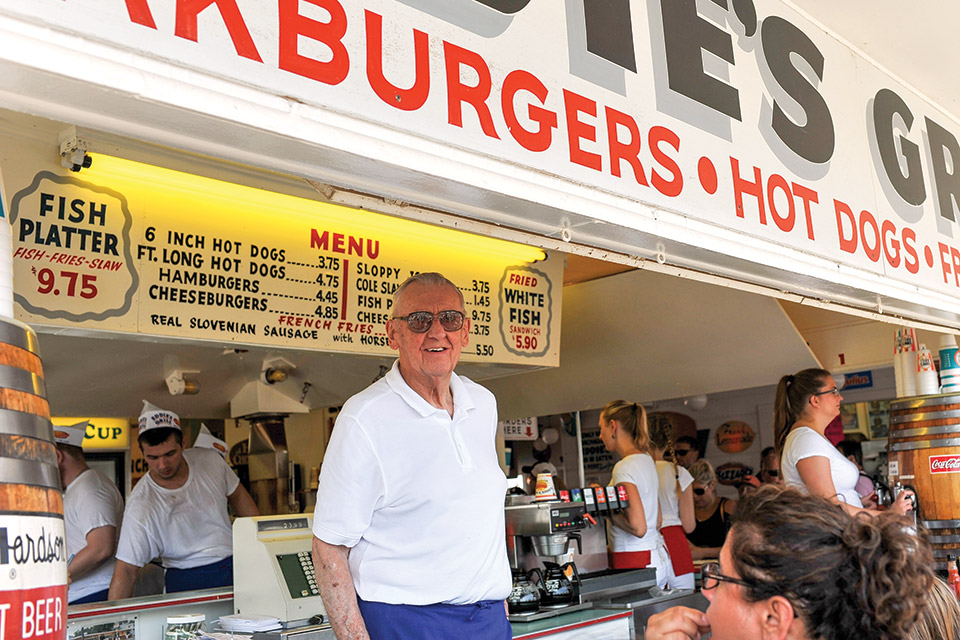 Eddie's Grill

This open-air restaurant sports a distinctly 1950s vibe, with its stools on the sidewalk, classic booths inside and tables shaded by umbrellas out back. Eddie Sezon, who still presides as manager, opened the place in 1950 after he sent away for blueprints for a root beer stand from an issue of Popular Mechanics magazine.

The simple menu — highlighted by a footlong hot dog covered with chili made using a recipe Sezon got from his mother — has changed little since Eddie's Grill opened. Customers serve up their own root beer from a vintage barrel, while music from the '50s and '60s — everything from Elvis to "Elvira" — plays from the jukebox.

"When we open, we start with the 'Tick Tock Polka,' " Sezon says with a chuckle. "That wakes everybody up."

Sezon's family members have always been fixtures at the restaurant. Nowadays, they include his sister and three grandchildren, but his parents and two daughters have helped out in the past. A multitude of regulars make up Eddie's customer base, some of them coming here for as long as 50 years.

"They sit in the same place and order the same thing," Sezon says. "They know everything will be exactly the same as it was on their last visit." 5377 Lake Rd. E., Geneva-on-the-Lake 44041, 440/466-8720, eddiesgrill.com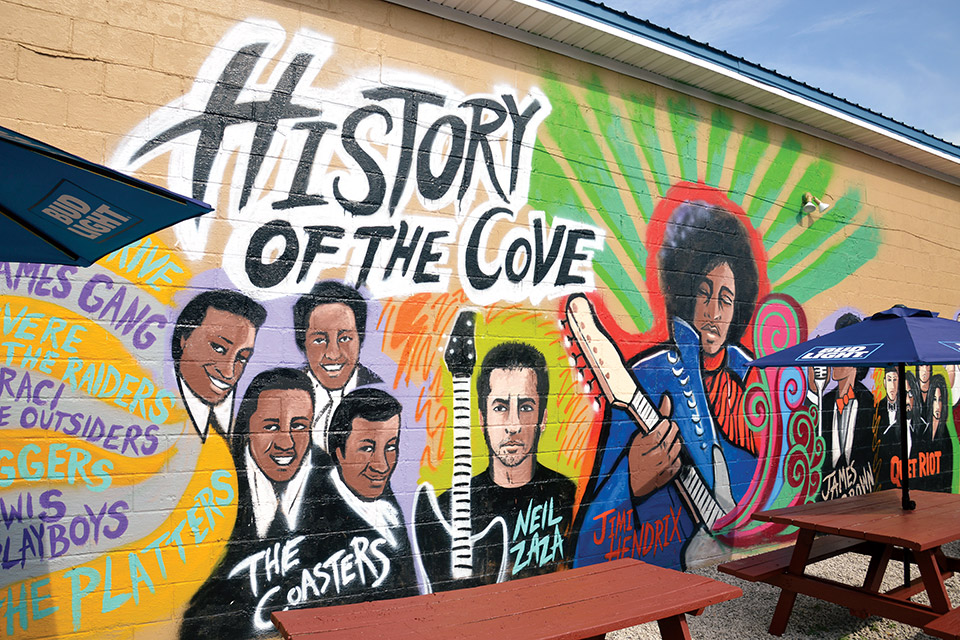 The Cove Niteclub

A colorful mural on an exterior wall of The Cove Niteclub illustrates the astonishing cavalcade of musical luminaries who have performed there: Jimi Hendrix, James Brown and Joe Walsh as well as the Temptations, the Drifters and the Coasters.

"When they were here, they were all rising stars on the cusp of making it big," explains P.J. Macchia, co-owner with his mother, Sandra Macchia.

Macchia follows in the footsteps of his late father, Pete, who opened The Cove in 1963 and built it into a space that now can hold 500 concertgoers. Four years prior to founding The Cove, Pete had opened a now-gone restaurant on The Strip, spending his winters working at the famed Riviera Hotel in Palm Springs, California, rubbing elbows with Frank Sinatra and Dean Martin. The hotel's manager gave Pete the inspiration to open a nightclub, where he soon demonstrated a talent to book acts on their way to stardom. Macchia says he enjoys working with musicians as much as his father did.

"I loved going to work with my father each and every day," he recalls. "I went from sweeping the floors to managing the business. There's nothing else I could see myself doing." 5326 Lake Rd. E., Geneva 44041, 440/466-8888, thecoveniteclub.com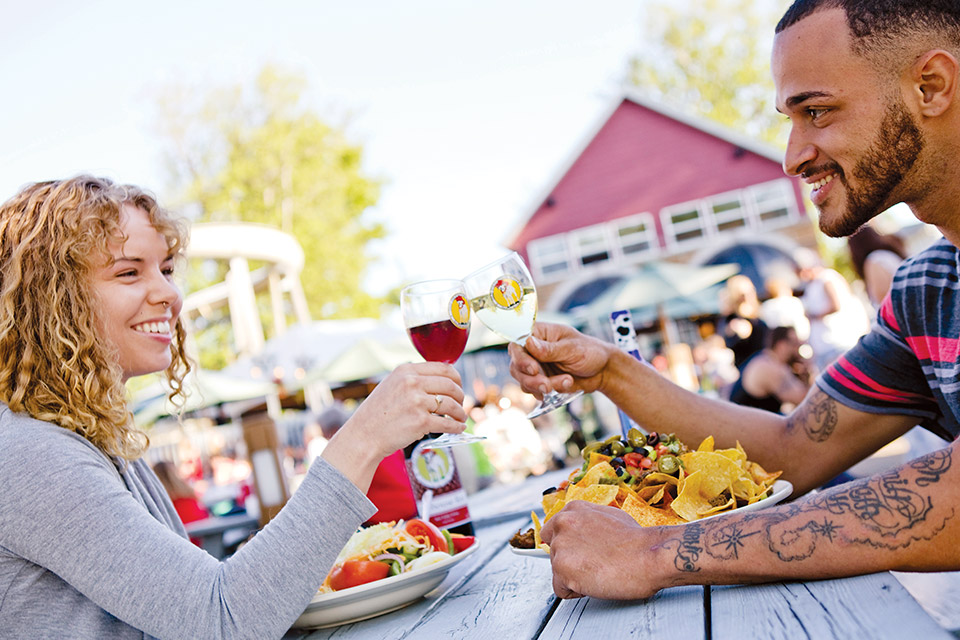 Old Firehouse Winery

Don "Woody" Woodward's family connections to Geneva-on-the-Lake date back more than a century. When his grandparents, Martha and E.M. "Pop" Pera, visited in 1920, his grandmother, taken by the beauty of the lake, burst into tears when it came time to leave.

"She said the place reminded her of her childhood," Woodward recalls.

So, the couple returned, buying an existing restaurant before establishing a motel and dance hall. Their children and now their grandchildren have also operated other local businesses over the years.

Woodward's own establishment, Old Firehouse Winery, is indeed housed in the village's original firehouse, with a vintage 1924 firetruck sitting outside for photo ops. Nearby, a Ferris wheel that once operated in a local amusement park now stands along the Lake Erie shore.

"We're the only winery in the world with an operating Ferris wheel," says Woodward, who co-owns the establishment with Dave Otto. An adjacent patio seats up to 375 summertime visitors who come here to enjoy Lake Erie sunsets and wine made from local grapes. Woodward is proud of his family's many connections to his hometown.

"My mother used to say that one good reason Geneva-on-the-Lake is good for families is that it's run by families." 5499 Lake Rd., Geneva-on-the-Lake 44041, 440/466-9300, oldfirehousewinery.com

For more information about these and other Geneva-on-the-Lake destinations, go to visitgenevaonthelake.com or visitashtabulacounty.com.