Travel
Erie, PA/Western NY: Food + Drink Finds
Visit eight great spots in Erie, Pennsylvania, and western New York.
June 2015 Issue
BY Melanie Morris | Photo Courtesy of Chautauqua Institution & Athenaeum Hotel
June 2015 Issue
BY Melanie Morris | Photo Courtesy of Chautauqua Institution & Athenaeum Hotel
La Fleur
Mayville, New York
Owner and executive chef Jonathan Haloua uses the techniques and styles he learned at a culinary program in Paris, where he was born and raised, to create inventive French cuisine at this Victorian-style home. White tablecloths cover the tables, and the windows provide a bright view of the garden outside. "We really pay attention to the service, decor and details," says Haloua, who uses local ingredients and homegrown herbs to create modern and classic French fare for his regular dinner menu as well as a tasting menu he offers once a week. Finish your meal with a dessert made in house or enjoy a drink from La Fleur's wine list. "We have access to some of the more difficult wine to get in the region," says Haloua. Try This: Pan-Seared Beef Filet, $38. Open June–Aug. 5031 W. Lake Rd., Mayville 14757, 716/753-3512, restaurantlafleur.net

Brazill's on Main
Westfield, New York
Upscale and casual converge at this restaurant serving continental American cuisine. The tin ceiling, wood floors and brick are original to the 1879 building, and historical artifacts from the property's past line the walls. "There's a sign that says W. R. Douglas, who owned the building from 1890 to 1930," says Bill Brazill, who co-owns the restaurant with his wife, Teri. She has been the chef here for 35 years. Every menu item at the cozy eatery is made from scratch. "We cut all our own vegetables, and we trim most of our steaks," says Brazill. The chicken and veal stock are made in house, and the ribs are cooked for eight hours. Fresh seafood, burgers and salads are also featured on the ever-changing menu. Reservations are recommended. Try This: Braised Short Ribs, $23. Open Tues.–Sat. 7 E. Main St., Westfield 14787, 716/326-2203

Southern Tier Brewing Co.
Lakewood, New York
This popular craft brewery's wooded location makes for a comfortable atmosphere. "It's very park-like," says brand manager Nathan Arnone. "It's really a relaxing place." Fourteen beers are always on draft and more than 30 varieties are made throughout the year. The Empty Pint, an on-site pub, offers the feel of a casual cabin with its timber frame and stonework. "It's kind of like a ski lodge," says Arnone. The barbecue-themed menu features pulled pork, meatloaf and pastrami sandwiches. Enjoy any of them with the brewery's hoppy 2XIPA beer, or finish your meal with a selection from Southern Tier's seasonal, dessert-style Blackwater series. Try This: The Maniac, $10. The Empty Pint open Wed.–Sun. (June 24–Sept.) 2072 Stoneman Circle, Lakewood 14750, 716/763-5479, stbcbeer.com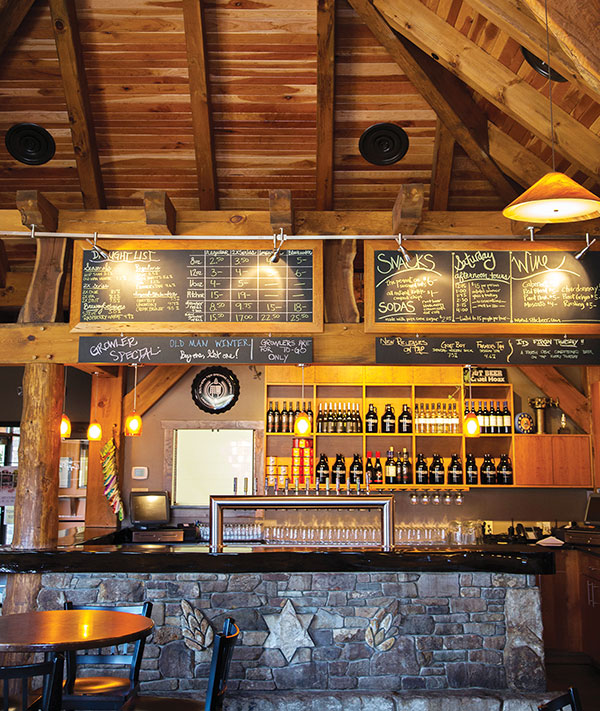 Heirloom Restaurant
Chautauqua, New York
For a meal with a view, dine on the porch of this casual American restaurant overlooking Chautauqua Lake. "It's absolutely gorgeous," says dining room manager Bonnie Montemage. Located within the Victorian-style Athenaeum Hotel, the Heirloom Restaurant seats as many as 325 diners and is open seven days a week. The bright yellow interior and outgoing staff make customers feel relaxed and comfortable. "It's like a home away from home," Montemage says. Whether you're looking for something light or a full meal, the menu offers plenty of options. Chicken, seafood and steak are featured alongside daily dinner specials, and reservations are encouraged. While you're there, purchase a ticket to explore the Chautauqua Institution — a community on the lakeshore that features events, performing arts and recreational activities. Try This: Grilled French-Style Pork Chop, $28.
Open June 27–Aug. 30. 6 S. Lake Dr., Chautauqua 14722, 716/357-4444, athenaeum-hotel.com
Ellicottville Brewing Co.
Ellicottville, New York
Summer is the perfect time to relax in this brewery's beer garden — a patio that runs along a creek and complements the gastropub's timber and glass structure. The older side of the pub has a rustic feel, while the newer side features a bright garden room. "It's not just a traditional pub, we're doing more interesting and fun things," says owner Peter Kreinheder. Fruit-infused beers, such as chocolate cherry, peach and the most popular blueberry wheat, make ideal summer sippers. The extensive menu featuring barbecue, sandwiches and seafood caters to customers of all ages. "We're super kid friendly, and I think that's what separates us from most pubs," says Kreinheder. Try This: The Incredible Lamb Burger, $16.99.
28 Monroe St., Ellicottville 14731, 716/699-2537, ellicottvillebrewing.com
Mi Scuzi
Erie, Pennsylvania
Owner Michael Farsace interacts with every one of his customers and builds rapport with the community to provide an engaging and welcoming experience at this Tuscan-themed Italian restaurant. Dine on the patio or sit indoors among the brick walls and exposed rafters, where the earthy tones give way to a dark, reddish hue that glows at night and provides a peaceful atmosphere. Farsace points to his annual trips to Italy as inspiration for his accessible and homey menu items. "It's like you're sitting in my dining room at my house," he says. Infused liquors and creative martinis complement the handcrafted pastas and homemade sausage. Private banquet rooms and customized menus for special occasions are available. Try This: Pollo a la Vodka, $25.
Open Tues.–Sun. 2641 Myrtle St., Erie 16508, 814/454-4533, miscuzirestaurant.com

Lavery Brewing Co.
Erie, Pennsylvania
This laid back pub in downtown Erie features communal seating and a bookshelf full of board games. It also doesn't have any televisions in an attempt to encourage its patrons to get to know one another. "We really pride ourselves on being a place people come and actually really socialize with the people they're out with," says manager Pat Miller. "People always tell me when they come here they make new friends." The six beers on draft change frequently, and each has its own twist on traditional styles, such as the Ulster Breakfast Stout — a coffee oatmeal stout brewed with milk sugar. The small menu changes every three to four months to offer fresh flavors and new ideas that highlight seasonal ingredients, but most dishes represent the brewery's take on traditional pub food. "The idea behind a small menu is that we really want to put stuff out there that you're not going to find any place else in town," says Miller. Get here early on Fridays and Saturdays — the small building fills up quickly and is usually close to standing room only by evening. Try This: Signature Pulled Pork Sandwich, $7.50.
128 W. 12th St., Erie 16501, 814/454-0405, laverybrewing.com
Merge Buffalo
Buffalo, New York
Two sisters combined their love of clean eating and art to create much more than just a place to dine. "It's more of an experience than just a restaurant," says co-owner Eliza Schneider. Live music, events and an art-filled gallery complement a menu full of health-conscious choices featuring local ingredients. Gluten-free, vegan, vegetarian and raw options are available among the many selections that emphasize healthy living. "The focus is on health but it's delicious," Schneider says. The menu isn't strictly vegetarian, but the meat entrees, such as grass-fed bison and organic chicken, still promote wellness. Raw food and juice cleanses are offered at the end of every month, and you can even sign up for a class on how to make natural body care products. Try This: Seitan Wings, $8.
Open Tues.–Sat. 439 Delaware Ave., Buffalo 14202, 716/842-0600, mergebuffalo.com