Travel
Family Matters
A trip to Butler County promises fun the entire household can share in together. Here are six stops to get you started.
May 2014 Issue
BY Kara Kissell | Photo courtesy of Voa Paddle Park
May 2014 Issue
BY Kara Kissell | Photo courtesy of Voa Paddle Park
Go-karts, Lasers … Need We Go On?
Those looking to embrace a little good-natured sibling rivalry can get a healthy dose of competition at Web Extreme Entertainment in West Chester. First, there's the Grand Prix-style indoor go-kart track — 500 feet of twists and turns suited for a variety of ages. "The nice thing is because they're electric they're remote-controlled, so we can run them at different speeds," explains owner Jerry Weber. For traditional options with a twist, check out the 9-hole, dinosaur-themed Jurassic Par mini golf or Hawaiian Hang 10 miniature bowling. You can also combine your powers as a family in a round of team laser tag in a fun, black-lit arena. "Different kids get excited about different things," Weber says. That goes for parents, too. 7172 Cincinnati Dayton Rd., West Chester 45069, 513/860-2882, funattheweb.com

Catching Air (on a Lake)
When it comes to wakeboarding, ditching the boat can be the secret to ensuring everyone has a fun-filled day. Wake Nation's cable park, which offers a wakeboarding experience without the need for a boat, is the only attraction of its kind in the state. "We have different features set up around the lake for all different levels of riders," explains park manager Brian Frantz. Advanced wakeboarders enjoy the technical obstacles set up around the cable-tow lake, while youngsters can splash around on trampolines and water slides. Frantz says the park draws a large number of newbies. "We have a smaller practice pond where you are one-on-one with an instructor and they'll give you the 101 of wakeboarding," he says. Picnic tables and chairs on the 60-foot observation deck are a perfect hangout for parents who want to unwind or get a photo of their youngsters catching air on the water. 201 Joe Nuxhall Way, Fairfield 45014, 513/887-9253, wakenationcincinnati.com

A Kid-size Adventure Land
Those looking to burn off energy need look no further than Jump & Jack's. Kids ages 11 and younger get to explore four floors filled with tunnels, tent slides, monkey bars, a maze, even a small zip line. "We also have some really tall slides that some adults are even scared to go down," general manager Kristen Johnson says with a laugh. They're known as the triple slides, and they usually end up being everyone's favorite. "Kids race down them," Johnson adds. "They'll just go up and down, up and down." A toddler room caters to ages 2 and under with soft carpet and tactile diversions along the walls that keep the youngest visitors occupied. The entire family can refuel at Tony's Pizzeria, which also offers healthier food options such as yogurt and chicken salad sandwiches. 7102 Office Park Dr., West Chester 45069, 513/779-5867, jumpandjacks.com

Days on (and off) the Water
Suburban West Chester is home to a 35-acre lake where visitors can enjoy a leisurely afternoon of paddleboating fun. The on-site boathouse also offers rowboat rentals for those who are up to a more physical challenge, as well as trolling motorboats for fisherman who want to head out onto the lake. For those who just want to enjoy the scenery, the spot is also a great place to bring the family dog. Wiggly Field has plenty of space for fetch, and there are separate parks for big dogs and little dogs. Whatever you choose, don't forget to pack some midday eats. "There are great picnic areas near the Ronald Reagan Lodge," says Tracy Kocher, director of marketing at the Butler County Visitors Bureau. "[There's] a large patio area as well as a gazebo that are perfect places to bring a lunch." 7850 VOA Park Dr., West Chester 45069, metroparksofbutlercounty.org

Turn Back the Clock
The nostalgia of trains calls to the kid in us all, and there's plenty of wistful wonder set in motion at Entertrainment Junction. Billed as the world's largest indoor model train display, the attraction presents 90 G-scale (1/24 size) locomotives pulling cars through 25,000 square feet of miniature cities and farms that span from the 1860s to present day. A separate attraction on-site, the Amaze-N-Funhouse, sends visitors back to an old-time midway filled with illusions such as a maze of mirrors and even a dizzying vortex tunnel. "I like it when I see families of all generations," says owner Don Oeters. "Tell me how many places can you go with your parents and you and your kids and everybody enjoys the place?" 7379 Squire Ct., West Chester 45069, 513/898-8000, entertrainmentjunction.com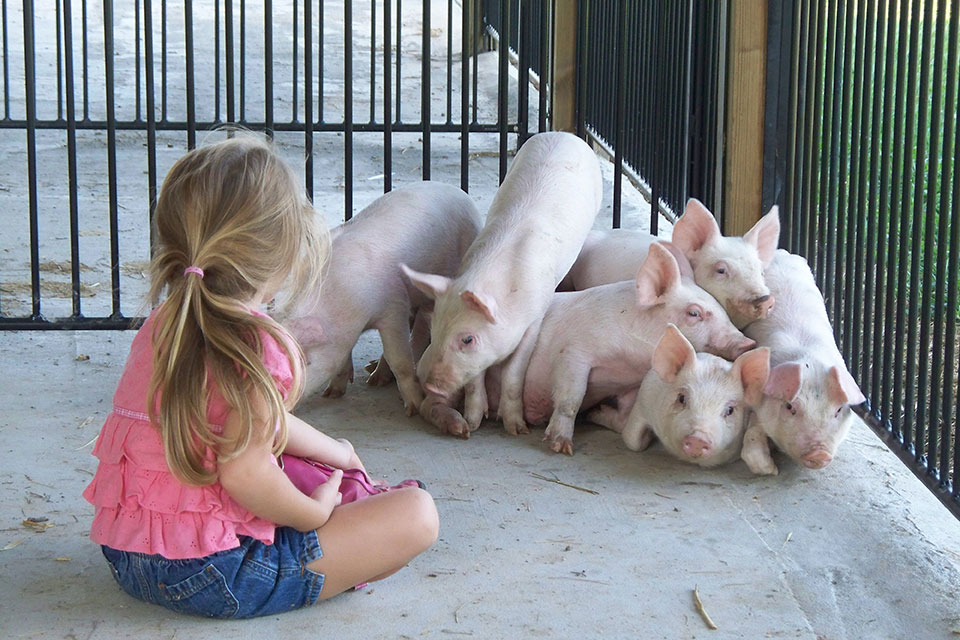 Fun Down on the Farm
Reserve a tour to get a taste of rural living at the Niederman Family Farm. "[It gives] kids the opportunity to understand where their food comes from and why farms are important," says farm manager Brian Garver. A visit with the sheep, goats and pigs starts the conversation as kids and parents make their way through the barns to an educational class about balanced eating and food groups, stopping along the way to milk a cow. Playtime is built in at the playground behind the farmhouse, where kids ride down slides and everyone is invited to take a turn on the large inflatable jumping pillow. "Children and adults can get on there and expend a lot of energy," says Garver. And if one afternoon on the farm isn't enough, you can book a night at the on-site bed and breakfast. 4972 LeSourdesville-West Chester Rd., Liberty Township 45011, 513/779-6184, niedermanfamilyfarm.com


***
Shopping Trips

Butler County is home to a wealth of retail options that travelers frequently check out while visiting Southwest Ohio.
Ikea:
The Swedish company known for ready-to-assemble furniture has its only Ohio store here. A kids' play area and monthly craft workshops make for easy solo shopping.
9500 Ikea Way, West Chester 45069, 888/888-4532, ikea.com

Cincinnati Premium Outlets:
Choose from 100 stores, including Michael Kors, Nike, Guess, Samsonite, Under Armour, Coach and more.
400 Premium Outlets Dr., Monroe 45050, 513/539-0710, premiumoutlets.com

Venice Pavilion Antiques:
Explore three floors brimming with collectables and antiques from more than 80 dealers.
4299 Hamilton-Cleves Rd., Ross 45014, 513/738-8180, venicepavilionantiques.com

Ohio Valley Antique Mall:
The largest multidealer antique mall in the Cincinnati area features more than 450 vendors showcasing items ranging from vintage clothing to unique furniture to rare books.
7285 Dixie Hwy., Fairfield 45014, 513/874-7855, ohiovalleyantiques.com

Jungle Jim's International Market:
American, Asian, Indian, Latino, European, Middle Eastern and African fare are among the 150,000 products at this sprawling grocery store.
5440 Dixie Hwy., Fairfield 45014, 513/674-6000, junglejims.com

Spicy Olive:
Fresh olive oils and aged balsamic vinegars from around the world are available for tasting at this pantry boutique. Fine wines and beers are also sold here.
7671 Cox Lane, West Chester 45069, 513/847-4397, thespicyolive.com

Downtown Oxford:
Peruse a range of specialty shops such as BikeWise Bike Center and The Apple Tree boutique, which carries products from Vera Bradley and Alex and Ani.
Oxford 45056, 513/523-8687, enjoyoxford.org

Art On/Off Symmes:
Browse two boutiques featuring fine art, ceramic, jewelry and glass gifts as well as delightfully different home accessories and apparel.
Art Off Symmes: 228 High St., Hamilton 45011, 513/895-4000; Art On Symmes, 1000 Symmes Rd., Fairfield 45014, 513/844-2787; artonsymmes.com

For more information and additional Butler County shopping destinations, visit gettothebc.com.