Travel
Creative Outlet
The Canton Arts District is home to collaborative artists who embrace individuality.
August 2014 Issue
BY Hilary Crisan | Photos courtesy of the organization listed
August 2014 Issue
BY Hilary Crisan | Photos courtesy of the organization listed
With seven galleries, 22 artist studios, five live-music venues and large outdoor sculptures, the compact Canton Arts District is bursting with creativity. There's a sense of community among the group of artists who band together by sharing workspaces and curating exhibitions of one another's work. That camaraderie is on display the first Friday of every month as the neighborhood opens its doors for a monthly party that invites visitors to explore. "We get along really well, and I think that's the best thing about this area," says Todd Walburn, co-owner of 2nd April Galerie & Studios. The result is a small-town feel among a city atmosphere — a collaborative place that embraces both traditional and modern art forms. These six spots will give you a feel for what the up-and-coming downtown district has to offer.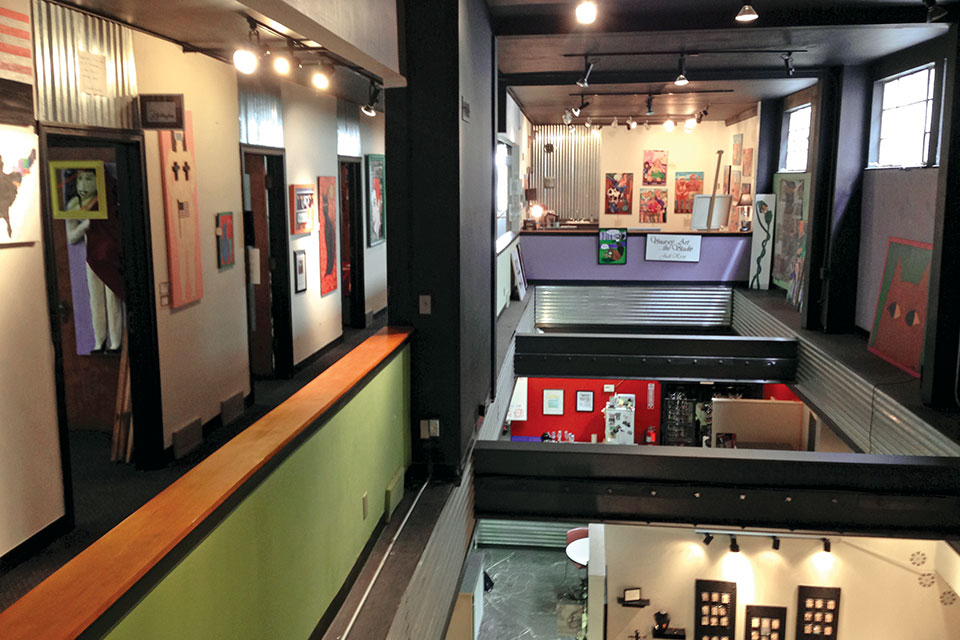 2nd April Galerie & Studios
324 Cleveland Ave. N.W.
330/451-0924, secondapril.org

Todd Walburn's 2nd April Galerie & Studios is a room of rooms — a long space divided into individual booths, where up to 40 artists can showcase their works.
"We provide a space for artists to have their own studio and gallery without having to be there 24 hours a day," explains Walburn. Some of the other gallery owners in the neighborhood, such as Journey Art Gallery's Su Nimon and The Hub Gallery and Studio's Tim Carmany, were resident artists here before going on to open their own places in the district. "We used to be the only art gallery in town that had regular hours," Walburn says. "We were that place where people started out." A black box theater located in the gallery's basement serves as a blank canvas where performers and musicians can stage shows. "It's a shell for people to do something creative," Walburn says. Current Exhibition: A breast cancer awareness exhibition that includes painted plaster casts of the female torso will be shown in the 30-day gallery through the end of August.

Buzzbin Art & Music Shop
339 Cleveland Ave. N.W.
330/826-1439, buzzbinshop.com

Visitors can't miss Buzzbin Art & Music Shop's bright yellow exterior or the doors covered with stickers that mark this merger of art and beer. The space's gritty interior is decorated with a rotating lineup of artwork, ranging from photography to contemporary sculpture. "We're primarily a live music venue, and at the same time we feature different artists every month," explains Jeff Lieberman, Buzzbin's bar manager. Each month's works are curated by 2nd April Galerie & Studios resident artist Craig Booth. Sometimes a theme, such as the 1980s or female artists of Canton, connect the pieces. Current Exhibitions: Paris Studios and Galleries' works made from recycled materials will run through Aug. 22. Stencil and mixed-media artist Craig Booth's solo show starts Aug. 29.

Journey Art Gallery
431 Fourth St. N.W.
330/546-7061, journeyartgallery.com

Owner Su Nimon's Journey Art Gallery is an open and inviting space that showcases contemporary art while encouraging visitors to discover their own artistic talents. A large front window lets in sunlight and delicate swirls painted on the concrete floor enhance the serene vibe. "Our mission is to be a creative destination," Nimon says. "It's a strong drive of ours to help people tap into their own creativity." Along with offering yoga, meditation and art classes, the gallery exhibits art ranging from photography to glass works. Once a residential artist at 2nd April Galerie & Studios, Nimon showcases works from around the globe. "My goal was to do something different," she says. "I tried to shoot for something a little more high-end and look for artists outside the area, because we want the arts district to appeal to a larger crowd." Current Exhibition: A juried show on the expression of motion through art will open this month.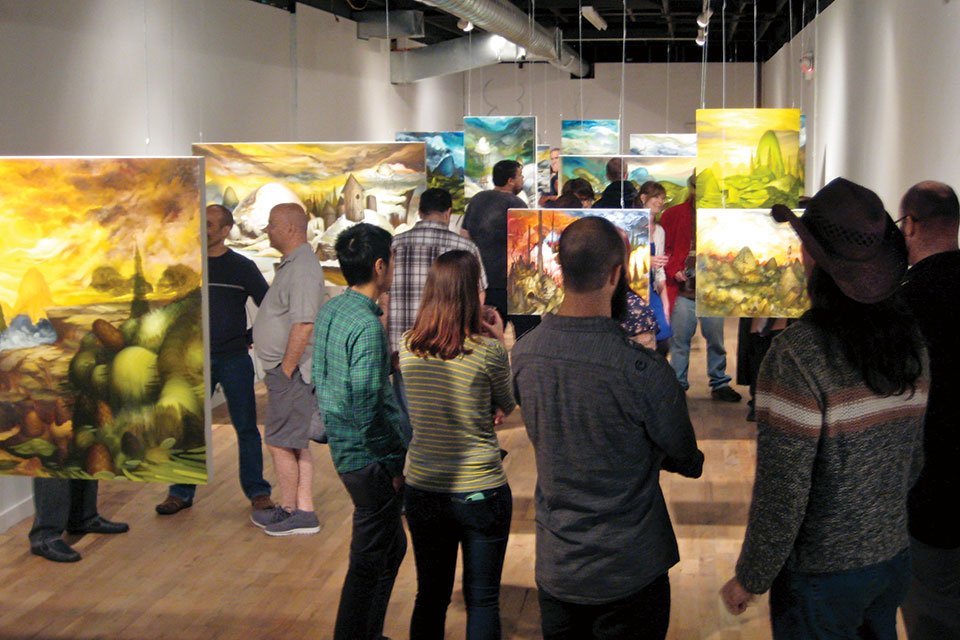 Translations Art Gallery
331 Cleveland Ave. N.W.
847/456-2030, translationsart.com

Craig Joseph's Translations Art Gallery is a space dedicated to exploring conceptual art. It holds exhibitions that feature photography, sculpture and painting equally, but there's always an overarching statement that the pieces make when assembled together. "It's never just random artwork that's hung up; there's a conceptual hook, whether it be a solo artist or a group show," Joseph explains. "We specialize in exhibits that I would call immersive, so the viewer has to do something, like work a little harder or physically play with the art." Looking beyond just local works, Translations Art Gallery has so far featured pieces by artists from 17 states and three countries.
Current and Upcoming Exhibitions: A textile and fiber group exhibition is featured this month, followed by one that depicts Dante's "Inferno" in September. A Frankenstein puppet opera arrives in October.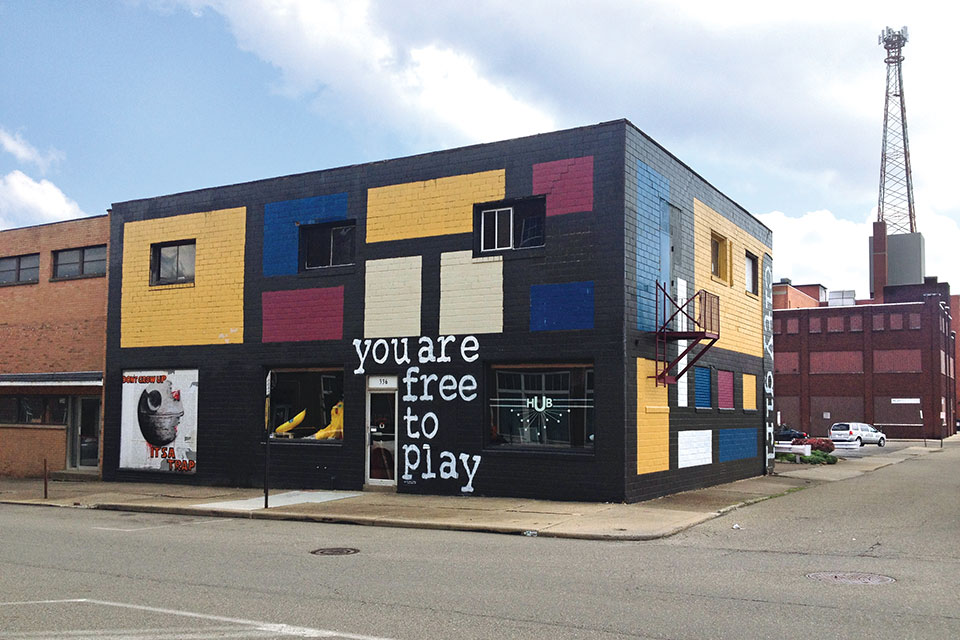 The Hub Gallery And Studios
336 Sixth St. N.W.
440/328-6934

You can hear what's going on at The Hub Gallery and Studios from down the street. The clustered and connected space houses seven artists who work on diverse art forms ranging from reverse glass painting to music to photography. "I started at 2nd April [Galerie & Studios], and I just wanted a place where I can be surrounded by other artists who were working," explains owner Tim Carmany. "[2nd April] is a lot more display than working studio space, which is great, but I just needed a more energetic atmosphere." The seven resident artists who share the space take turns staging their own exhibitions in the building's gallery.


Canton Museum of Art
1001 Market Ave. N.
330/453-7666, cantonart.org

With a permanent collection known for its watercolors and ceramics, the Canton Museum of Art is downtown's destination for traditional art with a collection that spotlights 19th- and 20th-century pieces. But the art museum also focuses on bringing national touring exhibitions to Canton, according to the museum's director of marketing and communications Max Barton. "We tend to look at what are some terrific shows we can get that will showcase the visual arts based on what we have within the spectrum of the permanent collection," he explains. The museum recently presented "Illuminating the Word: the Saint John's Bible," which featured the first handwritten Bible in 500 years. It coincided with "Sacred Voices," an exhibition of contemporary works by artists who were inspired by their faith. "In any community — no matter where it is — if the arts flourish, so do the businesses and schools," says Barton. "The arts ... help to engage innovation." Current Exhibition: "Intent to Deceive," an exhibition of fake and forged artworks shown alongside the originals, runs through October.

Visit cantonartsdistrict.com for more information about First Friday events and Canton Arts District attractions.


***


Grab a Bite
When your appetite strikes, check out these Canton Arts District spots.

Basil Asian Bistro:
This spot serves inventive dishes such as coconut spaghetti and old favorites including General Tso's chicken.
585 Market Ave. N., 330/452-3888,
basilasianrestaurant.com
George's Lounge:
George's Lounge prides itself on the three B's: burgers, bands and brews. Catering to the late-night crowd, the spot serves food until 2 a.m. Tuesday through Saturday.
229 Cleveland Ave. N.W., 330/452-0029, georgescanton.com
Lucca Restaurant:
Inspired by the culture and taste of Tuscany, the menu includes Italian staples such as spaghetti and meatballs and stuffed gnocchi.
228 Fourth St. N.W., 330/456-2534, luccadowntown.com