Ohio Life
The Sculpted Visions of Alan Cottrill
The artist's cast-bronze works are found across Ohio and far beyond. We visited his Zanesville studio to learn about his process and the road that led him to finding his passion.
Sept./Oct. 2023
BY Gracie Wilson | Photography by Eric Wagner
Sept./Oct. 2023
BY Gracie Wilson | Photography by Eric Wagner
The two figures rest side by side, arms outstretched toward each other, fingers inches apart. Alan Cottrill made the life-size sculptures in the image of himself and his wife, and although the works bear the funereal touches of an eternal memorial, they honor the living. On the side of the sarcophagus bearing Cottrill's likeness are these words: "Here beside me lies the most wonderful person I ever met."

The sculptures are powerful, and they immediately stop visitors to the second floor of the artist's Zanesville studio, imploring them to take a closer look. Each bears the intricate details that are hallmarks of Cottrill's cast-bronze creations.

Downstairs, clad in a plain gray T-shirt and jeans, the 71-year-old sculptor presides over an environment that is casual but never boring. The mood is light, buoyed by his ornery yet clever sense of humor, but the feeling that there are tasks to be done hangs in the air. With a new part of the sculpting process coming into play each day, Cottrill is always busy, and the works pour from his hands.

He has been sculpting here seven days a week since he bought the studio in 2003. Over the course of his career, he has created more than 400 life-size statues and busts — most of which have been commissions — that can be found throughout Ohio and beyond. The second level of his studio houses the museum that features around 300 pieces, with a couple hundred more downstairs adding up to what Cottrill describes as the largest assemblage of works by any living sculptor in the world.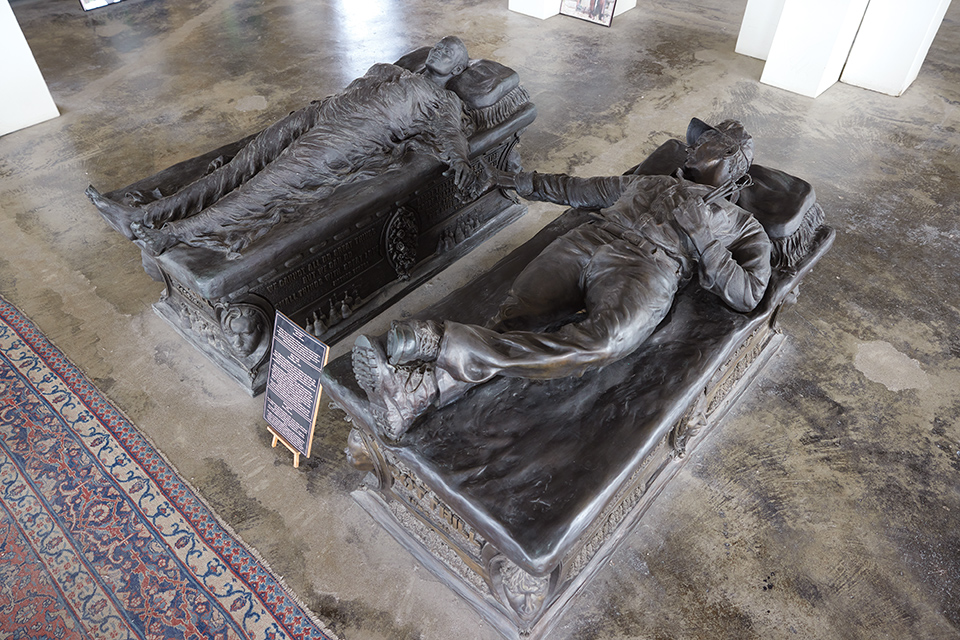 The bronze pieces spill out beyond the studio's doors. Thirty of them are neatly lined up against the building and parade along the sidewalk down Sixth Street, past the chain-link fence of a construction-equipment rental center and toward the Muskingum River that weaves through the heart of Zanesville.

Outside the building, a more than 8-foot-tall vase pays homage to the Weller Pottery Co. that operated in town for 76 years. Overhead, a Native American figure stands atop the corner of the building, arms outstretched toward the sky. Farther down the street, a baby penguin spreads its wings while standing on the back of a lamb, Ohio native Jesse Owens shows off the gold medals he won at the 1936 Olympics, and a black bear rears back on its hind legs.

These statues — duplicates that came from a secondary casting of the originals — scream roadside America to Cottrill, who put them on public display simply because people liked them. From the sidewalks of Zanesville to Pennsylvania to Georgia to California to West Point Military Academy in New York, Cottrill's detailed sculptures stand sentry.

"I've been characterized in the press as a creative entrepreneur. I didn't know I was. I just figured it out," Cottrill says. "I never had a business course in my life. It's not quantum physics, although I've studied that and understand it. Business, to me, was a whole lot easier."

***

Alan Cottrill grew up less than 10 miles away from his studio in White Cottage, a quiet part of Muskingum County that sits just beyond the now-bustling Maysville Pike and its collection of commercial shopping and chain restaurants.

The sculptor took just a total of six weeks of art classes during his time at Maysville High School before graduating in 1970 and moving on to Findlay College. When a rotator cuff injury ended his football career, he left college and became a milkman like his father and then served in the U.S. Army as a tank driver during the end of the Vietnam War. Art had not been anywhere on his mind.

"I liked art intuitively, it [just] wasn't part of our culture," Cottrill says. "In my area, it wasn't part of the culture. In my family, it certainly wasn't."

After the war, Cottrill's life took various turns, but all were directed at growing a business. After becoming the owner of four Domino's pizza franchises in Ohio, he made a visit to the corporate headquarters in Ann Arbor, Michigan. On that trip, he met his wife of 45 years, Susan.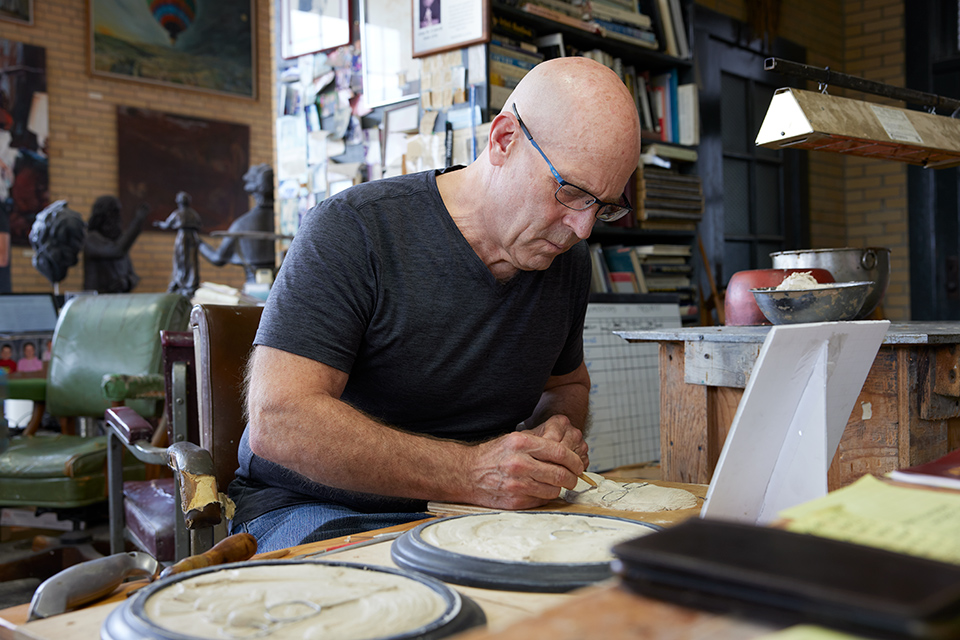 "The second time I ever saw her, within a half hour I looked at her and told her we were going to be married," he recalls. "Ten or 11 weeks later we got married, and it's probably the best decision I've ever made."

The pair founded the successful Pennsylvania-based pizza chain Four Star Pizza. Cottrill later began working trade missions for the U.S Department of Commerce, visiting Australia, Hong Kong, Japan and Taiwan.

In 1990, his friend Jeff Moyer planned to do some stone carvings of religious figures at the California University of Pennsylvania, where another friend, Ray Dunlevy, was chair of the art department, and asked Cottrill for help. The rotator cuff injury Cottrill had sustained years earlier had never healed right, and the task of hammering a chisel against stone was too much physical strain. Moyer directed him toward a lump of clay in the far corner of the room where they were working. Cottrill began to fashion a head, and it sparked a newfound passion.

"It was magical," Cottrill says. "I use the analogy, 'it was like the first time I kissed a girl.' "

About six months later, a drunk driver hit Cottrill while he was riding his motorcycle. Between life-threatening injuries and a bone infection from a surgery, the future was uncertain. He spent three months in recovery, giving him time to reflect and rechart the course of his life, which led him to open an art studio in his Washington, Pennsylvania, home's carriage house that same year.

"I turned to my wife and said, 'All I want to do is sculpt. Take the pizza business, do what you want with it. I don't care if I live in a tent,'" Cottrill recalls.
After returning from studying art in New York between 1992 and 1994, he opened a studio and gallery in downtown Washington. In 2003, he came back to Ohio and purchased the Zanesville studio where he works today.

"We moved into a little room in the studio for five and a half years," Cottrill says. "[I] worked morning till night sculpting seven days a week, happy as hell. I pretty much lost all my money but gained my happiness."

***

The earthy smell of clay hangs in the air and white ceramic dust clings to the studio floor. Cottrill's desk, just around the corner from the studio's entrance, is covered with family photos and books. Just beyond it, the artist is turning a towering mass of clay into a sculpture of a cheesemaker that will one day stand across from the World's Largest Cuckoo Clock in Sugarcreek, Ohio. His hands make gentle, deliberate motions to get the arm muscles of the cheesemaker just so.

Nothing pulls Cottrill's focus from his work, even a visitor entering his space. One of his two full-time studio employees, Rachel Girton, introduces herself and launches into an overview of the works on display, including a series of photos that offer insight into Cottrill's bronze-casting process.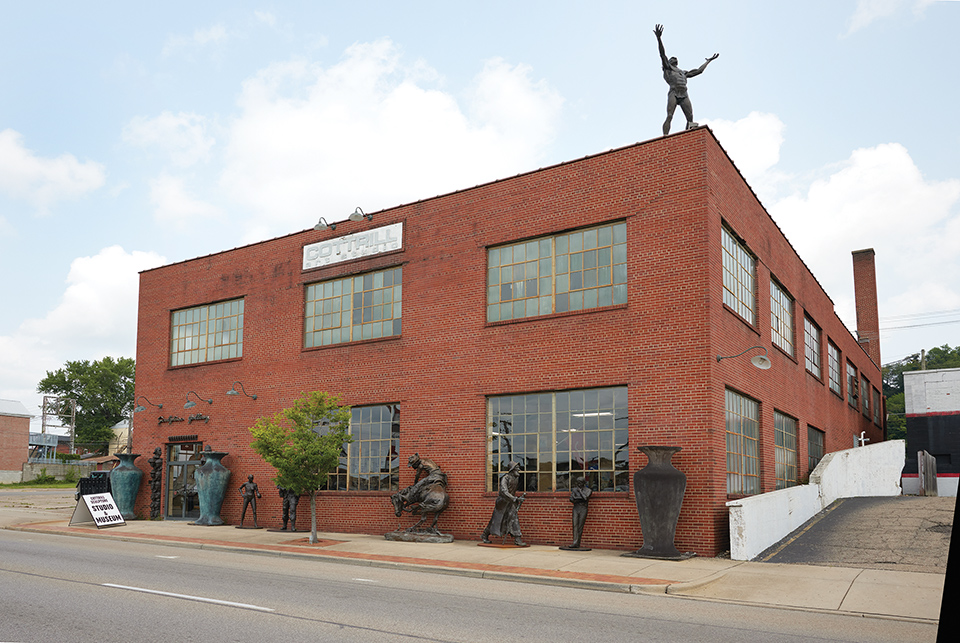 Once a commission comes in, he logs it on a yellow legal pad. The name of the project is on the far left with an estimate of how long it will take him to sculpt followed by how long it will take to cast at Coopermill Bronzeworks, the foundry Cottrill started with his friend, Charles Leasure, in 1996. (It employs three full-time and two part-time employees.) Depending on the size of the project, the whole process can take weeks to several months.

Cottrill first sculpts each work from clay and brushes a rubber mold over the pieces before covering the rubber with plaster. After the rubber and plaster layers dry, they are cut apart symmetrically to create a mold that melted wax can be brushed onto, forming a hollow wax cast.

The wax cast is then covered in a ceramic shell at the foundry to make a mold. The wax is then melted out. Once the ceramic shell is emptied, the melted bronze is poured in. When Cottrill gets it back, the ceramic is removed, the bronze figure is sandblasted and the sculpture is welded together if cast in multiple pieces. The process is finished with a coat of patina coloring, lacquer and wax.

When Cottrill isn't creating, he is passing along the knowledge of his craft to Girton and his newest studio employee, Connor Allison. In the wax room located in the back of the studio, Girton, who has been working in the studio since 2009, uses a blowtorch to melt together wax pieces to create a mold for an Ohio University commission.

"The most amazing thing about this job is that things are not always the same, and that's what I love about it … the next day might be completely different," she says. "It's an honor in and of itself. My hands have touched this piece of work during the whole process and people are going to see that for tens, hundreds, potentially even thousands of years."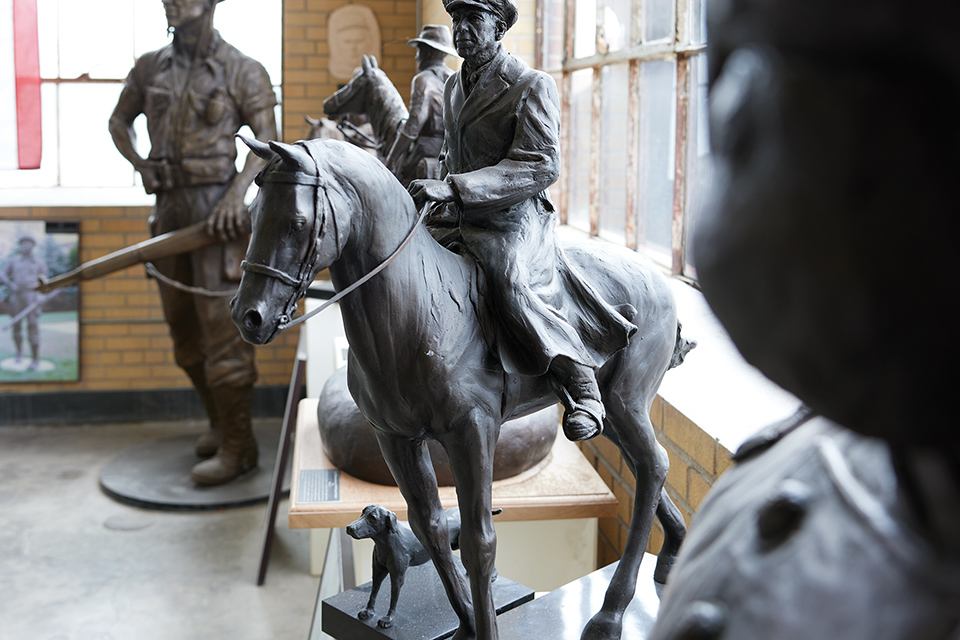 Allison is building a small wax model of a tiger on a podium. The completed 7-foot-tall tiger will stand on an 8-foot-obelisk in front of Circleville High School. Cottrill examines the model constructively, noting that the back muscles of the tiger need more definition and the ribcage needs less arch. His keen eye for the craft allows him to evaluate a piece in seconds. Cottrill says he appreciates these moments in a profession that is largely spent solo.

"I love to study people. I did that long before I started sculpting, and it has helped me so much when I sculpt because I look at somebody and, very often, I can feel them," Cottrill says. "I guess I didn't realize everybody doesn't do that. … I can tell so much about a person just the way they carry themselves, the expression on their face. I love that."
***
Alan Cottrill Sculpture Studio is open to the public every day except for Sunday, and for a small suggested donation, visitors can head upstairs to the museum displaying hundreds of his works alongside plaques that tell their story. Written mostly by the artist's daughter, Sarah Cottrill, the text on each plaque offers details of what was happening in her father's life at the time a piece was created and outlines the sculpting process for each.
"Having that museum upstairs is a testament to his hard work and his mastery," says Sarah, now a lawyer in the Navy, stationed in Italy. "He cares a lot about legacy, and so, for me, that's a way to make sure that his legacy is intact because no day is guaranteed."
African masks hang on the walls from floor to ceiling, what Cottrill describes as powerful representations of human faces. A second room houses a wall of busts, including a self-portrait of the artist from decades earlier.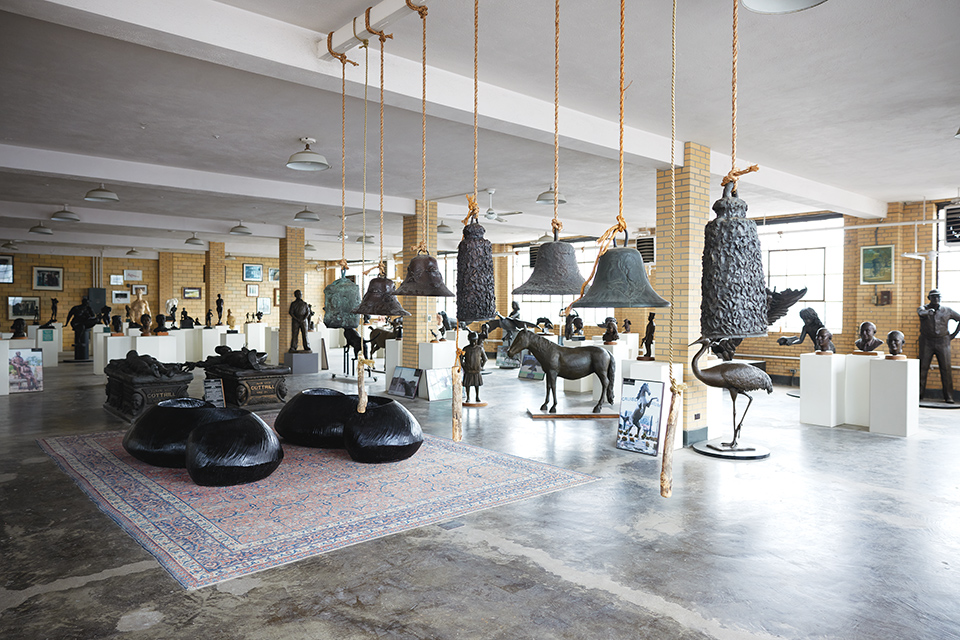 "I did that when the guy hit me on my motorcycle," the sculptor recalls. "When I was strong enough to sit up in bed … I could sculpt for five minutes and then rest for 15, and I did that for weeks."
Near the back of the museum stands various nude statues made during Cottrill's studies at the National Academy of Design and the Art Students League of New York. The human forms carry a lifelike accuracy thanks to a stint of anatomy study at Columbia University Irving Medical Center. On another wall hangs a portrait of "The Ascent of Humanity," an installation at the California University of Pennsylvania that showcases humans through time from Cro-Magnon man all the way to a female astronaut. Thirteen other figures between them depict how humans have progressed through the ages.
In Ohio, Cottrill is known for his works that depict some of our state's favorite sons. He created the statue of Milan-born inventor Thomas Edison on display at the U.S. Capitol's National Statuary Hall. In Columbus, his sculpture of Newcomerstown native Woody Hayes is proudly displayed at The Ohio State University, as is his statue of Jesse Owens, standing draped in medals in front of the track-and-field venue named in his honor.
Although Cottrill is but one person, each of his works reflects in one way or another what lies inside of him, be it the adventuring spirit of astronaut John Glenn or the steady work ethic of an anonymous cheesemaker.
"My goal is to be the best living figurative sculptor in the world," he says. "How do I do that? I had to outwork every living sculptor, outthink them and out-feel them, have more passion. In the last 32 years, I think I've outworked every one of 'em, probably out-thought 'em — because I think hard — and I've had a hell of a lot of passion."