Travel
Beach Musing
A trip to Michigan's western shore promises lakeside towns that cater to a range of tastes.
May 2014 Issue
BY Amy S. Eckert | Photo by Traverse City Tourism
May 2014 Issue
BY Amy S. Eckert | Photo by Traverse City Tourism
An unbroken swath of sugar sand lines Michigan's western shore — a 500-mile stretch that reaches from the Indiana border to Mackinaw City. But while Michigan's golden beaches are reliably similar from one end of Lake Michigan to the other, the towns along the way are remarkably individual, emphasizing food, wine, culture or simply beach volleyball. Here are four with distinctive personalities that just might fit yours.

Fine Art | Saugatuck

Saugatuck comes to life with the sun. Seasonal residents air out their cottages, quiet streets once again become busy with window shoppers and restaurants pull their patio tables out of storage.

And at Saugatuck's two Lake Michigan beaches, the water warms up, attracting beachcombers, photographers and swimmers alike. If beach and cottage culture are the main draw, art ranks as a close runner-up. Resident Julie Harkema enjoys spending time shopping at the local galleries in her hometown.

"We have a large spectrum of talented local artists and locally owned small businesses in Saugatuck," she says, adding that she makes it a point to try to spend her money at these establishments before shopping outside the community.

Artists here have drawn inspiration from the area's lakeshore vistas since Native American times, but Saugatuck's biggest boost came in 1910 when the Art Institute of Chicago launched its Ox-Bow school here. Today, nearly 40 galleries thrive in Saugatuck and neighboring Douglas — two towns with a combined population of about 2,000.

Harkema adds that her fellow residents are a big part of the reason that she has called Saugatuck home for the past three years. "The diversity and acceptance of all sets Saugatuck and Douglas apart," she says. "Mingle with the locals. They are some of the most interesting people you won't soon forget." saugatuck.com

Natural Escape | Ludington

Even Michiganders are wowed as they travel state Route 116 near Ludington. There are miles of pristine shoreline, and thick stands of pine and beech trees open onto windswept dunes and wide-open beaches. You won't find shaved-ice stands or go-cart rides along this stretch. It's all about nature here.

"It has almost everything to do with why I love Ludington," says Adam Lamb of his hometown's beachfront. "In the same day, you can hike out to 100-year-old Big Sable Point Lighthouse, kayak out to an island, swim in one of the largest freshwater seas on the planet, have a four-star meal downtown and then watch the sunset."

Free beach access lies interspersed along Michigan 116. Spread your blanket on this beach and you'll have a quiet day promises Lamb, who grew up in Ludington. After living elsewhere, he returned two years ago and plans to stay.

"You can always find a spot [at the beach] to set up the family for the day, and you never have to worry some teenybopper will trip over you trying to catch a Frisbee," he says.

Inside Ludington State Park, a half-mile beach walk leads visitors to the dramatic black-and-white-painted Big Sable Point Lighthouse. The park's 5,000-acre, man-made Hamlin Lake offers warm-water swimming on days when Lake Michigan is too chilly.

"Ludington is where northern Michigan really starts," Lamb says, "and our beach is second to none in the world." pureludington.com


Food & Wine | Traverse City

Located near the pinkie of Michigan's mitten-shaped Lower Peninsula, Traverse City has long been home to some of the state's most fertile orchards. Peaches, pears, apples and, most famously, cherries are commonplace in this northwestern corner of the state. In recent decades, Traverse City has also become one of Michigan's most prolific wine producers.

The emphasis on local, fresh cuisine and wine is one of the reasons Nick Nerbonne made the decision to call Traverse City home.

"My parents were both from this area," says Nerbonne. "When I got the chance to move here myself, I took it."

It was Traverse City's shoreline that drew him. Thirty-five miles of Lake Michigan shoreline and Sleeping Bear Dunes National Lakeshore just 30 minutes away were too tempting to resist.

But since Nerbonne's arrival, Traverse City's culinary arts and wine scene have drawn his attention. Now there's even a burgeoning beer scene. "I always take first-time visitors to 7 Monks Taproom," Nerbonne says. "They've got 46 taps, 50 to 100 bottles of craft beer, a lot of local offerings, but also great beers from around the country."

If you're not into beer, try the taproom's local ciders or a Riesling or Gewürztraminer that's bottled just outside of town. "Local ingredients have a big influence on restaurant menus," Nerbonne says. "And you can find these great restaurants and bars just a block from the best beaches in the state." traversecity.com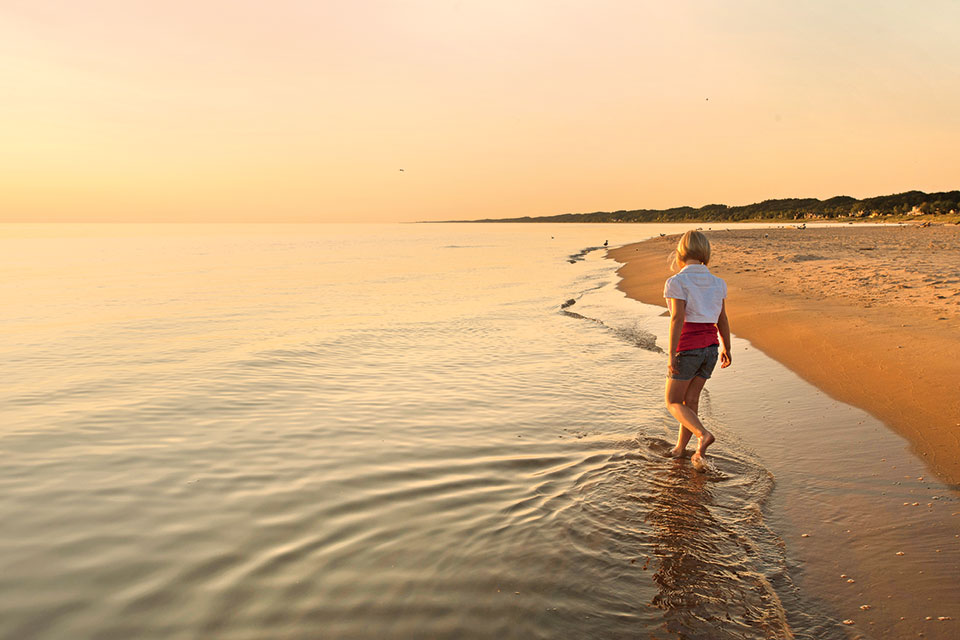 Beach Joys | Grand Haven

On warm, sunny days, it seems as if all of Grand Haven is at the beach. That's no surprise, given that the entire town of 12,000 lies within a five-minute drive of Lake Michigan.

"I love being so close to the beach in the summertime," says Traci Wibert, who has lived in or near Grand Haven all her life. The crash of Lake Michigan whitecaps, families laughing and playing and seagulls calling out overhead add to the appeal. "These are the sounds of summer to me," Wibert adds, "and they are why I tough out the nasty winters."

Grand Haven State Park's 48 acres consist almost entirely of golden beach sand that actually squeaks under bare feet. Amenities not often found on other Lake Michigan beaches — free beach wheelchairs, a concession stand, dozens of ready-to-use volleyball nets, grills and even Wi-Fi — fill the park's beachside campsites to capacity year after year.

Its location within blocks of the downtown means that life for the locals likely revolves around the beach, too. "I try to take a walk along the boardwalk and pier several days a week," Wibert says. "In the evenings, I like to find a grassy spot along the channel and watch the Musical Fountain." The 50-year-old landmark pumps water in time to music that varies from John Philip Sousa marches to Led Zeppelin rock classics.

And if the streets of Grand Haven get busy, Wibert has some advice. "Be patient," she advises. "Once I see the lake — frozen in the winter or full of swimmers in the summer — I forget everything else." visitgrandhaven.com


***
Shore Finds
You had us at beach. Here are six more western Michigan lakeshore towns to consider when making your summer travel plans.
— Kara Kissell
Petoskey:
This town of fewer than 5,700 year-round residents swells in the summer. Travelers flock to the northern tip of Michigan's Lower Peninsula to take in the great views and rich history.
petoskey.com
St. Joseph:
The waterfront of this quaint town is the main draw, but don't overlook the fresh fruits growing in abundance across the area's bountiful orchards.
sjcity.com
Manistee:
This town features 35 miles of beachfront along Lake Michigan and the area's inland lakes. The nearby Manistee-Huron National Forest provides a place for outdoor adventures.
manistee.com
Leland:
Five beaches surround this scenic little village that is also a historic fishing town, where chartered trips depart from a dock still bordered by rustic shanties.
lelandmi.com
Holland:
This charming beachfront town honors its Dutch heritage with tulip celebrations and is home to the only authentic Dutch windmill in operation in the United States.
holland.org
Muskegon:
With 26 miles of beaches and dunes, this place is ideal for a day of basking in the sun, but energetic fun can be had at Michigan's Adventure Amusement and Water Park.
visitmuskegon.com