Travel
Appalachia: Outdoor Adventures
This 32-county region offers the chance to explore beautiful natural areas and historic spots across southern and eastern Ohio.
July/August 2020
BY Holly Engel and Amanda Light | Photo by Laura Watilo Blake
July/August 2020
BY Holly Engel and Amanda Light | Photo by Laura Watilo Blake
Zaleski State Forest, Vinton County

Zaleski State Forest is Ohio's second-largest state forest, spanning around 28,000 acres. The backcountry destination features a backpacking trail, a horse camp with bridle trails, the Atkinson Ridge Hunters Camp and the Moonville Tunnel. Lake Hope State Park is also located within the forest, offering access to boating, fishing and swimming.

The entire Zaleski Forest backpacking trail covers around 30 miles, with several different loops visitors can take to hit their desired mileage. Hikers will marvel at the cavern-like features along the trails, enjoy great views and have the chance to spot wildlife along wetlands. Three campsites located along the trail are free to use, but they are first come, first served. Each has potable water and a pit latrine.

"The backpack trail is what brings in the most people," says Courtney Cawood, forest manager at Zaleski State Forest. "A lot of people use it as a training opportunity to then go on to larger trail systems out West or the Appalachian Trail."

Native American mounds are scattered across Ohio's Appalachian region, including a small, doughnut-shaped ceremonial ring that dates back to the Adena culture that's visible from the backpacking trail at marker post H. Within the forest there's also a large Native American mound that park-goers can drive to called the Forest of Honor. 29681 St. Rte. 278, Zaleski 45698, 740/596-5781, vintoncountytravel.com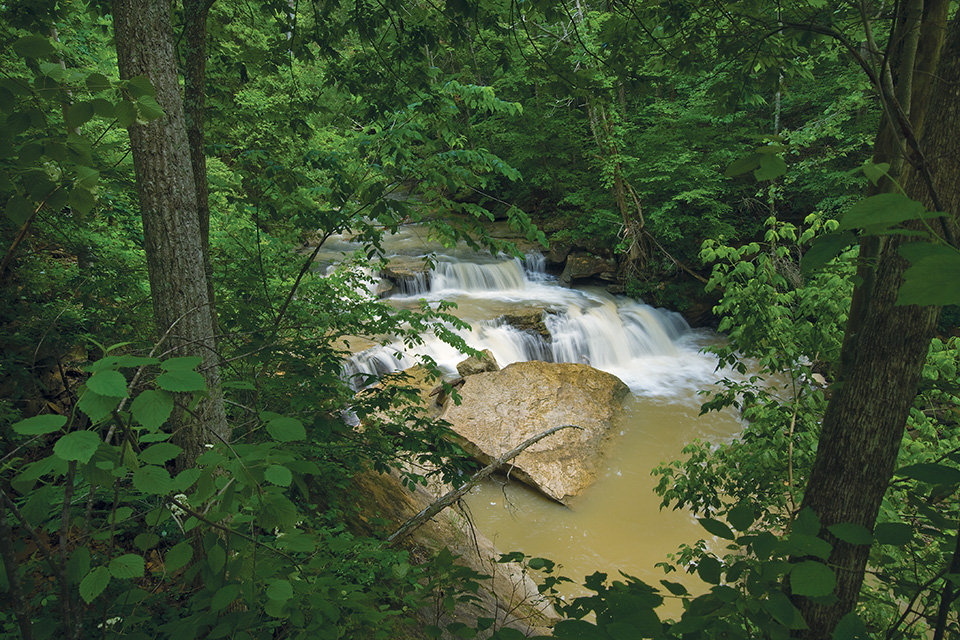 Helen C. Black Trail, Adams County

Located just east of West Union, the Edge of Appalachia Preserve System spans 20,000 acres of hardwood forest. The preserve, which is part of The Nature Conservancy's work in Ohio, is home to 24 miles of hiking trails, including its newest: the Helen C. Black Trail. Its namesake, who died in 2018, worked with The Nature Conservancy for years.

"Helen was very passionate about nature and conservation," says Martin McAllister, Appalachian forest project manager for the conservancy. He first met Black in 1985. "She would bring anyone who was interested out and give them personal guided tours of these unique resources in Adams County, from rare plants to caves and waterfalls."

The 3-mile round-trip offers a moderately difficult hike past limestone cliffs and wildflowers on the way to a stunning overlook, where Cedar Falls tumbles more than 12 feet into Cedar Run Gorge. Despite its difficulty, the trail is accessible to families, with bridges over stream crossings and no steep inclines.

"The people that hear the birds singing and see the wildflowers blooming will really become connected to the site, and more importantly, become committed to the idea of conservation in general," McAllister says. "We can write volumes about the [Helen C.] Black Trail, but in the end, it's that stroll that you take with your family that allows people to make those personal connections." For more information, visit nature.org/ohio.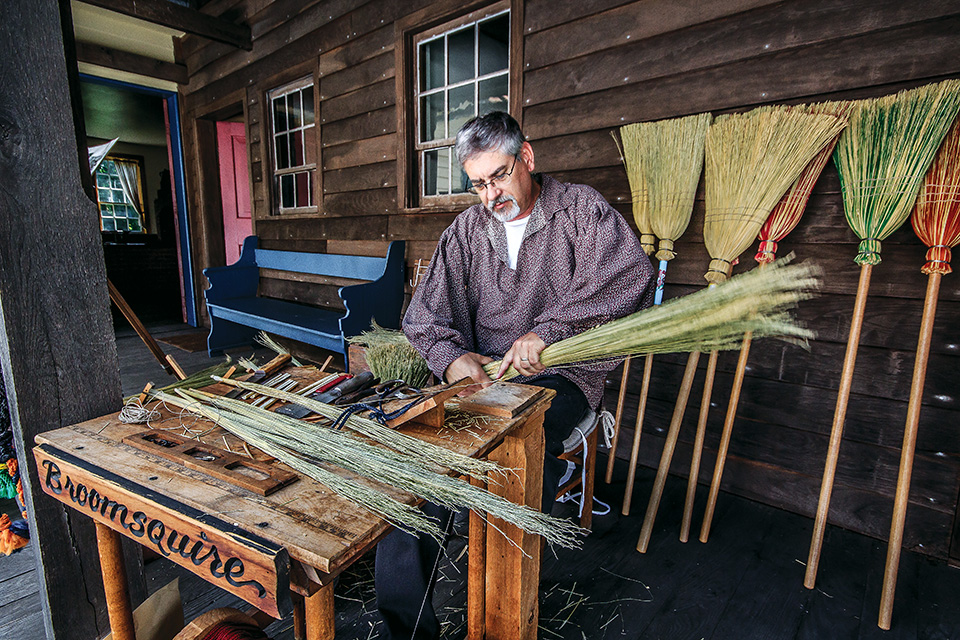 Zoar Village, Tuscarawas County

Zoar Village offers travelers the chance to step back in time and see firsthand how 200 German Separatists seeking religious freedom lived after founding this communal settlement in 1817. The society resided here through 1898, before a dwindling membership led to its demise. But travelers can still visit to see what life was like here during the 19th century.

The best way to explore is on foot, and a virtual tour map on the village's website offers an overview of the more than 14 museum structures and what they were used for during Zoar's prime. Many are numbered, which was a way to keep items organized during the days when flour, eggs and milk were delivered to homes throughout the village.

The 1834 Garden House is one of the village's gems. Originally kept by Zoarite Simon Bueter and his family, today the garden is normally open for tours and a team of volunteers keep it beautiful for visitors. It makes sense that the picturesque village was a destination for artists who would visit during the late 19th century to capture its simple beauty.

"In the 1880s, a number of artists would come to Zoar to visit — schools of art," explains Tammi Shrum, historic site director at Zoar Village. "The Cleveland [School of Art] would come and have artists do some training down here in Zoar." For more information, visit historiczoarvillage.com.


Shawnee State Park, Scioto County

Dubbed The Little Smokies because of its diverse array of wildlife and plant life, Shawnee State Forest remains mostly untouched by the reaches of civilization. A slice of this contains Shawnee State Park, located about 7 miles north of the Ohio River. The park was originally part of the Theodore Roosevelt Game Preserve, which was founded in 1922 in response to a vast eradication of wildlife in Ohio.

"That was a very successful program," says Jenny Richards, a naturalist with Shawnee State Park. "White-tailed deer were actually reintroduced back into Ohio, right in the Shawnee forest."

Today, the park and the surrounding Shawnee State Forest offer a variety of outdoor activities to the public, from more than 40 miles of backpacking trails to outdoor yoga. Richards explains that the area is a stopover spot for migratory birds, which makes it a prime destination for birding. In addition to the birds passing through, 17 species of warblers nest in the park and surrounding state forest.

Shawnee State Park manager Ryan Bartley emphasizes the park is not only a recreational destination, but a place where people can truly get away and be enveloped by nature like few other places in the state.

"It's an excellent outdoor experience," he says. 4404 St. Rte. 125, Portsmouth 45663, 740/858-6652, ohiostateparks.org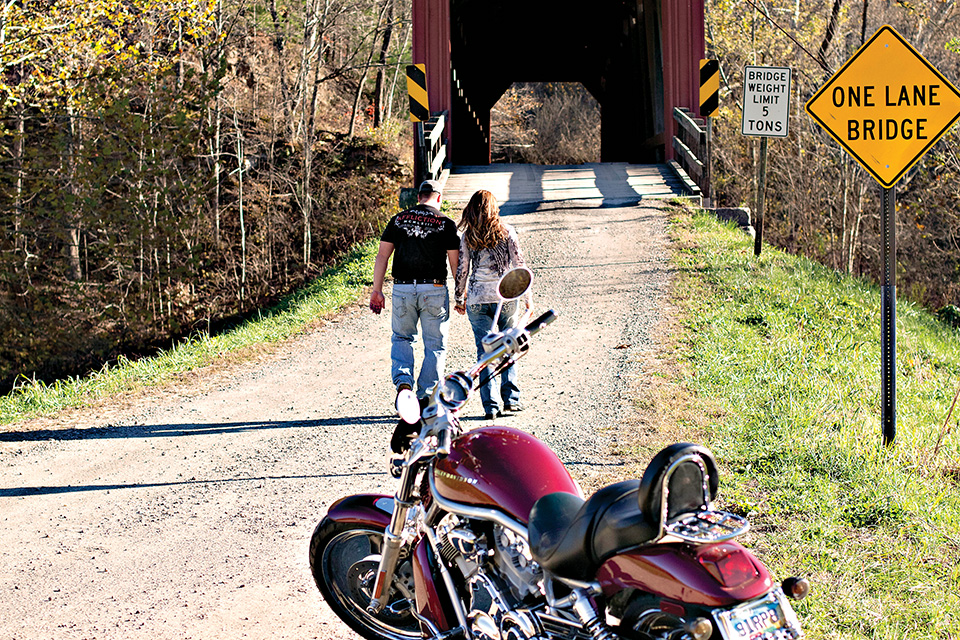 Marietta Self-Guided Tours, Washington County

Located at the confluence of the Ohio and Muskingum Rivers in Washington County, the city of Marietta is packed with history. Established in 1788 and named after Marie Antoinette, it was the first permanent settlement in the then-new Northwest Territory and, consequently, the oldest city in the state of Ohio.

Marietta's self-guided tours allow history buffs and curious travelers to explore the town firsthand while learning its rich history. The six tours range from military relics to antique architecture to our state's ancient civilizations. One of the most popular tours, the Washington County Covered Bridge Driving Tour, explores most of the county and takes visitors through nine of the area's 10 covered bridges.

"[The tours are] readily available at any time, any day, any moment," says Shannon Folts, visitor experience director at the Marietta-Washington County Convention & Visitors Bureau. Since the tours are self-guided, they can be done year-round, even when other city attractions are closed. Tour maps and detailed information can be found on the visitors bureau's website. Folts, who has lived in Marietta all her life, finds all six tours interesting. "[They] were informative and fun, and visitors will enjoy them," she says." For more information, visit mariettaohio.org.