Travel
A Shore Thing: Geneva-on-the-Lake
With cool breezes, outdoor adventure and a variety of entertainment options, this resort town is an ideal warm-weather destination.
April 2020
BY Carl E. Feather | Photo courtesy of Delaware North
April 2020
BY Carl E. Feather | Photo courtesy of Delaware North
On July 4, 1869, a 5-acre, lakefront resort opened in the Ashtabula County village of Geneva. The rustic park initially offered only a horse-powered merry-go-round, picnic tables, a beach and boat rides, but over the last century and a half, it has grown into an idyllic vacation spot known as Geneva-on-the-Lake. Centered around The Strip, a mile-long thoroughfare at the far west end of state Route 531, the destination is bookended by state and township parks along the Lake Erie shore.

"It's a fun town that doesn't try to empty each visitor's pocket, and you can spend a little time here or a lot," says Don Woodward, owner of Old Firehouse Winery. "Park the car, most everything is in walking distance."

Here's a sampling of what this northeast Ohio lakeside vacation spot has to offer.


Classic Fare

True to its heritage as a former fire station, Old Firehouse Winery is filled with patches, toys, flags and firefighting memorabilia. Regional musicians perform on the gazebo stage nightly throughout the summer, with musical genres ranging from folk and Celtic to blues and jazz. (The Ferris wheel on the winery's outdoor patio offers great Lake Erie views, too.)

A popular year-round gathering spot since it opened in 1988, the winery features 20 varieties — from Chambourcin to sweet fruit wines. Popular menu items include Buffalo Chicken Dip (shredded marinated chicken breasts in an irresistible blend of Frank's Red Hot sauce and ranch dressing, served with homemade flatbread chips) and the Classic Reuben Dip, built with corned beef, Swiss cheese and kraut.

If you're looking for a flavor of the Emerald Isle, head over to the family-friendly Murphy's Pub & Ale House, where the menu includes fish and chips and Irish stew.

A nostalgic throwback to the 1950s, Eddie's Grill is known for its Richardson Root Beer served from a barrel tap, cheeseburgers and footlong hot dogs and chili dogs. The chili is the original recipe created by owner Eddie Sezon's mother, Mary.

"My mother was always a good cook," Sezon says. "We needed a chili — some kind of Coney sauce, to go on the hot dogs — and she came up with it. It's all meat, no beans."

Sezon credits his stand's longevity to the meticulous attention paid to customer service. "We've been constantly there all the time, and we make sure things are always right," he says.

Old Firehouse Winery, 5499 Lake Rd. E., Geneva-on-the-Lake 44041, 440/466-9300, oldfirehousewinery.com

Murphy's Pub & Ale House, 5475 Lake Rd. E., Geneva-on-the-Lake 44041, 440/361-3634, welcometomurphys.com

Eddie's Grill, 5377 Lake Rd. E., Geneva-on-the-Lake 44041, 440/466-8720, eddiesgrill.com


Beach Days

Spanning 700 feet in length, Breakwater Beach in Geneva State Park can be accessed from a paved parking lot on the north side of Lake Road West. The alcohol-free beach does have a bathhouse with restrooms, but there are no locker-room facilities, and visitors must bring their own chairs, umbrellas and floating devices.

"Nice people make for a nice beach," says Gary Gerrone, Geneva State Park manager. "People are very respectful of it. There are no lifeguards, but we do have buoys that mark the safe swimming area."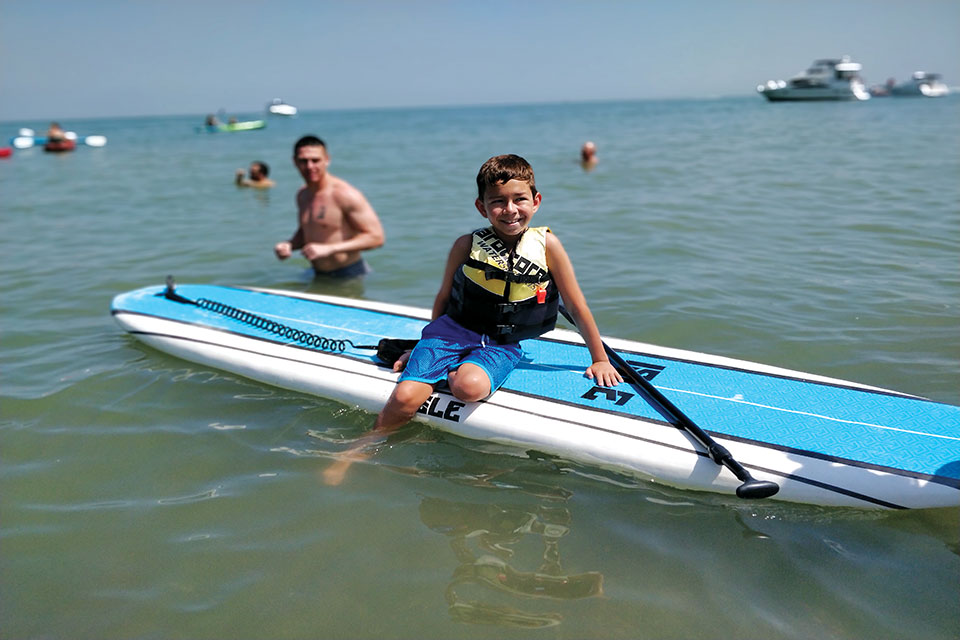 Kayaks and paddleboards are available for rent from The North Coast Outpost, located between the parking lot and beach. Rentals are offered beginning Memorial Day weekend (weather permitting) and continue daily through Labor Day.

"We're planning on having educational activities for children centering on environmental consciousness this year," says Owen Myers, owner of The North Coast Outpost. "But the main attractions are the sand, water, sunsets and families enjoying simple pleasures."

Best Coast Water Sports offers personal watercraft, kayak and paddleboard rentals. Nearly a dozen charters host walleye expeditions, including Walleye Encounters, which operates out of the Geneva Marina and offers a one-hour shoreline cruise.

"We go several miles east of the marina along the resort's shoreline, as well as several miles west, and provide narration about the area," says Walleye Encounters owner Tony DiLillo, who captains a 28-foot Baha Cruiser.

Lake Erie Canopy Tours provides a network of zip lines that take adventurers on a guided, 2-hour course across more than 3,000 feet of treetops at speeds of up to 30 mph. The attraction also offers an Adventure Ropes course for youngsters ages 4 and up.

"A lot of people love to come to conquer their fears, especially a fear of heights," says Debbie Post, Lake Erie Canopy Tours human resources manager. "We have so many people who want to zip line because it is on their bucket list."

Geneva State Park, 4499 Padanarum Rd., Geneva 44041, 440/466-8400, ohiodnr.gov/geneva

The North Coast Outpost, 4499 Padanarum Rd., Geneva 44041, 440/251-8048, thenorthcoastoutpost.com

Best Coast Water Sports, 5404 Lake Rd. E., Geneva-on-the-Lake 44041, 440/466-0333, bestcoastwatersports.com

Walleye Encounters, 4599 Padanarum Rd., Geneva 44041, 440/474-3015, walleyeencounters.com

Lake Erie Canopy Tours, The Lodge at Geneva-on-the-Lake, 4888 N. Broadway, Geneva-on-the-Lake 44041, 866/806-8066, thelodgeatgeneva.com


Where to Stay

With rooms featuring panoramic views of Lake Erie and amenities including indoor and outdoor pools, an outdoor playground, fitness center, restaurant and gift shop, The Lodge at Geneva-on-the-Lake has been a popular getaway since it opened in 2004. Immediately east of The Lodge are 25 furnished cottages tailormade for small groups and families. The resort hotel borders a 2-mile paved, public bike and walking trail that runs parallel to Breakwater Beach. Bike rentals are complimentary for guests.

"The Lodge is an ideal destination for both leisure and group guests," says general manager Charlene Horgan. "Our picturesque location on the shore of Lake Erie provides an incredible backdrop for their visit."

Other options include The Lakehouse Inn bed-and-breakfast, featuring 12 guest rooms, an outdoor patio with terraced frontage descending to the shoreline, a full-service spa and a boutique winery that uses grapes sourced from the Grand River Valley to produce 14 varieties, including an Acero Maple dessert wine and Lake Erie Treasure sparkling wine.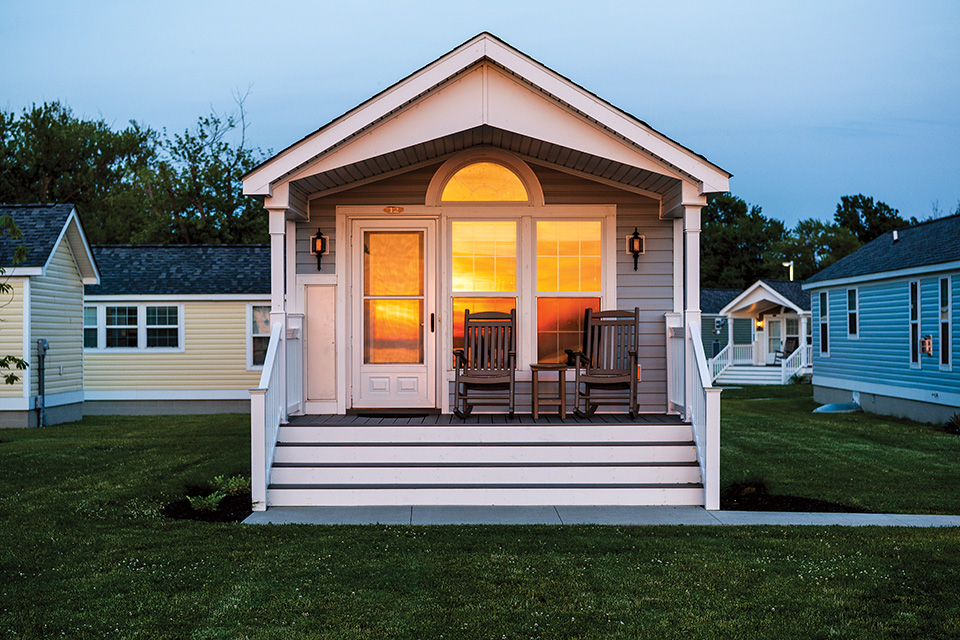 Listed on the National Register of Historic Places, the 140-year-old Eagle Cliff Inn bed-and-breakfast is known for its wraparound front porch filled with white wicker rockers.

Set to open May 1, Hearthside Grove Lake Erie, the only luxury motorcoach resort on Ohio's Lake Erie shoreline, will have a fitness center, movie theater and retail store to serve travelers. Lots, which average 9,000 square feet, are available for rent or purchase.

"Hearthside Grove Lake Erie is one of nearly two dozen similar luxury motorcoach resorts in the United States and the only one on Lake Erie," says managing partner Eric Frantz. "Our decision to build here was driven by … the uniqueness of [the resort], where Lake Erie, wineries, natural areas and more than 150 years of summer-resort tradition converge."

The Lodge at Geneva-on-the-Lake, 4888 N. Broadway, Geneva-on-the-Lake 44041, 866/806-8066, thelodgeatgeneva.com

The Lakehouse Inn, 5653 Lake Rd. E., Geneva on-the-Lake 44041, 440/466-8668, thelakehouseinn.com

Eagle Cliff Inn, 5254 Lake Rd. E., Geneva-on-the-Lake 44041, 440/466-1110, eaglecliffinn.com

Hearthside Grove Lake Erie, 6300 Lake Rd. W., Geneva-on-the-Lake 44041, 440/261-4063, hearthsidegrovelakeerie.com