Travel
7 Butler County Spots to See this Summer
From monumental outdoor artworks to horseback-riding excursions to great craft beer, this southwest Ohio county caters to a variety of interests and tastes
May 2022
BY Nicholas Dekker | Photo courtesy of Travel Butler County
May 2022
BY Nicholas Dekker | Photo courtesy of Travel Butler County
Nation Road Horse Rental, Oxford: Founder Judy Sheard received the gift of horseback riding as a child and wanted to pass that joy on to others. "I've always wanted to share the love of horses with people who don't normally have that opportunity to own their own horse," she says. Nation Road Horse Rental offers five guided horseback trails, ranging from beginner to advanced. Depending on which trail you choose, the rides go from 30 minutes to 90 minutes. For riders under 8 years old, the business offers a parent-assisted pony ride on a large, circular trail. All trails are located 2 miles south of Hueston Woods State Park. "It's an absolute joy," Sheard says, "especially when you see those kids and even adults who have never ridden a horse before. When they come back from their trail ride, they're laughing, giggling, smiling." 6484 Morning Sun Rd., Oxford 45056, 513/255-5752, nationroadhorserental.net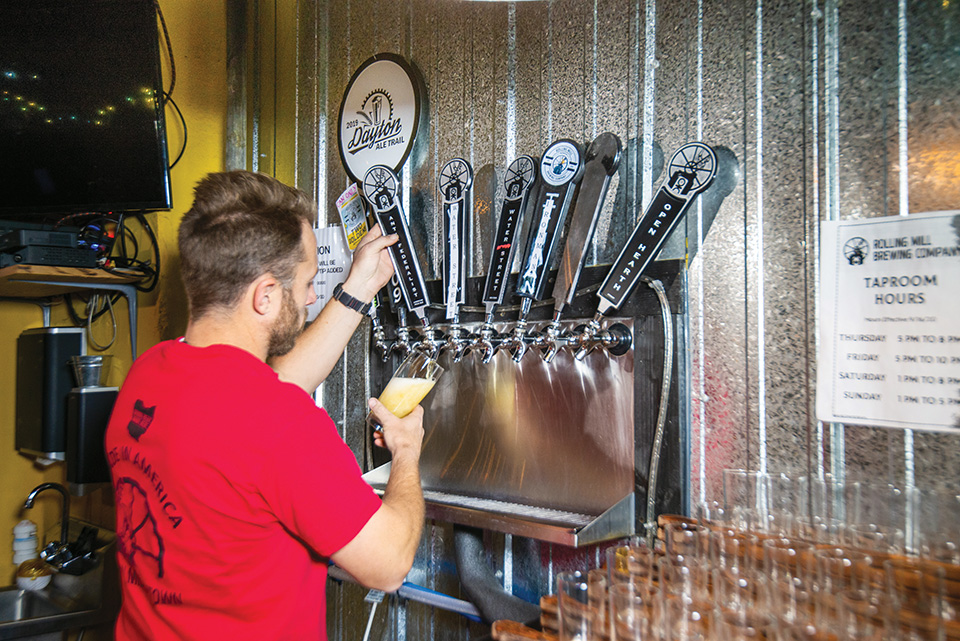 Rolling Mill Brewing Co., Middletown: Owners Josh and Megan Laubach came up with the idea for Rolling Mill Brewing Co. after Josh was diagnosed with celiac disease in 2011. Because the diagnosis made enjoying traditional craft beers impossible, the duo created a craft brewery that focused exclusively on gluten-free brews, specifically German ales and lagers. The taproom sits in the heart of downtown Middletown, located conveniently within the city's Designated Outdoor Refreshment Area, which means visitors can take a beer to-go while strolling downtown. The brewery crafts its beers using rice, millet and buckwheat rather than the typical barley or wheat. Although the menu caters to a specific dietary need, the beers are made to be enjoyed by all craft-beer fans. Try the clean and easy-drinking Lunch Bucket Lager, the hoppy but balanced Threes Chaos IPA or the smooth and nutty Ingot Brown Ale. 916 First Ave., Middletown 45044, 513/217-4444, rollingmillbc.com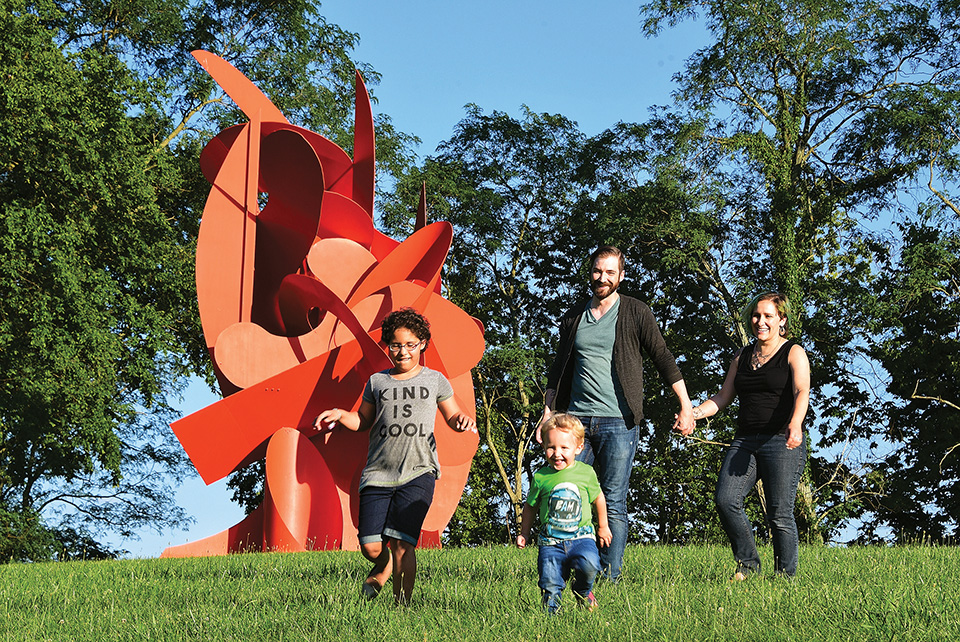 Pyramid Hill Sculpture Park & Museum, Hamilton: Pyramid Hill Sculpture Park offers a hidden delight tucked among the hills west of downtown Hamilton. The park spans more than 300 acres of woods and meadows dotted with over 80 fascinating sculptures. The best way to experience Pyramid Hill is by starting at the visitor center and renting an Art Cart. It's hard to beat the fun of driving over the park's rolling hills, stopping to admire sculptures and natural features throughout the park. If you have time, pack a picnic lunch, or head out to hike the hills on foot. Be sure to check out the Ancient Sculpture Museum in the center of the park, which houses Egyptian, Greek, Roman, Etruscan and Syrian antiquities dating back thousands of years. Pyramid Hill is open almost every day of the year. 1763 Hamilton Cleves Rd., Hamilton 45013, 513/868-1234, pyramidhill.org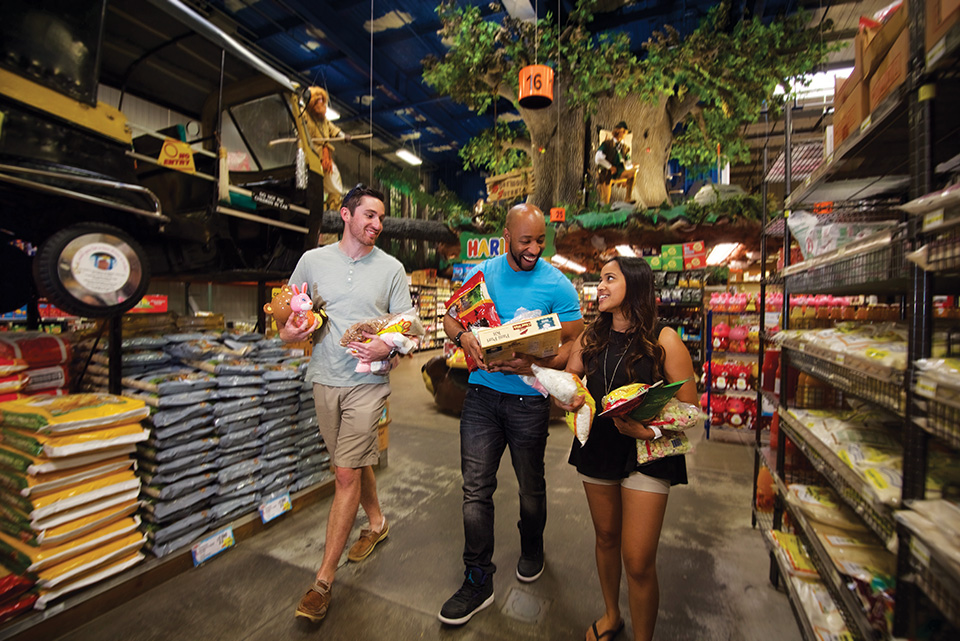 Jungle Jim's International Market, Fairfield: Jungle Jim's must be experienced to be fully appreciated. The massive operation is a little bit of everything: grocery, wine and beer shop, liquor store, cheese monger, sushi stand, international market, toy store, bakery and gigantic culinary playground. "Jungle Jim's International Market is the Disney World of grocery stores," jokes Zack Cobb, the market's creative services director. "We feature more than 200,000 square feet of shopping space with products from more than 70 countries." If you're only visiting one section of Jungle Jim's, Cobb recommends the international produce department. "You'll get a taste of everything from durian to dragon fruit," he says. While you're shopping, you can take in the zany decor and animatronic figures. Schedule a class at Jungle Jim's cooking school or watch the recording of Jungle Jim's podcast in the windowed studio. 5440 Dixie Hwy., Fairfield 45014, 513/674-6000, junglejims.com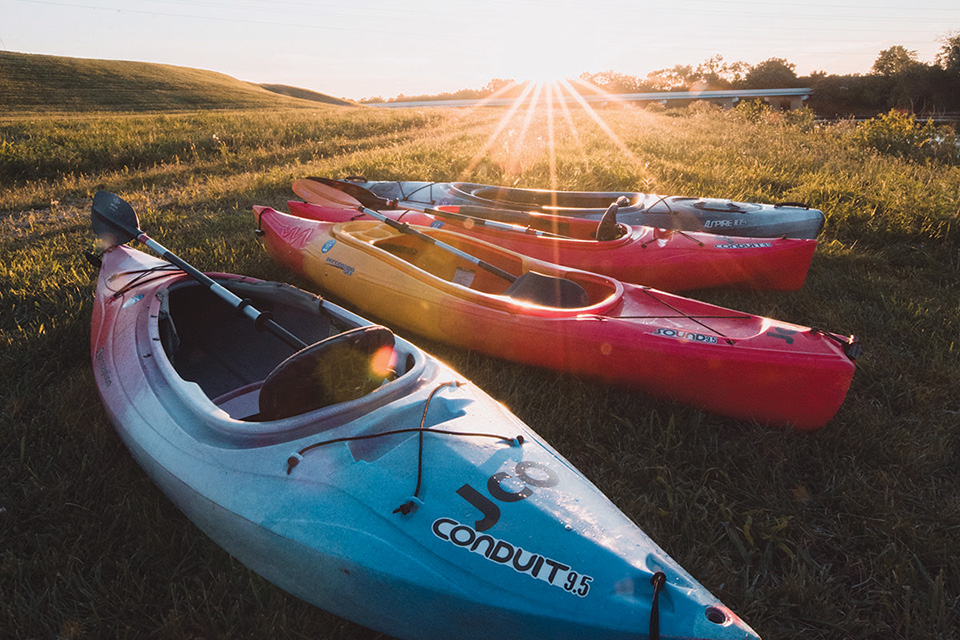 BAAB's Kayaking & Livery, Middletown: BAAB's stands for "Bad Ass American Bar, Bistro, Biking and Boating." The veteran-owned business operates as a full-service restaurant and bar while offering kayaking on the Great Miami River, named one of the cleanest bodies of water in the state. The business features a variety of relaxing runs — from a one-hour float for beginners to a standard 6-mile journey to a more advanced 10-mile float. BAAB's Kayaking & Livery owns a fleet of more than 90 kayaks, so visitors do not need to make reservations for groups of six or less. If you have your own kayak, the business offers livery service to transport you to the water and back. Because you will be hungry and thirsty after your time on the water, you can refuel at BAAB's bistro, which offers comfort food like wings, burgers, sandwiches and pizzas, as well as a full bar. 2401 Carmody Blvd., Middletown 45042, 513/217-0436, baabsent.com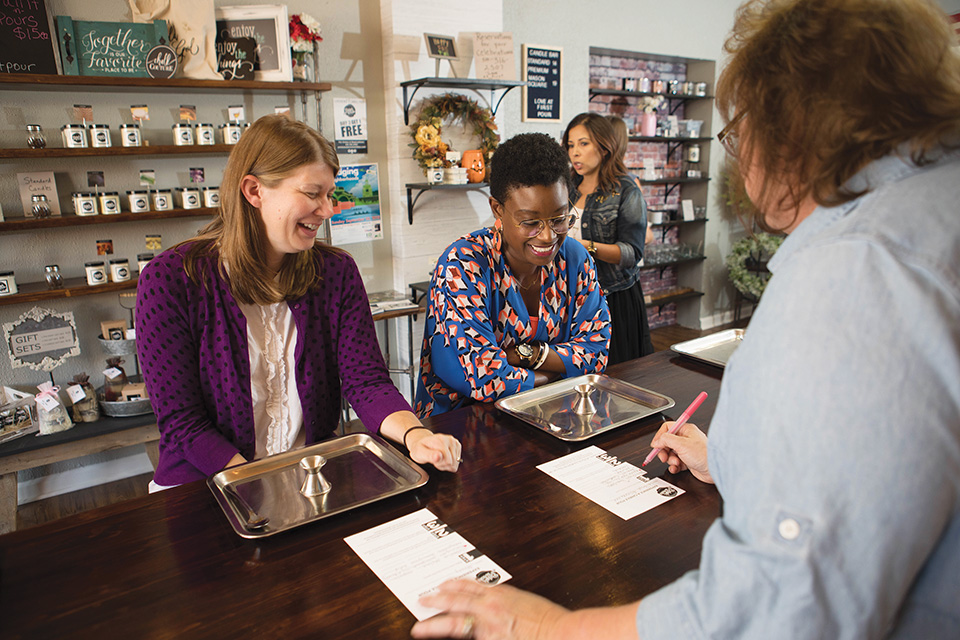 Petals & Wicks, Hamilton: Owners Sherry and Mike Hoskins describe Petals & Wicks as a "scent bar," where visitors can create their own custom candles or body products. They opened the store in Hamilton's Main Street shopping district in 2018, inspired by other shops they discovered during their travels. "We fell in love with the experience, with sharing time together, creating our own scents," Sherry says. That camaraderie is one of the most delightful parts of a visit to Petals & Wicks, as you smell your way through dozens of fragrances. "We have anywhere between 100 to 120 scents at any given time," says Sherry. She adds that the store's seasonal fragrances are often the most popular, especially during fall and winter. Among the shop's body products, Sherry says the natural goats milk shea butter honey lotion is a favorite. 119 Main St., Hamilton 45013, 513/316-2307, petalsnwicks.com

The Learning Kitchen, West Chester: The Learning Kitchen offers dozens of classes focused on different themes, such as specific dishes or ingredients, date nights, international cuisines, even classes for kids. Owner David Metz says popular classes include Homemade Pasta, Homemade Cinnamon Rolls, Authentic Thai Curries, India at Home, KY Bourbon Steak and Hibachi Steak & Shrimp. "Every kids class is popular," he adds, "especially our Kids Culinary Camps during the summer. Our Date Night classes are very popular and fill very quickly." The Learning Kitchen draws on the expertise of Cincinnati-area chefs to lead the various classes. Customers get direct, hands-on experience. They arrive to find their ingredients set out at their own cook station, complete with cooktop, cutting board, chef's knives and all the kitchen tools needed for the class. 7659 Cox Ln., West Chester 45069, 513/847-4474, thelearningkitchen.com

For information about other destinations in Butler County, visit travelbutlercounty.com.