Travel
15 Great Ohio Holiday Light Displays
As the days grow shorter and the end of the year nears, cities and villages across the state illuminate all that's good about this season of giving.
December 2018
BY Lyric Aquino, Linda Feagler, Scott Lendak and Kelly Powell | Photo by Randall Lee Schieber
December 2018
BY Lyric Aquino, Linda Feagler, Scott Lendak and Kelly Powell | Photo by Randall Lee Schieber
This story ran in the December 2018 issue of Ohio Magazine. Visit websites for 2020 dates and times before traveling.

Scioto Mile Light Show, Columbus
Our capital city's 175-acre green space along the Scioto River offers picturesque views of the downtown skyline year-round. During the holidays, the grounds are also aglow with 9,500 miniature colored lights twinkling from 100 trees and 166 LED spotlights in vibrant hues that change from red to blue to green to purple. Passersby can best view the light show — now in its eighth season — by driving along Civic Center Drive, which links Broad Street to Main Street, or strolling the walkways. "We have benches you can sit on and swings along the river," says Jason Nicholson, special events coordinator for Columbus Parks and Recreation. "You can take a nice evening walk and, when you are finished, feel a sense of peace." Illuminated from dusk until dawn through Jan. 6. Free. 233 Civic Center Dr., Columbus 43215, sciotomile.com (2020 dates are Nov. 25–Jan. 3)

---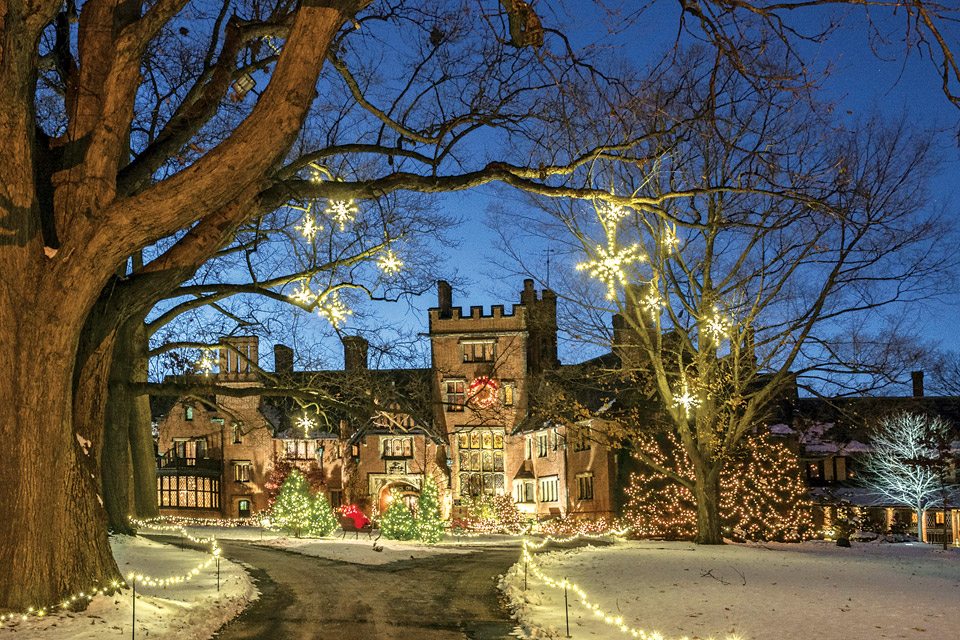 Deck the Hall, Akron

Each holiday season, Stan Hywet Hall & Gardens comes alive with holiday cheer as the former country estate of Goodyear Tire & Rubber Co. founder F.A. Seiberling and his family is transformed for Christmas. More than 20 rooms of the 64,500-square-foot home are decorated for the season, with more than 80 Christmas trees placed throughout the residence. The staff here has decorated Stan Hywet Hall for over 20 years, and the celebration extends beyond the home's walls into the historic mansion's surrounding 70-acre garden.

The experience begins in the courtyard, with a 25-foot-tall Christmas tree and window displays depicting vintage scenes from downtown Akron. After that, visitors can check out "Dazzle," an outdoor light show choreographed to three festive tunes, and grab gingerbread, pretzels or popcorn from two concession stands on the grounds before heading inside the home.

"That's what's great about our event: hanging out in the courtyard, having hot chocolate or a cookie, spending time with your family listening to Christmas music," says Sean M. Joyce, president and executive director of Stan Hywet Hall & Gardens. "Folks can spend as much time as they want." Deck the Hall runs on select nights through Dec. 30. Visit website for full listing of dates, times and admission prices. 714 N. Portage Path, Akron 44303, 330/836-5533, stanhywet.org (2020 dates are Dec. 3–6, Dec. 10–23., Dec. 26–30)

---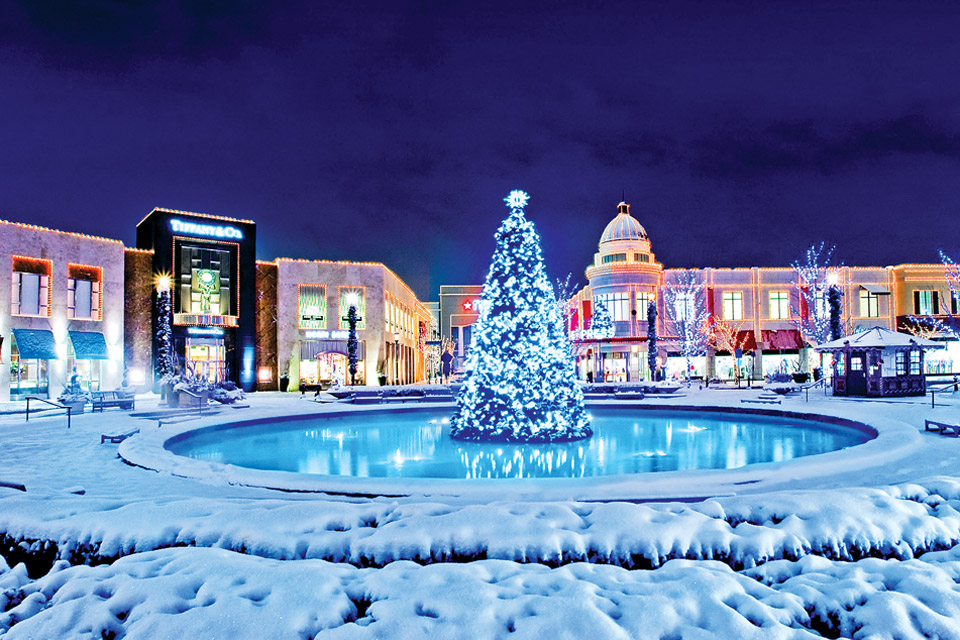 Easton Town Center, Columbus

Easton Town Center in Columbus loves the holiday season so much, it's known for keeping its lights twinkling through February. "It's nice when the days are shorter, the nights are longer, and it's dreary and snowy after the holidays," says Jennifer Peterson, chief executive of Easton Town Center. "It's nice to still have a little bit of 'festive' to enjoy." But the month of December — at the height of holiday shopping — is when Easton shines. The centerpiece is a 50-foot tree made up of nearly 30,000 LED lights. (Additionally, Easton hosts a Menorah-lighting ceremony on Dec. 8.) Every weekend through Dec. 23, Easton offers horse-drawn carriage rides for a small fee and musical performances by a cappella groups, a brass band and carolers. Throughout December during business hours. Free. 160 Easton Town Center, Columbus 43219, 614/416-7000 eastontowncenter.com (2020 dates are Nov. 20–Jan. 3)

---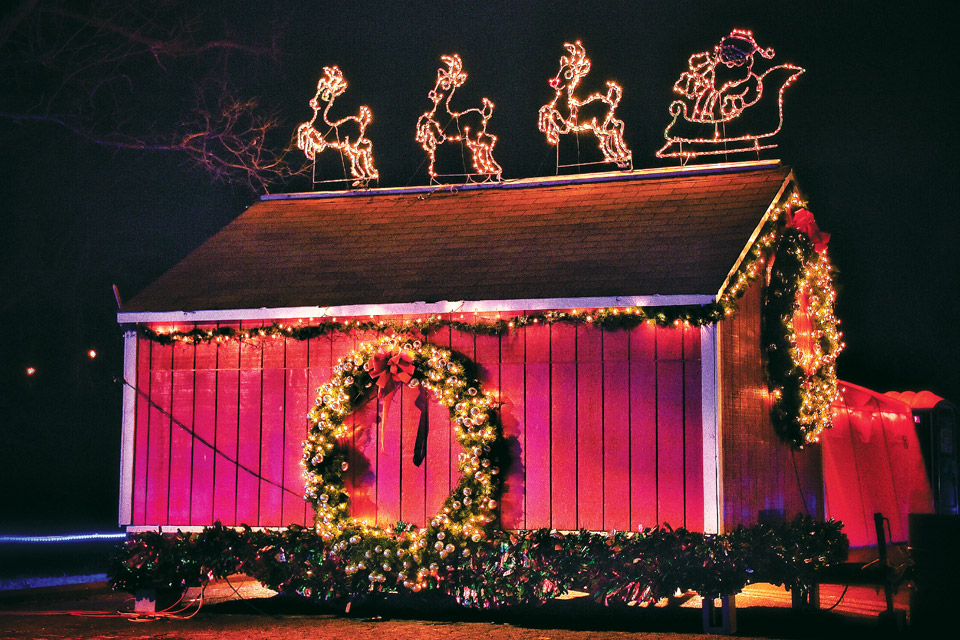 Light Up Middletown, Middletown

Light Up Middletown began as a fairly simple production in 1999, when locals set up more than a dozen illuminated displays around the pond at Smith Park. Today, the popular holiday attraction has grown to more than 75 pieces, and a group of around 15 volunteers (which bills itself as the Grandpa Gang) begins work around Oct. 1 to create Santa's Workshop, The 12 Days of Christmas, a Nativity scene and even reindeer that appear as though they're crossing the street. This year, a new display built by a group of volunteers who work at AK Steel depicts a crane pouring molten steel into a bucket. "It's what our city is known for," explains Cheryl Landen, Light Up Middletown's secretary. "The [American] Rolling Mill was big ... they used to be one of the top five steel producers." Both driving and walking tours are available. Open 6–10 p.m. nightly through New Year's Eve. Cash donation suggested. 500 Tytus Ave., Middletown 45042, lightupmiddletown.org (2020 dates are Nov. 26–Dec. 31)

---

Upper's Winter Fantasy of Lights, Upper Sandusky

Founded in 1997, Upper's Winter Fantasy of Lights takes a month to build, and all of it is created by those who donate their time to assemble the attraction that benefits a different local organization each year.

"Everything is volunteer," says Sara Lou Binau, executive director of the Wyandot County Visitors Bureau. "There isn't anything on this project that's not volunteer."

The mile-long, drive-through attraction at Harrison Smith Park takes about 30 minutes to see, with displays including The 12 Days of Christmas and a "Wizard of Oz"-inspired Emerald City, as well as a farmer's tractor and wagon and a scene depicting Noah's Ark.

Travelers can tune into WVLO 99.3 FM and listen to a variety of Christmas music as they wind through the park. (They can also roll down their windows to hear the music of the display's carousel.)

Past benefactors of proceeds from Upper's Winter Fantasy of Lights have included the Dorcas Carey Public Library and the Wyandot County Home Health Agency. This year, the money raised will go to Wyandot Senior Village. Opens Dec. 1 and runs until Dec. 30. Fri.–Sun. 6–10 p.m., Mon.–Thur. 6–9:30 p.m. Suggested donation of $5 for cars, $15 for commercial vans, $50 for tour buses. 525 E. Wyandot Ave., Upper Sandusky 43351, uppersfantasyoflights.org (2020 dates are Dec. 1–30)

---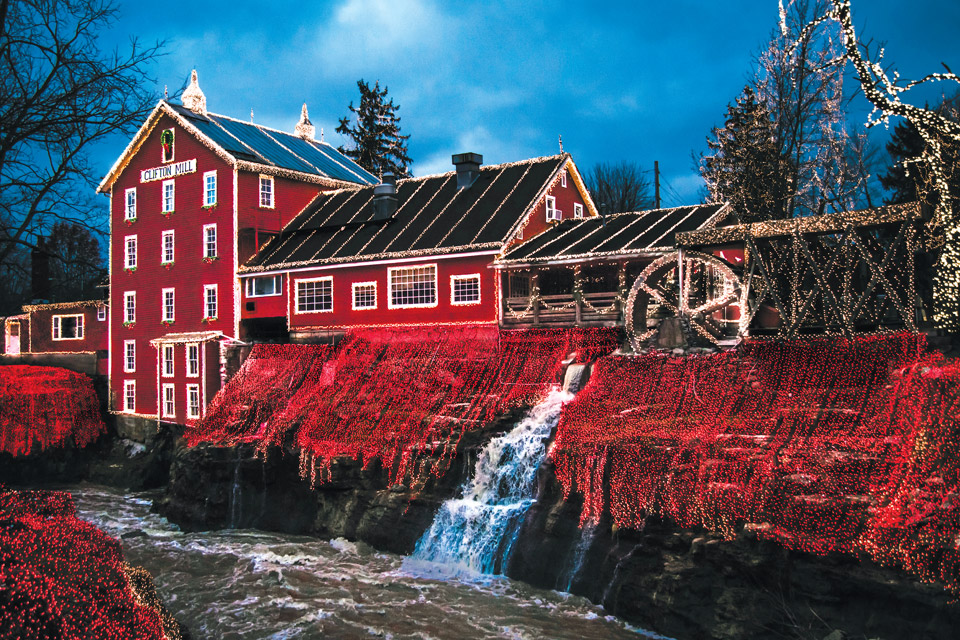 Legendary Lights of Clifton Mill, Clifton

The Legendary Lights of Clifton Mill has been a southwest Ohio tradition for more than three decades, but a visit to the historic grist mill, which was originally constructed in 1802, offers a festive glimpse into Christmases past.

The big draw, of course, is the 4 million lights that outline the red mill's windows, roof, walls and eaves and seem to cascade down the river banks.

"The very first year we owned it, my father and I were walking around and he said, 'Let's put Christmas lights on [the mill], for ourselves,' " recalls owner Anthony Satariano. "It was just kind of an a-ha moment, and ever since, we keep adding and people keep coming and the word spread."

Although the lights are impressive by themselves, so is the nostalgia spurred by Christmas displays throughout the property. There's an animated miniature village reminiscent of department store windows from years gone by, a room filled with 3,500 depictions of Santa Claus and a synchronized light show on the covered bridge. The mill's toy collection is a nod to Christmas mornings past, as it displays trees from different eras complete with the toys that would have been found under them. Open nightly through Dec. 31. 6–9 p.m. except Dec. 24, 25 and 31 when hours are 6–8 p.m. $10, children 6 and under free. 75 Water St., Clifton 45316, 937/767-5501, cliftonmill.com (2020 dates are Nov. 27–Dec. 30)

---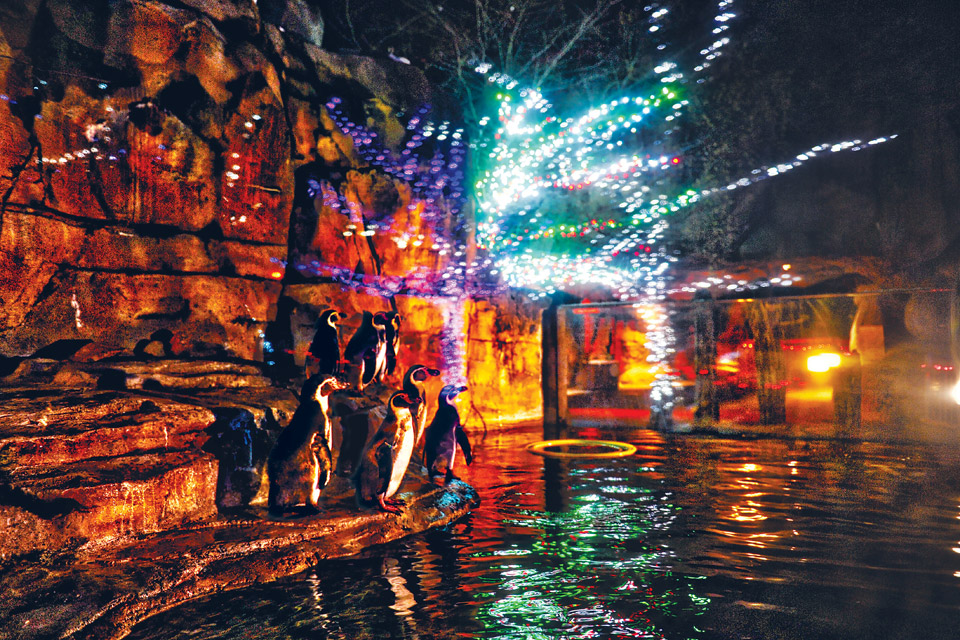 Akron Zoo Wild Lights, Akron

It can take up to three hours to walk through Akron Zoo Wild Lights: hundreds of thousands of Christmas bulbs displayed throughout a portion of the 35-acre grounds. The Akron Zoo revived its holiday-season tradition in 2016 following a 16-year hiatus. Since then, new additions such as Santaland (where you'll find the jolly old man every evening leading up to Christmas) and Holly Jolly Hillside (a synchronized light show) have become part of the fun, as have an ice-skating rink and ice-carving display. Wild Lights also features some variety from weekend to weekend. Different costumed performers, ranging from The Snow Queen to a baby T. rex, stroll the grounds, depending on when you visit. Open Fri.–Sun. and daily the week after Christmas through Dec. 30. Visit website for hours and admission information. 505 Euclid Ave., Akron 44307, 330/375-2550, akronzoo.org (2020 dates are Dec. 4–30)
---
Christmas by Candlelight, Marion

Marion's annual Christmas by Candlelight at the Marion County Fairgrounds treats visitors to more than 25 acres of holiday lights and cheer, ranging from an illuminated water serpent to a live Nativity scene. The driving tour of holiday lights has been a Marion tradition since 1996 and takes about 30 minutes to complete. But those who don't get their fill on the first pass can make a second loop free of charge. "It's really a tradition in our town," says Cindy Wood, general manager, secretary and treasurer of the Marion County Fair Board Office. "It's a neat way to kick in the holiday spirit." This year brings the addition of local show choirs to boost the festive atmosphere. Open Thur.–Sun. 6–10 p.m. through Dec. 9 and nightly 6–10 p.m. from Dec. 13 through Christmas Day. Cars $6, small motor coaches $20, large motor coaches $35. 220 E. Fairground St., Marion 43302, 740/382-2558, visitmarionohio.com (2020 dates are Nov. 27–Dec. 25)

---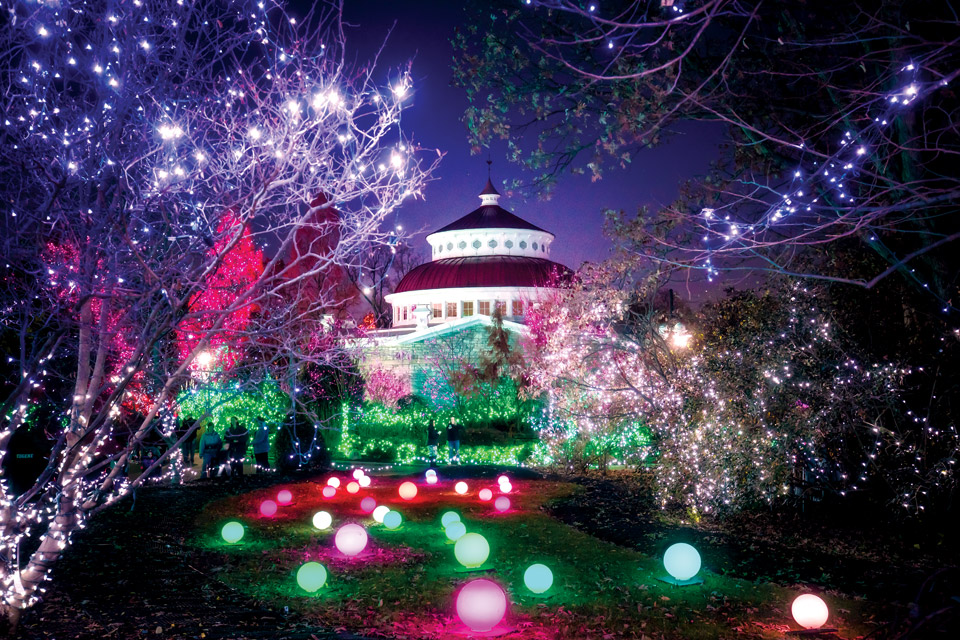 PNC Festival of Lights, Cincinnati

The Cincinnati Zoo's annual PNC Festival of Lights features more than 3 million bulbs across approximately 80 acres. Displays range from Fairy Land (in the Elephant Reserve) to Candy Cane Land (across from the eagle habitat) to Gorilla World (in the Gorilla Forest). The annual light show has been a Cincinnati tradition since 1983, and work begins in early August. The annual event also features Madcap puppet shows, a BB&T Toyland Express train, s'mores stands and even appearances by Santa and his helpers. "We bring in the reindeer for everybody to see, which is a lot of fun," says Kim Denzler, events manager at the Cincinnati Zoo. "There are a lot of entertainment pieces involved, too, not just lights." Open Sun.–Thur. 4–9 p.m. and Fri.–Sat. 4–10 p.m. through Jan. 1. Visit website for admission prices. 3400 Vine St., Cincinnati 45220, 513/281-4700, cincinnatizoo.org (2020 dates are Nov. 21–Jan. 3. Bonus Nights: Jan. 8–10. Jan. 15–17. 1–9 p.m.)

---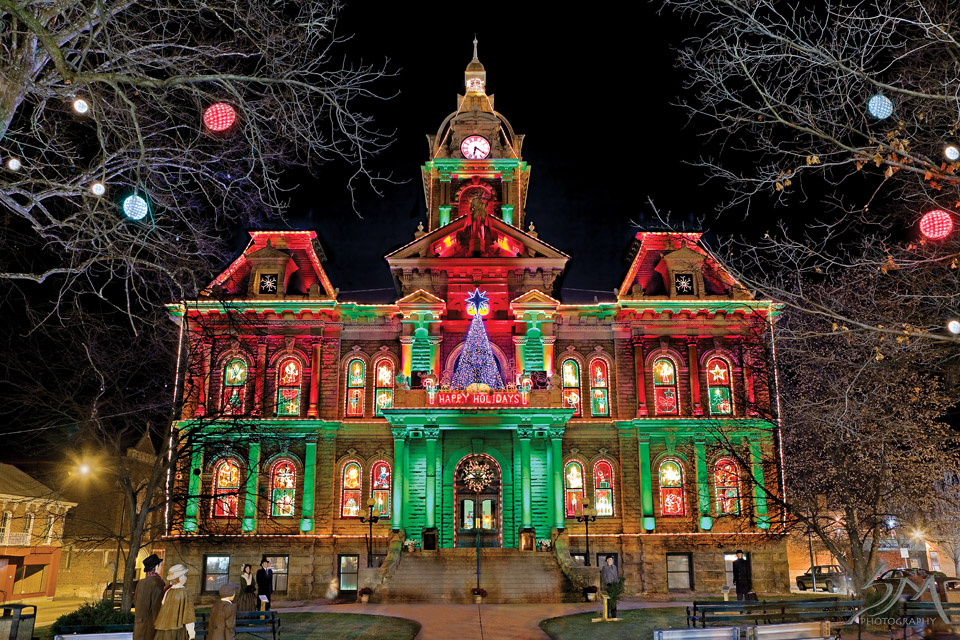 Guernsey County Courthouse Holiday Light Show, Cambridge

The Guernsey County Courthouse Holiday Light Show has become an iconic Ohio holiday attraction since debuting in 2006. Families gather nightly in downtown Cambridge to watch as more than 65,000 individual lights dance across the facade of the historic structure in synchronization with Christmas music during the looping 70-minute show.

Creating the elaborate display is quite the undertaking, with between 18 and 22 hours of work going into programming the lights for every two minutes of music.

Grant Hafley, former owner of Cambridge's AVC Communications, developed the idea of the light show as a way to complement the annual Dickens Victorian Village in downtown Cambridge, which sees volunteers set up dozens of scenes throughout downtown depicting the holidays during England's Victorian era. With the help of AVC Communications general manager and president Joel Losego, they brought it to life.

"We both thought that Dickens [Victorian Village] only brought a certain group of people to the area," Losego explains. "I think the courthouse completed our goal to attract more youth and families."

Among the Christmas music featured during the light shows are songs recorded by Cambridge-area fifth-graders and local professional saxophonist Gordon Hough. Since its inception, the light show has become a backdrop for countless Christmas-card photos, engagements and even weddings. Light show begins at 5:30 p.m. and the last show plays at 9 p.m. nightly through Dec. 31 (show continues until 11 p.m. on Fri.–Sat., Dec. 24–26 and Dec. 31). Free. 801 Wheeling Ave., Cambridge 43725, 740/421-4956, dickensvictorianvillage.com (2020 dates are Nov. 1–Dec. 31)

---

Holiday Lights on the Hill, Hamilton

The Pyramid Hill Sculpture Park and Museum is a popular summer attraction in Butler County, but it's also a holiday-season draw as an illuminated swan, doves, ice skaters and more emerge from the darkness.

Visitors drive a 2-mile route through the park to take in the displays and almost 30,000 people make their way through each year. With almost 250 to 300 lights per tree, the elaborate installation routinely takes up to two months to install.
"That says something about the size of this," says Lee Sanders, interim executive director at Pyramid Hill Sculpture Park and Museum. "We have a cherry-picker, and whenever I drive in [during the fall], there's always somebody putting lights up in a tree."
This year, even more lights will be added to the path as Brave Berlin — an arts-and-entertainment consulting group — will oversee a light art installation in Pyramid Hill's pavilion. The illuminated display will be constantly changing, and if the same group takes a second trip through, they will see something entirely unique. Open Mon.–Thur. 6–9 p.m. and Fri.–Sun. 6–10 p.m. through Jan. 1. $20 per car Mon.–Thur., $25 per car Fri.–Sat. 513/868-8336, 1763 Hamilton Cleves Rd., Hamilton 45013, pyramidhill.org (2020 dates are Nov. 20–Jan. 3)

---

Christmas Nights of Lights, Cincinnati

Nearly 200 computers are used to synchronize Cincinnati's Christmas Nights of Lights, an illuminated driving tour that stretches 2 1/2 miles along the riverfront. Located at the city's historic Coney Island Amusement Park for the third consecutive year, the display features jumping candy canes, a 25-foot singing Santa and twirling trees. Richie King and his wife created the display in 2008 as a fun, holiday-season attraction for families. "We see people all the time with Krispy Kreme doughnuts, milkshakes and pizza — in their pajamas — coming through," he says. "You never have to get out of your car." The attraction features more than 40 minutes of music synchronized to the lights, and the staff members work to refresh it annually so visiting each season is a unique experience. Open dusk to 10 p.m. through Jan. 6, with extended hours on weekends. $6 per person, children 3 and under free. 6201 Kellogg Ave., Cincinnati 45230, christmasnightsoflights.com/cincinnati (2020 dates are Nov. 6–Jan. 9)
---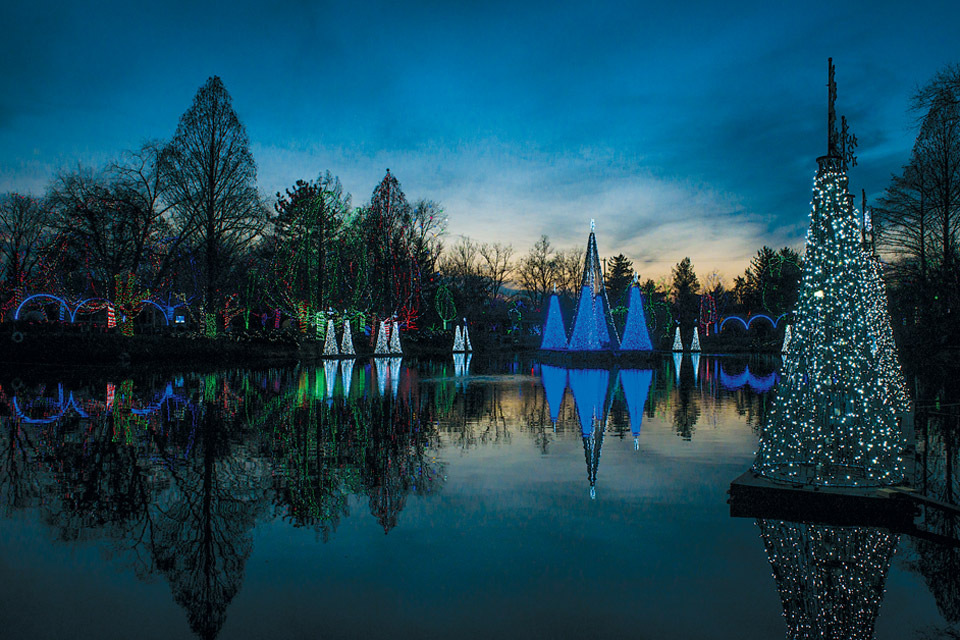 Columbus Zoo and Aquarium Wildlights, Powell

The animals residing at the Columbus Zoo and Aquarium are bathed in a winter wonderland of brilliance during Wildlights, a dazzling display of 3 million LED lights. "What began as an event featuring a few strands of lights and 48,000 visitors has grown into a central Ohio tradition for 400,000," says Jeff Glorioso, director of experiential marketing at the Columbus Zoo and Aquarium. The Sparkling Spruce, a 42-foot-tall animated fir creates a kaleidoscope of festive images to the tune of popular holiday songs. Hues of blue, purple and pink pulsate to techno music at Shores Park, while Rhythms Around the Watering Hole at Conservation Lake stars a menagerie of animated animals set against a backdrop of music by Trans-Siberian Orchestra. Open Sun.–Thur. 5–9 p.m. and Fri.–Sat. 5–10 p.m. through Jan. 6. Visit website for admission information. 4850 Powell Rd., Powell 43065, 614/645-3400, columbuszoo.org (2020 dates are Nov. 20–Jan. 3)

---

Toledo Zoo & Aquarium Lights Before Christmas, Toledo

From helicopters to hippopotamuses, the Toledo Zoo & Aquarium's annual Lights Before Christmas fills the 51-acre grounds. Work begins in October for the annual display that features more than 1 million individual bulbs and routinely draws more than 180,000 people each year. The lights begin in the parking lot and extend throughout the entire zoo, guiding visitors to various animal exhibits while bringing in seasonal elements such as an ice slide, holiday train, snowball launcher and more. This year, the zoo's historic Anthony Wayne Trail tunnel is reopened after being closed to the public since 1997. The tunnel connects the north and south sides of the zoo and has been a favorite feature since the tunnel opened in 1930. Open Sun.–Thur. 3–8 p.m. and Fri.–Sat. 3–9 p.m. through Dec. 31. $18, children & seniors $15. 2 Hippo Way, Toledo 43609, 419/385-5721, toledozoo.org (2020 dates and times: Nov. 20 – Dec. 31. Sat.–Sun.: 3–8 p.m. Christmas Eve: 3–8 p.m. Christmas: 3–9 p.m. New Year's Eve: 3–9 p.m.)

---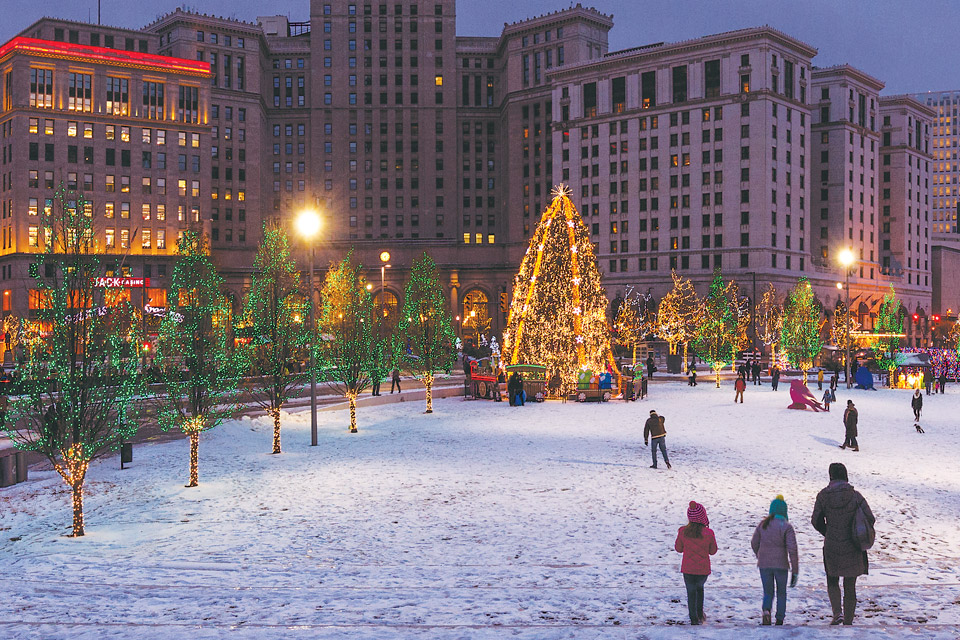 Public Square Lights, Cleveland

Even if you've never been to Cleveland, you've probably seen Public Square dressed in its holiday best during the opening scenes of the 1983 holiday classic "A Christmas Story." For more than four decades, General Electric has donated the lights and Cleveland Public Power has provided the electricity to keep Public Square's holiday lights glowing every evening through New Year's Day. "Public Square is such an icon itself," says Andrea Vullo, manager of public affairs for GE Lighting. "Having it adorned in these holiday lights just brings the spirit of Cleveland, its residents and the holiday season together." The LED lights adorning Public Square now total more than 500,000 individual bulbs. Along with the traditional towering Christmas tree, visitors will find 27 freestanding displays, ranging from igloos and penguins to snowflakes and polar bears created in collaboration with local high school students, as well as an ice rink. Illuminated dusk to dawn through New Year's Day. Free. Public Square, Cleveland 44113, downtowncleveland.com (2020 dates run through New Year's Day)