Ohio Life
Unique Ohio Weddings 2018
Three couples who got married at beautiful and interesting locations throughout Ohio share how they found their perfect venue.
January 2018
BY Alexis De Leaver | Photo by Lauren Gabrielle Photography
January 2018
BY Alexis De Leaver | Photo by Lauren Gabrielle Photography
Annaliese and Tom Ferrone • June 24, 2017

Having lived in New York for the past seven years, choosing a wedding venue that showcased why Ohio was so special to them was an important consideration for Cleveland natives Annaliese and Tom Ferrone.

"We had so many guests coming from out of town that had never been to Ohio," says Annaliese. "I really wanted everything to be timeless. I wanted something that would still be beautiful in 50 years."

The celebration kicked off in Cleveland's University Circle neighborhood with a ceremony held at the Western Reserve Historical Society's Hanna Courtyard Garden, decorated with white flowers and flanked by the Italian Renaissance-style facade of the former family mansion built in 1867. The bridal party wore shades of ivory, mint green and navy blue, and they held bouquets of white peonies, garden roses and tulips. A hedge of larkspur and white flowers served as a backdrop as the couple took their vows.

"They look like they are permanently there," says Annaliese, "but actually our florist, Molly Taylor and Co., built this gorgeous row behind us."

Following the ceremony, guests moved to The Ballroom at Park Lane, located a little over a half-mile south of Western Reserve Historical Society. The circa-1923 hotel and speakeasy became a trendy concert venue in the 1960s, hosting musicians such as Bob Dylan and Arlo Guthrie. White lace tablecloths and glass vases filled with white tulips adorned each table, while crystal wine glasses added extra sparkle to the candlelight dinner. Seeing their vision come to life at the historic venue was a special moment for Annaliese and Tom.
"I had an idea in my mind of how everything would look," adds Annaliese, "and then it ended up being more beautiful than I could even have imagined."

Venue: The Ballroom at Park Lane
Florist: Molly Taylor and Co.
Cake: Hummingbird Bake Shop
Photographer: Lauren Gabrielle Photography
Wedding Planner: A Charming Fete
***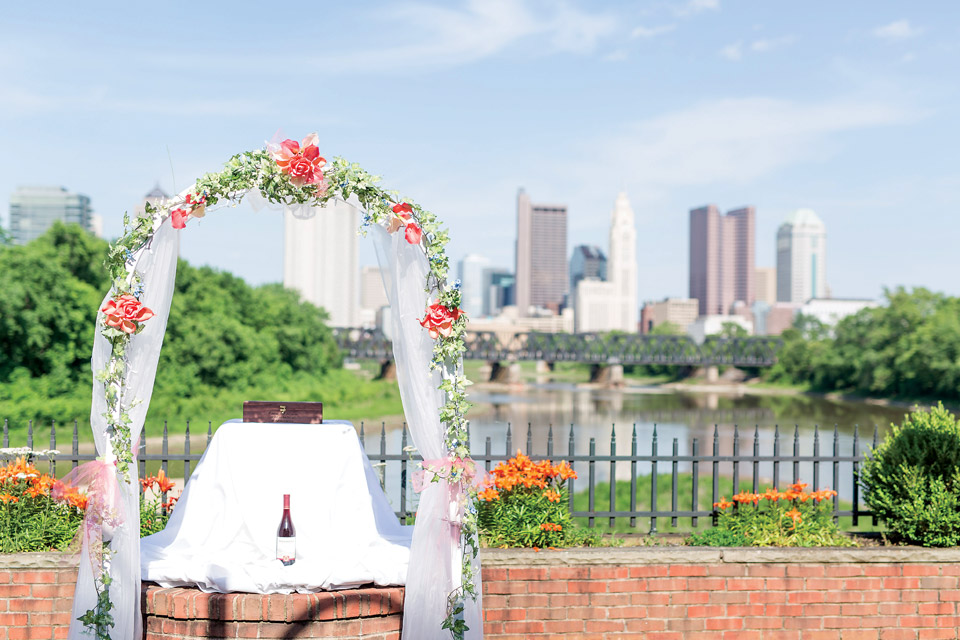 Ashley and Scott Gray • June 3, 2017

Settled against the confluence of the Scioto and Olentangy rivers, Ashley and Scott Gray exchanged their vows while overlooking the Columbus skyline.

After visiting eight venues, the couple finally found the perfect fit at The Boat House at Confluence Park. This restaurant and special event space offered the opportunity to have a secluded wedding, while still having the capital city as a backdrop. Since the couple hail from Napoleon, Ohio, it was also important to Ashley and Scott to select a venue that radiates a small-town vibe, yet be conveniently located and easily accessible for out-of-town guests.

"It was surrounded by trees and nature paths, and you had the skyline of the city behind you," says Ashley. "So, you still got that you were downtown without being downtown."

The couple decided to complement the greens and blues of the natural setting with coral, royal blue and ivory in their wedding decor, and the bride's favorite flowers, calla lilies, stole the show. The blooms framed the arches and decorated the tables in shades of coral, and they were the main element in bouquets. Guests gathered with the bride and groom in the main ballroom for the reception, where the tables were set with royal blue napkins, coral flower petals and calla lily candles. The couple served their own choice of buckeyes for dessert.

"I told every venue that this was a deal breaker if I could not have Marsha's buckeyes at the wedding," Ashley says.

The Boat House granted her wish, and the Grays had a dessert table with treats from Perrysburg-based Marsha's Homemade Buckeyes for guests to enjoy. Another special moment of the big day came when Ashley's father sang to her while walking her down the aisle.

"He was midsong and his eyes started watering," says Ashley. "That moment walking down the aisle with him was my favorite."

Venue: The Boat House at Confluence Park
Florist: Mother of the bride
Cake: A co-worker
Photographer: Michelle Joy

***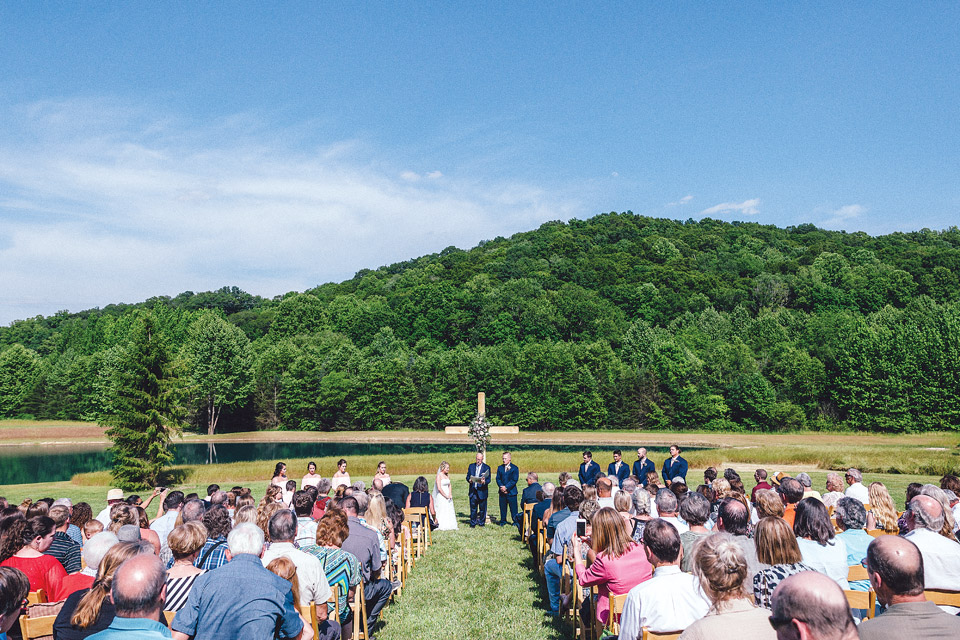 Gertrude and Kyle Dilley • June 3, 2017

Nothing makes a wedding venue more personal than creating one on your own. That's exactly what Gertrude and Kyle Dilley did when they decided on an outdoor setting in the heart of scenic southeast Ohio. Gertrude and Kyle took their vows this past June at The Hangar in the Hocking Hills, a location that's nestled among lush green hills and trees.

The former tree farm didn't have a shelter on-site at the time, so the couple located a clear farming dome, which was moved to the party site to be used as a pavilion that can seat up to 300. It remained after the wedding and can now be used by all couples who get married at The Hangar.

"We started coming up with plans of what we wanted, and it just grew into that venue," says Gertrude. "Everyone was afraid it was going to rain, so my dad actually found that shelter at the Farm Science Review and moved it to the venue location."

Gertrude and Kyle paired the openness of the outdoor setting with the elegance of their decor. Candles, white-linen tablecloths and ferns and eucalyptus decorated the tables, while the bridal party was dressed in blush, white and navy.

"We really just wanted to take in the beauty of the outside and let it speak for itself," explains Gertrude. "We kept it really simple."

Gertrude and Kyle chose white roses for the bouquets created by Flowers by Darlene. The floral design on their wedding cake and a handcrafted cross that served as a backdrop for the couple's vows were made by family friends.

"Both of my brothers walked me from the dome shelter to the aisle," Gertrude adds, "and then my father walked me down the rest of the way."

Venue: The Hangar
Florist: Flowers by Darlene
Cake: A family friend
Photographer: Dan Buckley