Ohio Life
Tracy Martin's Vintage Baseball Museum
Filled with 3,000 authentic artifacts stretching back to the game's earliest days, this private collection pays tribute to the evolution of America's pastime.
May 2018
BY Vince Guerrieri | Photo by Kelly Wilt
May 2018
BY Vince Guerrieri | Photo by Kelly Wilt
The only hint of what lies inside Tracy Martin's home at the end of a quiet cul-de-sac in Grove City is the license plate on his truck: "HORNSBY," as in Rogers Hornsby, whose career .358 batting average is second all time in Major League Baseball. The slugger, who played from 1915 to 1937, also holds the record for single-season batting average at .424.

It'll come as no surprise that Martin is a baseball fan — a big one — and has been ever since he was a kid growing up in southwest Ohio during the era when Cincinnati's Big Red Machine reigned supreme. But his interest in the history of the game reaches back much further, to a time when players donned wool uniforms, often didn't wear gloves and followed a different set of rules than the ones that govern baseball as we know it today.

For the past 25 years, Martin has also played vintage base ball (the game was two separate words back in the 1860s) for the Ohio Village Muffins, who take the field in Columbus each summer. That, in turn, spurred Martin's interest in collecting authentic memorabilia that tells the story of the game, from its pre-Civil War origins to the present.

"It's fantastic and quite unique," says Chris Eckes, chief curator and operations manager for the Cincinnati Reds Hall of Fame and Museum, which has displayed items from Martin's collection. "We've seen quite a few private collections and his is one of the best."

Martin's Baseball Museum — as its owner refers to it online — includes about 3,000 items, ranging from vintage catchers' equipment to bobblehead dolls, and he estimates only about two-thirds are on display in his home's 1,000-square-foot basement.

"I really had no idea that it would grow like it has," says Martin, who started collecting seriously about 25 years ago — not coincidentally, around the time he started playing vintage base ball. "The more I researched, the more I found out what I was missing. That led me on even more of a search. … When I started dating my wife, my house had baseball stuff everywhere. She said, 'We'll find a house with a full basement and you can do whatever you want to it.' She didn't realize I'd fill it up."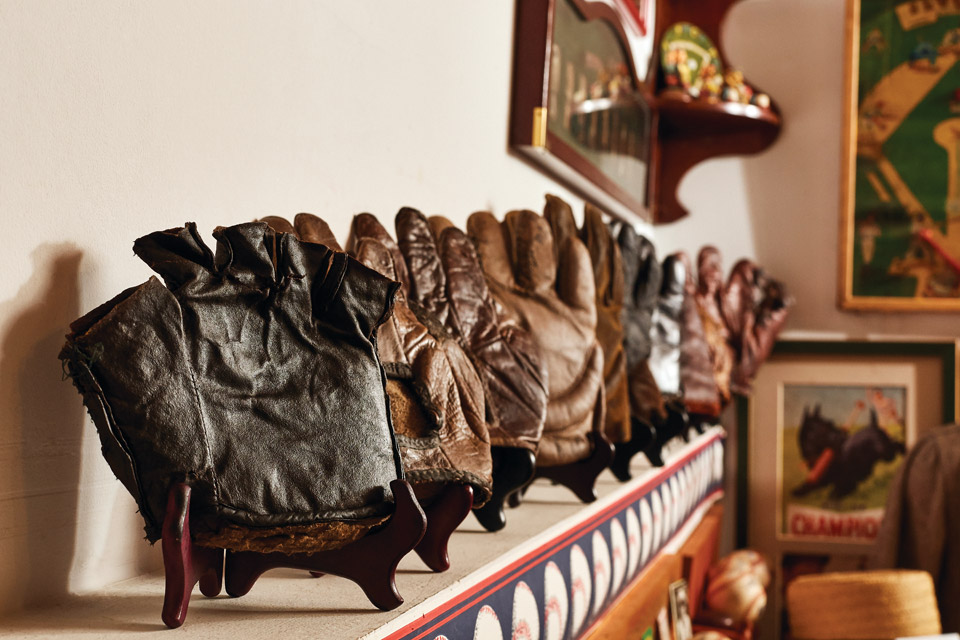 At Martin's Baseball Museum, Babe Ruth gets his own corner, an honor befitting the game's seminal player. There's a canceled check signed by Ruth, which was once a surprisingly common way to get the legend's autograph. (He would write checks at restaurants and hotels, secure in the knowledge that he was so famous that many would be kept as a souvenir rather than cashed.) Nearby is a large printed advertisement promoting Ruth's appearance in a Dayton exhibition game following the 1927 season.

Then, there's the one-piece Babe Ruth All-American Athletic brand underwear on display, which Eckes says is his favorite part of Martin's collection. "It's not significant, and it's probably not the most valuable," he says, "but it's the most fun."

The Yankees handsomely paid Ruth, but he also made money from endorsements, including the underwear that features a photo of the legend on its green box.

"Of all the things, the Baseball Hall of Fame asked me to loan that to them," Martin says. "They had a photograph of him and his teammates wearing the underwear, but didn't have the box or the underwear."

Not bad for a find Martin unearthed at a collectibles show. The seller had bought it in a lot at an estate sale and wasn't a baseball fan, so he was more than happy to sell it. For years, Martin scoured garage sales and antiques shows for pieces for his museum. Right now, he says he feels like he's in a good place with the collection.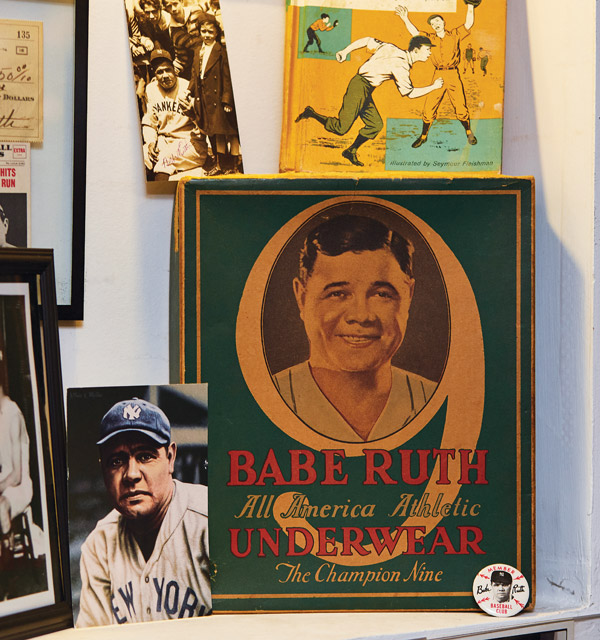 "I don't buy a lot anymore, just random pieces here or there," he says. "If it's obscure or an oddball piece, something I haven't seen before, I might be interested in adding it to my collection."

He has a replica uniform from the All-American Girls Professional Baseball League, which was immortalized in the movie "A League of Their Own," but he still keeps an eye peeled for an original.

"They're very rare and very expensive," he says, noting he's seen them at auction for anywhere from $6,000 to $10,000."

In fact, baseball uniforms are a key part of Martin's collection, from a satin creation that aimed to keep players cooler than the traditional wool variety to two bib-front 19th-century uniforms, one in pristine shape.

Martin's museum also has a room devoted to baseball movies, with a poster from "A League of Their Own" as well as one from Martin's favorite, "The Natural." He also has a couple artifacts tied to Eddie Waitkus, the player whose life story influenced author Bernard Malamud's book that inspired the 1984 film starring Robert Redford. On June 14, 1949, Waitkus, who had been traded from the Cubs to the Phillies the previous offseason, was back in Chicago, when he received a note summoning him to a room at the Edgewater Beach Hotel. There, he met Ruth Ann Steinhagen, a 19-year-old obsessed fan, who shot and nearly killed Waitkus with a .22 caliber rifle. Martin's collection includes a hanger and room key from the hotel, which closed in 1967 and was demolished three years later, as well as a newspaper with an account of the shooting.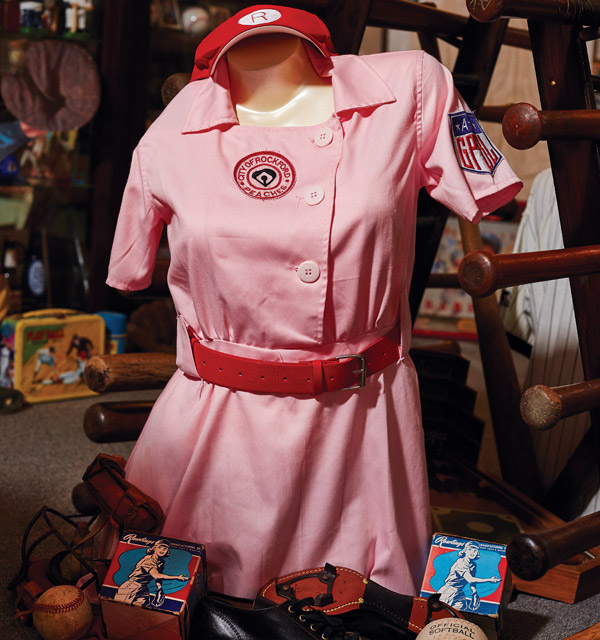 One of Martin's basement walls displays the evolution of "the tools of ignorance," the nickname given to equipment worn by catchers: shin guards, a chest protector and a helmet with a mask. In 2011, the display was on loan to the Cincinnati Reds Hall of Fame and Museum at Great American Ball Park. That year, the Reds installed a statue of catcher Johnny Bench — Martin's favorite player growing up — outside the ballpark and wanted to feature an exhibit on him at the museum.

"It was really an honor," Martin says, and the Reds are equally appreciative of the arrangement. "We wouldn't have been able to do what we wanted to without Tracy," offers Eckes.

Martin, a truck driver by trade, has a website and a Facebook page that shows off his collection. He'd like to have a storefront museum someday, but for now he's content to have guests over to view the collection at his home.

"A lot of people ask me, 'Aren't you afraid to have all this out?' he says. "My answer is, 'Why would you have something if you can't share it?' "

Much like his arrangement with the Reds, Martin also loans items to other entities for public display. He'll have a small exhibit at Columbus' Huntington Park this summer during the 2018 Triple-A All-Star Game, and Martin regularly sets up displays at Ohio Village in Columbus, where the Muffins, his vintage base ball team, plays.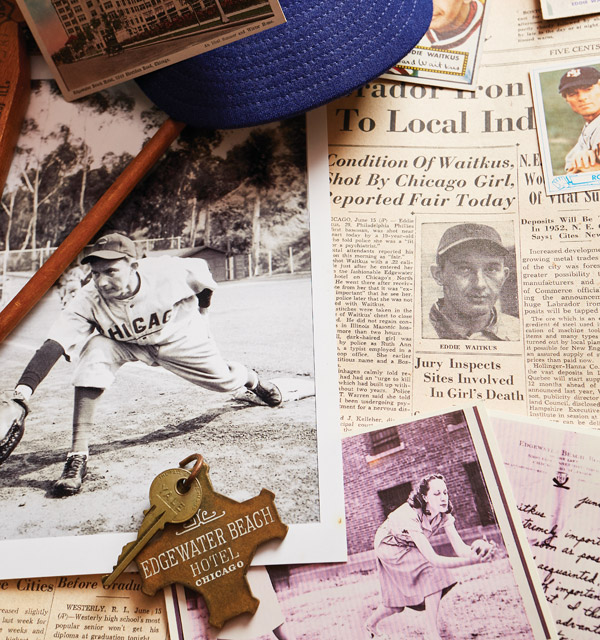 "We're always so glad to have him," says Susan Brouillette, public programs manager for the Ohio History Connection, which operates Ohio Village. "His exhibit adds a whole other layer to our history. It's not specific to the time period of the village, but it shows the progression of baseball history."

And while Martin is always more than happy to talk about baseball, he's fine with listening, too, as others spin their tales about America's game.

"Most of the people who come to see me have that passion and love for baseball like myself," he says. "I can shut up and let people tell their stories. A lot of people like to come up and share their memories with me. People love doing that, and baseball gives them the opportunity to do that."

For more information, visit facebook.com/martinsbaseballmuseum.