Ohio Life
The Ohio Town that Baseball Legend Cy Young Called Home
Cy Young's name is synonymous with Major League Baseball's most dominant pitchers. He was born in Tuscarawas County in 1867, and he lived there both during and after his career in the big leagues.
May 2022
BY Vince Guerrieri | Photo of Cy Young pitching at old-timers' game courtesy of Cleveland Public Library/Photograph Collection
May 2022
BY Vince Guerrieri | Photo of Cy Young pitching at old-timers' game courtesy of Cleveland Public Library/Photograph Collection
On June 11, 1947, Newcomerstown closed for the day.

The town's weekly newspaper and two banks remained open, but the only people beyond their employees still in the small Tuscarawas County village were two state troopers, sent to stand guard as what seemed to be the entire population — estimated between 4,000 and 5,000 — made the trip to Cleveland to honor their favorite son.

A special 15-car excursion train departed from the town's Pennsylvania Railroad depot at 8:20 a.m. that day, carrying roughly 800 residents. The rest made the drive. They were all headed to a baseball game.

That March, Denton Young had turned 80. People in Tuscarawas County had called him by his given name long after he became more famous as Cy Young, one of the greatest pitchers of his day — and more than a century after his playing career ended, he still holds a number of records, including games started (815), wins (511) and losses (315).

Cy — the nickname came after he had a pitch get away from him and smash a wood fence; a teammate remarked that it looked like it had been hit by a cyclone — was born in Gilmore, another small town in Tuscarawas County, and had made his home during the offseason and for the rest of his life after his playing career nearby in Peoli. His 80th birthday party in Newcomerstown turned out to be the social event of the season.

The day began with a band concert. Young gave autographs to his fans (friends had bought a rubber stamp with his signature, but he insisted on signing everything himself), held court at the local Elks club, and then went to dinner. The main course, roast beef, came from cattle Young helped raise on the farm he called home.

Guests included Waite Hoyt, the famed pitcher turned broadcaster, who gave the keynote address. Ohio Gov. Thomas Herbert flew in from Washington, D.C., and Bill Veeck, who had become owner of the Indians the year before, presented Young with a new car and offered free tickets to the entire town to attend a game that year.

"I had such a good time at Newcomerstown's party for Cy that I would like to reciprocate," he said.

The whole town took Veeck up on his offer, heading to Cleveland on that June morning a few months later. Young's local high school marching band paraded across the field at Cleveland Municipal Stadium, before the baseball legend offered warm words, saying, "I never got the chance to thank everyone for that wonderful party, so I want to take this chance to tell you how grateful I am for everything."

The town loved Young and still does to this day. He loved it right back. His record-setting career afforded him the chance to go anywhere after it was over. But he was content to return home following his playing days, becoming a local celebrity and an ambassador for the game of baseball.

***

One day in 1890, Stanley Robison was looking over some of his business interests in Fort Wayne, Indiana. Robison and his brother Frank had built an empire in railroads, streetcar lines and construction — enough so that they were able to buy the Forest Citys, a baseball team that was first part of the American Association, and then the National League, where it was renamed the Spiders (attributable, the story goes, to the number of tall, thin, gangly limbed players).

Robison was looking for a pitcher, and while talking about baseball in a bar, he was told he needed to venture to Canton to see this pitcher named Young. Robison did so, finding a big farm boy recruited from Gilmore, about 45 miles south of Canton.

Denton Young had been born on his family farm in 1867, a couple years after his father's return from the Civil War. He and his siblings performed the usual farm duties, but Denton spent his spare time throwing.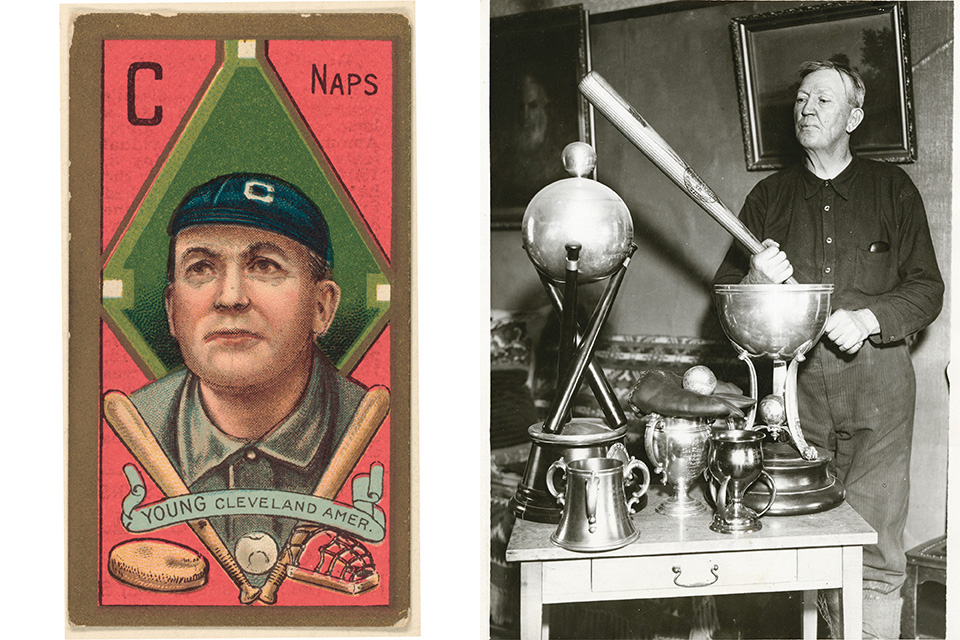 All members of the Young family could throw, he recalled years later, adding that they used to throw rocks around the farm all the time, aiming at chickens and squirrels.

Robison must have liked what he saw, because he bought Young's contract and sent him to Cleveland, where he made his debut Aug. 6, 1890, against the Chicago Colts, whose manager Cap Anson had previously dismissed Young as "just another farmer." Young threw a three-hitter, and only his own error prevented a shutout. It was the start of a lengthy and successful career.

The following year, Young and the Spiders opened a new ballpark at East 66th Street and Lexington Avenue. But gradually, the Robisons' interests were pulled elsewhere as attendance for the Spiders faltered. They bought a team in St. Louis and stocked it with their best players from Cleveland — including Young, who didn't care for the city, finding it too hot in the summer for his liking. Fortunately, a new league was forming, and Young was willing to jump ship to the American League's new team in Boston, giving the league instant credibility.

It wasn't quite as close to home as Cleveland was, but Young took to his new team almost immediately, and he excelled for them, leading the Boston Americans to the first World Series in 1903, where they defeated the Pittsburgh Pirates. Even while he played in Boston, he would always return to his wife Robba and their farm, chopping wood and tilling the fields, which no doubt helped keep him in shape. (However, Young always said he did no throwing between the end of the season and spring training the next.)

In 1909, Young was traded to Cleveland. The Spiders were long gone. This time, the team was in the new American League, nicknamed the Naps in honor of player-manager Napoleon Lajoie (it would be another six years before the team became known as the Indians). But they still played at the Spiders' former home of League Park. The following year, the wooden stadium was replaced with a steel-and-concrete edifice, and like the previous ballpark, it opened with Cy Young pitching.

Ultimately, the Naps released Young, who went back to Boston — this time with the Braves, the National League team. Young reported for spring training in 1912, but he asked for his release. At 44, he had put on a little weight in middle age, and he couldn't bend over to field bunts anymore. His arm was still good, he said, but "I made up my mind it was time to quit when a pitcher had to make the third baseman do his fielding for him."

His release was granted, and Cy Young's 22-year career — at the time, the longest by a pitcher in major league history — was over. He probably could have latched on somewhere as a coach or manager, but his only interest was to return to his farm in Peoli.

***

In retirement, Young lived a quiet life, accommodating autograph seekers and fans that came by, but largely content to live on the farm. But in January 1933, his beloved wife Robba was taken to the hospital and died a week later.

A local family that had befriended Young years earlier, the Benedums, moved into the home to keep him company, but Young grew restless.

"Somehow, after she died, I didn't want to live there anymore," he recalled years later. He sold the farm and went on a barnstorming tour with some other old-timers. While in Boston, he crossed paths with Frederick Putnam, who used to own a small hotel near the Huntington Avenue Grounds, the Red Sox' home field before Fenway Park was built.

Putnam offered Young a job as a greeter at his hotel. Young was as beloved in Boston as he was in Ohio, so he figured he'd give it a try. But the pull of Peoli proved too strong for him, and he eventually returned to Tuscarawas County, living with the Benedums.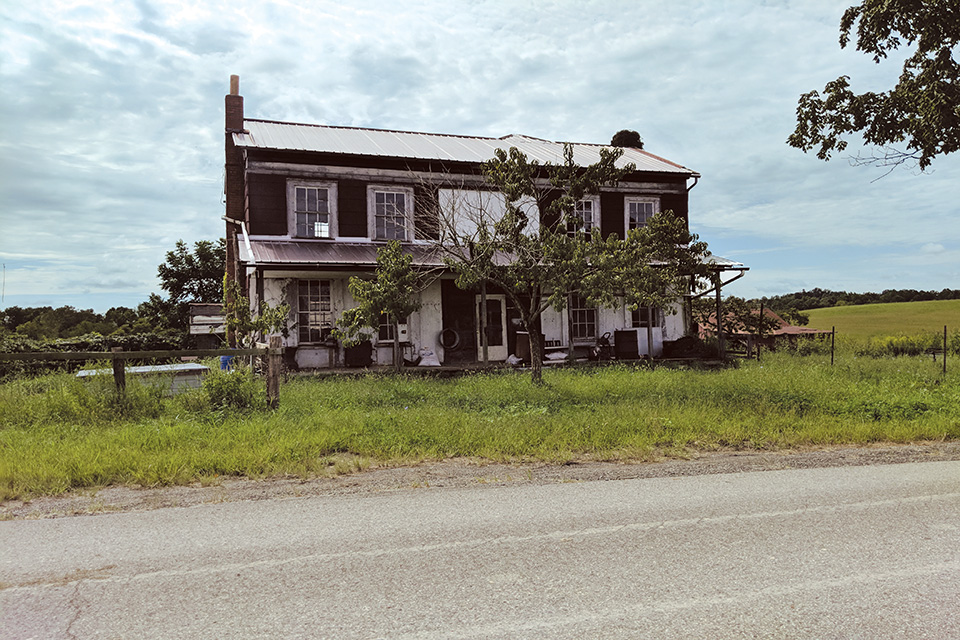 It was an era when ballplayers had to work in the offseason, and there was no real pension plan for former players. Stories circulated that the greatest pitcher of all time was destitute — a charge Young vigorously denied, saying in an interview, "Don't you go saying Cy Young needs charity."

In 1937, Young was inducted into the new Baseball Hall of Fame, and two years later, when the building opened in Cooperstown, New York, Young made the trip — and found that his plaque incorrectly listed his middle name as Tecumseh, an error that had been repeated for years. "I wish I knew who started that Tecumseh business," he said. In his later years, he remained an ambassador for the game, attending old-timers' events and throwing ceremonial first pitches at major league games. He was also actively involved in Little League Baseball, making regular trips to Williamsport, Pennsylvania, for its annual World Series. During what turned out to be his last visit to Cooperstown in 1955, he donated a cane carved from a baseball bat, given to him by Spiders fans in 1896.

Young died on Nov. 4, 1955, in a rocking chair looking out over the hills of Peoli. The following year, baseball commissioner Ford Frick announced that an award would be given annually to the game's best pitcher, and it would be named after Young. Starting in 1967, the award was given to one American League pitcher and one National League pitcher. That year, the centennial of Young's birth, saw a celebration to honor him, including an old-timers' game and a dinner featuring another famous Tuscarawas County native as master of ceremonies: Ohio State football coach Woody Hayes.

Today, Young lives on and not just in the award that is still given out to the best pitchers in baseball. In Tuscarawas County, his life and career are memorialized in the Olde Main Street Museum, a former Ford dealership on Newcomerstown's main drag, and a bowling alley is named for him. A park contains a large memorial, and every June, a festival is held in Young's honor. He and Robba are buried in the New Peoli Cemetery.

As the Rev. George Shurtz said at Young's interment, "A green farm boy from the hills of Tuscarawas County has returned to the land he loved."