Ohio Life
The Life and Legacy of Col. Charles Young
Charles Young was the most highly decorated African-American military officer of his time, the first black U.S. National Park superintendent and a professor at Ohio's Wilberforce University.
February 2019
BY Leo DeLuca | Photo courtesy of Library of Congress
February 2019
BY Leo DeLuca | Photo courtesy of Library of Congress
On June 6, 1918, Charles Young mounted his horse and began riding from his home in Wilberforce, Ohio, to Washington, D.C. As the United States Army's first African-American colonel, the 54-year-old's trek was to argue his point regarding a controversial decision that forced the military hero into medical retirement during World War I.
"I simply wanted to convince the War Department that I am still physically fit for active service, and I have every reason to believe my case will be considered favorably," Young told a newspaper reporter in the days after his ride, according to an unidentified newspaper clipping that's part of the collection at the National Afro-American Museum and Cultural Center in Wilberforce.
The news article explained that riding 20 to 30 miles a day was Theodore Roosevelt's own test for Army fitness when he was president. Young went beyond that measure, riding 31 1/2 miles per day and, as the newspaper noted, walking 15 minutes of every hour during his 16-day trek, so he could tell President Woodrow Wilson's Secretary of War Newton D. Baker that he had "walked a quarter of the way to Washington."
Young met Baker personally, and although the newspaper reported the Secretary of War had promised nothing during their meeting, Young expected good news. Unfortunately, his ride did not achieve the desired effect. Although Baker reinstated Young, he refused to let him lead troops in battle, instead sending him to Ohio and later Illinois to train black servicemen.
"It was his way of keeping [Young] out of wartime combat," explains Robert Stewart, chief of interpretation of the Charles Young Buffalo Soldiers National Monument in Wilberforce. "If Col. Charles Young would've led troops during World War I, it would have paved the way for him to become the first African-American one-star brigadier general."
Overseen by the National Park Service, Young's former home in Wilberforce commemorates the life and achievements of the man who was born into slavery before going on to become the third African-American graduate from West Point, the first black U.S. National Park superintendent and the highest-ranking black officer in the U.S. Army of his era or any before. Open by appointment, the museum shares Young's story in the 1856 home that itself was reportedly a way station on the Underground Railroad.
"He was able to rise through the ranks in a time when it was unheard of," Stewart says of  Young's success. "He showed it could be done in the most extreme circumstances."
***
Twenty-two years after Young's nearly 500-mile ride to Washington, D.C., Benjamin O. Davis Sr. became the nation's first African-American brigadier general. In the years following Davis' 1940 appointment, he was also awarded the Distinguished Service Medal.
Fittingly, Young had been a mentor to Davis in 1899 while both served in the 10th Cavalry at Fort Duchesne in Utah. Young later became second lieutenant of the 10th Cavalry. It was a Buffalo Soldier unit — black, peacetime U.S. Army regiments created following the Civil War. The Buffalo Soldiers' main responsibilities were to help control Native Americans of the Plains, prohibit cattle theft and protect coaches and wagons as they traveled through the West. There are different stories surrounding the origins of the Buffalo Soldier name.
"According to legend, the Native Americans of the Plains gave them the name," Stewart says. One story is that the soldiers' dark, curly hair resembled buffalo fur. Another is the name referred to the regiments' bravery. "The buffalo is a ferocious fighter," Stewart adds.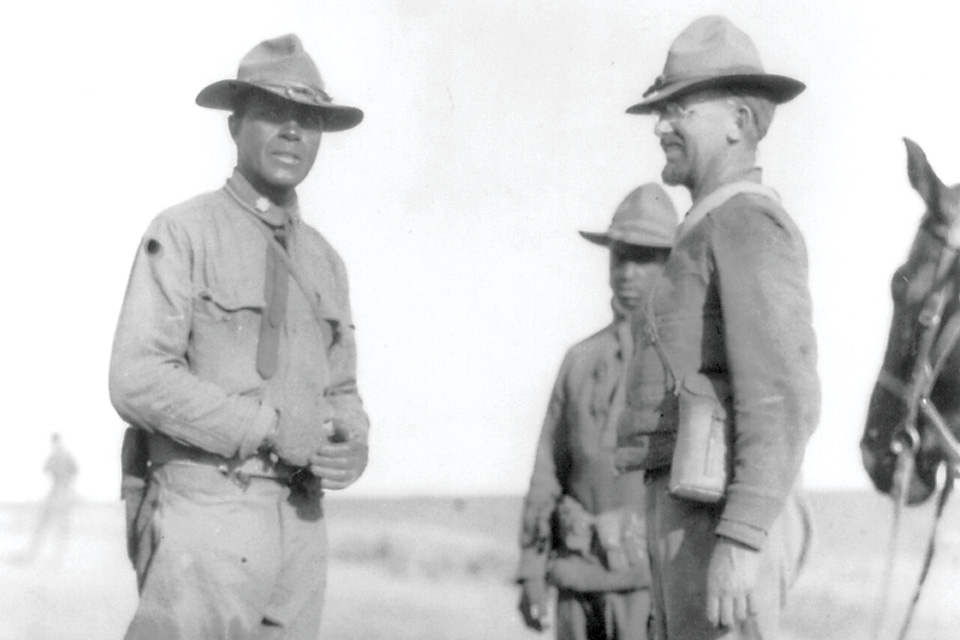 Young's father, Gabriel, had also served in the military. After escaping slavery in 1865, he joined the 5th Regiment, U.S. Colored Heavy Artillery. (Charles Young had been born into slavery in Mays Lick, Kentucky, a year earlier.)
Sometime following Gabriel's enlistment, he and Arminta Bruen moved to the abolitionist hub of Ripley, Ohio, so their son would be surrounded by support. In 1881, as Charles Young graduated with academic honors at the top of Ripley's integrated high school, he read an oration titled "Let There Be Light."
Two years after graduation, Young took the West Point entrance exam, and on June 10, 1884, became only the ninth African-American to attend the academy. After enduring unspeakable racism — including assault — Young became just the third African-American to graduate from West Point and the first to see a successful military career.
"No one knew the truth about the Hell he went through at West Point," Young's friend and NAACP founder W.E.B. Du Bois wrote years later. "He seldom even mentioned it. The pain was too great."
In 1894, after his initial service with the Buffalo Soldiers (he would later lead them in Cuba and the Philippines during the Spanish-American War) Young became a faculty member at Ohio's Wilberforce University — the first college owned and operated by African-Americans.
"He was professor of military science and tactics," Stewart says. "He started the ROTC program that is still in existence today. This was the first program that agreed to train African-Americans to become military officers."
At Wilberforce University, Young befriended Du Bois, who was a fellow professor, as well as famed Dayton poet Paul Laurence Dunbar. A pianist, guitarist and violinist, Young also helped jumpstart the university's marching band.
***
By 1903, Young was headed for the deep woods of California to blaze another trail, this time as the first African-American National Park superintendent. Young and his troops arrived in Sequoia National Park that year to manage and patrol the area, as well as build new roads and trails for public use.
The assignment was a departure for Young, but California brought a new phase of his life as he met his wife, Ada Mills, with whom he had two children, Charles Noel and Marie Aurelia.
"Charles Young led [troops] out of Sequoia and General Grant [now Kings Canyon] national park," Stewart explains. "He created the [route] from Sequoia up to the Giant Forest still in service today. He was able to accomplish more while he was there than the previous three administrations before him."
In 1907, Young was ready for a return to Ohio, purchasing the home in Wilberforce that now stands as the Charles Young Buffalo Soldiers National Monument. President Barack Obama used the Antiquities Act to preserve the home as a national monument in March 2013.
"Wilberforce was a place where he could be surrounded by intellectuals, students he was mentoring," explains Stewart.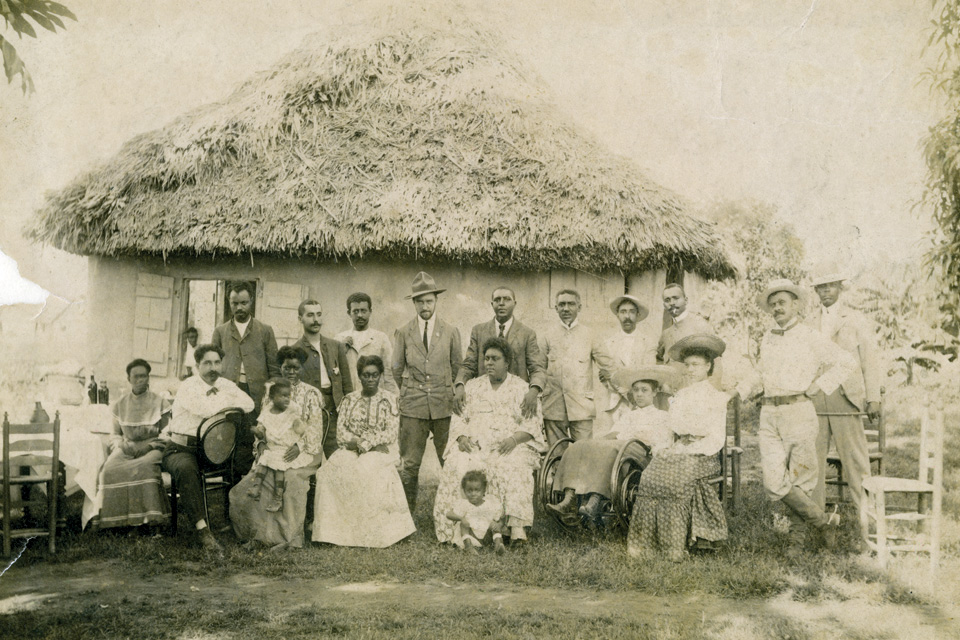 Young earned the praise of President Theodore Roosevelt as the first military attaché to Haiti and the Dominican Republic. He also received the NAACP Spingarn Medal for his diplomatic service in Liberia and distinguished himself as squadron commander during the Pancho Villa Expedition. Between 1912 and 1916, he rose in rank from major to lieutenant colonel.
But in July 1917, as World War I raged in Europe, Young received the unfortunate news from Washington, D.C., that he had been promoted to colonel and then retired from the military. Although his historic horseback ride to convince Secretary of War Newton D. Baker fell short of its initial aim, Young made the most of his reinstatement. After spending time in Ohio and Illinois training African-American troops, he returned to diplomatic service in the African nation of Liberia in February 1920. While on assignment in neighboring Nigeria two years later, he died of a kidney infection at age 57.
Young was only the fourth soldier honored with a funeral service at Washington, D.C.'s Arlington Memorial Amphitheater, and he is buried in Arlington National Cemetery. Du Bois once referred to Young's life as a "triumph of tragedy," and although he was stymied in reaching his full potential, Young's story has helped other African-Americans reach theirs in the U.S. military.
"This is a guy who paved the way for Gen. Colin Powell and Gen. Vincent Brooks," Stewart says. "All these guys came along later on because he showed them they could do it."
For more information about Charles Young Buffalo Soldiers National Monument in Wilberforce, visit nps.gov/chyo.