Ohio Life
The Legacy of Master Carver Ernest Warther
Ernest Warther's formal education ended in second grade, but his ability to make elaborate, hand-carved depictions of trains from the steam-locomotive era cemented him as a genius in his own right.
January 2020
BY Vince Guerrieri | Photos courtesy of the Ernest Warther Museum & Gardens
January 2020
BY Vince Guerrieri | Photos courtesy of the Ernest Warther Museum & Gardens
The Ernest Warther Museum & Gardens serves as a beautiful example of a hobby that got out of control. The former Dover residence of Ernest "Mooney" Warther and his family houses a showcase of intricate wooden works that trace the history of the steam locomotive.

There's a depiction of the DeWitt Clinton (the first locomotive to travel rails in New York, at a whopping 15 mph in 1831), the B&O Besler (a streamlined train that was designed but never built) and Abraham Lincoln's funeral train (Warther, who grew up without a father, viewed the Great Emancipator as a personal hero).

Crafted in ebony or walnut, Warther's trains are made from thousands of individual pieces, including the most delicate of white accents that appear painted but are actually inlaid, hand-carved pieces of ivory or abalone.

"Mooney Warther was a genius," the late humorist Henry Morgan said in the foreword of John P. Haynes' 1977 book The Life of the World's Master Carver. Morgan once shared a couch with Warther on "The Tonight Show Starring Johnny Carson" in 1965. "An ordinary locomotive may not be a work of art, but Mooney's impression of it certainly is."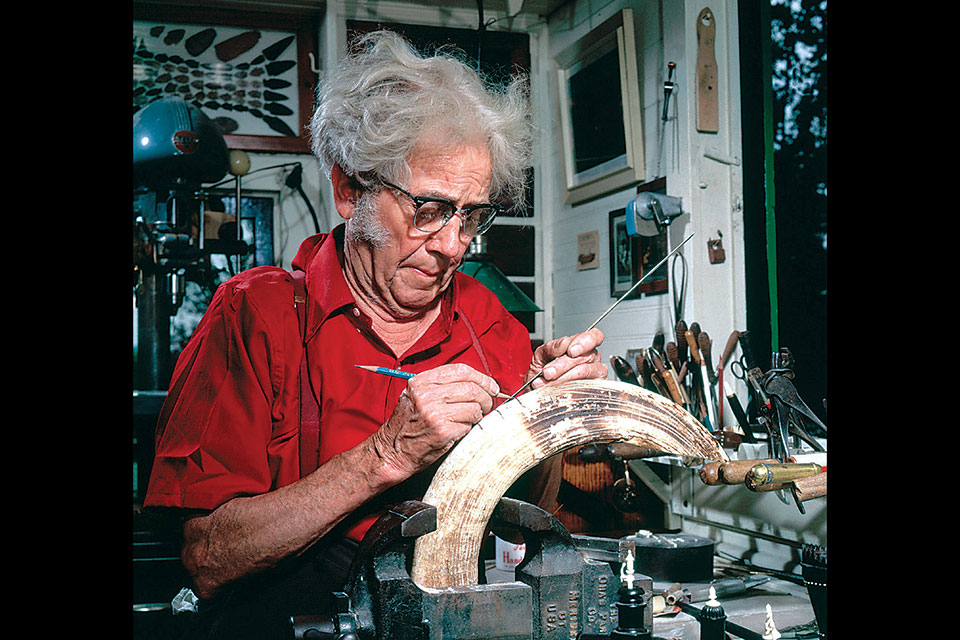 Warther began whittling as a child, after finding a knife in the road while tending cattle near his Dover home. He honed his skill during his teen years, while working in a local mill to support his family. In 1913, when he was in his 20s, Warther embraced his lifelong fascination with both carving and the trains that came through town by setting out to capture the history of steam locomotives in wood. The goal was an ambitious one for a lot of reasons, not the least of which was the fact that Warther's formal schooling ended in second grade. But his intricate craftsmanship was unrivaled, impressing people across the United States. Henry Ford offered to buy Warther's train collection, and the works were displayed at Grand Central Terminal in New York City, at World's Fairs in Chicago and St. Louis and at department stores throughout the nation. Warther was featured by both Popular Mechanics and Ripley's Believe It or Not!

All the while, the carver maintained his humility and was more than content to remain in Dover, where his legacy lives on at a museum that shows just how rare his talent was.

"They thought I was somebody," he once said, years after fame found him. "I still don't think I am."

***

Ernest Warther was born on Oct. 30, 1885, to Godfrey and Anna, who settled in Dover like many other Swiss immigrants. Ernest's father died when he was 3 years old, and all the Warther children had to take on additional responsibilities at a young age. Young Ernest's job was to take the family cow to the pasture to graze, and he soon started doing that for other residents, earning $1.25 a month as well as the nickname he'd carry for the rest of his life: Mooney. (It's a corruption of the Swiss word moonae, meaning "bull of the herd.")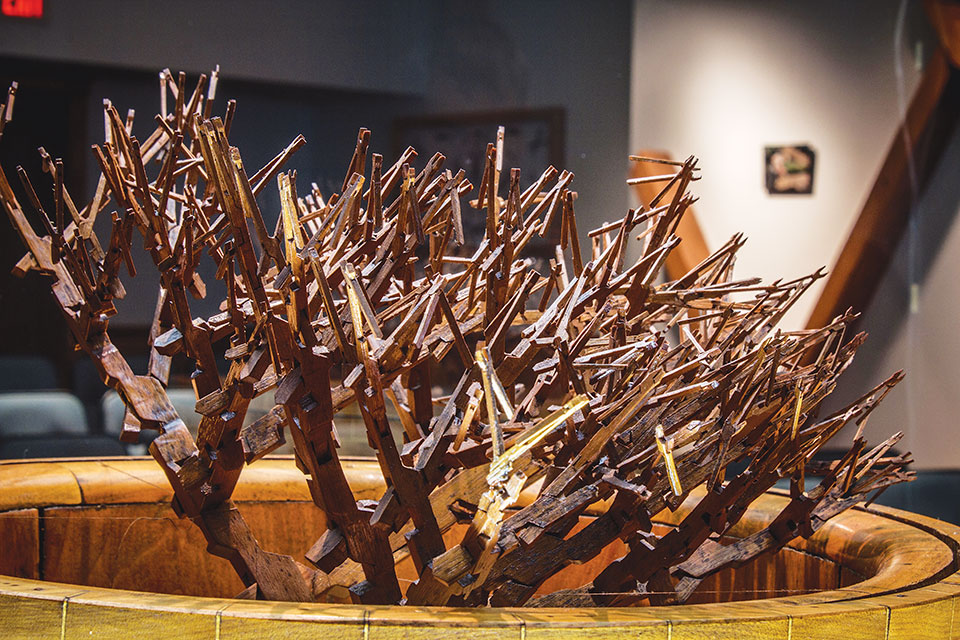 At 14, Warther went to work in the American Sheet & Tin Plate mill in Dover and whittled for fun. He eventually figured out how to take a small piece of wood and turn it into an operational pair of pliers by making just 10 cuts. In 1913, he took a large block of walnut (his preferred wood because it was so plentiful) and made more than 31,000 cuts over a 64-hour span to form 511 interlocking sets of pliers. The Plier Tree was displayed at the 1933–34 Century of Progress World's Fair in Chicago, and Warther personally demonstrated to Robert Ripley that he could close every pair of pliers, folding the ornate tree back into the shape of that original block of walnut.

It's estimated that Warther cut more than 750,000 pairs of small wooden pliers over the years — first for kids' souvenirs and then for a nickel apiece to fund the construction of his museum. His record was making all 10 cuts in less than 10 seconds, which he did during his appearance on "The Tonight Show."

Following the creation of his Plier Tree, Warther decided to switch from whittling, which he said only resulted in a pile of shavings, to carving — creating something important. As a young boy, he had seen dozens of trains passing through town, and Warther understood the rapid technological change railroads wrought. He began carving in walnut, ebony and ivory (the last material gleaned initially from broken billiard balls), creating steam engines from ancient Egypt to the present, all created to scale.

Because Warther had a hard time finding knives he liked, he began making his own, providing a financial sideline during the times when he was laid off from the mill and leading to a chance encounter that propelled him to national fame.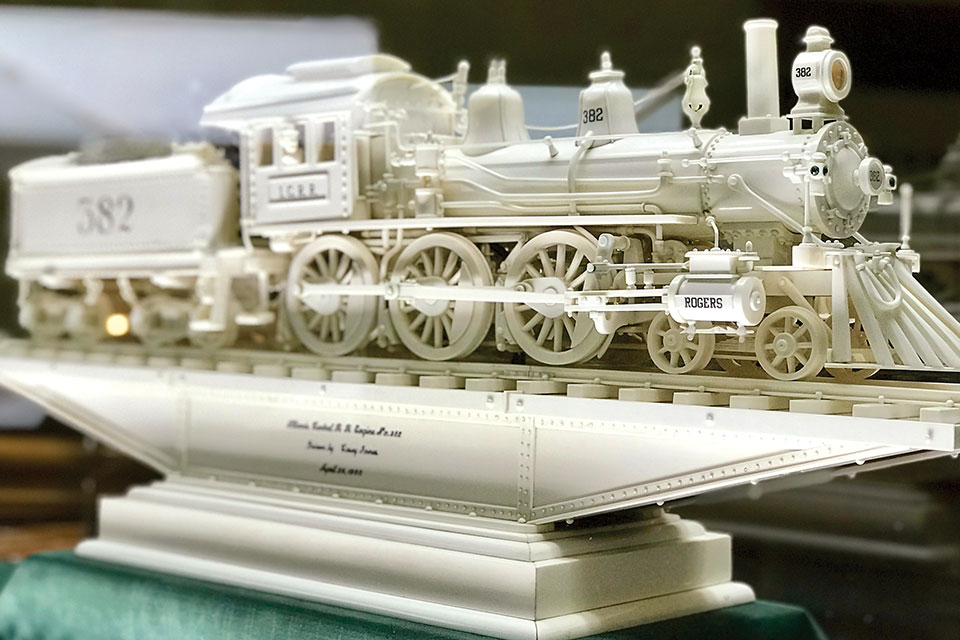 Cleveland attorney Joseph Hostetler came to see Warther around Christmas 1922 to have him make a knife. Hostetler was amazed by Warther's collection of model steam engines and said he'd tell friends at Cleveland's local newspapers. The following February, Warther's work was featured in The Plain Dealer.

By happenstance, executives from the New York Central Railroad who were in Cleveland for a meeting saw the story and commissioned Warther and his locomotives to be part of a traveling exhibit for the sum of $5,000 a year. Warther and 15 of his models were put on a special train car ("I felt like a pig in a drug store," he later said) and embarked on a 13,000-mile tour of the New York Central line, followed by a display at Grand Central Terminal. It's estimated that nearly 786,000 people saw Warther's carvings, including Henry Ford, who offered to buy them for $75,000 and pay Warther $5,000 a year if he'd move to Ford's new museum in Dearborn and carve there. Warther turned down all offers to leave Dover, and soon, the world would start beating a path to his door.

***

In 1910, after Warther married his wife, Frieda, the couple moved into a small home on Karl Avenue in Dover. The residence became a popular gathering place and not just because of Warther's fame as a carver. For one, the family had a playground before there was even one in a local city park. Then, on Mother's Day 1936, a museum called Warther's Wonderland opened in a 12-by-18-foot building behind the home.

The small museum contained Warther's carvings, while his arrowhead collection and parts of Frieda's button collection were displayed in his workshop. But the star attraction was no doubt Warther himself, a small man with a shock of curly hair and a voice that filled any room, who could be found leading tours himself when he wasn't carving.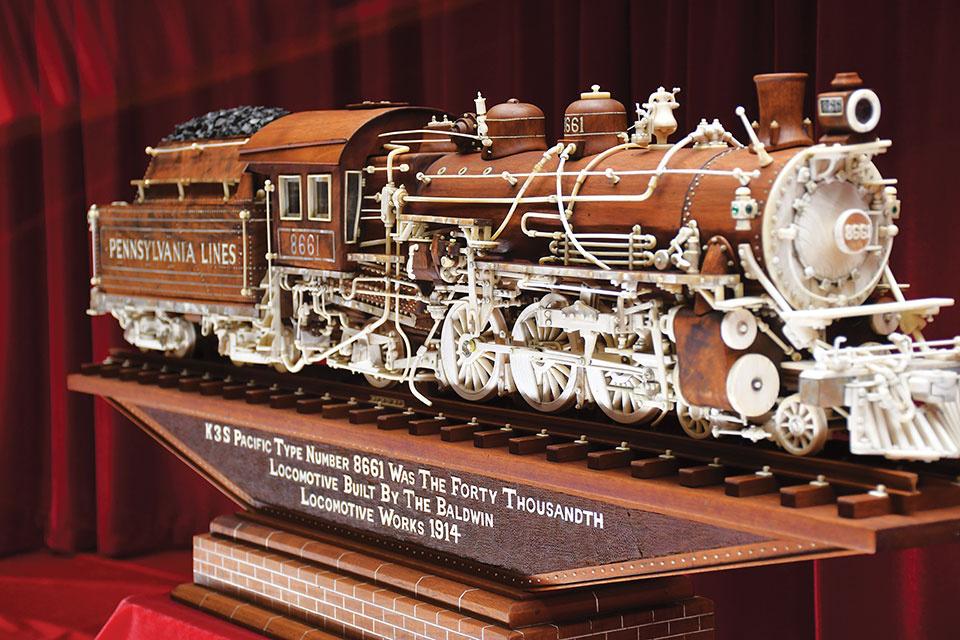 By then, Warther was deriving his income from the knives he made. Any money he earned from other sources fed his carving habit, says his granddaughter Carol Moreland, director of The Ernest Warther Museum & Gardens. He gave away some of his carvings (and when unsatisfied with some of his early works, turned them into kindling), but he never accepted a commission or sold any of his pieces. He didn't think he needed to, once saying, "My roof don't leak, my family's not hungry and I don't owe anybody."

In 1953, Warther finally finished his evolution of steam carvings. His 42nd and final project was the Union Pacific Big Boy, built a decade earlier and so big it couldn't even navigate tracks in Ohio. By then, steam engines were being supplanted by diesel locomotives, which held no interest for the carver. He devoted more time to his museum, which opened its new building in 1963. By then, Warther had added carvings of the mill where he'd worked decades earlier. Warther needed another world to conquer, so he turned to ivory. But he made it a point to look for darker ivory, Moreland says, adding, "That meant the elephant died a natural death and it wasn't poached."

Warther's ivory carvings include an ornate model of Abraham Lincoln's funeral train. He was working on the Ladie Baltimore train in 1971 when he had a stroke, which rendered him incapable of carving any more. Health problems beset him for the next three years, until his death on June 8, 1973, which was met with banner headlines in his hometown paper and coverage across the nation.

Today, Warther's museum lives on. It was added on to in 1988 and 2002, and contains his railroad carvings, the Plier Tree (resting on a pedestal also carved by Warther and lacquered so it won't close again), Indian arrowheads and his model steel mill. The original museum building now holds more than 70,000 buttons, less than half of Frieda's collection.

In 1947, the Dover Chamber of Commerce honored Warther. Normally loquacious, the master carver was stunned to silence. The next day, he wrote down his thoughts, which were printed in the local newspaper. They summed up his life to that point — and really, his legacy since.

"My spirit and ambition are as great as ever, and I long to carry on the work until I lay down my knife for the last time and leave behind a piece of work that will be admired by all the world."

Call or visit website for museum hours and admission prices. 331 Karl Ave., Dover 44622, 330/505-6003, thewarthermuseum.com