Ohio Life
The Legacy of Clearview Golf Club
William Powell's club is the first and only golf course designed, built, owned and operated by an African American. His kids now bring their father's message to a new generation.
August 2019
BY Vince Guerrieri | Photo by Ken Blaze
August 2019
BY Vince Guerrieri | Photo by Ken Blaze
Ever since the first Old Tom Morris Award was given to Arnold Palmer in 1983, recipients of the Golf Course Superintendents Association of America's highest honor have been a who's who of the game, from players such as Annika Sörenstam and Jack Nicklaus to famous supporters of the sport, including Bob Hope and Dinah Shore.

In 2019, for the first time in the award's history, it wasn't given to just one person. The honor went to the Powell family of East Canton's Clearview Golf Club.

"Golf has so many positive stories to tell," explains Darren Davis, immediate past president of the Golf Course Superintendents Association of America and course superintendent at Olde Florida Golf Club in Naples. "We'd never given more than one person the award in a year, but it just made sense. The whole family has such a great story."

William Powell, the family patriarch, first fell in love with the game as a caddy and then as a player during high school and college. When he faced racial discrimination on the course following World War II, he designed and built his own place to play, opening the nine-hole Clearview Golf Club to the public in 1948. (It expanded to 18 holes 30 years later.)

The course debuted three months before President Harry Truman desegregated the armed forces by executive order, six years before Brown v. Board of Education integrated public schools and 13 years before African Americans were admitted to the PGA Tour. To this day, Clearview Golf Club is the only golf course designed, built, owned and operated by an African American.

William died in 2009 and his children now carry on his legacy. His daughter Renee, who used a club her father cut down for her to hit golf balls as a 3 year old and grew up to be the second African American on the LPGA tour, is the club professional. Her brother, Larry, is the course superintendent. They continue their father's mission of inclusiveness with outreach efforts toward urban and rural youth, women and veterans.

"My dad said everyone should have an opportunity to play the game of golf," Renee says.

***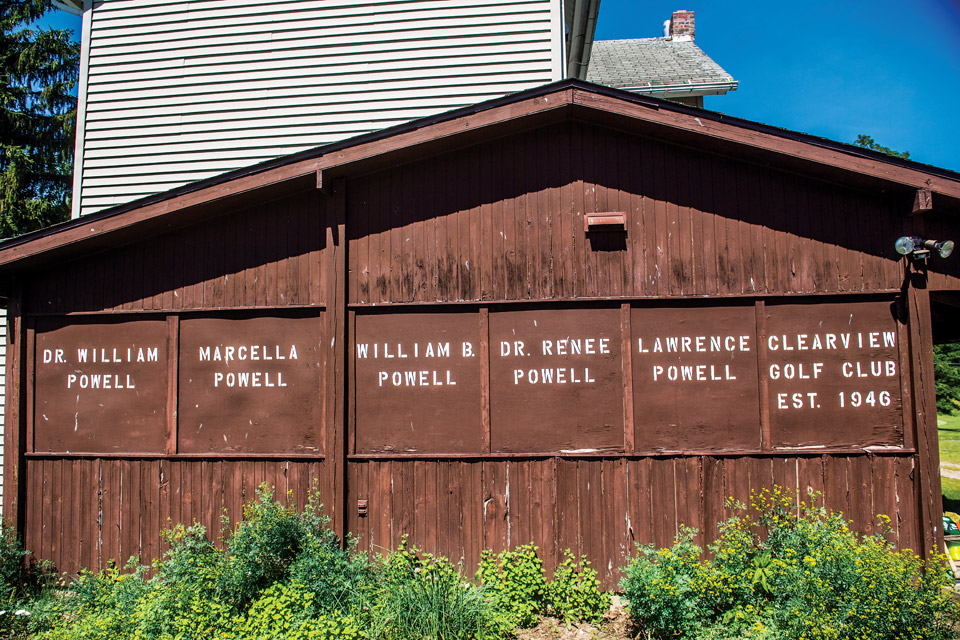 The great-grandson of slaves, William Powell was born in Alabama on Nov. 22, 1916, and his family relocated to Ohio when he was a child. He caddied at local golf courses and was the captain of the golf team at Minerva High School and then at Wilberforce College, where he was part of the team that played the first collegiate golf match by a historically black college against a white college, Ohio Northern University. He served in the U.S. Army Air Corps in England during World War II and spent his spare time there playing golf at local courses. He thought he would be able to do the same upon his return home.

"He didn't come back home to try to build a golf course. He came back home to play golf," Renee says. "He felt as a veteran coming back from World War II that the prejudice and racism in the United States [wouldn't be] the same as when he left, and he'd be able to play golf. He found that things had not changed."

William was denied the opportunity to play the same courses he had as a high school athlete. "You say the hell with them," he told The New York Times in 1996. "You say I'm not going to badger. I'm not going to beg them ... So I said I'll just build a golf course."

And that's what he did. He spotted an old dairy farm along U.S. Route 30 with gentle rolling hills that were reminiscent of England and Scotland. When banks turned him down for a loan, he secured financial backing from his brother and two African American doctors.

William designed a course with British influences and would work a full shift at Timken before heading out to his property and patiently working to turn those plans into a reality.

"He built the course by hand," Renee explains. "He plowed the land and took out the rocks. He seeded the course by walking around with a seeder around his neck and he walked back and forth to seed each fairway. As you can imagine, it's a lot of exercise."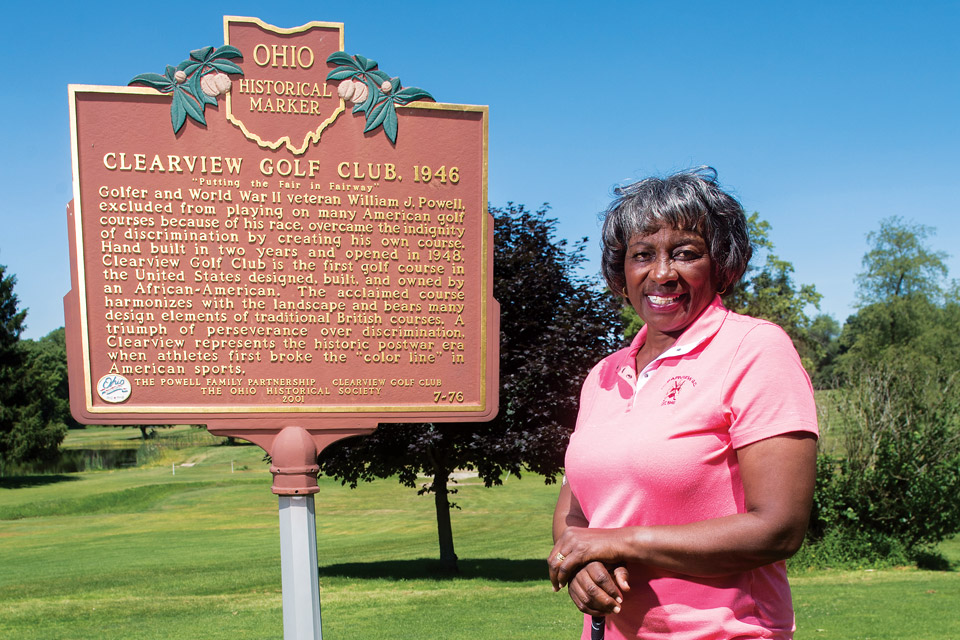 Renee notes that Clearview Golf Club opened two years after the NFL integrated, and one year after Major League Baseball did. "Jackie Robinson and Marion Motley and Bill Willis had a team behind them," she says. "My dad's team was my mom."

Eventually, all of the family got into the business. In addition to honing her skills on the course, Renee helped maintain it.

"I learned to drive the tractor," recalls Renee, who even now can be found fixing lawn equipment at the course. "I learned to mow greens as I got older. The greens are very delicate parts of the course. … You want the ball to roll, so there's a lot more care being taken there."

Renee never played high school golf (in those pre-Title IX days, most high schools had a boys golf team, but few, if any, had a girls team), but she was captain of the team at Ohio University and later at The Ohio State University. In 1967, she joined the LPGA Tour. For a time she lived in England, blazing her own trail as the first female golf pro in the United Kingdom and designing a line of sports clothing that was sold at Harrod's. She was a television golf commentator. But eventually, all roads lead back to home.

"It felt good to be able to put my clothes in a closet or a drawer instead of a suitcase," she says. "People think traveling is great, but I've always been more of a homebody."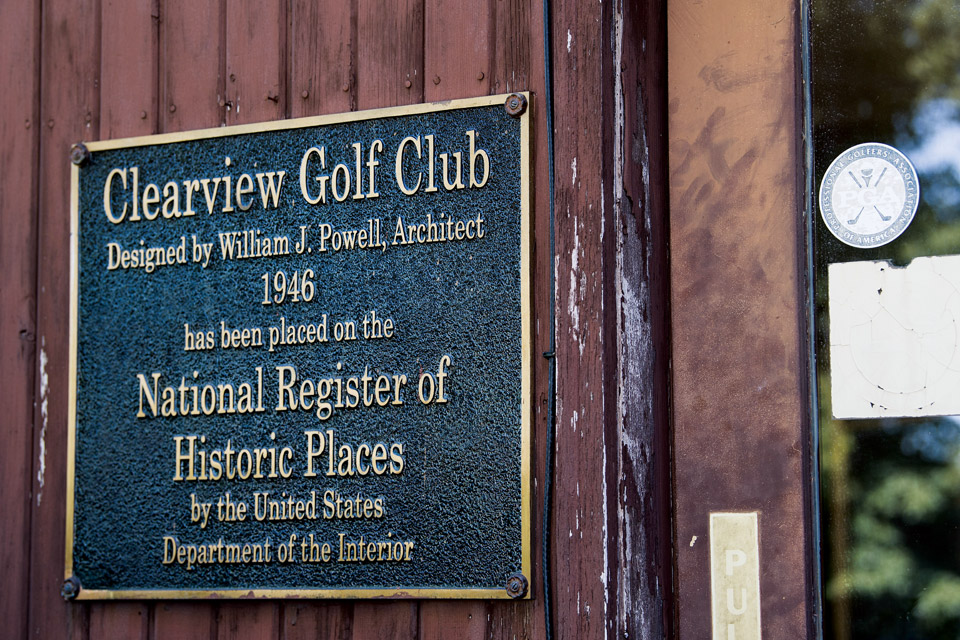 Clearview Golf Club was added to the National Register of Historic Places in 2001, and it has acquired the nickname "America's Course," which leads to an incongruity: People far and wide have heard of it, but people nearby might not have any idea of the course's historical significance.
"Some people come to play just because of its significance," Renee says. "There are a lot of people who don't know the story."

But those who do treat it almost like a pilgrimage. A college in Pennsylvania did a civil rights tour and their last stop was Clearview Golf Club. Minnijean Brown-Trickey, a trailblazer in her own right as one of the Little Rock Nine who integrated Central High School in the Arkansas capital in 1958, made a recent visit as well.

Golf has always carried a reputation as an exclusive game, something William Powell combatted his entire life. It's an effort Renee is honored to carry on.

"My parents created various programs to welcome everyone into the game," she says. "I'm trying to learn and follow in the footsteps of my parents and perpetuating the legacy that they created."

Clearview Golf Club is at 8410 Lincoln St. SE, East Canton 44730. For more information, call 330/488-0404 or visit clearviewgolfclub.com.