Ohio Life
Essay: Why We Love Cedar Point
H. John Hildebrandt worked at Cedar Point for 40 years. As the legendary amusement park celebrates its 150th anniversary, he looks back at our connection to Ohio's summer playground.
May 2020
BY H. John Hildebrandt | Illustration by Jeff Suntala
May 2020
BY H. John Hildebrandt | Illustration by Jeff Suntala
During my years as general manager of Cedar Point, one of my duties was to spend time on the ride platforms of big, scary, intimidating roller coasters. Millennium Force qualified. Top Thrill Dragster qualified. So did Magnum and Raptor.

In any portion of the line of waiting riders there would be some first-timers. They were always easy to spot, with a facial expression that clearly said, "What did I let myself get talked into?!" and often a strong grip on the arm of his or her companion.

But I also spent time on the platforms of rides like Gemini, Iron Dragon and the Cedar Creek Mine Ride. Not nearly as much angst in those lines, but still plenty of emotion.

Kids take to the rides in Kiddie Kingdom or Planet Snoopy almost instinctively. There's no fear, just fun. But when you're about to graduate to Gemini, your knees get a little wobbly, your throat tightens, and you hold dad's hand a little tighter.

On rides like Gemini and Iron Dragon, there is a lot of parent-child bonding. It's special for all. For mom or dad, it's the memory of their first ride and the thrill of experiencing it again with their child. For the daughter or son, it's an important rite of passage: the gateway to Millennium Force.

My first knowledge of Cedar Point came from my maternal grandmother, who had visited often as a child. Her family would take one of the beautiful lake steamers from Cleveland to the Cedar Point dock at the tip of the peninsula, returning that night after a full day. Her eyes would brighten as she described the park lights and the summer moon on Lake Erie.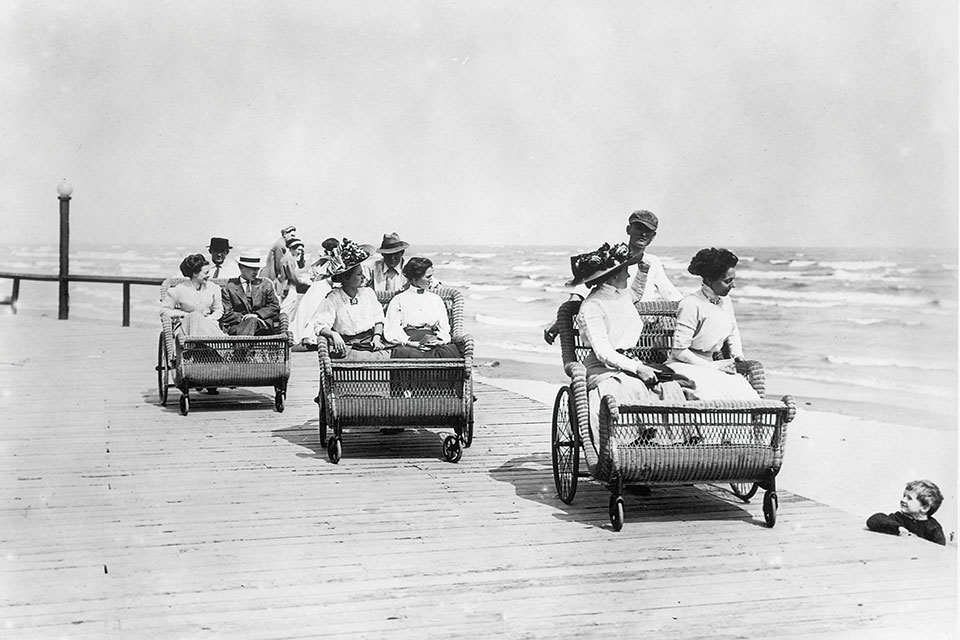 She was born in 1894 and served as my first proof that Cedar Point is the type of place that creates family memories, shared memories, by the millions every summer. What many guests feel toward Cedar Point is genuine affection, and it's easy to understand why.

In my view, the history of Cedar Point can best be understood in five eras. From 1870 until the end of the 19th century, it was a local park focused on single-day excursions: picnics, dancing, swimming, band concerts and riding a few rides.

Then, in 1897, Indiana businessman George Boeckling acquired the park. He had a vision for what this stretch of Lake Erie beach could become and didn't waste any time making it reality. In 1905, he opened the 600-room Hotel Breakers, and in 1906 he built the massive Coliseum. That same year he introduced a new "electric" midway. He poured money into promotions and advertising and it worked. The Boeckling era was truly Cedar Point's first Golden Age.

When Boeckling died in 1931, the era to follow was all about just hanging on, as The Depression and World War II were not kind to Cedar Point. Then, in 1956, Toledo bond dealer George Roose and Cleveland banker Emile Legros acquired the park. Their original plan was to turn Cedar Point into a real estate development — a Fort Lauderdale of the north. Various groups, including the State of Ohio, objected, and Roose and Legros decided to give their purchase a try as an amusement park. Using Disneyland as a model, over the next 15 years they transformed Cedar Point into a modern amusement park.

Starting in 1976 with the opening of the Corkscrew followed by Gemini in 1978, Cedar Point entered the roller coaster era in a big way. Led by Cleveland insurance executive Bob Munger and then, starting in 1986, by Toledo native Richard Kinzel, Cedar Point became "America's Roller Coast," home to an incredible collection of coasters.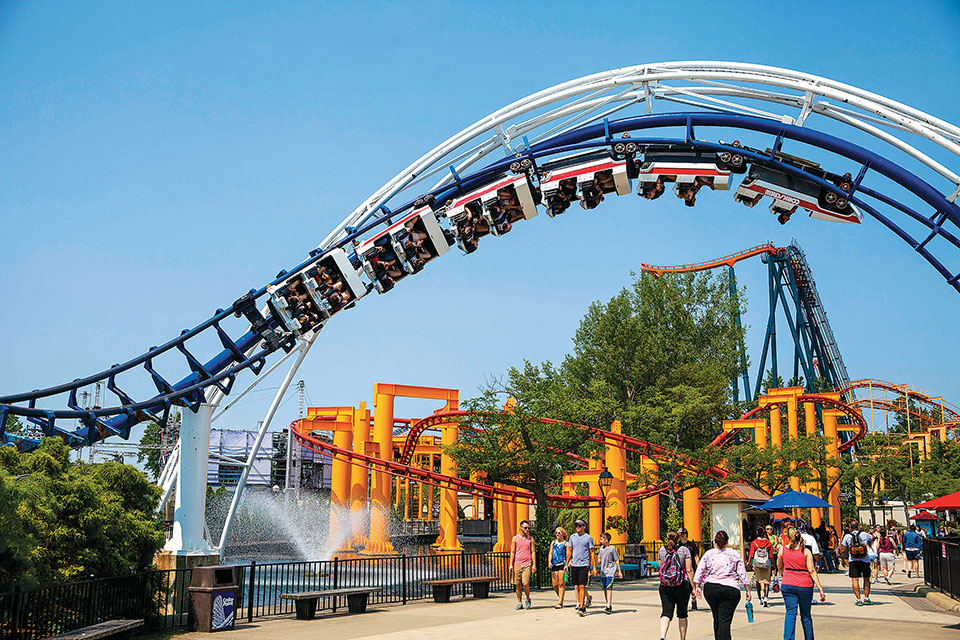 Under Kinzel's 25 years of leadership, the resort side of the business was revitalized and expanded, and the success that followed has been a second Golden Age for the park. It led to the creation of Cedar Fair Entertainment Co., with 13 parks across the United States — all headquartered at its flagship park, Cedar Point.

There is much to appreciate in the hidden side of Cedar Point. If you know where to look, you can see and hear and, most especially, feel the past. I believe that knowledge of the park's 150-year-old story adds to the experience of visiting.

The oldest structure on the peninsula is the Cedar Point Lighthouse, constructed in 1839. It was enlarged in the 1860s and served as the guardian of Sandusky Bay for decades. Cedar Point acquired the lighthouse in 1986 and refurbished the structure. The land around it became Lighthouse Point in 2001, an RV campground and cabin and cottage resort. During the Civil War, the land next to the lighthouse was used for a Union gun battery, which watched over the prison for Confederate officers on Johnson's Island, about a mile west across Sandusky Bay.

Lake Erie is a big part of the Cedar Point experience for many guests who have traveled from landlocked parts of Ohio. I believe the most impressive vista of any park in America is the view of Cedar Point from the start of the Richard L. Kinzel Causeway. Quite suddenly, you leave behind standard roadside buildings and are face to face with the blue-green water of Sandusky Bay. About a mile across the bay rises a magical skyline: Millennium Force, Power Tower, GateKeeper, Valravn, Top Thrill Dragster. In 40 years as a park employee, I never tired of the view driving over the causeway. Never. I thought I had the best commute in the world.

The beach started it all and is the reason George Boeckling built Hotel Breakers. It is still wide and beautiful. The Cedar Point Archives house a remarkable collection of vintage photographs of guests enjoying the sand and the water, complete with interesting bathing gear, of course.


In 1913, legendary Notre Dame football coach Knute Rockne worked as a lifeguard on the beach, where he and teammate Gus Dorais practiced new techniques for utilizing the forward pass. And pioneer aviator Glenn Curtiss set a world record — 60 miles — for the first long-distance flight over water in 1910, landing to a crowd on the Cedar Point Beach. The current Cedar Fair CEO, Richard Zimmerman, and his predecessor, Matt Ouimet, committed to revitalizing the beach. On summer evenings it's magical with special lighting, live music, volleyball, new food offerings, even fire pits. George Boeckling would approve.

The most iconic building at Cedar Point is the Coliseum, which opened in 1906. Visually, it dominates the main midway. It looks like a creature of its time with its stucco walls and giant cupolas, but it also seems to be comfortable living in 2020. The second floor of the Coliseum is the giant Ballroom, easily the most dramatic and beautiful interior space at the park. The wooden floor is original. Walk across it and listen to the echoes of Big Band legends like Tommy Dorsey and, somewhat more recently, The Byrds performing "Mr. Tambourine Man." I was in the audience.

Unlike nearly all other major amusement parks, Cedar Point did not spring from a planner's drawing board. What you see is 150 years of evolution. Yet Cedar Point is not a museum. Like all successful enterprises, the park is always reinventing itself with new rides and attractions. One morning in 2012, I watched as the Space Spiral, an icon for almost 50 years, came crashing down to make way for a major new coaster, GateKeeper. I had good memories of the Space Spiral, but GateKeeper was an upgrade.

Coasters have been the stars of the midway for more than a century. The first Cedar Point coaster, the Switchback Railway, opened in 1892. (Top speed was about 10 mph.) In the early years, coasters were important attractions, but Cedar Point defined itself as more of a resort.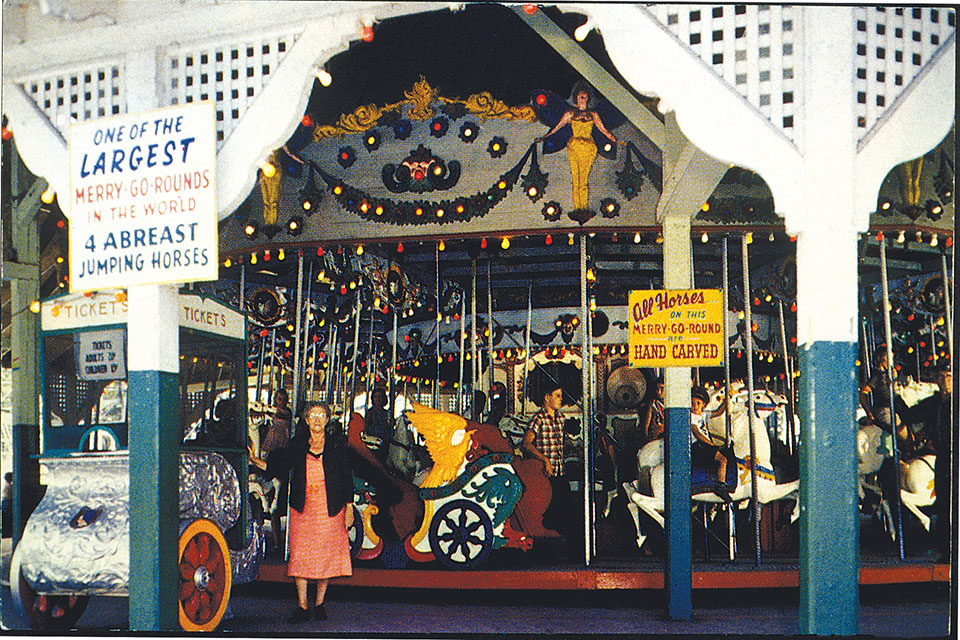 Still, the park opened the Cyclone in 1929. The next major new coaster, the Blue Streak, opened in 1964, and has become a well-loved legacy of the Roose and Legros years, still generating its share of screams. More than 20 coasters have been built since the Blue Streak opened, roughly one new coaster every other year. Not a bad record.

But the true guardians of Cedar Point are its employees. The summer workforce comes from everywhere — Columbus to Columbia — but is led by students from Ohio colleges. They refer to it as "The Point" or "CP" and about two-thirds are housed at the park, helping to create friendships that last a lifetime.

The intensity of attachment among many Cedar Point guests is often compared to the feelings some fans have for their sports teams. I get it. I can still see Kyrie Irving launching that shot over Stephen Curry during the 2016 NBA Championship. But I also still suffer the psychic scars from The Fumble, Red Right 88 and two Game 7 World Series losses.

With sports, sooner or later, you feel the agony of defeat. Not so on the midway, where the worst that can happen is a rainy day. Cedar Point is authentic, the real deal, our 150-year-old diamond becoming more beautiful each season.

H. John Hildebrandt is the author of Always Cedar Point, a Memoir of the Midway.