Ohio Life
Pinball Wizards
The 20th century's longest-lasting arcade game thrives in Cleveland thanks to three artists.
February 2016 Issue
BY Andrew Poulsen | Photo by Ken Blaze
February 2016 Issue
BY Andrew Poulsen | Photo by Ken Blaze
The feeling one gets walking through the door is half nostalgia, half sensory overload. The room blinks with blue and red bulbs, while syncopated clinks and clanks emanate from more than 20 machines stretching back to the 1950s. Images of racehorses, tigers and spaceships cover the walls — all of them inspired by the main attraction at Cleveland's newest memory-triggering wonderland of shapes, colors and sounds: pinball machines.

"There's a tangibility and simplicity that makes pinball more approachable than other games," says Ben Haehn, co-owner of Superelectric Pinball Parlor. "There's just a playing field and a loose ball."

Haehn, along with Nathan Murray and David Spasic opened the spot in Cleveland's Gordon Square Arts District late last year, and the trio's lifelong passion for vintage games is becoming the neighborhood's newest hub for family fun.

It's an interest that, for Haehn, dates back to his childhood days playing a vintage Cow Poke pinball machine that his father had purchased from an arcade when he himself was a kid. Although Haehn's family moved many times over the years, his father hung onto the machine. When age began to take its toll on the game, Haehn began tinkering with it.

"After I fixed it, my mom and dad started playing and they were both laughing, and my mom said, 'You know, after the first date we went on, we went back to your father's house and we kissed for the first time in front of Cow Poke," Haehn recalls. "It was like they were 15 again, and it's cool there are these kinds of memories in this stuff."

The roots of Superelectric Pinball Parlor stretch back to 2008 when Haehn, who was working in the film industry, had some money he was looking to invest. After successfully rebuilding his dad's Cow Poke machine, he recruited Spasic and Murray to buy more games to fix and flip.

The three began the project at Cleveland's 78th Street Studios — an artists' collective located half a mile from the pinball parlor — where they were simultaneously running their screen-printing business. Within a year, five machines had turned into 25 as the trio's artistic endeavors took a backseat to their new passion project. The men learned along the way by thumbing through old pinball manuals and watching instructional videos on YouTube. Today, Haehn is able to handle repairs for many of the analog and mechanical components, while Spasic works on the newer digital machines. Murray handles art restoration.

Websites like eBay and Craigslist have made finding pinball machines easier than ever, but Haehn freely admits that games are often in worse condition than promised in their photo online. He uses collector sites, which allows the trio to purchase machines in larger lots and build relationships with buyers and sellers across the country. There's also a geographical advantage for Midwesterners entering the pinball business, according to Haehn.

"Most of the world's pinball machines were made in Chicago, so there are more pinball machines in the Midwest than anywhere else," he says. "This is like the Rust Belt of the pinball world."

***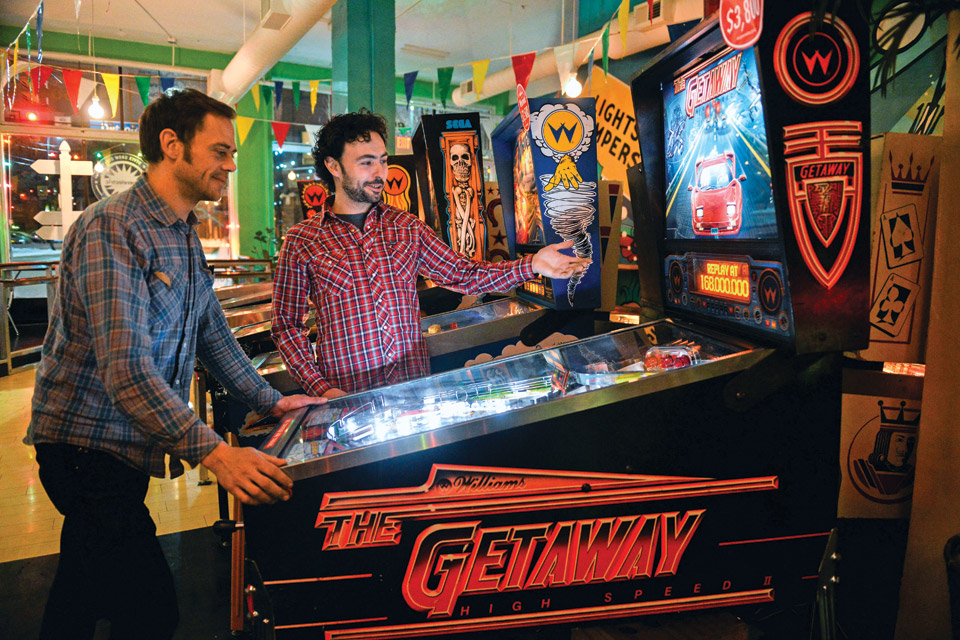 The original plan was solely to buy, refurbish and sell pinball machines, but then Haehn, Murray and Spasic began inviting the public to their 78th Street Studios space during the Gordon Square Arts District's "Third Fridays" arts events. The positive reaction made it clear that they needed to find a place to open a permanent pinball parlor. They found one last fall in the heart of the Gordon Square Arts District, signing the lease the first day the space became available.
As Haehn and Spasic did much of the woodwork and machine repairs and Murray handled the design aesthetics, the men worked incessantly to transform the storefront while maintaining part-time jobs and other artistic projects. When the doors opened in December, the public responded immediately.
"Pinball has an elegance that's akin to a classic car," Spasic says. "It has a more creative style of play than your typical arcade or video game."
Now in their mid-30s, Haehn, Murray and Spasic were born right around the time pinball faced its decline. In the late 1970s and early '80s, Pong and Atari changed the gaming landscape, and arcades across the nation couldn't get rid of their pinball machines and other electromechanical games fast enough.
"The introduction of Pac-Man and Space Invaders was really when the first steamroll began," Haehn says. "Entire arcades would be filled with just 25 to 30 Space Invaders machines."
The late '80s and early '90s saw a rebound for pinball as new machines were designed with more digital elements and playing options. Although the game never fully regained its mid-20th century popularity, companies such as Stern still produce new machines for loyal fans.
Superelectric Pinball Parlor is home mostly to electromechanical machines, which run on analog switches, tabs and relays with opening and closing circuits.
Depending on the machine, one game can have 500 to 1,000 tabs working at once so the lights, scoreboard and other components run smoothly. Many of these analog games were phased out by digital machines that are capable of achieving the same functions as hundreds of tabs with just a handful of computer chips.
"It's a tricky beast," Haehn says. "It's been quite an endeavor to understand the nuance of each machine."
Even after as long as six decades, many electromechanical pinball machines are still intact, with the exception of a few minor fixes. Spasic says the inner workings of digital machines carry a shelf life of 20 to 30 years and are difficult to replace or repair. On the contrary, electromechanical games that have stayed in dry, dust-free environments play as well as they did when they were new. In fact, Spasic says letting patrons play the games is healthy for the vintage machines' flippers and other components.
Customers at Superelectric Pinball Parlor purchase tokens, which operate like quarters. Unlike other arcades, all of the machines are also for sale. The median price for a vintage electromechanical pinball machine runs around $1,500, while many of the newer versions sell for upwards of $4,000.
The parlor hosts monthly tournaments for experts and amateurs alike, and it can be rented for private parties and other events. This year, it'll be the site of Ohio's state pinball championships, and Haehn says he hopes to eventually host a national tournament. While the parlor currently sells only soda, coffee and other light concessions, Spasic says he and his business partners plan to build a kitchen that serves Korean-style fried chicken.
"We want this to be a place for families to spend a few dollars, or have dinner and make a whole experience out of the pinball parlor," he says.
That experience extends to a life-size diorama Murray created in one corner of the place. Appropriately named "Dad's Den," it features a jukebox that spins 7-inch records of classic rock hits alongside a framed velvet painting of Elvis Presley, a taxidermied walleye, old beer signs and other retro treasures.
"We were looking at vintage photos of pinball parlors and the basements we had been in as kids," Murray says.
As their business evolves, the partners hope to create more of these scenes that celebrate the game's glory days. The pinball parlor has become a gallery of sorts for the three artists.
"This space was the largest art project any of us had ever worked on," Spasic says. "Everything about it is something we looked at creatively and tried to make it as cool as we could."

Superelectric Pinball Parlor is located at 6500 Detroit Ave., Cleveland 44102. It's open Tues.–Thur. noon–11 p.m., Fri.–Sat. noon–1 a.m., and Sun. noon–8 p.m. For more information, visit superelectric.tv.