Ohio Life
How an Ohioan Created an International Star Trek Fan Club
When "Star Trek" fan Russ Haslage set out to launch a fan club for his favorite science fiction franchise, he turned to the show's creator. Decades later, the International Federation of Trekkers has chapters around the globe and a headquarters in Huron, Ohio.
May 2021
BY Vince Guerrieri | Photo by Ken Blaze
May 2021
BY Vince Guerrieri | Photo by Ken Blaze
As a boy growing up in Lorain, Russ Haslage had little time for "Star Trek." He was too busy playing sandlot baseball, with dreams of one day patrolling the outfield for the Indians at old Cleveland Municipal Stadium.
"I remember it, but I didn't watch it," he says. "Honestly, I watched 'Lost In Space' more."
He was hardly alone. "Star Trek" was never widely popular while it aired on NBC from 1966 to 1969, although it did develop enough of a cult following over the subsequent decade that a movie was made.
Haslage saw "Star Trek: The Motion Picture" when it premiered in 1979 — "just for nostalgia's sake," he recalls — and was so taken with it that he returned to the theater every Wednesday for 13 weeks to watch it again and again.
The movie was regarded as more than a little turgid, particularly compared to "Star Wars," which had been released two years earlier and had inspired its own passionate fan base. But Haslage was captivated enough that he started a fan club, with advice and counsel from Gene Roddenberry, the Los Angeles motorcycle cop turned television producer who created the original series.
Today, the International Federation of Trekkers has about 2,100 members with more than 30 chapters around the world, including outposts in China, Australia and the British Isles. As of fall 2020, the organization got a new home in a plaza on Cleveland Street in Huron — not far from where Haslage lives. Like the crew of the USS Enterprise — and all of the assorted television shows and movies related to what's become one of the most popular and enduring science fiction franchises in history — the mission of Haslage and the Federation is ongoing, but similar: traveling to different places and helping people in the name of fellowship and cooperation.
"Every day I come here, I just say, 'I hope Gene's proud,' " Haslage says. "It's all about the mission."

---

So much of television history begins with "I Love Lucy" and that includes "Star Trek." Lucille Ball and her husband, Desi Arnaz, formed a production company, Desilu, to make their show — and record it, unlike other shows of the era. "I Love Lucy" was sold into reruns making Arnaz and Ball rich enough to start producing other television shows, including "The Untouchables," "Mission Impossible" and "Star Trek," a show pitched by Gene Roddenberry, an Army Air Forces veteran of World War II and former Los Angeles police officer who had turned to scriptwriting and television production. He had started with TV westerns, and first pitched "Star Trek" as " 'Wagon Train' in the stars."
"Star Trek" premiered on Sept. 8, 1966, just a few days after it was shown to a standing ovation at a Cleveland science fiction convention. Science fiction of the era was dark, no doubt influenced by World War II, the atomic age and the Cold War. But Roddenberry's version of the future was utopian, with a crew that included a Russian, an Asian-American and an African-American woman. "Star Trek" scripts, written by science fiction legends like Richard Matheson and Harlan Ellison, made thinly veiled references to issues of the day, like the Vietnam War and the Civil Rights movement. (The first interracial kiss on American television occurred on "Star Trek," and Martin Luther King Jr. was a fan of the show.)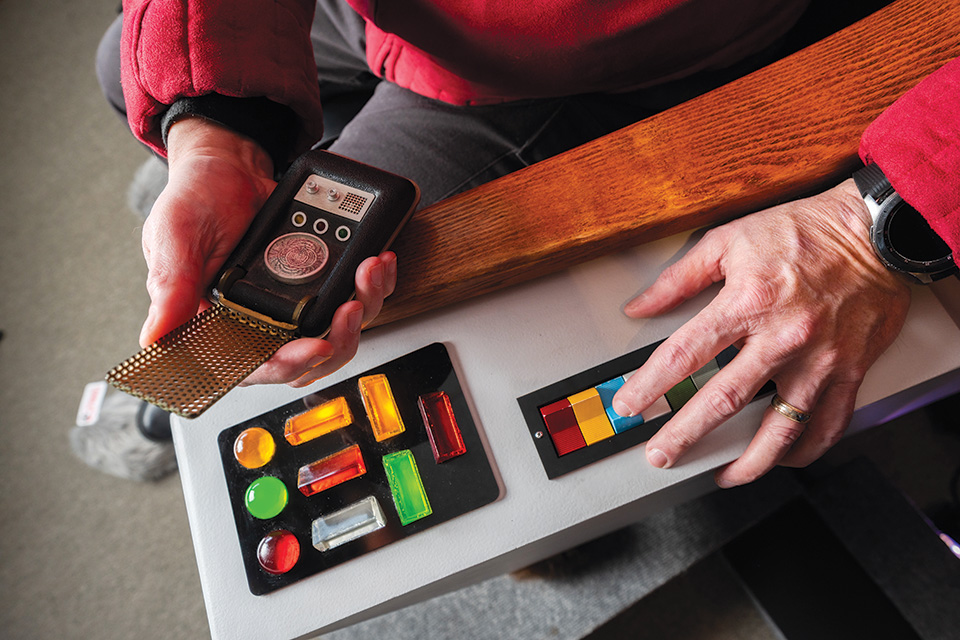 "It was quite distinct from other science fiction," says Joe Outlaw, who watched the show as a junior in high school and remains a fan today. "It had a hopefulness for the future, that humanity will survive."
That message was taken to heart by a lot of people, particularly children and college students. The fanbase was small but devoted, and a unique syndication deal was struck in 1967 while the show was still on the air, with Kaiser Broadcasting, a network of stations that included WKBF in Cleveland, sustaining the show's popularity until the first movie came out in 1979.
"Star Trek: The Motion Picture" was successful enough to inspire a sequel three years later, this time featuring a villain from an episode of the original series. Haslage was first in line at Midway Mall in Elyria to see "Star Trek II: The Wrath of Khan" when it came out. He was officially hooked and wanted to be part of a fan club. The problem was he didn't see the movies' message of idealism and cooperation in fan clubs, which mostly gathered to watch reruns of the show using new technology of the time: VCRs.
"I decided if I'm going to do this myself I'm going to get direction from the top," Haslage says of his club's beginnings. "So I called Paramount and asked to speak to Gene Roddenberry."
Surprisingly, they put him through to Susan Sackett, Roddenberry's longtime assistant. "She said Gene wasn't in, but she'd take my name and number," Haslage recalls. "I thought, At least they gave me a polite brushoff.'

Ten days later, his phone rang.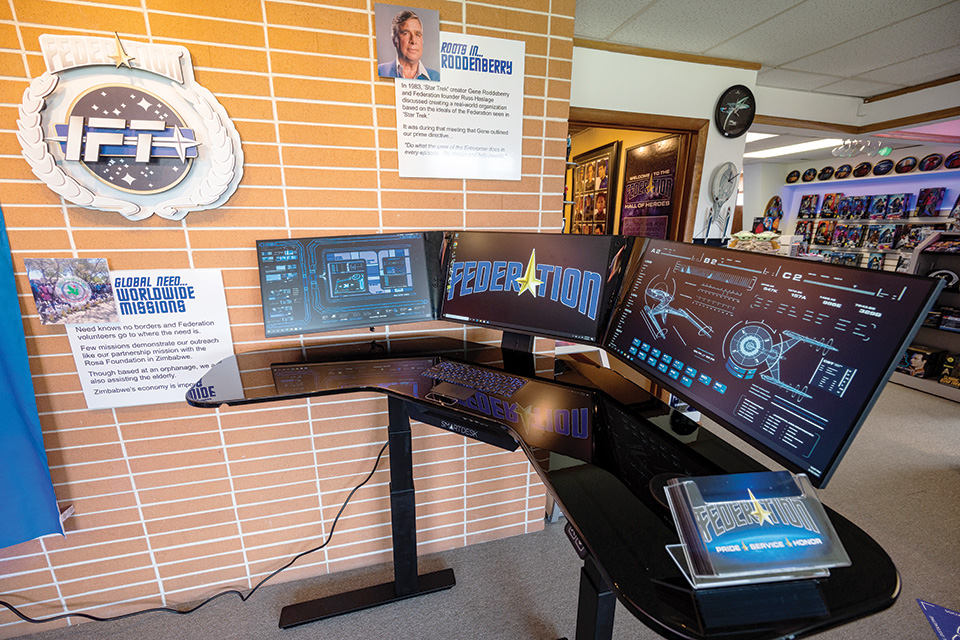 "'Russ, this is Gene Roddenberry,'" Haslage heard on the other end before subsequently stammering his way through the call. "He gave his time, his energy and brain cells to me. I never asked him why me. Maybe I was the only one who asked."
Over the course of the phone call, Roddenberry and Haslage ironed out the idea of what started out as the Ohio Federation of Trekkers, a philanthropic organization that reflected Roddenberry's vision of a federation that not just sought out new life and civilizations, but also helped them.
"The crew of the Enterprise goes places and helps people," Haslage says. "So in the real world, the ultimate 'Star Trek' fan club should go places and help people."

Philanthropy remains an important part of the Federation's mission, enough so that each chapter has to engage in it to remain in good standing. The Federation's office in Huron has pictures of its mission in Zimbabwe, and stores of food, clothes and school supplies for kids in local school districts, which took on added importance in the past year when even more people were in need of help. Outlaw, now captain of the USS Challenger, the Federation's Cleveland chapter, said his chapter is an active supporter of the Cleveland Police Museum. (Roddenberry's second wife, Majel Barrett, who was Nurse Chapel on the original series was a Cleveland native. Her father, a Cleveland police officer, was killed in an ambulance crash in the line of duty.)
It was the organization's philanthropic mission that brought Pam Schulin to the Federation earlier this year. Schulin, a retiree in Amherst who helps with office-management duties, was looking for the opportunity to do some volunteer work. As an avid "Star Trek" fan growing up in Lorain, the focus on Trek fandom was a bonus.
"They wanted to promote the good of 'Star Trek,' " she says, "and wanted to go out and do work."

---

One of the hallmarks of "Star Trek" fandom was how the actors involved interacted readily with fans. Haslage met most of the original cast, including Leonard Nimoy when he spoke at Lorain County Community College in 1985, and Mark Lenard, who played a Romulan in Haslage's favorite episode, "Balance of Terror," before portraying Spock's father.
"Everyone from the original series is awesome," he says. Even William Shatner, who has acquired a reputation for being prickly.

"Bill gets a bad rap, but he's a good guy," Haslage says. "As long as you laugh at his jokes."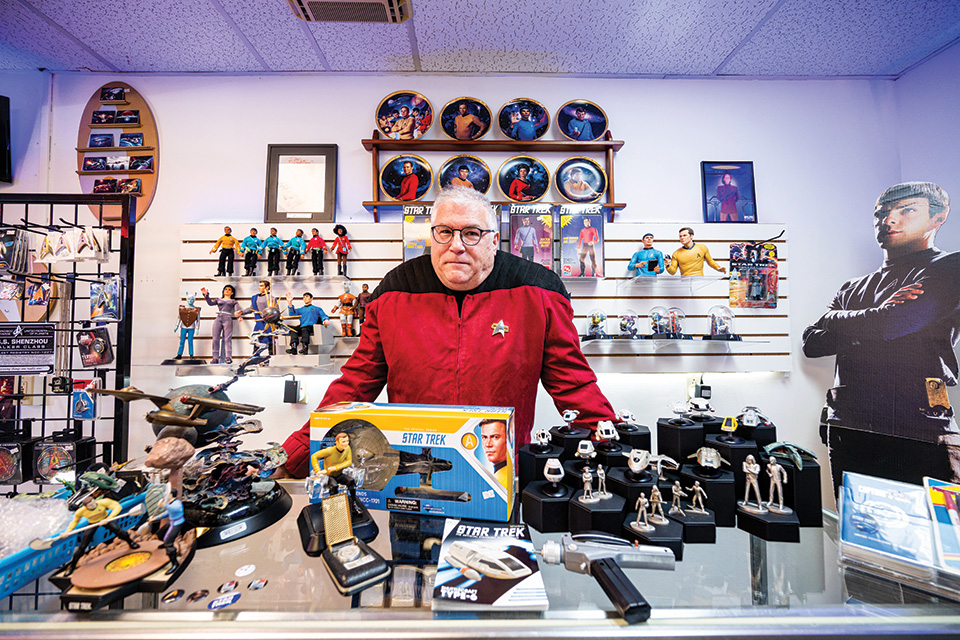 But his closest relationship has been with Nichelle Nichols, who portrayed Lt. Uhura on the original show and ensuing movies. The first time he met her, she gave him her phone number and her mother's phone number as well, in case he ever needed to track her down.
Nichols is scheduled to make an appearance at the Federation Sept 10 through 12. She'll sit in the model of the Enterprise captain's chair and interact with fans, many of whom might be discovering the Federation office for the first time.
When they stop in they'll find memorabilia, from antiques tied to the original show to the latest Funko Pops and other actions figures. Much of it came from a member of the Federation who had a store selling "Star Trek" memorabilia in Columbus known as Starbase. When the store closed, Haslage acquired its contents, but he was looking for a space beyond the storage facility where he kept it all, which brought him to the Federation's storefront in Huron. In addition to the gift shop, there is a host of rooms, each with starship-themed names. There's a galley, a communications center and an emergency airlock (also known as the fire exit in the back).
"I know it's going to grow," Haslage says of the Federation. "People don't know we're here."
Haslage's efforts are a loving tribute to Roddenberry's original vision for "Star Trek." Although most of their relationship came in the form of letters or the occasional phone call, he once got an audience with the show's creator. During the "Star Trek" 25th anniversary convention in Los Angeles in 1991, Haslage was called backstage. Roddenberry, months away from death, had already been weakened by a stroke and was in a wheelchair.
"He actually stood up and put out his hand," Haslage recalls. "I tear up just thinking about it. He really was a great man."

The Federation is located at 501 Cleveland Rd. W., Huron 44839. For more information, call 877/365-8735 or visit trekfederation.com.