Ohio Life
Ohio State: The '68 Season
On the 50th anniversary of Ohio State University's legendary campaign, eight of the men who played for and coached alongside Woody Hayes recall in their own words the Buckeyes' road to a national championship.
November 2018
BY Barry Goodrich | Photo Courtesy of the Pasadena Tournament of Roses/Rose Bowl Game
November 2018
BY Barry Goodrich | Photo Courtesy of the Pasadena Tournament of Roses/Rose Bowl Game
Woody Hayes was in trouble. After his 1966 Ohio State Buckeyes suffered through a dismal 4–5 season, fans were calling for the mercurial coach's firing. A plane circled Ohio Stadium trailing a banner proclaiming "Goodbye Woody." In Columbus, where Ohio State football is a way of life, the Buckeyes faithful were restless.

Hayes needed a quick infusion of talent, and by the start of the 1968 season he had it. The master recruiter had assembled what would come to be known as Ohio State University's Super Sophomores.

The Buckeyes went unbeaten during the regular season and became the nation's top-ranked team along the way — one that would go on to humble a University of Southern California squad led by All-American running back O.J. Simpson in the Rose Bowl on Jan. 1, 1969.

Widely considered one of the greatest teams in the history of college football, the 1968 Buckeyes averaged 32 points and 440 yards per game, holding opponents to an average of 15 points per contest. Fifty years later, the players who took the field that legendary season remain teammates in the best sense of the word.

***

Ohio State prepared for the 1968 season with a roster of talented all-around athletes and a coaching staff that included Hayes, Earle Bruce, Lou Holtz and Bill Mallory. Even as freshmen, the Super Sophomores more than held their own against the Buckeye varsity during practice sessions.

***

Lou Holtz
Defensive Backs Coach
Jan. 6, 1968, was my birthday and the day Ohio State offered me the coaching job. Georgia Tech had offered me $15,000 and a down payment on a home. Woody [Hayes] offered me $13,000 and no place to live. I finished in the lower third of my class at East Liverpool, but even I knew which offer was better. I changed my mind at the last second and went to Ohio State.

John Brockington
Sophomore Halfback
When I got to Columbus I thought that those were the best football players I had ever seen. Rex Kern was like liquid mercury. … You couldn't get your hands on him. Rex could shake and bake. He was quick as hell.

Dave Foley
Captain/Senior Offensive Tackle
Those [sophomores] were special. We knew they were going to be good. The question was: How good?

Rex Kern
Sophomore Quarterback
The juniors and seniors had been beaten up and gone through some difficult times. They recognized our talent and welcomed us with open arms.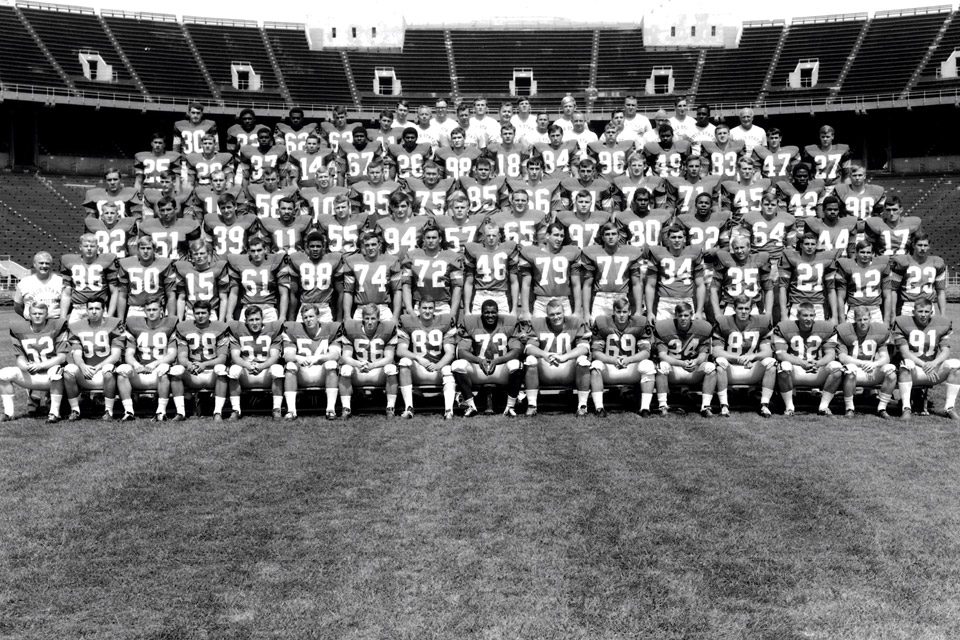 ***

Ohio State survived an aerial assault from No. 9 SMU to win the season opener 35–14 and dominated Oregon 21–6 to set up a showdown with No. 1 Purdue, led by Heisman Trophy candidates Mike Phipps and Leroy Keyes. On Oct. 12, the Buckeyes shut down the Boilermakers 13–0 before a throng of 84,834 at Ohio Stadium.
***

Jim Roman
Senior Center/Kicker
Jack Tatum was going to be the next Jim Brown, but he ended up playing defense for us. He shadowed Leroy Keyes that day and basically took him out of the game.

Lou Holtz: I had made a bet with [assistant coach] Hugh Hindman in the off-season that we were going to shut Purdue out. After that game, we felt we really could do something special.

Dave Foley: The game against Purdue the year before [during which the Buckeyes were defeated 41–6] really got to Woody. We practiced for Purdue all spring. When Woody had something that didn't go right, he could always plan to overcome it the next year.

***

Unbeaten and ranked No. 2 in the nation, Ohio State traveled to Illinois on Oct. 26, where a 24–0 halftime lead evaporated in the second half before backup quarterback Ron Maciejowski rallied the team to a 31–24 win.

***

Jim Roman: We were playing in Illinois, so Woody's pregame speech was about the Land of Lincoln. We were all wondering what the hell he was talking about.

Jim Otis: Kern got injured on the last drive. He always wanted to make things exciting for us. I don't think Maciejowski was even nervous. He always felt he could play as well as any quarterback in the country.

Rex Kern: I got knocked out. All I remember is that we won the game. Mace saved the day. I put him in some precarious positions that season.

Ron Maciejowski
Sophomore Quarterback
I was running around looking for my helmet. When I got in the game, Dave Foley greets me in the huddle by saying, "Don't throw a [expletive] interception." A play came in from the sideline and I waved it off. Then, I hit Larry Zelina for a 44 yarder.

Mark Stier
Senior Linebacker
I sometimes think what would have happened had we lost to Illinois. It was not one of our greatest defensive games. We got steamrolled in the second half.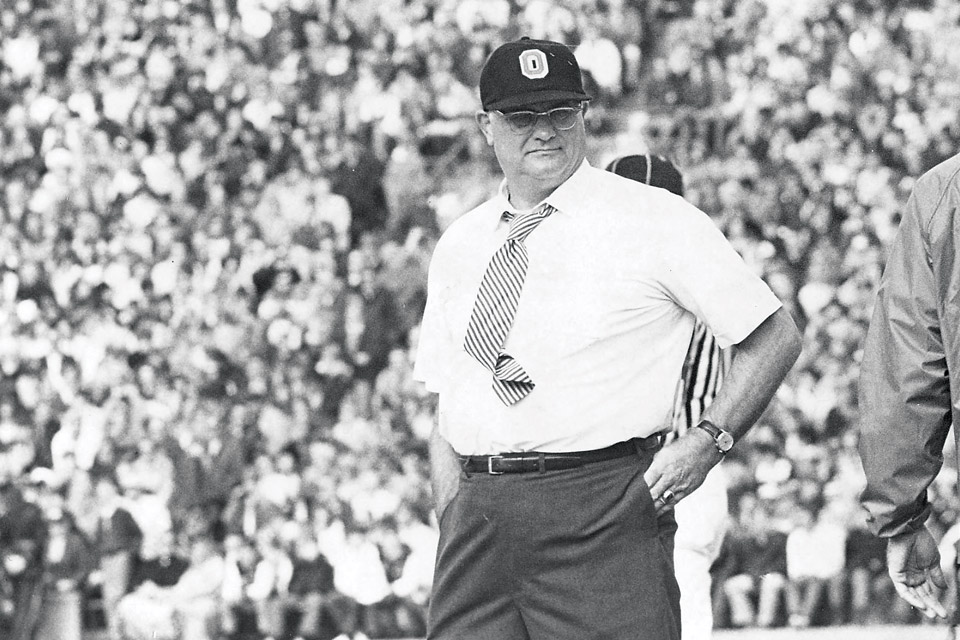 ***

With Kern once again injured, Maciejowski engineered a 25–20 win over Michigan State on Nov. 2, scoring three running touchdowns. A 43–8 blowout of Wisconsin the following week set the stage for a mid-November trip to Iowa, where Ohio State escaped with a 33–27 victory.

***

John Brockington: Those Iowa fans were right behind our bench. We had to keep our helmets on. They were throwing stuff at us all day long.

Mark Stier: That was a horrible day, rainy and cold. I had two interceptions, and the second one sealed it. I wasn't the best player physically by any stretch, but I was more of a coach on the field.

Dave Foley: That locker room was dirty, like a dungeon. It had a little, bitty shower area and no hot water, with light bulbs hanging down from the ceiling.

Rex Kern: That game was the kind of football that Woody just loved: Snap your chinstraps 'cause we're going to grind it out. To get better you have to have those close games.

***

At 9–0 and ranked No. 1, Ohio State hosted hated rival Michigan on Nov. 23, for the final game of the regular season. A Rose Bowl berth was on the line. The Buckeyes rolled to a 50–14 win. When asked why his team went for a two-point conversion following the final score of the game, Hayes famously said, "Because I couldn't go for three."

***

Jim Roman: People don't know that we had nobody available to [long] snap the ball after that last touchdown. We looked over at Woody and didn't know what to do. We said, "Screw it. Let's go for two." Woody got a lot of hell for that quote, but he got a lot of mileage out of it.

Jim Otis: That was just some 20-year-old kids not understanding what to do at that particular time. Woody would always take the criticism for his players.

Dave Foley: We used an unbalanced line in that game. It was like a swinging gate, and we picked up big yardage time and time again. If you look at the film, [Michigan] folded like a house of cards.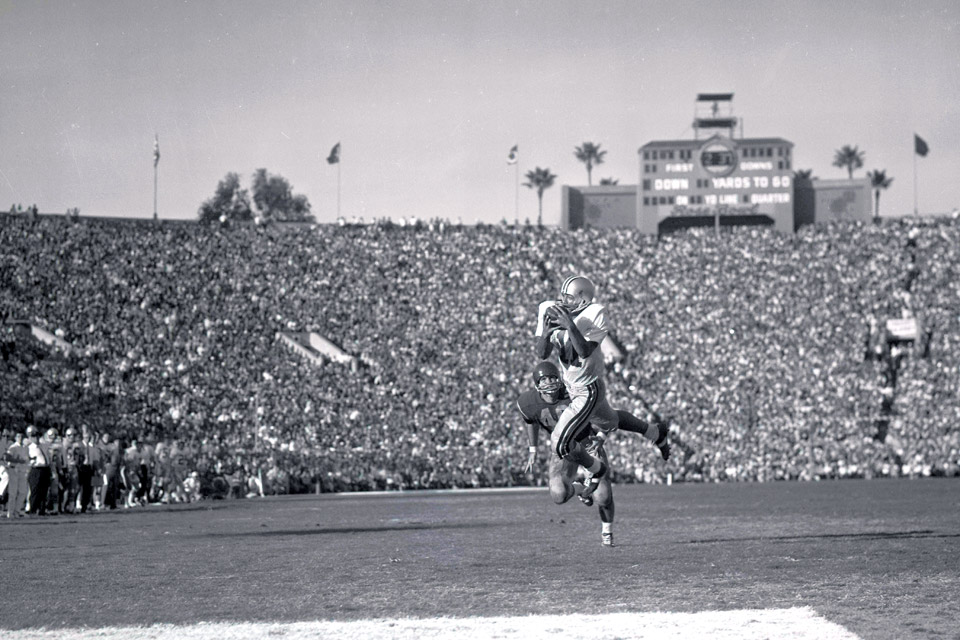 ***

No. 1 Ohio State was set to meet No. 2 University of Southern California at the Rose Bowl in Pasadena, California, on Jan. 1, 1969. But first Hayes put the team through brutal practices.

***

Mark Stier: We practiced extra hard, almost to the point of rebellion. Before we left for California, we practiced in our field house and Woody had turned the temperature up to 97 degrees.

John Brockington: Our practices were brutal. We had no fun in California. All Woody wanted to do was kick their asses and go home.

Rex Kern: We were practicing and Woody had me come over to hit the tackling dummy. I hit it and melted to the ground like butter. When I told Woody I had dislocated my shoulder, he said, "Oh s---." They made a harness to hold the shoulder in.

On New Year's Day, the nation's two top teams faced off in front of more than 102,000 fans at the Rose Bowl. The Buckeyes soon found themselves behind, trailing 10–0, but the team recovered to tie the game by halftime.

Lou Holtz: That entire season we had only given up one run over 15 yards. In the first half, O.J. [Simpson] went 80 yards to score a touchdown. Woody got in my face and yelled, "How did he go 80 yards?" I told him, "Because that's all he needed."

Jim Roman: I kicked a field goal to tie the game with three seconds left before halftime. I ended up with two field goals and three extra points that day. [Dave] Foley still introduces me as the guy who outscored O.J. in the Rose Bowl.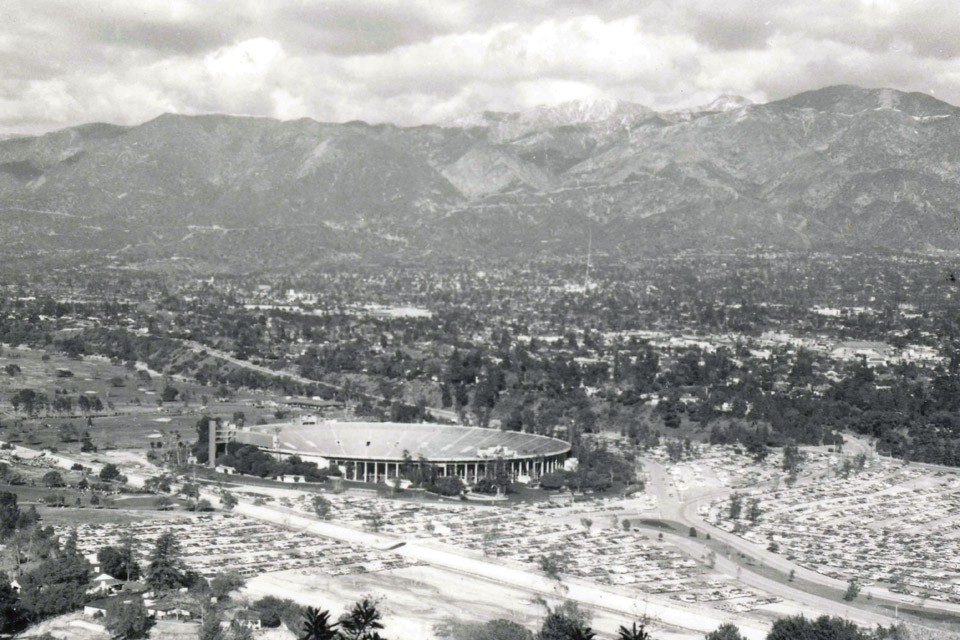 ***

Despite their struggles to start the game, the Buckeyes dominated the second half, winning the game 27–16 and bringing home Ohio State's fifth national title.

***

Mark Stier: There was never a doubt in my mind we were going to win that game. In the second half, wherever O.J. went, I went. I slowed him down until the rest of the troops could get there.

Dave Foley: After the game, Woody is making a speech and the door opens and O.J. walks in. He said, "You guys are the best team in the country and deserve to be No. 1."

***

Last month, members of the 1968 team reunited in Columbus for the 50th anniversary of their memorable season. As always, they talked about their head coach, The Old Man.

***

Jim Otis: Woody was great friends with my father, so he was very tough on me. Sometimes I thought he was too tough. There wasn't anything phony about him. Woody was my greatest teacher and much of my success is directly because of him.

Jim Roman: The Old Man made a speech before that season started. He told us that our teammates would be our best friends for the rest of our lives. He was right.

Lou Holtz: Those players weren't close because they won. … They won because they were close, and they still are to this day.


WHERE ARE THEY NOW?

Lou Holtz won another national title, coaching Notre Dame to a perfect 12–0 record in 1988. The former ESPN analyst is now a motivational speaker and author and lives in Florida.

Rex Kern played for the Baltimore Colts and Buffalo Bills. Kern and his wife, Nancy, whom he met when she was a member of the 1969 Rose Bowl queen's court, today reside in Colorado.

Jim Otis played in the NFL for nine years with the Kansas City Chiefs and St. Louis Cardinals and led the NFC in rushing in 1975. He is a real estate developer in Missouri.

Ron Maciejowski was drafted by the Chicago Bears in 1971 and played briefly for the Cincinnati Bengals. He is now the executive vice president of Greer Steel in Dover, Ohio.

Jim Roman taught and coached football at New Philadelphia High School for nearly three decades. He now works at Worthington Industries in Worthington.

Mark Stier was named Ohio State's Most Valuable Player in 1968. Today, he is the pastoral care minister at Westerville Christian Church in Westerville.

Dave Foley played for the New York Jets and Buffalo Bills, earning a Pro Bowl spot in 1973. He is owner of Foley Benefit Group in Springfield, Ohio.

John Brockington played for the Green Bay Packers and Kansas City Chiefs and was named NFL Offensive Rookie of the Year in 1971. Today, he owns a financial services firm in San Diego.

For more on Ohio State's 1968 football team, read 1968: The Year That Saved Ohio State Football by David Hyde, newly reissued by Orange Frazer Press. orangefrazer.com