Ohio Life
Ohio College Tours: Miami University
The university merges a picturesque campus with excellent undergraduate programs and a strong sense of tradition.
September 2015 Issue
BY Tiffany Luckey | Photo by Joshua A. Bickel
September 2015 Issue
BY Tiffany Luckey | Photo by Joshua A. Bickel
Pulley Bell Tower stands just off of state Route 73 on the southwest corner of Miami University's Cook Field. The 95-foot structure isn't your typical bell tower, though, as traditional ones ring a sequence of bell sounds to signal time. Pulley's bells often chime to contemporary tunes, ranging from Carly Rae Jepsen's "Call Me Maybe" to Celine Dion's "My Heart Will Go On." Students hurrying past the tower to class listen closely to guess Pulley's song of the moment — a brief game of sorts — before hitting the books.

This whimsical touch is indicative of the balance of academics, tradition and fun that runs throughout Miami University. Located in the quaint, charming town of Oxford, about 40 miles north of Cincinnati, Miami has an annual enrollment of around 18,000 undergraduate and graduate students and offers bachelor's degrees in more than 120 programs.

The university's Farmer School of Business, has about 4,000 students and is consistently ranked by Bloomberg Businessweek as a Top 25 undergraduate program in the United States. With its Institute for Entrepreneurship, the acclaimed business school has churned out a sea of successful graduates — including recent notables such as Ryan Graves, the head of global operations of the popular Uber taxi service, and Michael Markesbery and Rithvik Venna, co-founders of the sports-apparel company Lukla.

"The thing that distinguishes our program from others is that everything about our program is hands-on, real-world experiential," explains Brett Smith, director of the Institute for Entrepreneurship. "By the time students go through our program, they will have had as many as five real-time, real-world experiences. You force them to get out of their comfort zones. You force them to actually do and react based on real-world interaction."

Miami preserves a student-faculty ratio of 18-to-1 among many of its classes. That connectedness makes students feel recognized — a face and name instead of just a number. Erin Davis, a senior psychology major from Bellefontaine, Ohio, was enamored with the beauty of Miami's campus, but beyond that, she felt as if Miami was her home away from home.

"You can picture yourself sitting in the quad eating your lunch, but also studying or throwing a ball with your friends," she says. "I really love that it's a medium-sized school that gives us big-sized resources. For instance, I'm currently working on my research grant with one of my professors. I'm getting that small-school feel because of individualized attention."

Like Davis, most students augment their schoolwork by participating in campus activities, providing the university what The Princeton Review calls a "vibrant, social atmosphere." There's Goggin Ice Center, where students cheer on the RedHawks ice hockey team, as well as more than 450 student organizations including Active Minds, which provides a wide range of programs to educate others about mental health. There are 34 food locations on campus where students can hang out before and after classes. You might even see a student couple swapping kisses under the Upham Arch at Upham Hall, located in the center of campus. (Miami tradition has it that if you kiss your love under the Upham Arch, you'll be with your partner forever.)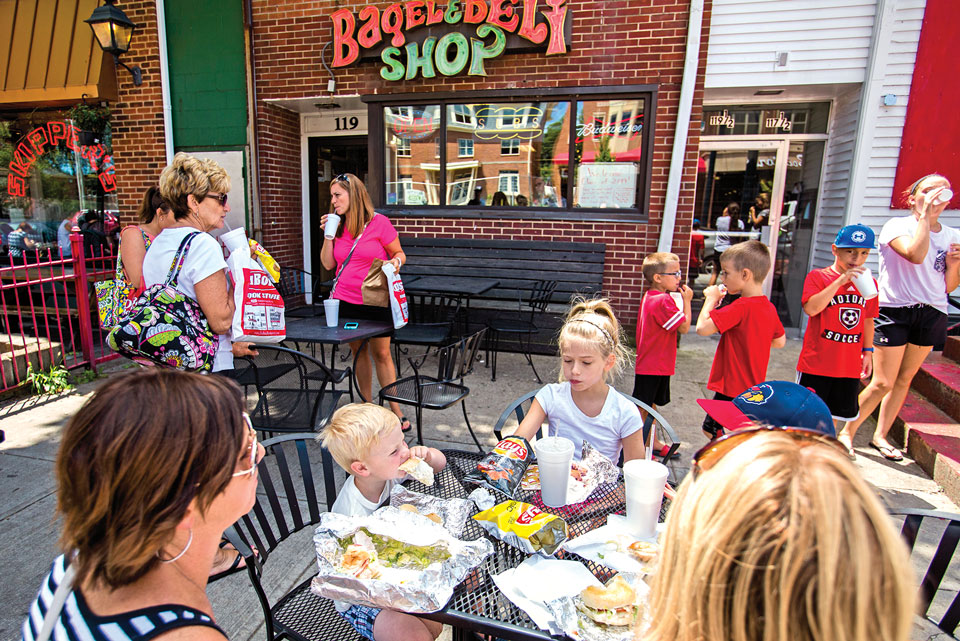 Beyond the campus, students spend time on High Street in Uptown Oxford, just a few blocks west. The red-brick-paved business district offers a host of shopping, nightlife and dining options (including the Miami favorite Bagel & Deli, a tiny spot that serves up a bounty of oh-so-delicious steamed bagel creations). There's also nearby Hueston Woods, a scenic state park with 12 hiking trails and a 625-acre lake for swimming and fishing.
"People love the small, college-town feel that we have," says Jessica Greene, executive director of the Oxford Visitors Bureau. "They get tired of [big-box] stores, so they come here and they love all the locally owned [shops], and they love the energy. We have all the amenities of a big town, yet you can drive across town in seven minutes."
Business in Oxford typically booms nine months out of the year, thanks to Miami students, but slows down during the summer months when most students are gone. That hasn't stopped new shops from cropping up around town, though. The community of 7,500 year-round residents saw its very first Graeter's ice cream shop open in July.
"I wanted an excuse to come back up, because I love Miami," says Rich Graeter, CEO of the Cincinnati-based ice cream company. "It's such a beautiful campus."
Graeter is a 1986 graduate of Miami and says that he felt "like I died and went to heaven" when he attended. "When I graduated, I think I cried," he says, "because I realized at that moment how wonderful my life was at Miami, and I loved it so much, [but] I knew that I had to leave it."
Many Miami University graduates feel the same attachment, and a large number of them come back to campus as faculty members. Smith is one of them.
"If you look up and down our faculty, they could be in lots of other places, they could be making a whole lot more money," says Smith, a 1991 graduate. "But they're here because there's no place in the world they would rather be — no other place than working with, coaching and mentoring our undergraduate students."
That's the beauty of Miami — a family of students, faculty and alumni who never really leave the school or Oxford. It's a place where professors set the curriculum bar high and students makes connections that last a lifetime.
"Do your studies, but also have fun," says Greene on the advice she often gives Miami students. "You may not remember Economics 101, but you're going to remember who your friends were and what you did."
For more information, visit miamioh.edu.