Ohio Life
Ohio College Tours: Bluffton University
The university helps students find their path by focusing on both personal development and service to others.
September 2015 Issue
BY Tiffany Luckey | Photo by Joshua A. Bickel
September 2015 Issue
BY Tiffany Luckey | Photo by Joshua A. Bickel
Strolling along Bluffton's Main Street feels like a walk back through time. The business district is dotted with 45 storefronts, most of them mom-and-pop shops, including the Shannon Theatre, the sole movie house in town — which, incidentally, only has one screen.

On Saturdays, families ride their bikes to Village Park to enjoy a game of soccer or baseball. On Sundays, locals attend morning service at one of the area's 13 churches, then head to Luke's in the evening for a homestyle dinner.

"This is the small town that you wished you lived in," says Fred Steiner, director of the Bluffton Area Chamber of Commerce. "Our downtown is vibrant. Our school system is very good. We have the university that brings in lectures, music, art, athletics and speeches. It gives us an edge."

Bluffton University is nestled just two blocks west of uptown. The Christian liberal arts college was founded in 1899 as Central Mennonite College before changing to Bluffton College in 1913, then adopting its current name in 2004. The school accepts students of all faiths, but at the heart of its academics is the traditional vocation of the Mennonite church: preparing students for a life of service to all people.

"The core of who we are as a university never changes — our core values of discovery, community, respect and service," says Derek Stemen, director of admissions and a 2004 Bluffton University graduate. "But the way we share that with other people does change."

He says that Bluffton is sharing that idea this year through its slogan "The Power of Purple," which bridges both the areas of academics and job skills.

"Just as red and blue come together to create purple, we believe powerful outcomes can be achieved by bringing different people and ideas together for a greater purpose," he explains. "We believe both of those things are integral in somebody's education and extremely important. So why would you want to choose between those things?"

Bluffton is making sure its students get both education and the job skills needed to apply that education, while also participating in community service. The university, which is in the top 10 percent in financial aid given among private four-year colleges in Ohio and has tuition below average among those private four-year colleges, has an enrollment just under 1,100 — and only about 800 are undergrads. This number of students helps keep the student-professor ratio 12-to-1, making it easy to get the focused attention needed to excel in and out of the classroom.

"I had all of my professors' cellphone numbers and regularly would call them," says Erin Burkholder, the associate director of admissions, about her time as an undergrad at Bluffton. "It'd be 10 o'clock at night on a Thursday, and I'd have questions about my homework, and they'd pick up the phone and say, 'OK, what do we do?' or, 'Just come over and we'll talk it through.' "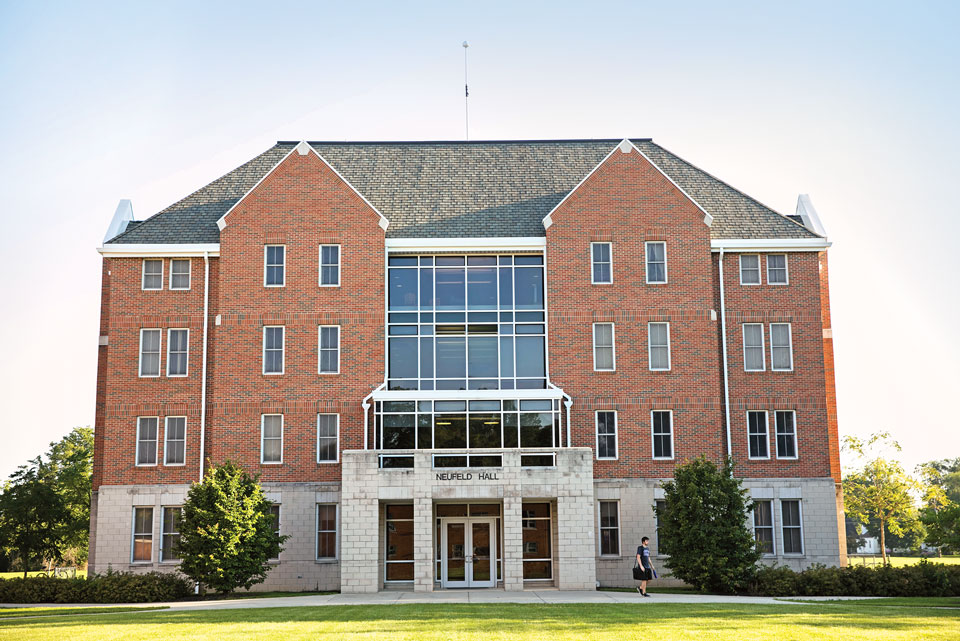 The university offers 88 majors, minors and programs, with its more distinctive being social work, business administration and education. The most popular program at the school, though, is dietetics, a profession that deals with the science and practice of human nutritional care. Alicia Rodriguez, a senior from Desert Hills, Arizona, is one of the students in the program and president of the campus Nutrition Association.

"I really like that because it gives me a chance to support incoming students who are into food and nutrition, namely dietetics, which can be a challenging major," she says about the club. "It's very science heavy, so it gives me a chance to give some guidance to them and keep them aware of the requirements of getting an internship."

In addition to a small student-teacher ratio and a sizable amount of majors, Bluffton also provides many on-campus resources, such as the Center for Career & Vocation.

Located inside the main entrance of Musselman Library on the southwest end of campus, the Center — open to both current students and alumni — aids students and graduates in writing cover letters and building resumes, preparing for interviews, finding internships and on-campus jobs, and curating professional online and social-media presences.

But the Center also helps students socially by steering them in the right direction to follow their paths to purposeful lives.

"We take a holistic approach to students' lives on campus and their post-graduate life," says Shari Ayers, director of the Center for Career & Vocation. "Knowing that students are doing what they set out to do is the piece we want to celebrate. And we want to celebrate that not everybody sets out to do the same thing. We want the students to tell us what they're doing."

The fourth floor of the co-ed Neufeld Hall is reserved for Community-to-Classroom, where incoming education majors live with other third- and fourth-year education majors who serve as mentors. This is indicative of the Bluffton experience as a whole.

"Most of our programs are cohort based," says Carrie Mast, administrative assistant for the graduate program of business. "When you walk into the classroom the very first [time], the people that you see, they become your community over the course of however long your program is."

But that community transcends campus. Bluffton students, no matter what their major, are required to partake in a cross-cultural experience, a journey of personal growth and discovery. The experience can run from two weeks to an entire semester and is completed domestically in cities such as New Orleans and Chicago, but many students opt to travel abroad to Bolivia, Iceland or Botswana.

"Our goal and our hope is that when they get a taste of how important their work is to the global community, they will go out into the world and continue that behavior," says Stemen. "With many of the students, it's not so much a matter of we're teaching them. But because of our mission, because we talk about it, and we let students know what that is, we get people who are great fits who love Bluffton and love caring for other people."

For more information, visit bluffton.edu.