Ohio Life
How an Ohio High Schooler Designed Our 50-Star Flag
In 1958, Robert Heft of Lancaster envisioned an updated American flag. The rest is history.
June 2015 Issue
BY Jill Sell | ART BY The Associated Press
June 2015 Issue
BY Jill Sell | ART BY The Associated Press
Robert Heft always said he would never part with the American flag he pieced together for a Lancaster High School class project in 1958, and he held true to that conviction for decades. Of course, times and circumstances change.

In 2005, a then-63-year-old Heft put his flag up for a 10-day auction on eBay and set a reserve price of $250,000. The former high school teacher and college professor, who also served as mayor of Napoleon, Ohio, for more than 20 years, had never married or had children. He planned to use the money to finance college educations for a great-nephew and a great-niece. But the flag did not sell.

"Bob also offered the flag to the Smithsonian and the National Archives, but they weren't interested," says Lou Varga, president and chief videographer for Varga Communications, which produced the documentary "Lancaster, Ohio: The Birth of an American Culture," which included a segment about Heft. "But Bob didn't just want to give it to them. He wanted to sell it. … He was thinking of his nephew."

In 2009, Heft suffered a heart attack and died at the age of 67. The flag was in his possession at the time of his death. Maybe it was always destined to remain with him. It was, of course, not just any flag — it was the original blueprint for the 50-star banner that's been flying over our nation for nearly 55 years.

***

Bob Heft was born in Saginaw, Michigan, but his parents separated when he was a year old, and he went to live with his grandparents in Lancaster, Ohio. He grew up there, and, years later, he pinpointed his love for the American flag to his years in the Boy Scouts.

"It's hard to describe Bob. He was so quiet," recalls Donna Hochradel, who went to school with Heft beginning in the seventh grade and was also his neighbor for several years. "There were seven kids from our class who lived on our street. We'd play kick the can and other games. … Bob was always a part of that. But as far as I know, he never went to dances and never dated. He kept to himself until it came to politics and U.S. history."

Alan Hale, who graduated from Lancaster High School a year ahead of Heft, remembers him as a good student. "He was well-liked by the other students, but I think being raised by his grandparents made him more mature and studious," Hale says.

During his junior year, Heft's American history teacher, Stanley Pratt, gave the class an assignment to create a project that illustrated their interest in history. The 17-year-old Heft gravitated toward an idea involving the American flag. He knew Alaska, and soon afterward Hawaii, were likely to join the union, so he planned to design an American flag featuring 50 stars.

Heft took an old flag stored in a closet at his grandparents' home and cut out its star-covered blue field. He then rode his bike to Wiseman's Department store and bought about $2 worth of blue cotton fabric. "Bob's grandmother had a fit when she saw her flag all apart," says Hochradel.

Using a cardboard pattern as his guide, Heft traced 100 stars on white iron-on tape and arranged 50 on each side of the blue fabric — five rows of six stars with four alternating rows of five stars.

Despite the fact that Heft spent an entire weekend working on his design, his teacher gave him a B-minus for the effort. He protested and Pratt said he would change the grade if Congress accepted the flag design. Not one to be easily daunted, Heft hopped on his bike and rode to the nearby home of congressman Walter Moeller, who promised to take the flag to Washington, D.C.

***

Heft graduated high school in 1960 and worked as a draftsman for an industrial company. He was there the day he received a phone call from President Dwight Eisenhower. Ike told him his design had been accepted to replace the 49-star flag that had briefly served as America's official flag after Alaska's but prior to Hawaii's admittance to the union.

It's estimated that more than 1,500 people offered designs featuring a 50-star flag and several produced the same star pattern that Heft had. Yet, he was given credit for the design, which became the nation's official banner on July 4, 1960.

"There were other designs like Bob's," says Varga. "But maybe [the fact] he was a 17-year-old when he designed it and he knew a congressman to deliver a 'real' flag helped."

Pratt, Heft's high school history teacher, made good on his promise, too. Heft returned to Lancaster High School shortly after his flag design was accepted, and his former teacher symbolically changed his B-minus grade to an A in honor of the accomplishment.

"Bob talked about the time when he was invited to the National Mall on July 4, 1960, to see his flag fly over the U.S. Capitol," recalls Varga, who invited Heft to his home for dinner while filming his documentary about Lancaster. "There he was, with a congressman on one side and President Eisenhower on the other.

"I said, 'Bob, what did you say to the president?' And he said, 'Well, I asked him how he liked his job and he said fine.' It was amazing. Bob was proud of what he had done, but he was always just Bob."

During his lifetime, Heft taught history at his high school alma mater and at Northwest State Community College in Archbold for a total of 23 years. He also served seven terms as mayor of Napoleon, Ohio, between 1976 and 1998. After he retired, Heft moved to Thomas Township, Michigan, where he was active in the Downtown Saginaw Lions Club.

But Heft also made a second career out of being the designer of the 50-star flag. He visited Veterans Administration and military events, schools, clubs, churches and nursing homes.

He took part in parades, memorials and dedications. In his prime, he logged thousands of miles a year crisscrossing the country. He also signed versions of the flag he designed, respectfully autographing it along the white strip where the grommets are.

"Bob was the only person in the world, according to State Department protocol, who could sign his name on the American flag," Varga says.

Heft, who attended The Ohio State University and Ohio University, was inducted into the Lancaster High School Distinguished Alumni Hall of Fame in 2001. It was noted at the ceremony that Heft flew in Air Force One with President John F. Kennedy and also appeared with Johnny Carson and Bob Hope. He visited the White House 14 times.

"People often asked Bob where he got all the flags he carried around to autograph," recalls Varga. "He'd say, 'I get them the same way anyone else does. I stand in line at Wal-Mart.' "

***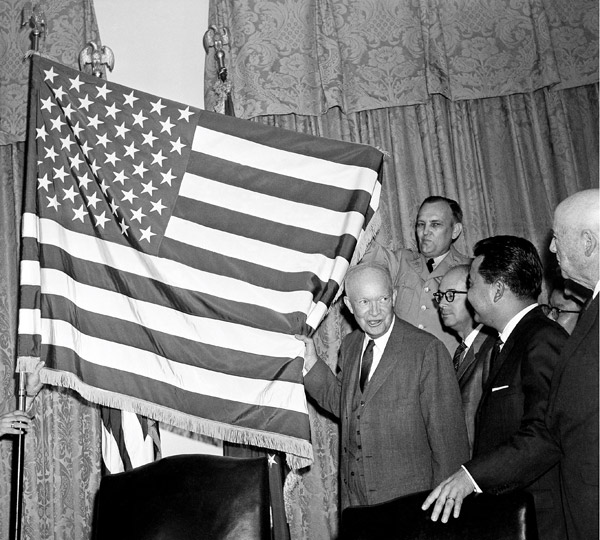 Heft's original handmade flag has flown over every state capitol building in the nation and more than 130 U.S. embassies. It also flew over the White House under five administrations.
In 2007, the design became the longest-serving in the history of the United States, surpassing the 48-star version. Heft also designed a 51-star flag in anticipation of another state entering the union.
But the fate of the actual flag that Heft made for his class project is not publicly known. Based on Heft's long ties to Saginaw, Michigan — he lived his last years there and some of his relatives reside there to this day (none could be reached for this story) — Varga believes the original 50-star flag is in a safety deposit box there.
"Personally, I'd like to see it return to Ohio," he says.
Heft had many health problems, including diabetes, during his later years, according to his former classmate Hochradel. She says he moved to Michigan to be closer to his family and was reunited with his mother.
"Apparently she had remarried and had another family," says Hochradel. "So Bob took a nephew under his wing. My understanding is that the nephew has the flag."
Alan Hale, who attended Lancaster High School with Heft, says he also believes the flag is in the possession of a family member.
In 2011, a flagpole honoring Heft was installed at Lancaster High School. The stone at the base reads: "In memory of our classmate Bob Heft, Designer of the 50 star flag. Class of 1960."
"I went to Bob's funeral in Michigan," recalls Rupert Schweinhagen, a former finance director for the city of Napoleon and personal friend of Heft. "There was an elementary school across from the funeral home. As part of the service, all the kids came outside and recited the Pledge of Allegiance. Bob would have liked that."